*This post contains affiliate links. If you make a purchase by clicking on them, I made a small commission at no extra cost to you. Thanks for your support!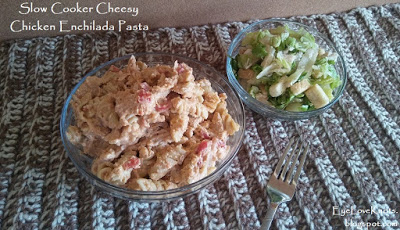 I got an email from Betty Crocker with some yummy chicken recipes inside, and I found this Slow-Cooker Cheesy Chicken Enchilada Pasta while I was browsing through. I decided it would make a great dinner to treat Todd to. I started cooking a little before he got home, so by the time he did, the house smelled delicious!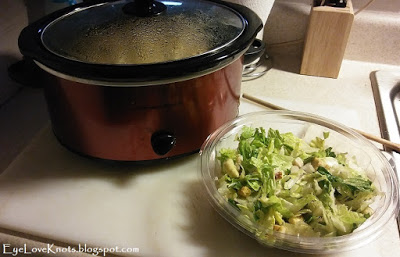 I served our pasta with a caesar salad and some garlic bread.


Cooking it reminded me a little of making a Hamburger Helper dish, though it did not get the same thickness as I thought it would. It was just as easy to put together though, and other than the 3.5 hours of cooking time, took no time to throw together.

Serves: 6 – 8

Time: About 4 hours – 3.5 of Them Cooking in the Crock Pot

Ingredients:
     – 1 19-oz can of Old El Paso Mild Enchilada Sauce
     – 1 0.85-oz package of Old El Paso Chicken Taco Seasoning Mix
     – 20 oz Package of Boneless Skinless Chicken Thighs
     – 3 Cloves of Finely Chopped Garlic – I cheated and use the one in the jar!
     – 1 14.5-oz can of Muir Glen Organic Diced Tomatoes
     – 1 10-oz can of Old El Paso Chopped Green Chiles
     – 1 package of Cream Cheese, Cubed and Softened
     – 2 Cups of Shredded Sharp Cheddar Cheese
     – 2 Cups (half of a 16 oz Box) of Cooked Rotini Noodle from Barilla
     – Optional, Sour Cream for Topping
     – Slow-Cooker Cheesy Chicken Enchilada Pasta, Free Recipe from Betty Crocker

You'll Also Need:
     – A 5-Quart Crock Pot – I have a 5-Quart Hamilton Beach in Black and love it
     – Spoon for Stirring 
     – Can Opener
     – 2 Forks for Shredding Chicken
     – Pot for Cooking Pasta In
     – Teaspoon for Diced Garlic

Ingredient Notes:
     Enchilada Sauce: There are different levels of hotness, so make sure you get the one that's good for you. I stuck with the mild.
     Chicken: I used the chicken thighs are suggested in the pattern so I could try it closer to how it was first crafted, but I will say that thighs are kind of greasy – I'd use chicken breasts next time.
     Tomatoes: Recipe calls for fire roasted diced tomatoes, but because I don't like hot things, I stuck with some simple, regular diced tomatoes.
     Green Chiles: I haven't never used these before. These also come in different levels of hotness – I used the mild ones. Even so, they smelled on the hotter side when I dumped them into the crock pot, so I pulled about half of it back out. I would omit these next time.
     Pasta: Original recipe calls for Cavatappi pasta. I went with the Rotini that I had on hand. Any type will work! 

Recipe also calls for onions, but since Todd does not like onions, I did not use them in this recipe.

Recipe Notes:
     I cooked my chicken for 3.5 hours on low, only peeking once! It smelled very good! And I did the remaining two cooking rounds at 10 minutes each.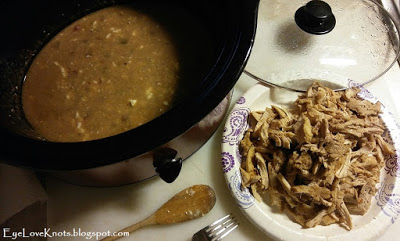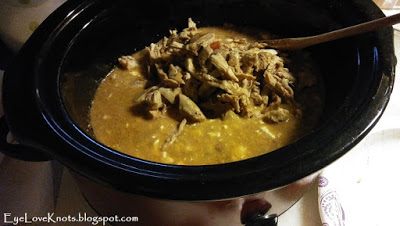 This was my first time shredding the chicken. I won't say that it was hard, but it was a little challenging for me. Todd was making fun of me for taking so long, but I was taking it slow, and made sure to skim the fat from the chicken.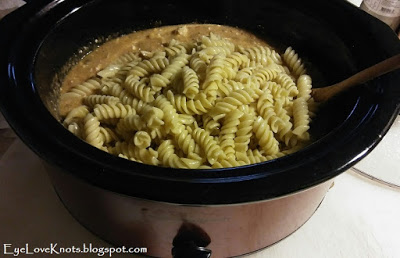 I will admit that I was bad with the cream cheese, and did not soften my cream cheese. I thought it would all kind of just melt away in the pot, but it didn't. I realized while eating that some did not get mixed it with the rest. Next time, I will have to remember to set my cream cheese out.


Original recipe states that it serves 8. Todd and I ate this pasta dish for dinner two nights, and I had two servings for the following days lunches, making only 6 serving. All depends on how much you serve. 


For the recipe, visit Betty Crocker's Slow-Cooker Cheesy Chicken Enchilada Pasta.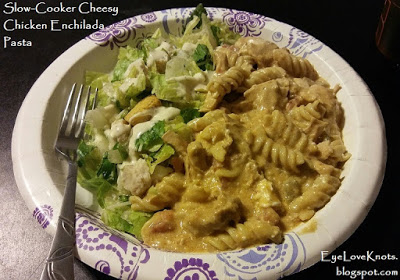 If you love to bake/cook (and/or craft) too, I would love to see your photos and get your recommendations! Join the EyeLoveKnots Crafting Community to share your creations, and see what other's are up to!
Don't miss out on new crochet patterns, reviews, jewelry tutorials and more! Subscribe to EyeLoveKnots by using the box on the right side toolbar, or follow me via Bloglovin!


You May Also Like…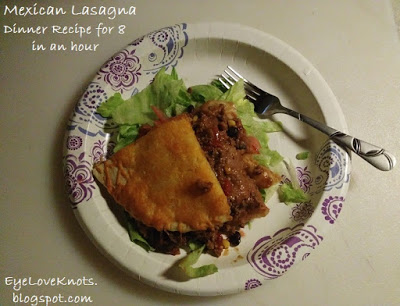 Linked Up To…
Funtastic Friday 148 Link Party – Olives n Okra 
Best of the Weekend – Hello Little Home 
Home Matters Linky Party #157 – Domestic Deadline 
Friday Feature Linky Party – Oh My Heartsie Girl 
Link Your Stuff Party – Annemarie's Haak Blog 
Snickerdoodle Create~Bake~Make Party #203 – Across the Boulevard 
October 2017 Sharing Time – Raising Memories 
Sweet Inspiration Link Party #78 – The Boondocks Blog
Nifty Thrifty Sunday #304 – Nifty Thrifty Things 
Craft Schooling Sunday – Creative Jewish Mom 
The Creative Corner Link Up Party 10/15/17 – Curly Crafty Mom
Inspiration Monday Party 10.15.17 – Scattered Thoughts of a Crafty Mom 
Create Link Inspire Linky Party #203 – The Crafty Blog Stalker 
Inspire Me Monday – Week 302 – Create With Joy 
Made by you Monday – Skip to my Lou 
Tutorials & Tips Link Party {327} – Home Stories A to Z 
Creative Mondays, and Featured Blogs (16/10/2017) – Claire Justine 
Handmade Monday #47 – Sum of their Stories 
Simple Fall Decor & MM #176 – A Wonderful Thoughts 
The Scoop Link Party #297 – Worthing Court 
The Really Crafty Link Party #89 – Keeping It Real
Bee Party #35 – My Busy Beehives
395th Inspire Me Tuesday – A Stroll Thru Life 
From Dream to Reality #284 – The DIY Dreamer 
Show and Tell Link Party – Flamingo Toes 
Lou Lou Girls Fabulous Party #185 – Lou Lou Girls 
The Wednesday Link Party – Oombawka Design 
TOO Cute Tuesday Link Par-Tay! #358 – Funky Polkadot Giraffe 
Talk of the Town #94 – Sadie Seasongoods 
You're the Star Linky Party Week 55 – Let It Shine
Sew It Cook It Crafty It Link Party #27 – Sew Historically 
Your Whims Wednesday #325 – My Girlish Whims
Pin Junkie Pin Party #237 – The Pin Junkie 
Creativity Unleashed #195 – Practically Functional 
No Rules Weekend Blog Party #257 – Sincerely, Paula 
Designing You! Link Party #10 – Designing Us  
Friday Frenzy Link Party – Kelly Lynn's Sweets & Treats
Craft Schooling Sunday – Creative Jewish Mom 
{nifty thrifty sunday #305} – Nifty Thrifty Things
A Themed Link Up 12 for Crock Pot & Instant Pot Recipes – Grammys Grid