This is a free crochet pattern for how-to crochet my Ripple Soap Cozy (or Small Gift Bag).
This post contains affiliate links for LoveCrafts. If you make a purchase by clicking on them, I make a small commission at no extra cost to you. Thanks for your support!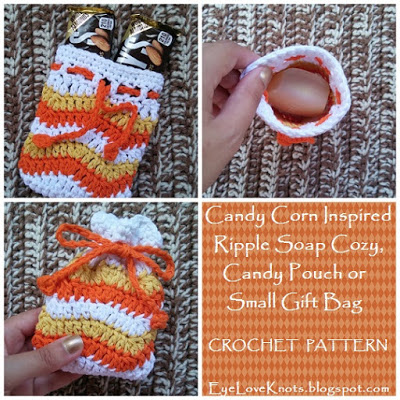 At the end of March, I shared the Granny Square Soap Cozy (or Small Gift Bag) for the April Granny-Spiration Challenge. It took me almost a year from working it up to publishing it. This ripple soap cozy was also created back in June of 2016, along with four other soap cozy patterns yet to be shared. Yikes! My original ripple design was made in yellow and pink, and reminds me of pink lemonade, but I wanted a design I could share for Halloween that would also make a great candy bag!

You still have plenty of time to work up a bunch of these, stuff with candy and/or favors and stock up for the sweet little trick or treaters, or to hand out at a Halloween party.

Alternatively, it makes a great soap cozy as well. You could even make a Halloween themed soap to include in it as a gift!

An actual candy corn is yellow on the bottom, orange in the middle and white on the top. I wanted my bottom and top to be white, so I reversed my colors. Reverse them back for a true candy corn pattern.
If you would like a PDF version of this post, you may get one through either my EyeLoveKnots Etsy Shop, Ravelry or LoveCrafts Shop for a small fee. This fee is to compensate for the views lost when you no longer need to return to the blog to for the information, as you will have your own copy. Plus! It helps fund supplies for new projects to share with you!
Shop EyeLoveKnots Etsy: Ripple Soap Cozy, Candy Pouch or Small Gift Bag.
Shop EyeLoveKnots LoveCrafts: Ripple Soap Cozy, Candy Pouch or Small Gift Bag.
Are you a Raveler? Share your version of this project on Ravelry – Ripple Soap Cozy, Candy Pouch or Small Gift Bag.
Save this to Your Favorites AllFreeCrochet – Ripple Soap Cozy, Candy Pouch or Small Gift Bag.
     – About 50 Yards of Worsted Weight Cotton – I used Lily Sugar n Cream in White, Yellow and Hot Orange 
     – H8/5mm Crochet Hook
Yarn Alternatives to Lily Sugar n Cream: Bernat's Handicrafter, Red Heart's Smoothie, Paintbox Yarns Cotton Aran, Rico Creative Cotton Aran
Other Recommended Yarns (with I9/5.5mm Hook): Red Heart's Super Saver, Caron's One Pound, Bernat's Super Value
Weaving in ends of a tough yarn, like cotton yarn, can be hard on the fingers. Sore thumbs and frustration can be a thing of the past by simply using jewelry pliers to [carefully] help pull the tapestry needle through the work.
Time Spent:
     I had my cozy ready in about 45 minutes.
Measurements:
     4.5″ Wide by 5.75″ Tall; 16″ Long Tie
Gauge:
     16 HDC by 10 Rows = 4″ 
Abbreviations:
     SC – Single Crochet
     HDC – Half Double Crochet
     DC – Double Crochet
     TC – Triple Crochet
     dc3tog – Double Crochet Three Stitches Together (Decrease)
        To dc3tog: Yarn over, insert hook into the first stitch of the decrease, yarn over and pull through (3 loops), yarn over and pull through 2 loops, yarn over, insert hook into the next stitch, yarn over and pull through (4 loops), yarn over and pull through 2 loops, 
yarn over, insert hook into the next stitch, yarn over and pull through (5 loops), yarn over and pull through 2 loops, yarn over and pull through all 4 loops on hook.
Pattern Notes:
     Beginning chain does not count as a stitch, except in Rounds 3 through 7, where it counts as a double crochet.
Join to the beginning chain for all rounds, except the first two and last two, in which you'll join to the first stitch of the round.
Round 9 works into the previous rounds double crochets and chain 1 space. I recommend working into the actual chain, not just into the space to keep a consistent and clean appearance.
The way I worked my color change for a seamless change while carrying up the yarn: I worked all the way around up to the last stitch before the join. I worked a yarn over, inserted my hook into the stitch, pulled the other colors over my hook so I could work over it, and then completed the first half of my double, I pulled the tails of the other colors over my hook again to work over, yarned over with my current color, and completed the second half of my double crochet. I pulled my other colors over my hook once more to work over, and joined as normal, and chained 1. To complete the color change, p
ull new color through, and pull previous color tight. Drop and repeat for color change. 
I do have a photo tutorial you can see of this – 

How to Carry Up Yarn in the 
Round

. 
Alternatively, you can fasten off at the end of each round, work an invisible join for a seamless color change, and join your new color into the first stitch, but this will create 
many ends to weave in. 
OR, you could work all of the cozy in a solid color and not have to worry about color changes. Just join to the first 
stitch at the end of the round, and begin again.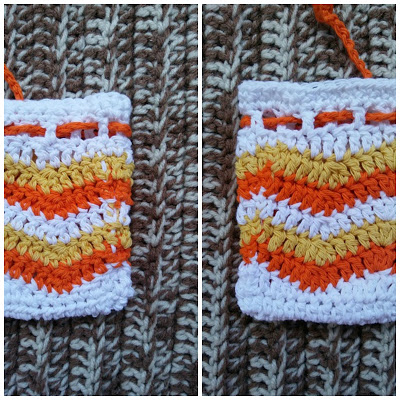 In this image, you'll see my seam from the inside on the left, and from the outside on the right.
I am referring to my colors as I have used them for the Candy Corn inspired cozy, but basically you just need three colors for the pattern I used. You could use as many as you like, or just one. Completely up to you!