*This post contains affiliate links. If you make a purchase by clicking on them, I make a small commission at no extra cost to you. Thanks for your support!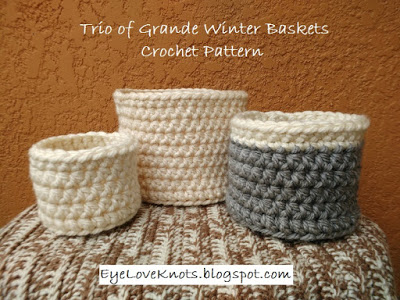 I've had this idea in my head to work up a couple baskets, and I have, but I just haven't been happy with the shape and look of the baskets only using two strands of worsted weight yarn together. I went back to my local JoAnn's to get yarn to try with four strands when I came across some Grande yarn from Red Heart on sale. I picked up two skeins, and got started as soon as I got home. I definitely like the way they look and sit much better now – an alternative to this would be four strands of worsted weight yarn held together!
These little baskets are great for a variety of things, like using as a centerpiece on a table filled with lots of holiday/seasonal goodies, or filled with some yarn, or pom poms, around a jar as a cozy, or even on your bathroom counter filled with things like cotton balls, washcloths or rolled towels – to name a few.
30 – 45 – 70 yards of Jumbo Weight #7 Yarn – I used Red Heart's

Grande Yarn

(affiliate link) in Aran (about ⅔'s of a skein), Foggy Mist [Gray] (one full skein plus two rows), and Straw [Ivory & Gold Sparkles] (one full skein and about ⅔'s)

H8/5mm Hook for Weaving in Ends (or any smaller hook that fits comfortably under stitches)
Four strands of worsted weight yarn (like Red Heart's Super Saver) held together will work, two strands of a chunky weight yarn (like Deborah Norville's Serenity Chunky) held together would probably work or possibly produce a slightly larger basket, or even a thick super bulky/chunky yarn (like Lion Brand's Thick n Quick ) or t-shirt yarn and the pattern as written should work. Experiment, and have fun with it!
As my first experience, I was very interested to see how this yarn worked up. Though I love the look and shape of the baskets, I found the yarn to be rather fuzzy when worked with. It reminds me a lot of Lion Brand's Hometown USA Yarn in feel and look, and the way it fuzzes quickly. Having washed a project made with Hometown USA, and seen that it just gets even fuzzier (just after the first wash), I can only assume the same with this yarn, making it a yarn I probably will not be using again in the future.
Time Spent:
Small Basket – About 20 minutes; Medium Basket – About 30 minutes; Large Basket – About 40 minutes.
Measurements:
    Small Basket: 5.25" in diameter by 4" tall; Medium Basket: 7" in diameter by 5.5" tall; Large Basket: 8.25" in diameter by 6.5" tall
Gauge:
    7 HDC by 5 Rows = 4" x 4"
Abbreviations:
HDC – Half Double Crochet
The beginning chain does not count as a stitch.
Join to the first stitch, not the beginning chain.
Instructions are shown for the small basket, with the medium and large basket instructions in parenthesis, as well as noted in some rounds near the round number.
I work my the beginning and ending of my crown and body a little differently than most to keep my seam straight. You can work as you are comfortable.
*When working the next round into the back loop only (BLO), I join my previous round differently so the bottom edge is consistent throughout, otherwise, the join looks out of place. To work this join: Work the last stitch of the round, remove the hook, turn work to the wrong side, pull the yarn you are working with to the side so it is out of the way, reinsert the hook under both loops of the first stitch (from the wrong side), pick up the last stitches loop and pull it through. Remove the hook, turn the work to the right side, reinsert hook and continue on to the next round. Your loop should look like it is behind the work.
I worked my final join as an invisible join – I have a photo tutorial in my
Chunky Baby Beanies
post – but using the smaller crochet hook, instead of a needle.
As seen above: Weaving can be done with the smaller crochet hook. Insert the hook under a few stitches, then pull the tail through a little and pull the rest of it through with your fingers. Treat it just as you would as if you were weaving in with a needle, and it will produce the same result.
    Chain 4. Join to form a ring. Chain 1. 8 HDC into the ring. Join. (8 HDC)
R2:
Chain 1. HDC into the 1st HDC, 2 HDC into each of the next 7 HDCs, 1 HDC into the 1st HDC. Join. (16 HDC)
R3:
Chain 1. HDC into the 1st 2 HDCs, (2 HDC into the next HDC, HDC into the next HDC) 7x, HDC into the 1st HDC. Join *. (24 HDC)
R4, Medium & Large Only:
Chain 1. HDC into the 1st 3 HDCs, (2 HDC into the next HDC, HDC into the next 2 HDCs) 7x, HDC into the 1st HDC. Join *. (32 HDC)
R5, Large Only:
Chain 1. HDC into the 1st 4 HDCs, (2 HDC into the next HDC, HDC into the next 3 HDCs) 7x, HDC into the 1st HDC. Join *. (40 HDC)
*I suggest weaving in the initial tail here, otherwise, it will be harder to get to later.
R4, (5, 6):
Chain 1. In BLO, HDC into the 1st HDC, and each HDC around. Join. (24, 32, 40 HDC)
R5 – 7, (6 – 9, 7 – 13):
Chain 1. HDC into each stitch around. Join. (24, 32, 40 HDC)
R8, (10 – 11, 14):
Chain 1. SC into the 1st stitch, and each stitch around. Join. (24, 32, 40 SC)
Please feel free to make and sell your own Grande Baskets using this pattern, but please DO NOT claim this pattern as your own nor should you sell my pattern, and DO NOT re-publish my photos as your own. DO NOT copy and paste my pattern anywhere, link to it instead.

*If you would like a PDF version of this post, you may get one through my EyeLoveKnots Etsy Shop or EyeLoveKnots Craftsy Shop for a small fee. This fee is to compensate for the view/s lost once you no longer need to return to the blog for the information, as you will have your own copy. Plus! It helps fund supplies for new projects to share with you!
Shop EyeLoveKnots Etsy – Trio of Grande Baskets; 
or EyeLoveKnots Craftsy – Trio of Grande Baskets.

With so many size, yarn types and color options, I would love to see them! Please share your photos on my EyeLoveKnots Facebook page, or join the EyeLoveKnots Crafting Community to share your creations, and see what other's are up to!

Share your version of this project on Ravelry – Trio of Grande Baskets. Check out the EyeLoveKnots Ravelry page to keep track of all your EyeLoveKnots favorites in your que, and share your WIPS and finished projects!

Don't miss out on new crochet patterns, reviews, jewelry tutorials and more! Subscribe to EyeLoveKnots by using the box on the right side toolbar, or follow me via Bloglovin! You can also find me sharing on the EyeLoveKnots Facebook page, and @EyeLoveKnots on Twitter!