*This post contains affiliate links. If you make a purchase by clicking on them, I make a small commission at no extra cost to you. Thanks for your support!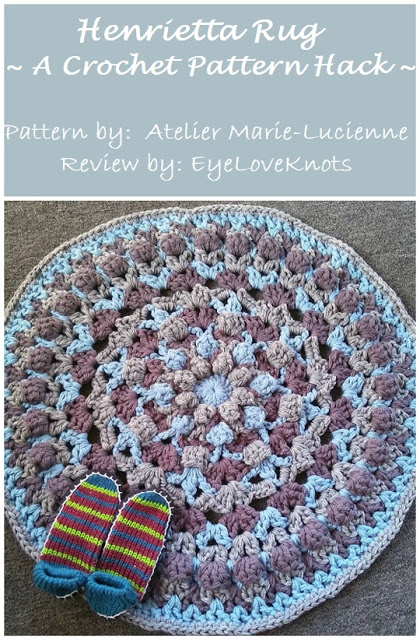 Back in September of 2017, I pattern tested the Henrietta Square crochet pattern for my friend Marjan of Atelier Marie-Lucienne. In her original design, she used the basic pattern to work up a dreamcatcher (the point where I stopped on my rug), a pillow, and a blanket. I wanted to do something different with my test, and so I decided on a rug for my home. 


With a rug, you want a durable yarn – something that can be walked all over, feet rubbed on, pets laying on and playing under, in my case, and handle machine washing and drying well. My go to durable home project yarn is Red Heart's Super Saver. It is that yarn that everyone says is scratchy, but with one wash, it softens up nicely, and can handle wear well.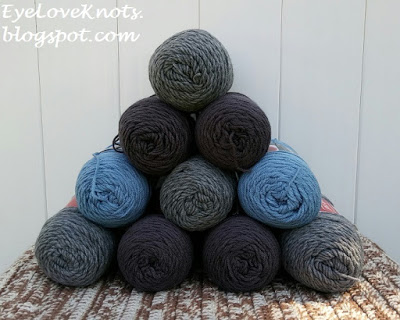 I had a gift card from my birthday for Michaels, so I went out with my friend Vee to lunch, and then to our local Michaels for some yarn. Together we put different color combinations together, and ultimately, it was decided on the Delft Blue, Grey Heather and Charcoal colors. 
Below you'll find my review on the Henrietta pattern up to the end of the round portion. I have not gone on to work up a square project yet.

Materials I Used:
     – 12 Skeins (4 each) of Red Heart's Super Saver (affiliate link) in Country Blue, Grey Heather (Lighter) and Charcoal (Darker)
     – P/11.5mm Crochet Hook
     – #18 Tapestry Needle for Weaving in Ends
     – Henrietta Square, Paid Crochet Pattern from Atelier Marie-Lucienne
     – Optional, a box to hold your yarn while you work

Material Notes:
     Yarn Alternatives: 4 strands each of Caron's One Pound, Bernat's Super Value or Big Twist Collection Value Worsted Yarn, or 1 strand of T-Shirt or Rag Yarn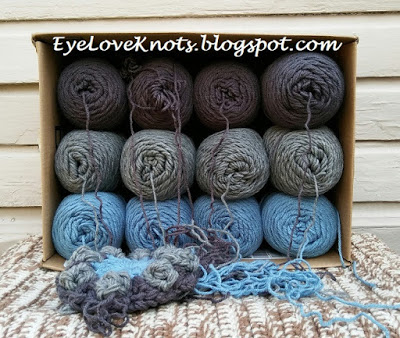 In the original pattern, Marjan uses a dk weight yarn to create all of her projects (a blanket, a pillow and a dreamcatcher), but because I wanted to create a rug, I used four strands of a heavy weight worsted weight yarn held together. I really like Red Heart's Super Saver for projects that need added durability, and machine wash and dry well. 

Time Spent:
     I worked on my rug in a few seatings, for a total of about six hours, 15 minutes.

Measurements:
     My rug measures 32.25″ across.

Pattern Notes:
     This pattern is written in UK terms. If you follow US terms, I recommend crossing out and replacing the UK terms with it's respective US term. Example, a UK treble crochet is actually a US double crochet. This can be confusing to try and transpose in your mind if you are not used to it.
Before I began, I wrote out what my color scheme would be, and decided on Blue as Color A, Light Grey as Color B and Dark Grey as Color C. You could work your rounds randomly, but I do better with structure. 
I fastened off at the end of every round, and took time to weave in my ends after every few rounds so I didn't have a billion ends to weave in at the end, plus it's easier to weave in when you are closer to the points, rather than trying to work into a whole piece.
This pattern is written in a little different than most, but is very easy to follow with the help of photos for each round. AND! There are even photo tutorials showing how to work the different stitches used at the very end of the pattern.
When joining to a popcorn stitch, I did so in the back loop of the first stitch. I also recommend after completing a round following a popcorn stitch round, to take time to pop all the popcorn stitches out to the right side.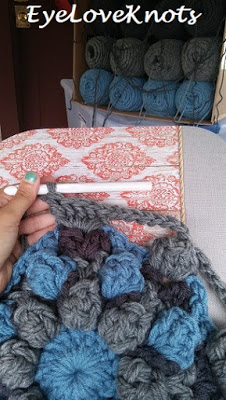 To make my rug, I worked the pattern through Round 15, and then I added an extra round of single crochets (US term) to give it a nice finish. I will say though, my rug puckered a little bit, and I did not realize it until I had already sewn in the ends for Round 15. If I were to redo it, I would try to work Round 15 with one v-stitch followed by one double crochet (US term) in place of the second v-stitch. I can't say for sure that this would fix the issue, I these are my thoughts.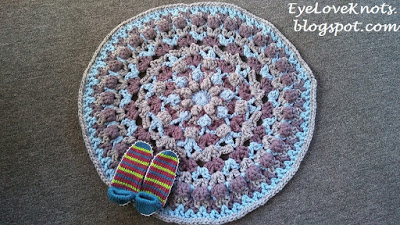 Join the EyeLoveKnots Crafting Community to share your creations, and see what other's are up to! 

Share your version of this project on Ravelry – Henrietta Square. While you are there, check out the EyeLoveKnots Ravelry page to keep track of all your EyeLoveKnots favorites in your que, and share your WIPS and finished projects!

Don't miss out on new crochet patterns, reviews, jewelry tutorials and more! Subscribe to EyeLoveKnots by using the box on the right side toolbar, or follow me via Bloglovin! You can also find me sharing on the EyeLoveKnots Facebook page, and @EyeLoveKnots on Twitter!
You May Also Like: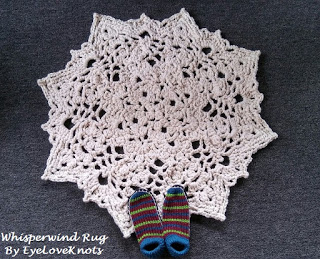 Linked Up To…