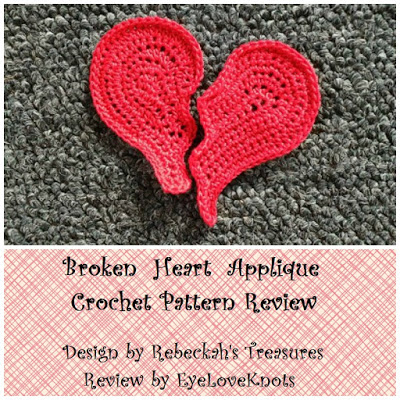 I pattern tested this for my friend Rebeckah of Rebeckah's Treasures. The thing that drew me to this pattern was the fact that it touched on using sewing thread to create a small pendant, which I have been thinking of trying so I volunteered for this project. Though I did not work it in sewing thread, now I am even more excited about trying it.

This sweet heart is really fun and different than the usual. I love the idea of joining the heart sides to show broken hearts can be mended, or making separate sides to share with your BFF.

Rebeckah shows a doll pillow sized heart with the use of sport weight yarn, but I think with Super Bulky yarn it would make a cute little throw pillow to decorate your couch or bed for the upcoming love season.


You can read more about why Rebeckah chose the design, each yarn weight, and each finished project in her Broken Hearts post.


Are you a raveler? If so, make sure to favorite this
Broken Hearts
and link up your project to it!

I have a project with a different take on this applique coming to you soon! I hope to have it worked up to share before Valentine's.

Materials I Used:
– Small Amount of Artiste #10 Cotton Crochet Thread (Hobby Lobby) in the Poppy Red colorway
– 2mm Crochet Hook
– #20 Tapestry Needle for Weaving in Ends
– Broken Hearts, Paid Crochet Pattern by Rebeckah's Treasures


Material Notes:
Yarn Alternatives: Aunt Lydia's Classic #10 Thread.
Any size yarn and respective hook size will work though!

Time Spent:
My heart applique was finished in about half an hour.
*If you are working a two sided pendant, it will be double the time.

Measurements:
My heart measures 3 3/8″ at widest point by 3 3/8″ from highest point to lowest point.

Pattern Notes:
On the Top Half, with a beginning chain of 6 and working into the second chain, this leaves five stitches to be worked across and four on the opposite side of the foundation chain. Instructions state to work into the first available stitch, but I think it should be to work 4 single crochet into the last stitch (combine), otherwise you won't have enough stitches.
I chose to only work one of each applique, rather than two, because instead of creating a pendant, I have another idea in mind. For this, I did not fasten off at the end of half, but rather chained 1, and continued onto the edging/joining. The Bottom Half worked out great, but the second half seemed a little off.
In the pictures it looks like the first stitch is worked into the top of the curve, not where the last stitch was worked – my half finished near the bottom point. Step 3 seems to support this. I ended up beginning at the stitch before the point where my last stitch was worked, chained 1 and then worked Step 4 (2 single crochet), Step 5 (2 single crochet into point), Step 6, Step 7, Step 8, Step 9, Step 10 as 2 single crochet's to account for and Step 2, Step 3A (40 single crochet) and then joined and fastened off.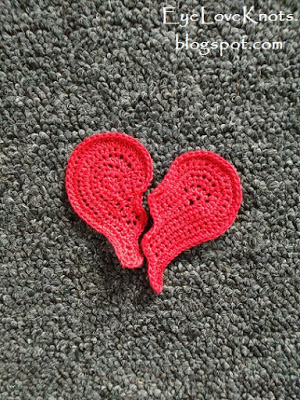 Such a fun project! Stayed tuned to see what I turn this into!
What size would you make? Or would you turn it into a small pillow, necklace, key fob or tiny locket sized pendant? Or perhaps you have another idea in mind to?!

With so many size, yarn type and color options, I would love to see them! Please share your photos on my EyeLoveKnots Facebook page, or join the EyeLoveKnots Crafting Community to share your creations, and see what other's are up to!

Don't miss out on new crochet patterns, reviews, jewelry tutorials and more! Subscribe to EyeLoveKnots by using the box on the right side toolbar, or follow me via Bloglovin! You can also find me sharing on the EyeLoveKnots Facebook page, and @EyeLoveKnots on Twitter!


You May Also Like…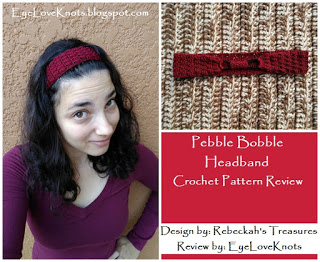 Design by Rebeckah's Treasures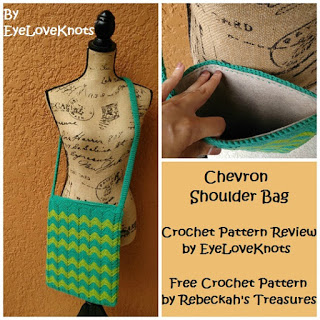 Design by Rebeckah's Treasures