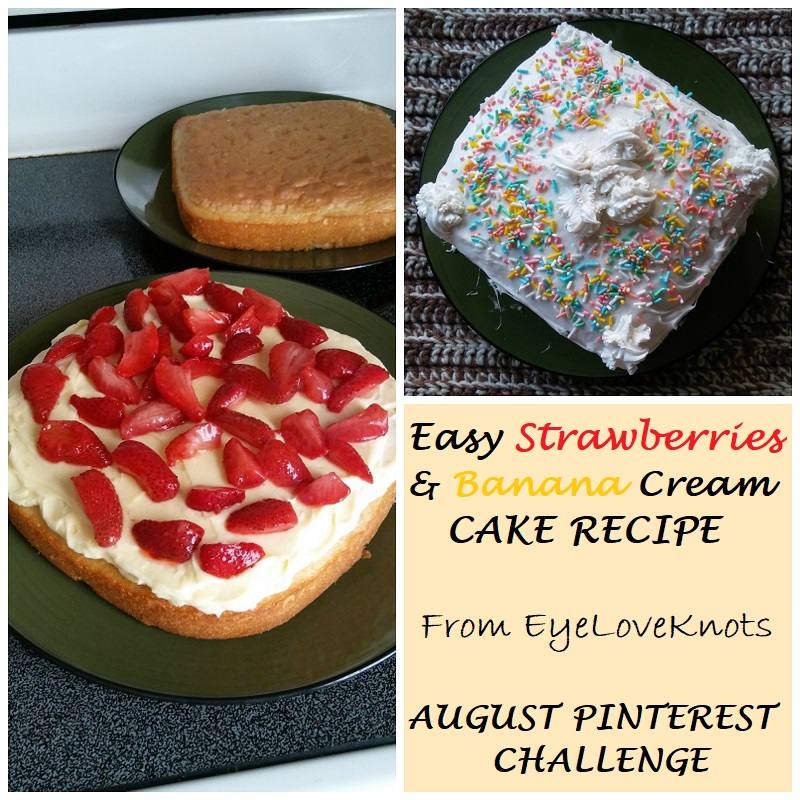 Welcome to the August Pinterest Challenge Blog Hop, hosted by My Pinterventures. The purpose of this Pinterest Challenge is to motivate all the participants of this hop (and you too) to not just pin, but to make it happen! This month, I chose to bake a delicious cake with some things I already had in my pantry (minus the heavy cream).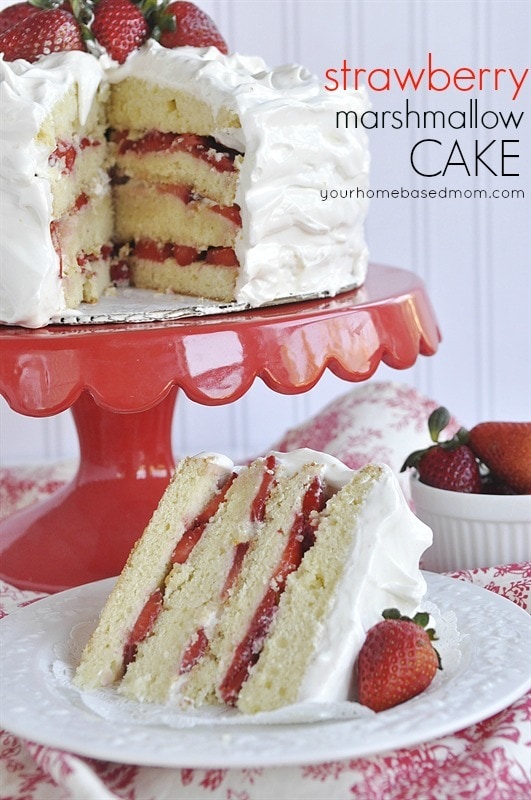 I have had two bags of frozen strawberries sitting in my freezer for awhile now… too long. I decided to pull one of the bags out, and make a cake – I also made a milkshake with some of them, and plan to share that later.
A recent notification in my inbox from Your Homebased Mom lead me to search her blog for something strawberry that I could make for this challenge. I was hooked when I came across this Strawberry Marshmallow Cake. I was a little disappointed that the frosting wasn't made of marshmallows, but mmmm… Still looks so delicious!
While Leigh Anne made her cake and frosting from scratch, I wanted to do something quick and easy with ingredients I already had on hand, minus the heavy cream – I did go down to my local Publix to pick some up. I also wanted to had some kind of cream in the center with the strawberries, rather than just more icing. Lucky for me, I found banana cream pudding in my pantry, and what goes better together than strawberries and bananas?!
Serves:
10
Time:
10 Minutes Prep + 26 Minutes to Bake + 2 Hours to Cool (and make up cream filling) + 15 Minutes to Assemble = 2 hours, 51 minutes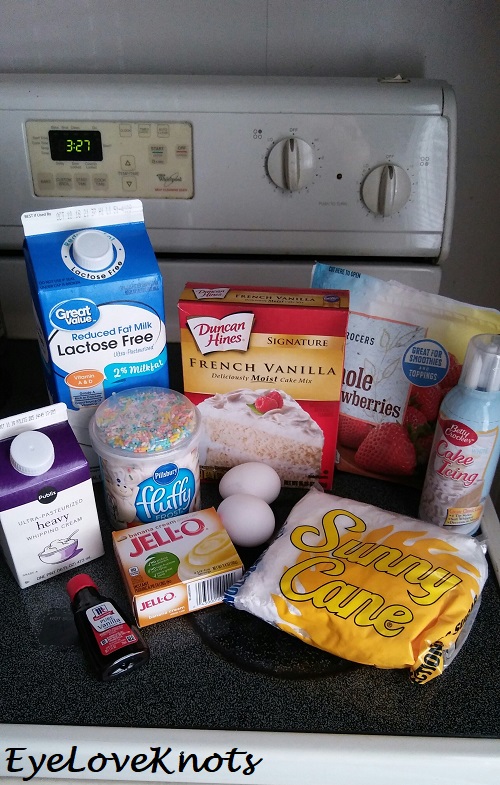 Ingredients:
1 Box of Cake Mix – I used Duncan Hines French Vanilla
2 Eggs
1/3 Cup Oil
1 Cup Water
1 Pint of Heavy Whipping Cream
3 Tablespoons of Powdered Sugar
1 3.4 oz Box of Banana Cream Pudding (the dry kind)
1.5 Teaspoons of Vanilla
4 Tablespoons of Milk – I used 2% Lactose Free
18 Small Strawberries – I had a bag that was 16 oz (1 lb). I used 2 cups for my milkshake, and cut up the rest for this cake.
Container of Frosting – I used Pillsbury's Fluffy Frost in Vanilla, with Rainbow Sprinkles
Optional: Icing to Decorate With – I found some Betty Crocker Cake Icing on Clearance, and it had decorating nozzles.
You'll Also Need:
Two 8 x 8 baking pans
Whisk/Hand Mixer
Measuring Cup/Spoons
Pam/Butter & Flour
Large Mixing Bowl (x 2)
Knife for Slicing Strawberries
Optional, Ziplock Bag (for Banana Cream)
Spatula/Knife for Spreading Frosting
Recipe: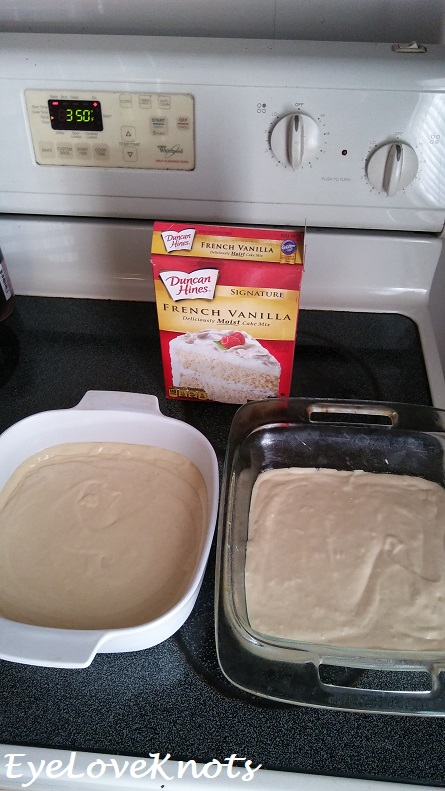 Step 1: Make cake as directed by box. Bake in two 8 x 8 pans – I baked mine for 26 minutes as following the box.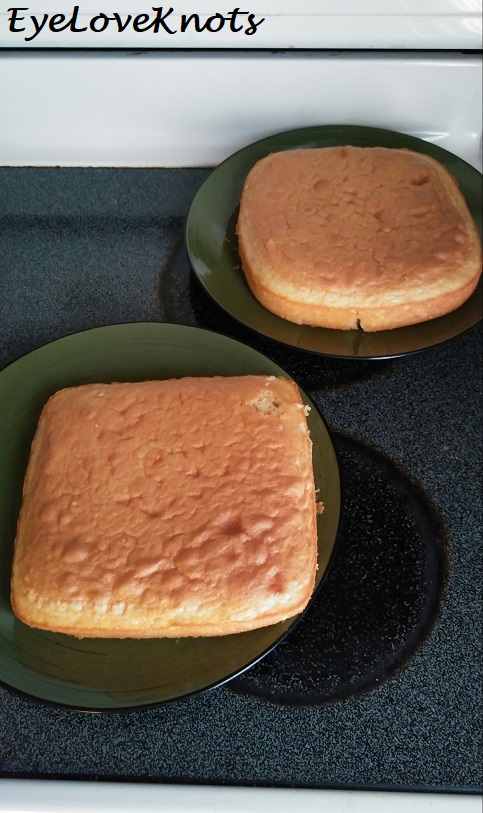 Step 2: Cool cake completely – I did so about two hours on the counter, but you could do it faster in the fridge.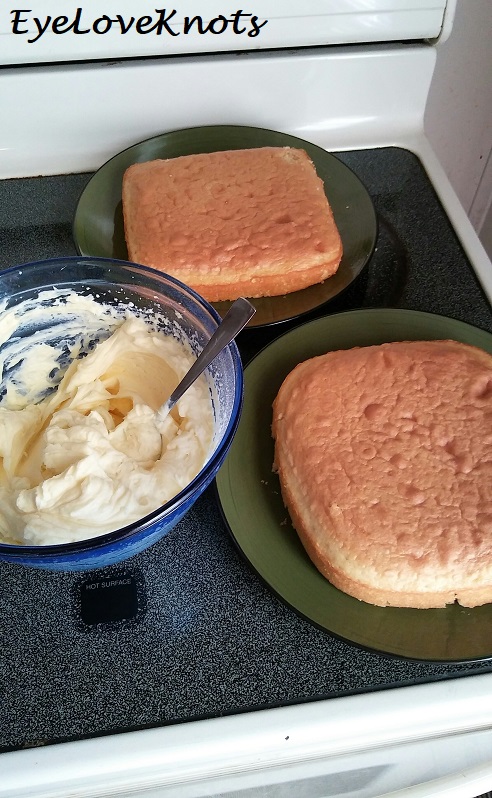 Step 3: While cake is cooling, prepare banana cream. You can refrigerate until ready to use.
Banana Cream: Whip heavy cream and powdered sugar together until soft peaks form. Add the banana cream pudding mix and vanilla, and continue whipping until well combined and thick. Add milk, and mix.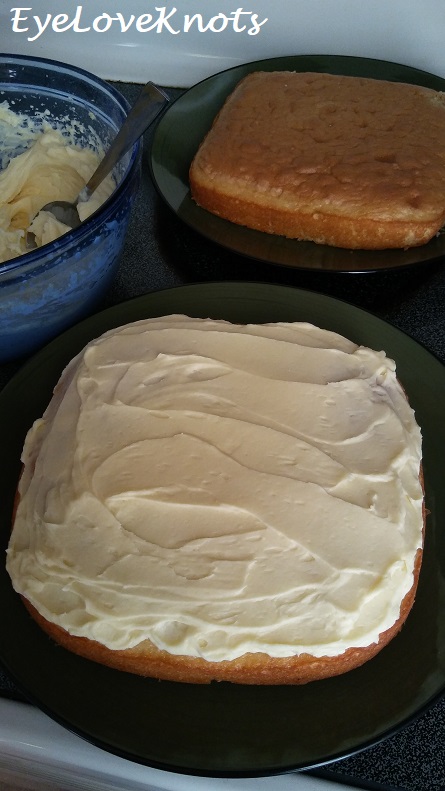 Step 4: Spread banana cream on one cake layer.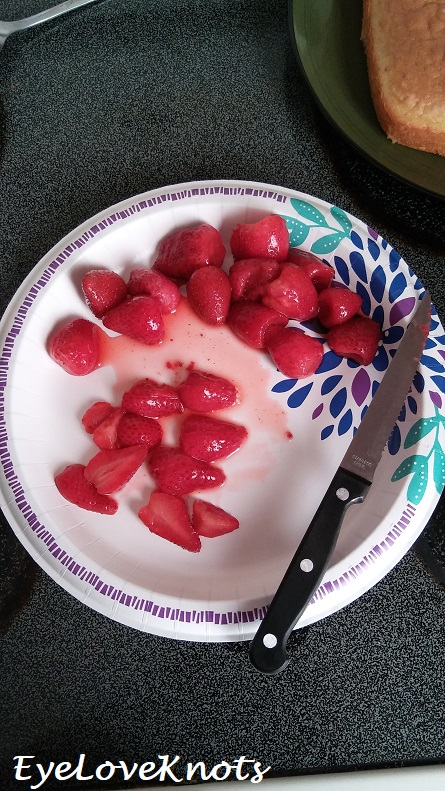 Step 5: Slice strawberries. You can do this while your cake is cooling too.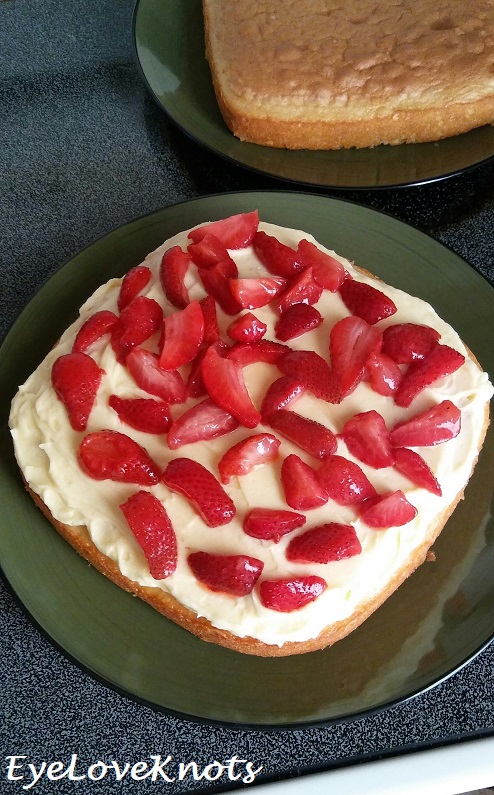 Step 6: Spread the strawberries!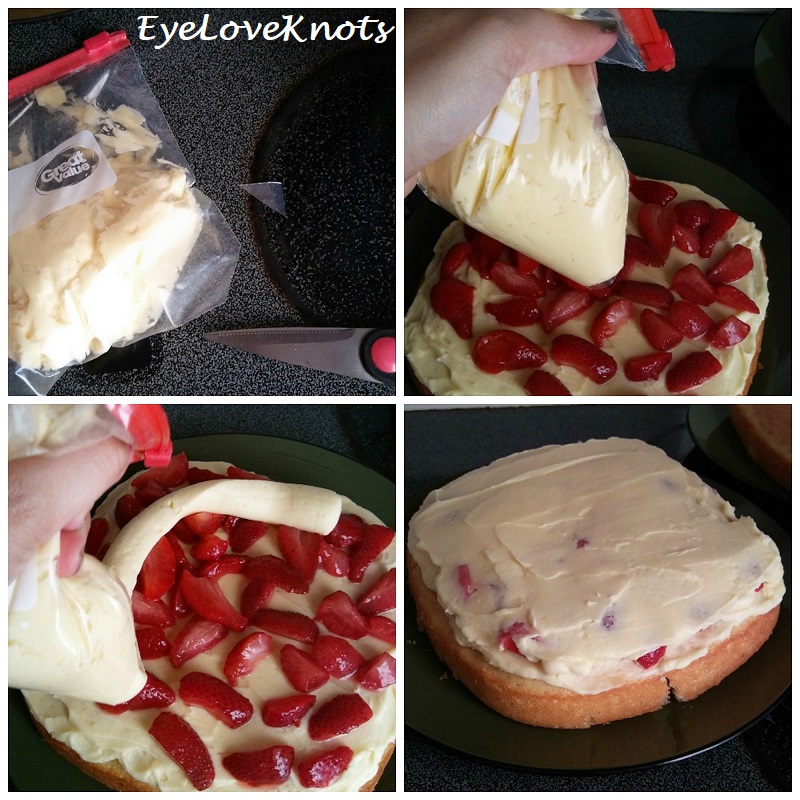 Step 7: Spread more of the banana cream on top – I used a ziplock bag, cut the corner, and squeezed it out on top so it wouldn't disturb the strawberries as much, then I used a butter knife to spread.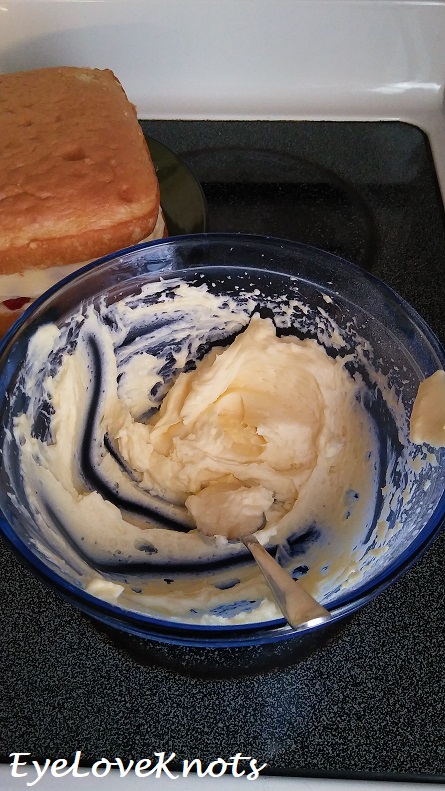 Step 8: This is how much banana cream I had left after spreading over my cake. I put this in a container in my fridge for another time.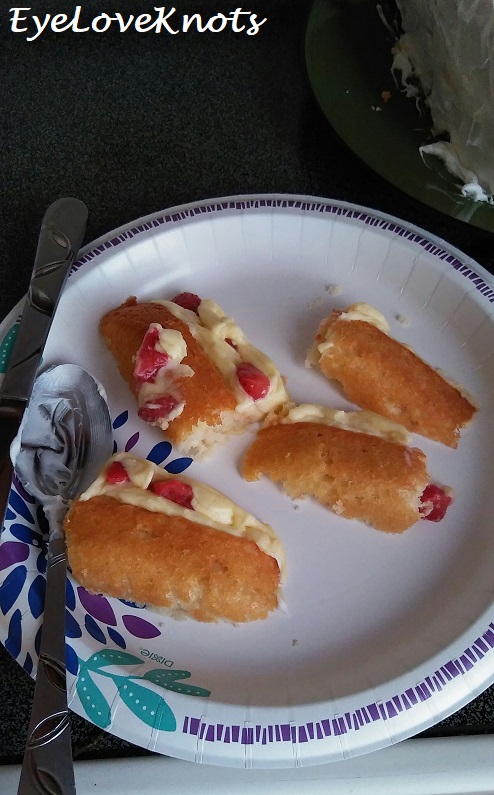 Step 8: Trim cake if needed. Even though my pans were both 8 x 8, the shaping was a touch different, so I had to trim my cake a little before frosting. Was perfecting for snacking!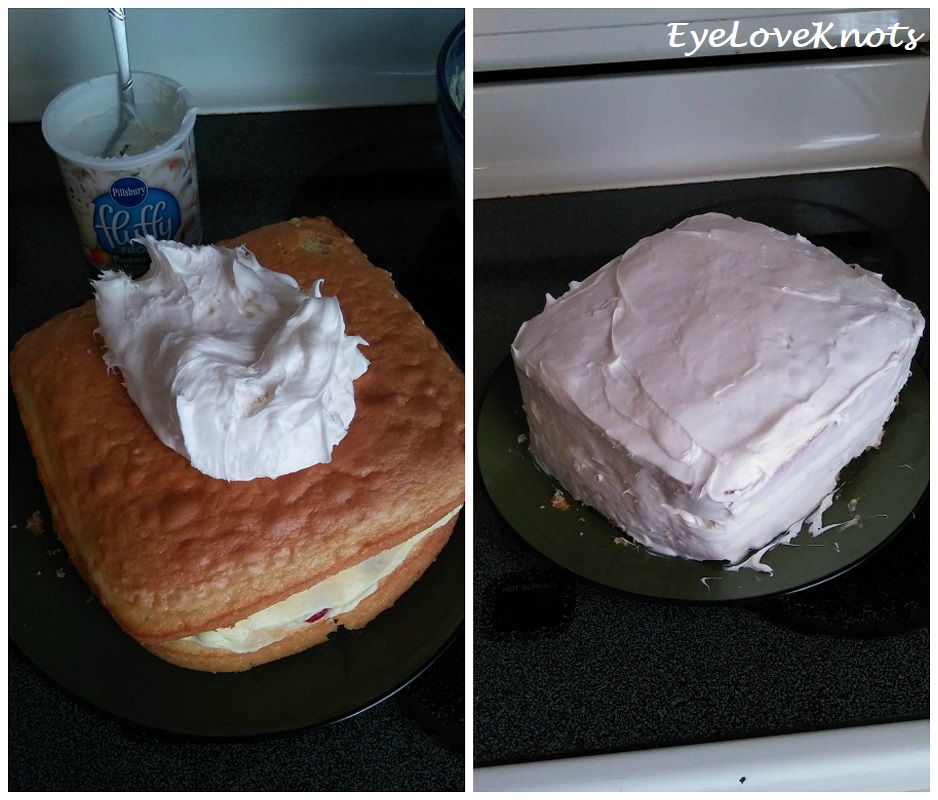 Step 9: Frost cake.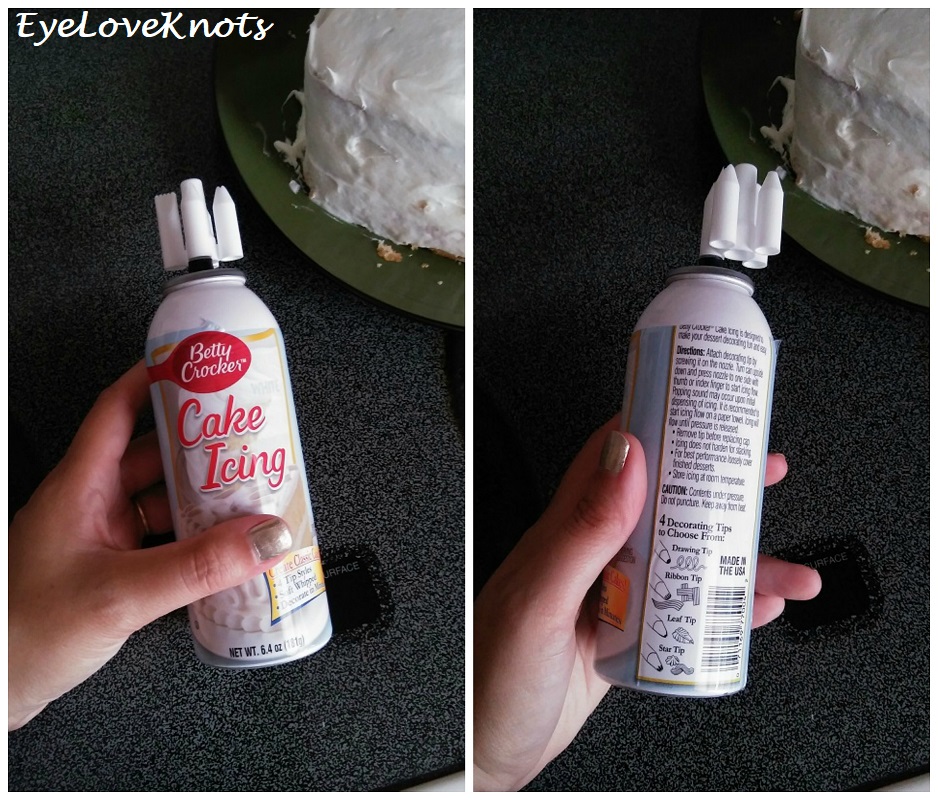 Step 10: Garnish! I don't have any fancy decorating nozzles in my supplies, so while I was getting the heavy cream, I found this icing on clearance, and it comes with four different nozzles! I used the star tip. My first star fell off, hehe, but was very easy and fun to use.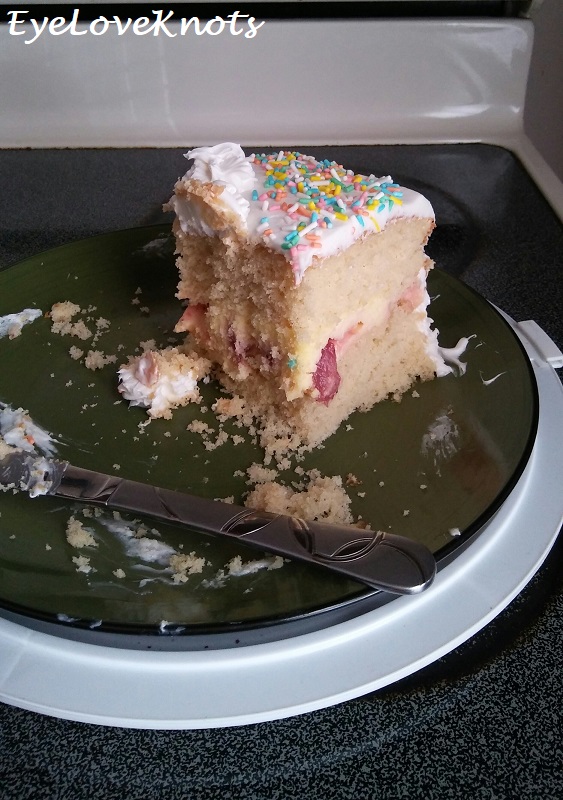 Enjoy! This one didn't stay around for very long.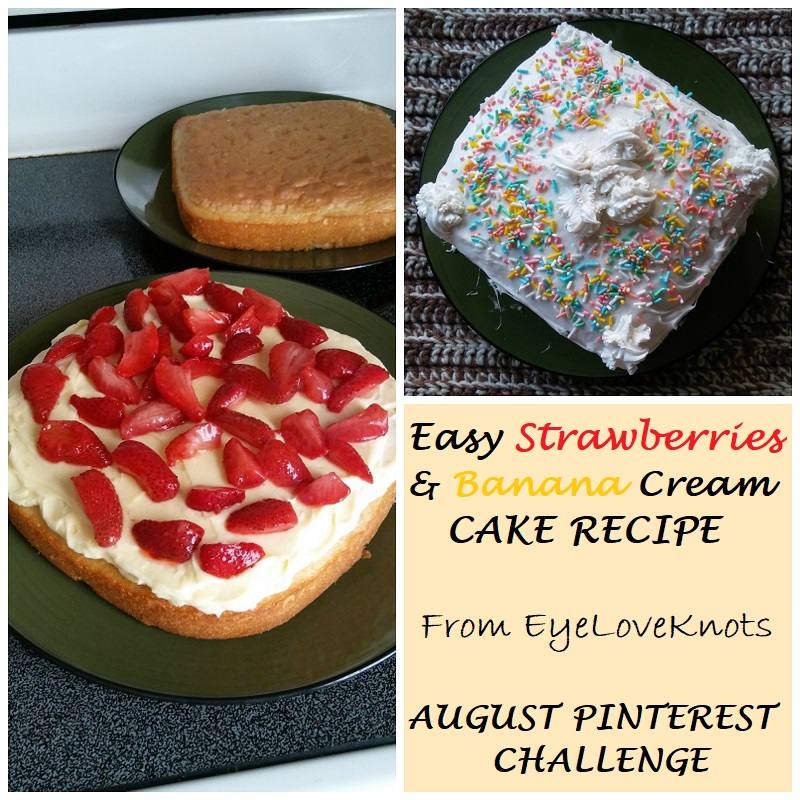 Please DO NOT claim this recipe as your own nor should you sell my recipe, and DO NOT re-publish my photos as your own. DO NOT copy and paste my recipe anywhere, link to it instead.
To join next month's #pinterestchallenge, click here to sign-up ⇒ September Pinterest Challenge.
---
Now let's see what other things Pinterest inspired! Head over and visit the other hosts to see what they crafted, cooked, built, or tried!
Erlene – My Pinterventures • Jenny – Cookies Coffee and Crafts
Alexandra – EyeLoveKnots • Joanne – Our Unschooling Journey
Chelc – Inside The Fox Den • Erin – The Usual Mayhem
Beverly – Across the Boulevard • Lynne – My Family Thyme
Laurie – My Husband Has Too Many Hobbies • Lydia – Lydia's Flexitarian Kitchen
Leslie – Once Upon a Time & Happily Ever After
Lauren – Mom Home Guide • Emily – Domestic Deadline
Debra – Shoppe No. 5 • Roseann – This Autoimmune Life
Terri – Our Good Life • Lisa – Blogghetti
Kelli – The Olympic Nest • Rebecca – Hello Central Avenue
Bri – Halfpint Design • Cherryl – Farm Girl Reformed
Julie – Sum of their Stories • Habiba – Craftify My Love
Shirley • Intelligent Domestications
Join the EyeLoveKnots Crafting Community on Facebook to share your creations, and see what others are up to!
Linked Up To…
Nifty Thrifty Sunday #349 – Meet Our Life
Handmade Monday #90 – Sum of their Stories
Merry Monday Link Party #219 – A Wonderful Thought
Creative Mondays Link Up – Claire Justine
Craftastic Monday Link Party – Sew Can Do
The Scoop Link Party #341 – Worthing Court Blog
Fabulous Party #230 – Lou Lou Girls
437th Inspire Me Tuesday – A Stroll Thru Life
Sew It Cook It Craft It Link Party #69 – Sew Historically
{Wow Me} Wednesday #366 – Ginger Snap Crafts
Your Whims Wednesday #370 – My Girlish Whims
The Wednesday Link Party 260 – The Stitchin' Mommy
Funtastic Friday #194 – Olives N Okra
Best of the Weekend – Hello Little Home
Sweet Inspiration Link Party #122 – Purple Hues and Me
Friday Frenzy Link Party – 08/31/18 – Kelly Lynn's Sweets and Treats
Pretty Pintastic Party #224 – Sparkle Living
Link Your Stuff – Annemarie's Haakblog
Snickerdoodle Create Bake Make Link Party #247 – Across the Boulevard