This post contains affiliate links for LoveCrochet. If you make a purchase by clicking on them, I make a small commission at no extra cost to you. Thanks for your support!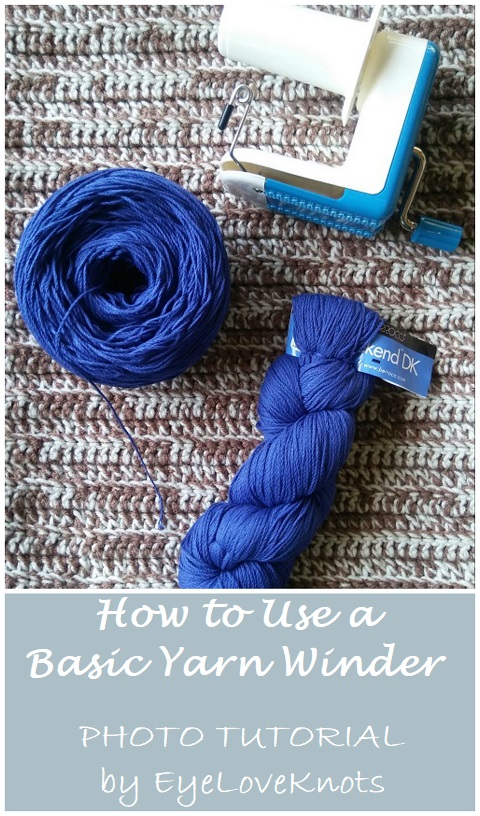 If you have ever used a boutique skein of yarn – something a little more luxurious or hand dyed, it comes in a twisted up skein that looks kind of like a cinnamon twist thing from your local donut shop. A yarn brand I use more frequently that needs to be wound is Berroco, and in this example, I am using their Modern Cotton DK. This works with any yarn though – it can even be used to rewind yarn that is in your stash!
For my Yarn Winder, I am using a basic one found at Hobby Lobby – this one to be exact. There are several different ones out there, this just happens to be the first one I saw when I was out and about, so I bought it. I would love to have one like my local yarn shop has that winds the yarn itself! One day… On to the tutorial!
Let's Wind Some Yarn!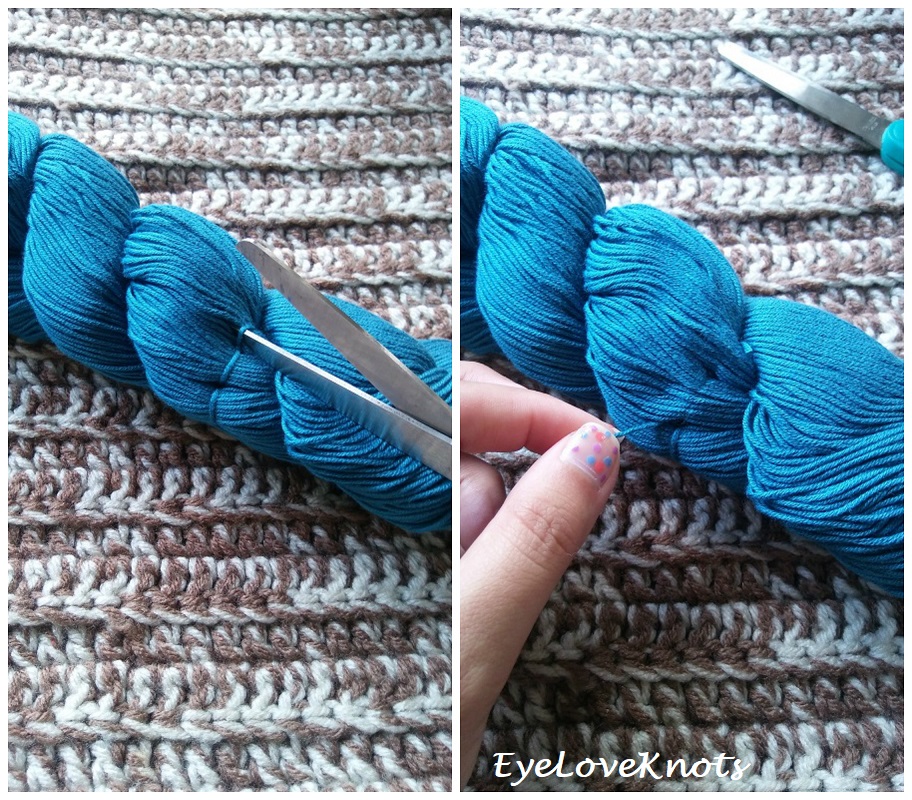 If you are using a skein like mine, you will need to get it all set up first. First things first, you will notice that your skein is tied in two (or three) places. Carefully cut one of the loops, and pull it out. Do this around. One of the ties will be the two tails of your yarn – take note to where they are.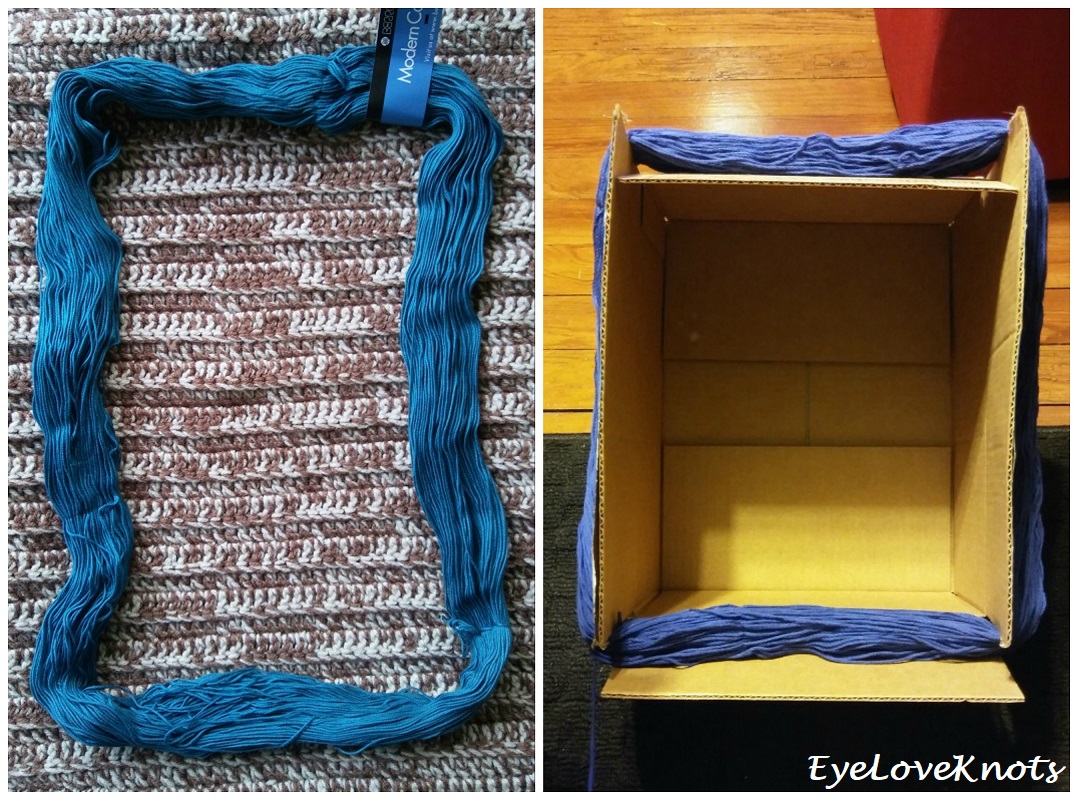 After cutting the ties, you can carefully untwist the skein, and you will end up with one big loop.
Place this loop around something of a similar size – in my case, I use a spare box, but you could wrap it around a chair, or have someone hold it for you. Just be careful because you don't want any part of this to fall, as it will easily lead to a tangled mess.
I use the box all the time, but even still, sometimes as I work, some part of it will try to come off, and I just keep pushing down the corners. Most of the time, it works perfect, other times I want to cry trying to untangle it. Just be patience and go slow.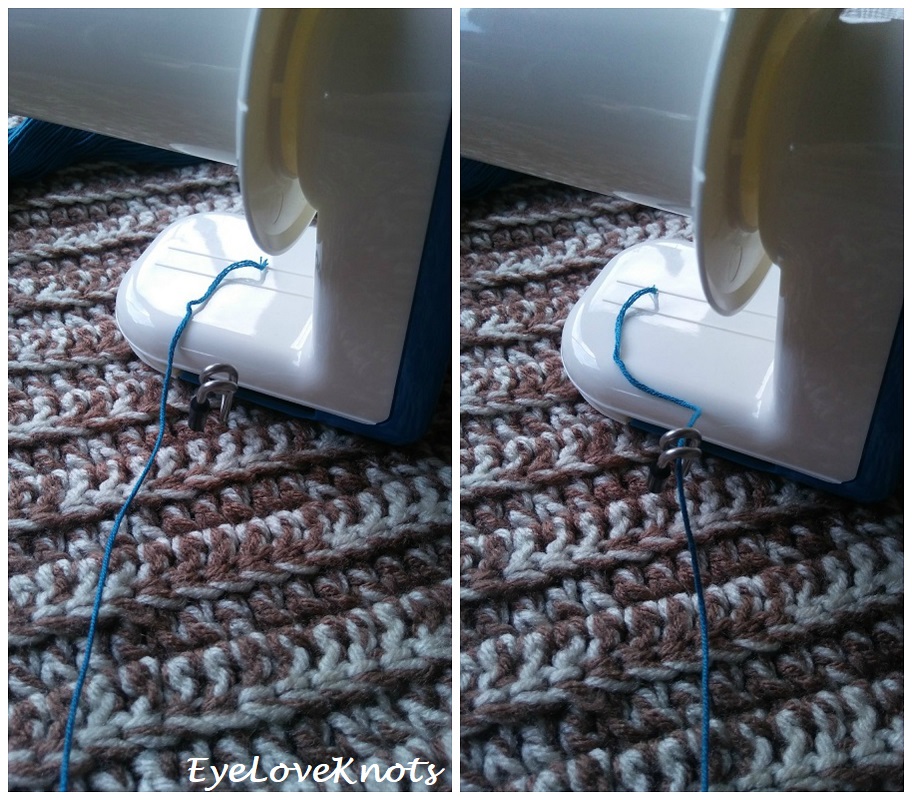 This yarn winder has a gizmo on the bottom that moves side to side, and is controlled by the winding motion. Grab one of the tail ends, and wind it around the gizmo twice/thread through the center hole working away from you.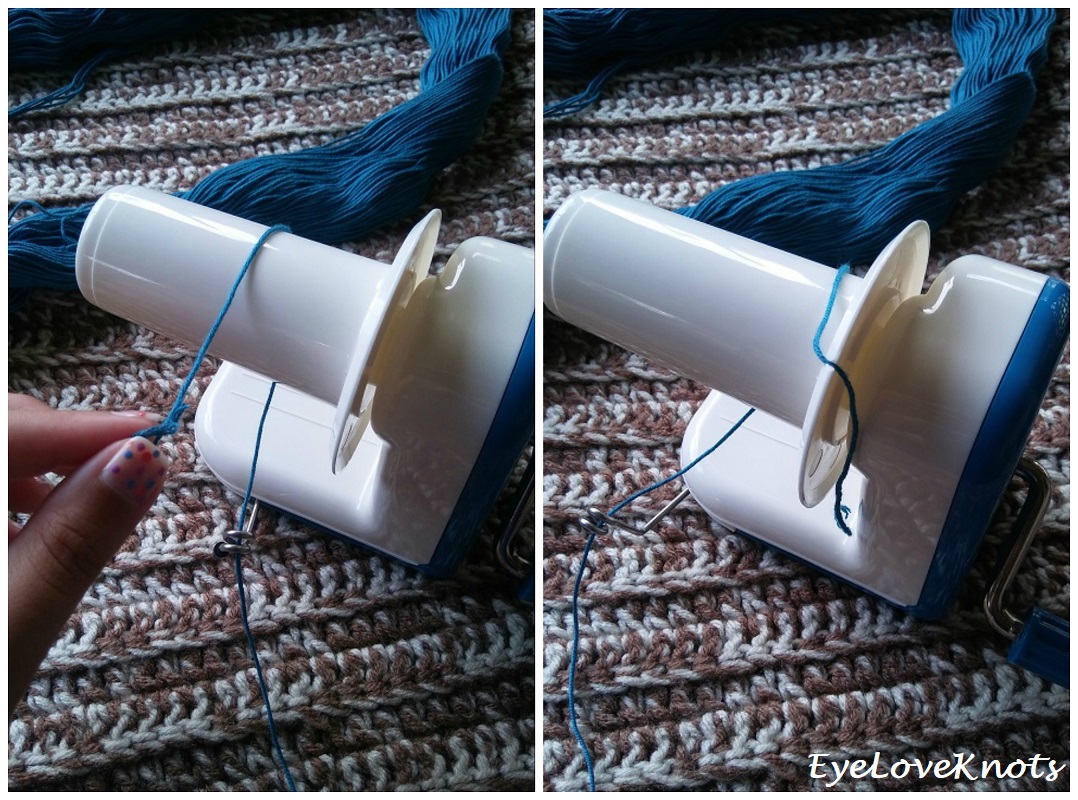 Pull the tail end around and over the backside of the winder, and place it into the notch on the wheel – there should be two notches, any will work. This is going to be your center pull later.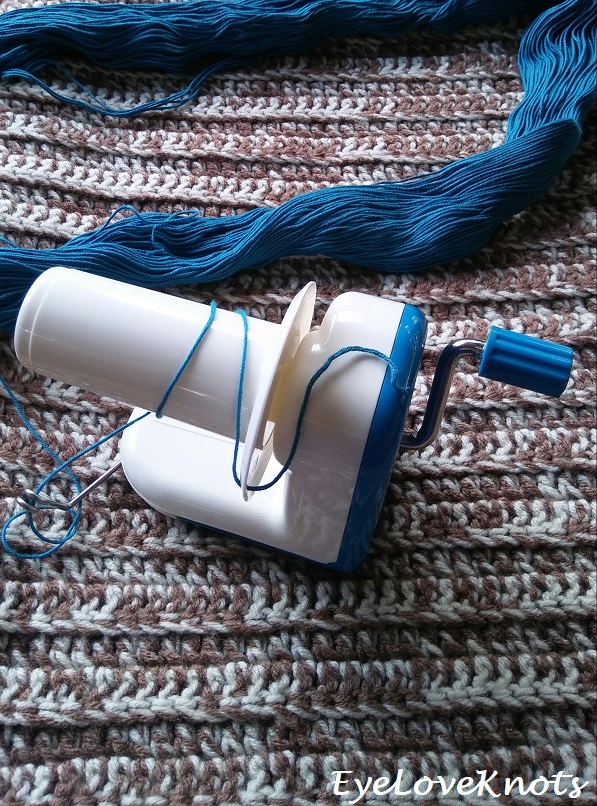 Wind clockwise a few times to secure the yarn…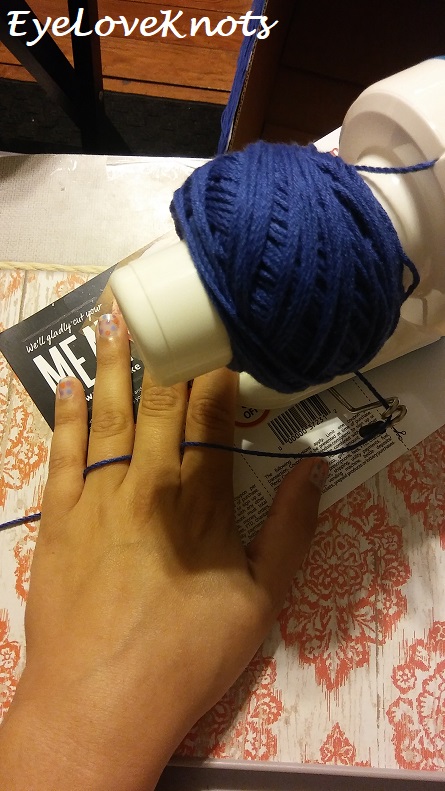 As I continue to wind, I keep tension on my working yarn by holding it the same way I hold my yarn when I crochet. If you don't keep slight tension on the yarn, it will form a messy ball of yarn that will tangle as you try to pull from it and work, and it could also slip on the side of the yarn while winding, which results in the same situation.
I also hold the left side of the winder down so it doesn't escape – the winder does come with a clamp to clamp it down to a table, but it didn't really work that great for my table. I find just holding it is much easier. I will also add that my winder has a screw on the bottom of it that scratched up my table the first time I used it, so I also keep something down underneath it when I work.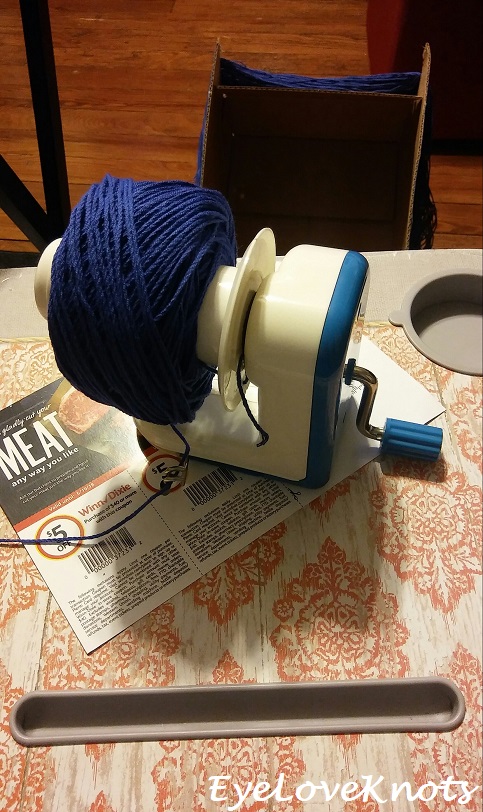 Now, just wind. I find the whole process to take about 35 to 45 minutes. I wind while I watch TV. Be patience, and don't work too fast so you don't have any yarn mishaps.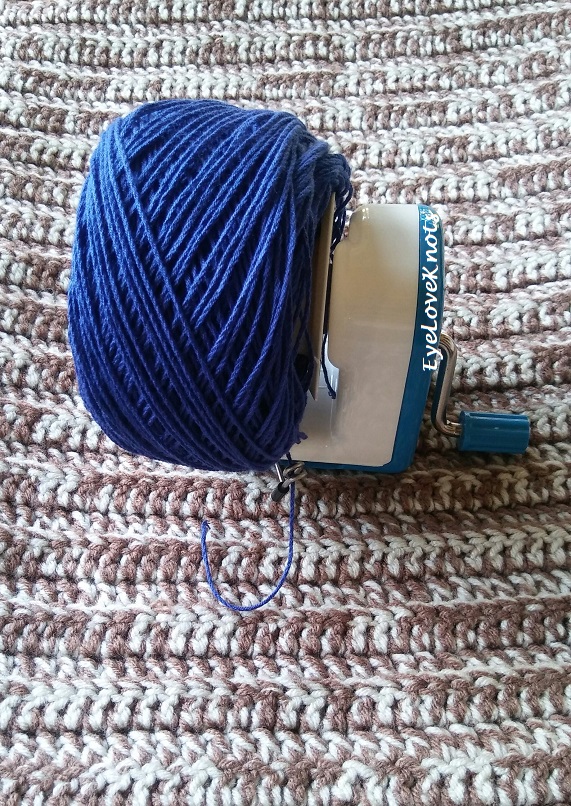 And then you'll end up with a beautiful, full skein!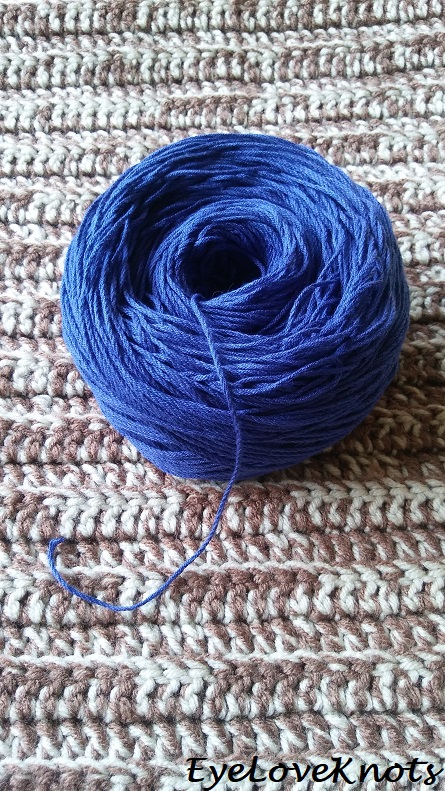 Pull the beginning tail out of the notch on the wheel, and carefully pull your ball off the yarn winder.
Now, you are ready to crochet/knit!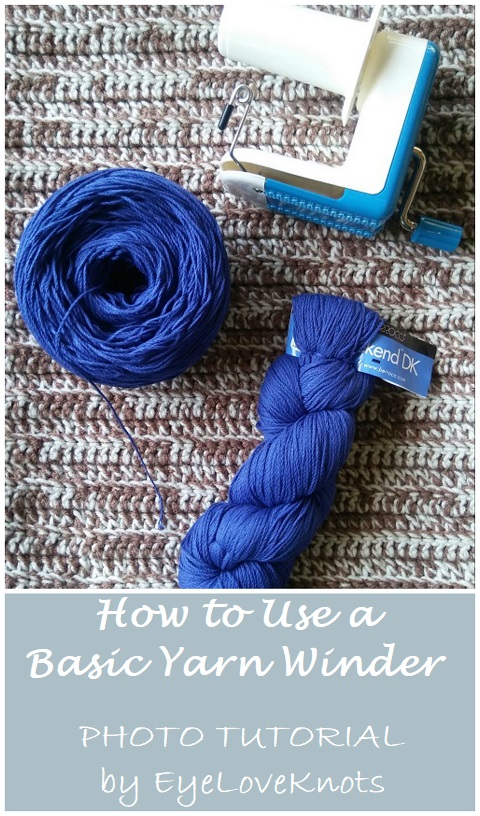 Join the EyeLoveKnots Crafting Community on Facebook to share your creations, and see what others are up to!
Linked Up To…
Craft Schooling Sunday – Creative Jewish Mom
Sundays at Home #226 – Celebrating Everyday Life
Nifty Thrifty Sunday #356 – Meet Our Life
Tutorials & Tips Link Party #370 – Home Stories A to Z
Creative Mondays Linkup – Claire Justine
Handmade Monday #97 – Sum of their Stories
Merry Monday Link Party #226 – A Wonderful Thought
The Scoop Link Party #348 – Worthing Court Blog
The Really Crafty Link Party #139 – Keeping it Real
Ginx Wooly Linx Party October – Ginx Craft
Craftastic Monday Link Party – Sew Can Do
443rd Inspire Me Tuesday – A Stroll Thru Life
The Linky Ladies Party #143 – The Purple Poncho
Fabulous Party #237 – Lou Lou Girls
Sew It Cook It Craft It Link Party #75 – Sew Historically
{wow me} wednesday #373 – Ginger Snap Crafts
Hookin' on Hump Day #177 – Petals to Picots
Your Whims Wednesday #377 – My Girlish Whims
The Wednesday Link Party 267 – The Stitchin' Mommy
Crafty Love Link Party #38 – Jessie at Home
Scrappy Stitchers Link Party #46 – Stitches n Scraps
Talk of the Town #145 – My Repurposed Life
Pin Party #287 – The Pin Junkie
Friday Frenzy Link Party – 10/19/18 – Kelly Lynn's Sweets and Treats
Sweet Inspiration #129 – Purple Hues and Me
Home Matters #206 – Domestic Deadline
Best of the Weekend – Hello Little Home
Link Your Stuff – Annemarie's Haakblog
Snickerdoodle Create Bake Make Link Party #254 – Across the Boulevard