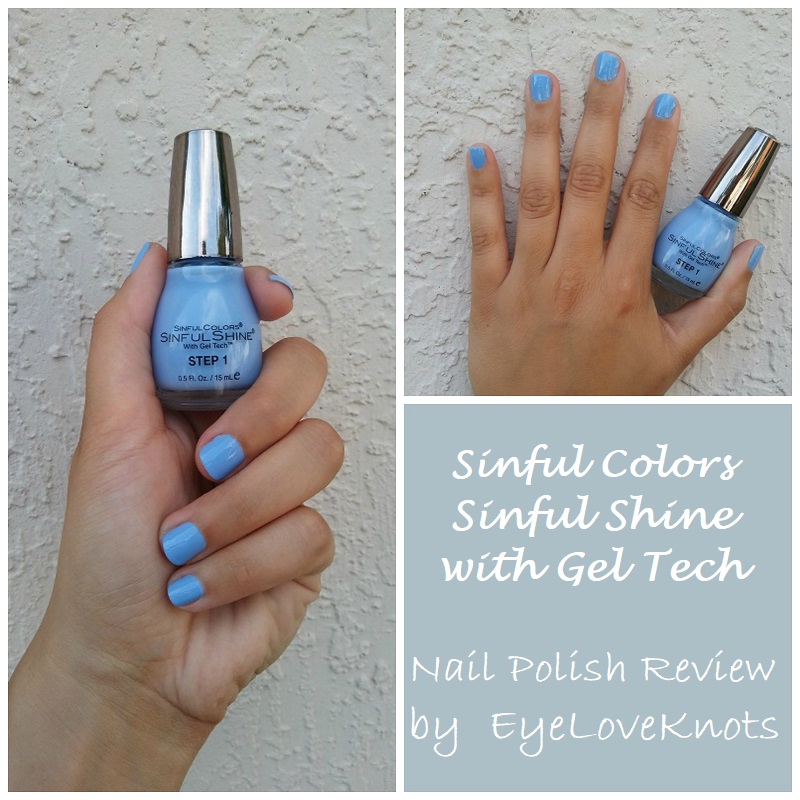 I have been on the search for a good nail polish that will last me 10-14 days. Now, I know there is some here and there to be expected, for example, usually the tips of my nails wear down before the rest from touching and grabbing things, but I wanted something that wasn't going to peel away and chip bad after a few days.
I have been a fan of Sinful Color nail polish for years now, so when I saw this Sinful Shine with Gel Tech polish, I HAD to give it a try! I got mine at my local Walgreens, but I think Walmart also carries it, and Amazon of course. I have even found the regular Sinful Color at Big Lots a few times, so maybe the gel one can be found there too.
Besides lasting, two other things I like about this nail polish, is that it is a gel alternative that does not require a light, AND it's easily removed with nail polish remover.
For this post, I have used the Sinful Colors Professional Base Coat, followed by Sinful Colors Sinful Shine with Gel Tech in the Alfresco [Blue]colorways, and finished off with the Sinful Colors Sinful Shine Top Coat.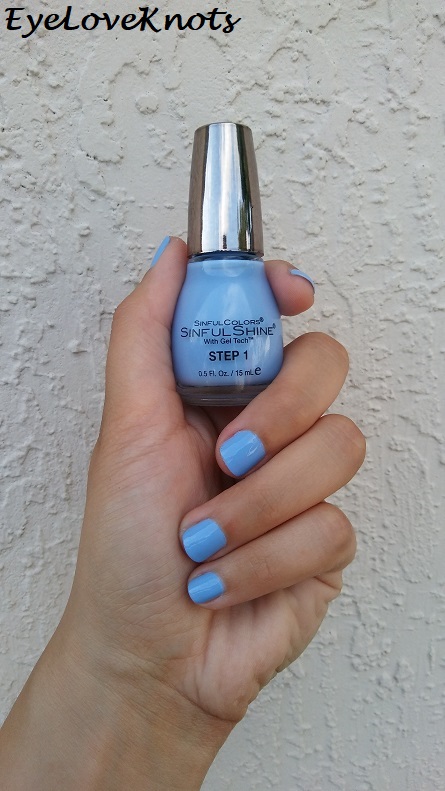 Day 1.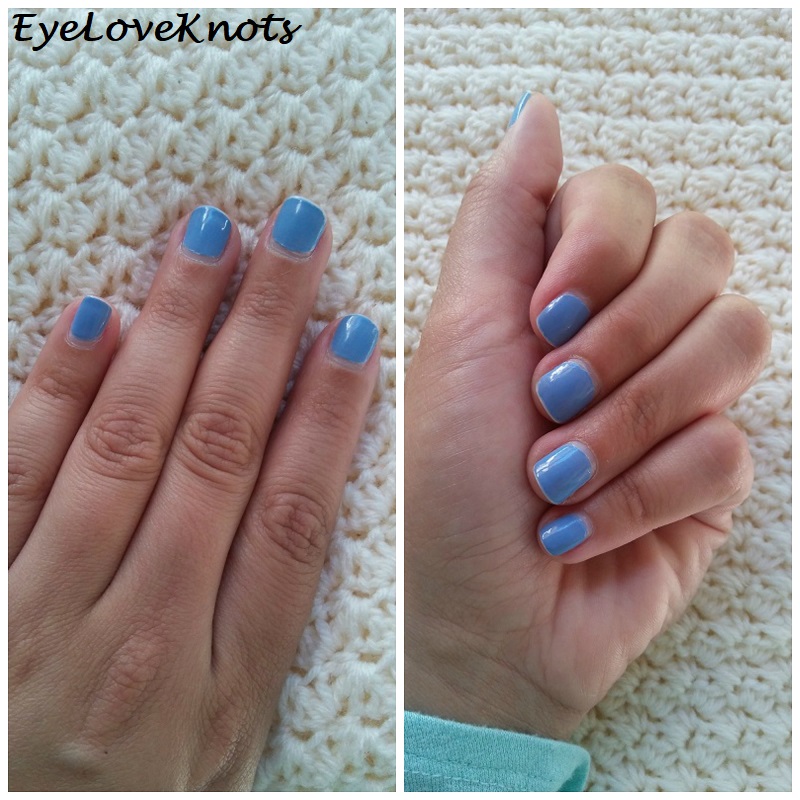 Day 8. You can see where my nails have grown out, and a little bit off the tips, as expected, but other than that, still excellent!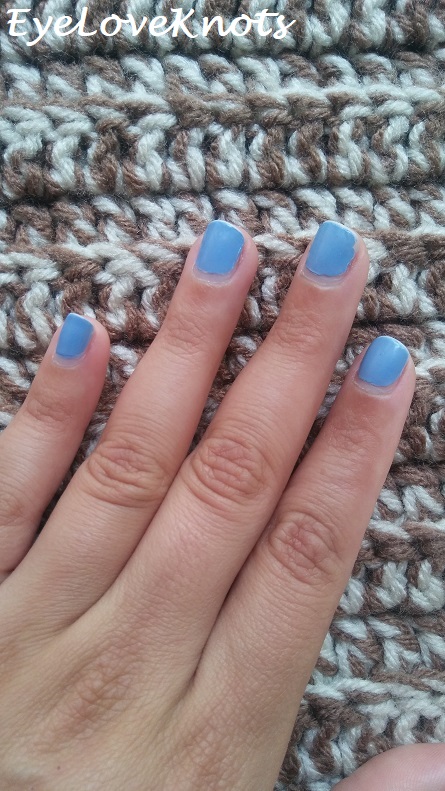 Day 11. My middle finger on my left hand chipped a little…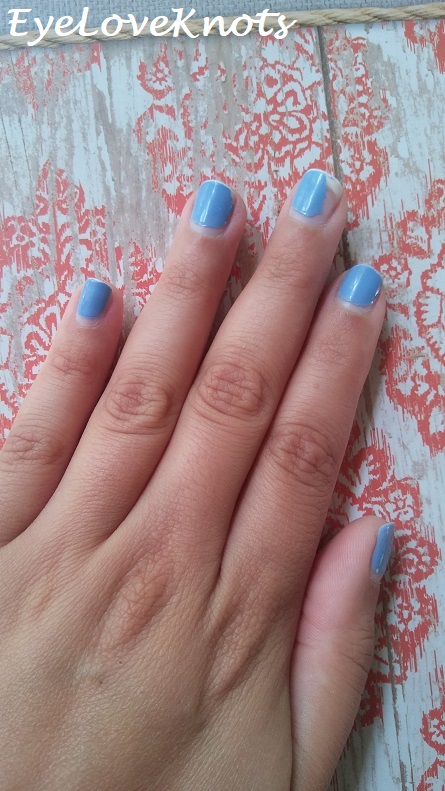 Day 12. Time to change the polish now! THOUGH, other than this middle finger, all my other fingers are still in the same condition as Day 8, other than growing out a little more, which is still excellent!
Pull out your normal nail polish remover and cotton ball, and watch it easily come off!
One thing I wanted to add before I leave you… I have used this polish on my toes as well, and when it comes to my toes, I am not as diligent about changing the polish out – it might stay on there 3 or 4 weeks before I change it. This polish looses it's color over a longer period of time, and I am not sure why, but by the end, the polish on my toes was pretty much white. Do with that what you will.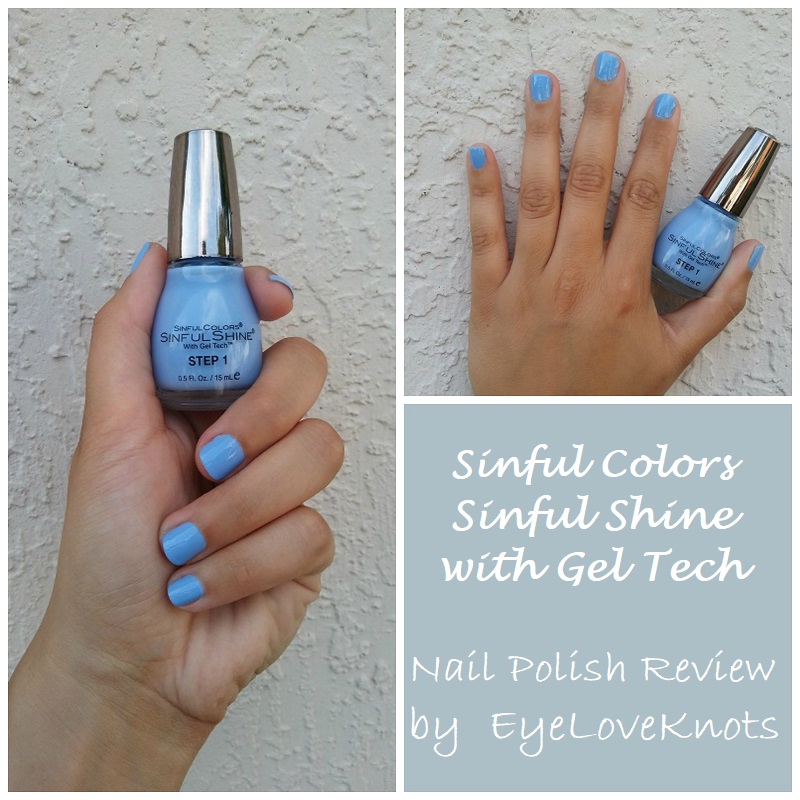 There you have it! A gel-like polish that lasts 10-14(ish) days that does not involve a light, AND is easily removed with nail polish remover. Polish recommended!
Join the EyeLoveKnots Crafting Community on Facebook to share your creations, and see what others are up to!
Linked Up To…
Inspiration Monday – I Should be Mopping the Floor
Tutorials & Tips Link Party 373 – Home Stories A to Z
Creative Mondays Linkup – Claire Justine
Handmade Monday #100 – Sum of their Stories
Merry Monday Link Party #229 – A Wonderful Thought
The Scoop Link Party #351 – Worthing Court Blog
The Really Crafty Link Party #142 – Keeping it Real
Craftastic Monday Link Party – Sew Can Do
446th Inspire Me Tuesday – A Stroll Thru Life
Fabulous Party #240 – Lou Lou Girls
Sew It Cook It Craft It Link Party #78 – Sew Historically
Turning Heads Linkup – Elegantly Dressed and Stylish
Confident Twosday Linkup – I do deClaire
Pin Party #290 – The Pin Junkie
Best of the Weekend – Hello Little Home
Sweet Inspiration Party 132 – Purple Hues and Me
Friday Frenzy Link Party – 11/09/18 – Kelly Lynn's Sweets and Treats
Pretty Pintastic Party #234 – Sparkle Living
Weekend Wear Linkup – Mom with Style
Friday Favorites Linkup – Lizzie in Lace
Fashion Files Link Up #186 – Curly Crafty Mom
Trendy Thursday Link Up – Thirty Minus One
{Wow Me} Wednesday #376 – Ginger Snap Crafts
Your Whims Wednesday #380 – My Girlish Whims
The Wednesday Link Party #270 – The Stitchin' Mommy
Wall to Wall DIY Wednesday Link Up Party Week 22 – Dabbling and Decorating
Snickerdoodle Create Bake Make Link Party #257 – Across the Boulevard