I received this Darn Good Yarn of the Month Box for free in exchange for sharing it with you!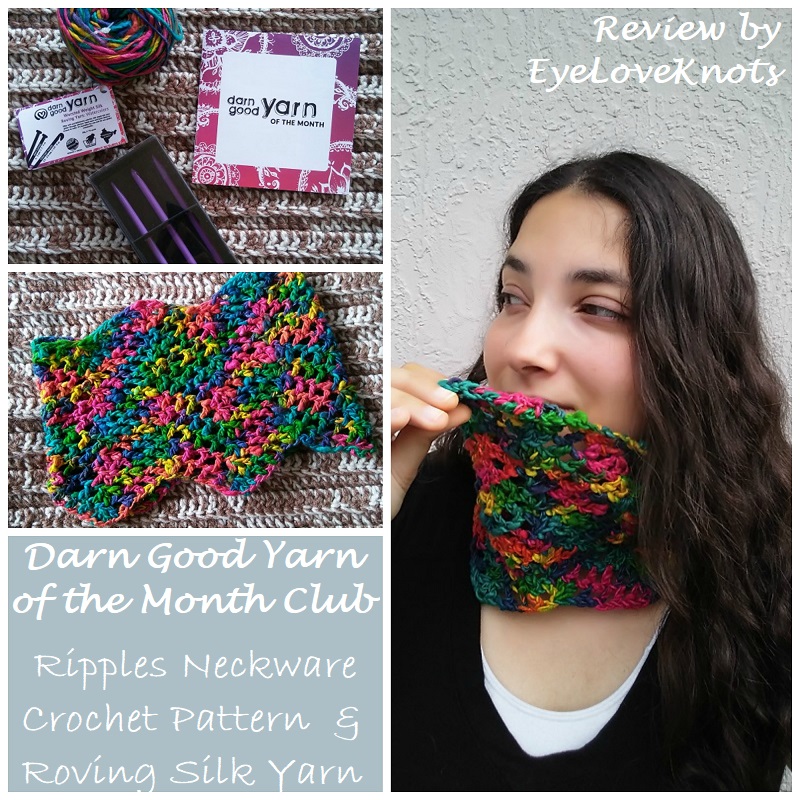 A few weeks ago, Darn Good Yarn reached out to me on Instagram to see if I was interested in working with them. I reached back out to get some more information, and ended up telling them that I had really been wanting to try their Darn Good Yarn of the Month Box, so they agreed to send me one in exchange for sharing it with you! And you know how much I love to share crochet pattern reviews, and yarns with you!
Quite some time ago, I had seen a Facebook ad about this yarn box. What caught my attention was "$10 a month", so I clicked on it, and started reading what others had shared in the comments. I found a lot of negative comments, mostly saying two things: 1. Free gift not included; 2. Not enough yarn to complete a project. These comments over, and over again deterred me from subscribing, so I was really looking forward to trying it out when they reached out to me.
PS – You can order your own yarn box (or anything else) for 15% off! Darn Good Yarn has graciously provided a special code for you to use – 15% off your entire order! Use code: EYELOVEKNOTS15.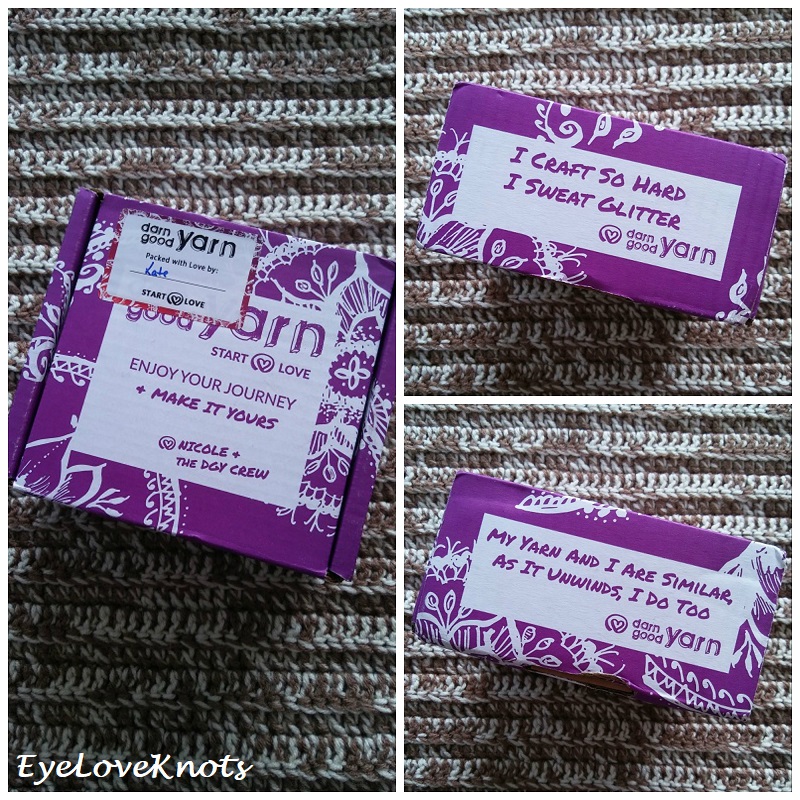 My box arrived quickly, and all was nicely packed by Kate. Thanks, Kate! The box itself is fun – purple with memes on it.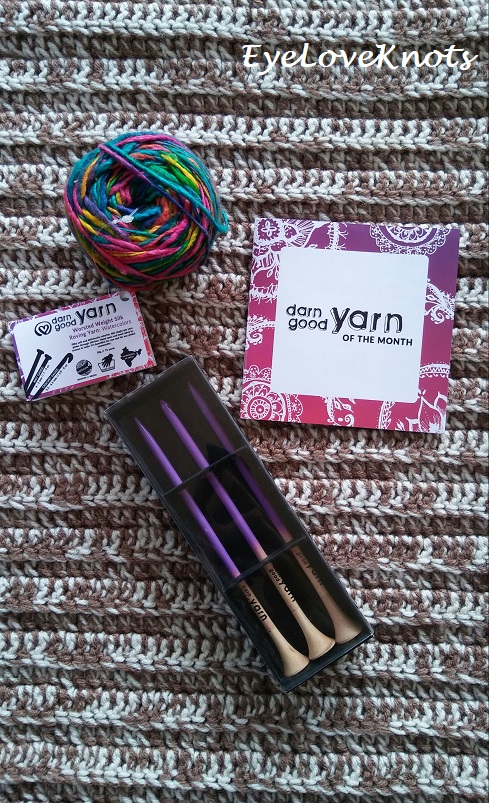 I was super excited to unbox my goodies. Inside the box, I found my free gift – both a set of knitting needles, and a crochet hook. These are wooden with a color block appearance of the beautiful natural wood color, and purple.
Since I don't knit much, I decided to go the crochet route. I will say, I did try to use this crochet hook, but it was not working well for me. I found myself having to use my pointer finger to move my loop around on the hook because it just was not gliding, and after a few chains like this, I put it down, and switched to my regular H8/5mm crochet hook. Later, I looked at the hook, and the neck of it is rough. As is, I don't think I could use it with any hook because it would get stuck… Bummer here. Knitting needles look good though.
Yarn Review:
Also in the box, an instruction booklet, and a gorgeous skein of Darn Good Yarn Roving Silk – a recycled silk crafted and hand dyed by Darn Good Yarn's partners in India. The yarn is so soft, and this particular skein was in a fun, bright rainbow colorway. I immediately picked the yarn up to rub it on my face, and smell it – two things I learned you always do with your yarn. You may be thinking, "I wonder what it smelled like…" Tea! It smells like tea to me. I kept smelling the project as I was working. Hehe.
This yarn is a worsted weight yarn. It comes with 75 yards/50 grams. It's made from Anamika Silk, which I found with a little research that this is silk waste from Mulberry and Tussah silk Noil. To me, it doesn't feel like silk pajamas, but it is really soft, and feels lovely against the skin. Another thing you may not know is that silk is quite warm, so using it to make a cowl is perfect!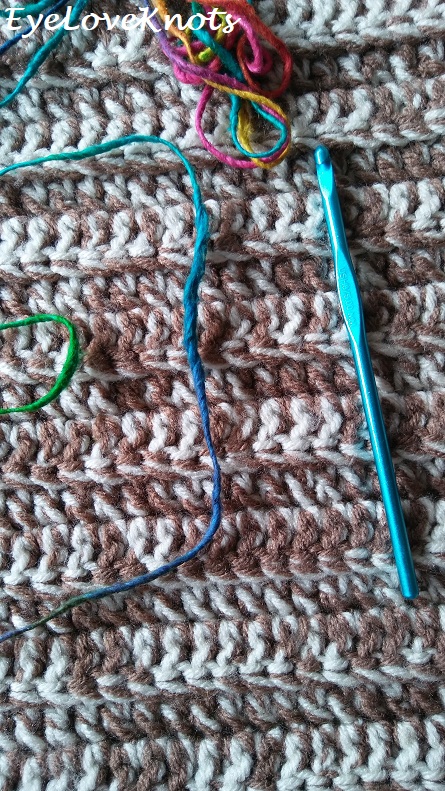 The yarn itself has a varying thickness throughout. Have you ever used Bernat's Dimension Yarn? It's very similar to this where so of the yarn is fine/sport weight-like, while other's are more worsted weight, and there is no rhyme or reason to it. The best way to work with yarn like this is to keep a loose tension. You want to try and work your thinner yarn areas the same as the thicker areas so the finished piece will be even. Unlike Dimension Yarn, this yarn is very easy to rip back, if needed, AND it really does glide on your crochet hook!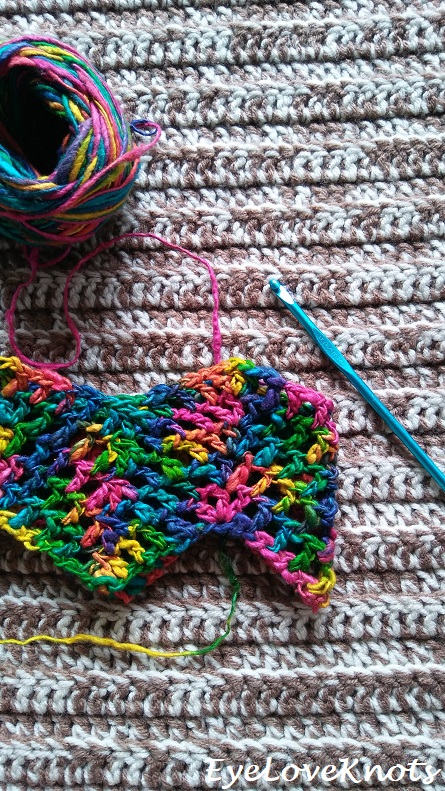 This yarn is hand dyed by women in southern India. I absolutely love the idea of supporting small businesses and individuals, so the fact that Darn Good Yarn works with a co-op of women in India really warms my heart. This rainbow colorway is gorgeous, and the colors are so bright and cheery. Reading into the booklet, I can tell you (even though it doesn't directly say it), this yarn is not colorfast, which means that if you wash it, the colors WILL bleed, especially the blues and greens.
To set your colors, finish your project (including the weaving), then soak in a solution of cold water and 1/2 cup of coarse salt for half an hour, then rinse in clean water, and soak again, but this time in equal amounts of white vinegar and cold water for half an hour. Rinse one more time, and lay flat to dry.
Remember, you can try a skein of this DGY Roving Silk Yarn (or a yarn box) for 15% off with special code EYELOVEKNOTS15 at check out!
Now, the Ripple Neckware! Pattern Review:
Materials:
Time Spent:
I worked up my cowl in one seating while watching some Reno my Reno on Netflix, for a total of just over an hour and 15 minutes.
Measurements:
Pattern: 6″ by 20″
Mine: 8.5″ by 20″
My Gauge:
1 Repeat from left Double Crochet of 3 Double Crochet Cluster to end of chain before the next cluster = 4″ Wide
6 Rows = 3 5/8″ Tall; 7 Rows = 4.25″
Pattern Notes:
The first thing I want to point out is the gauge. The pattern states that the gauge is not essential, so it doesn't provide it. I provided mine above in case you want something to reference against. The yarn does have quite a bit of stretch, so even if you crochet with a tight tension, as long as your finished width is at least 9″, it should still fit comfortably (maybe even a little better).
The reason why my cowl ended up being taller than the original patterns is because I had some yarn leftover, so I decided to add on some more rows, which I am glad I did!
Originally, I worked the original length of 9 rows, which left me with a cowl that was 7″ tall from the bottom of one valley to the top of one peak. I weaved in my ends, and then tried on the cowl – mistake! The cowl didn't seem like it had enough, and it didn't lay and hug and cover like I thought it should. With the added rows, it made all the difference. Had I not fastened off, and weaved in at the end of 9 rows, I probably would have been able to complete 12 rows.
I did not work the final round of single crochet because single crochet is a stitch that doesn't have much give to it. Because this is a more fitted cowl, I didn't want it to lack stretch anywhere. If you do decide to work the final round, work it similarly to the rest of it with three single crochets in the top of the peaks, and a single crochet three together down along the valley, otherwise it will probably bunch.
If you wanted to buy some extra yarn, you could easily make this cowl into an infinity scarf by working an additional 20 chains per repeat. Additionally, you could make a matching hat by evening out the final round, using a tapestry needle to work a running stitch along the top, and cinching closed – this would only require one more skein.
One typo I found in the pattern was in Round 1. It should be "…*[SK 1, DC into the next ST, CH 1] 3X, SK 1…" instead, it says to "CH 1" where that last "SK 1" is. The diagram, and remaining rounds are written correctly.
One thing to keep in mind when working the remaining rows is that the double crochet decrease is worked over the double crochets, not any of the chains. The pattern notes don't specify this, and the diagram only shows Round 1, so I thought I'd point this out.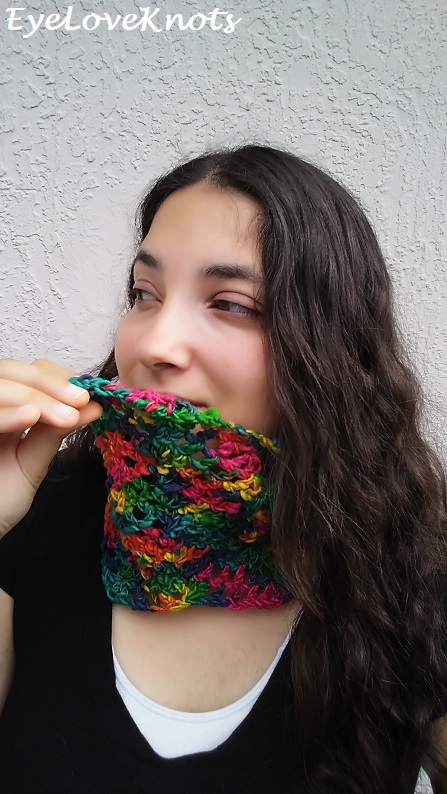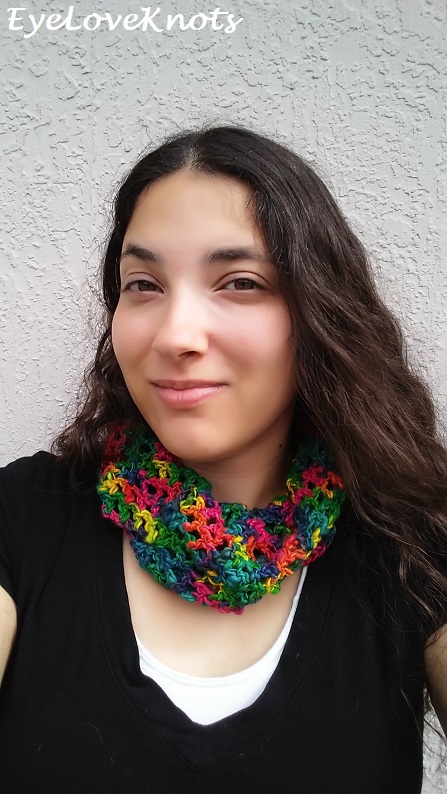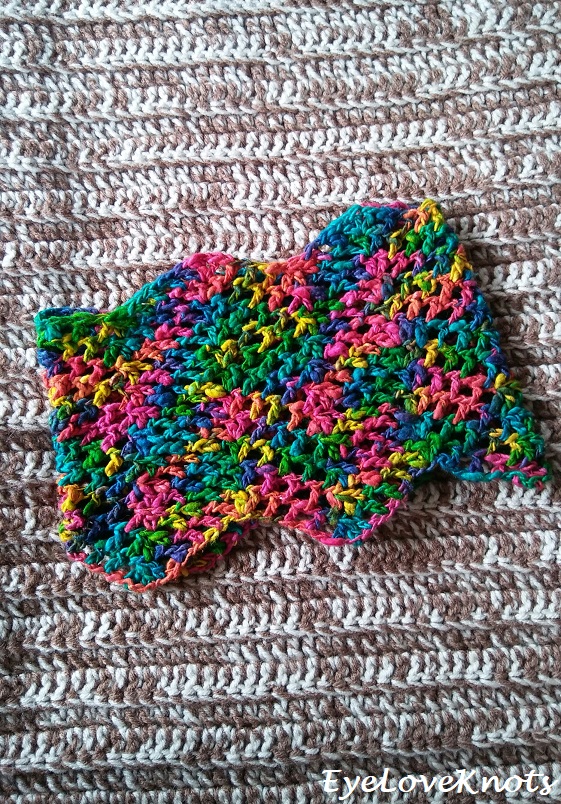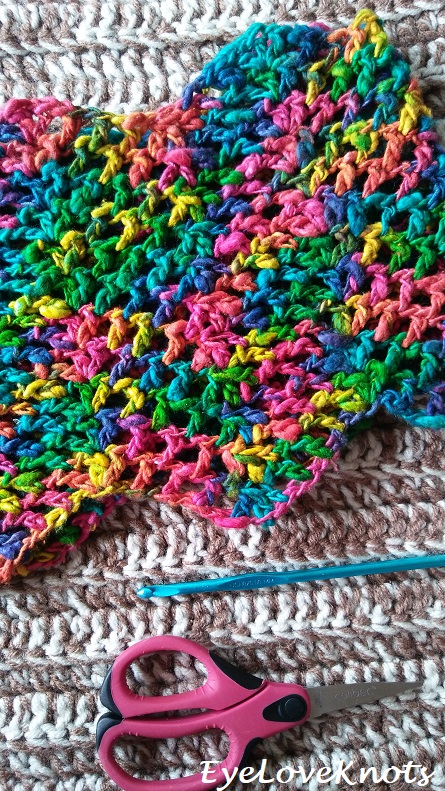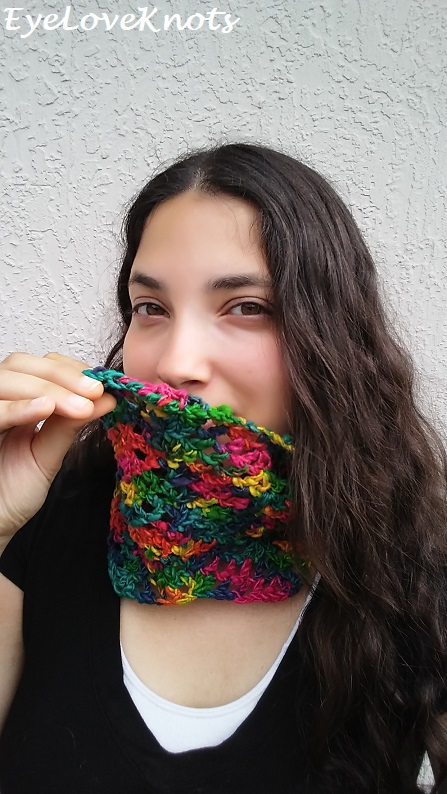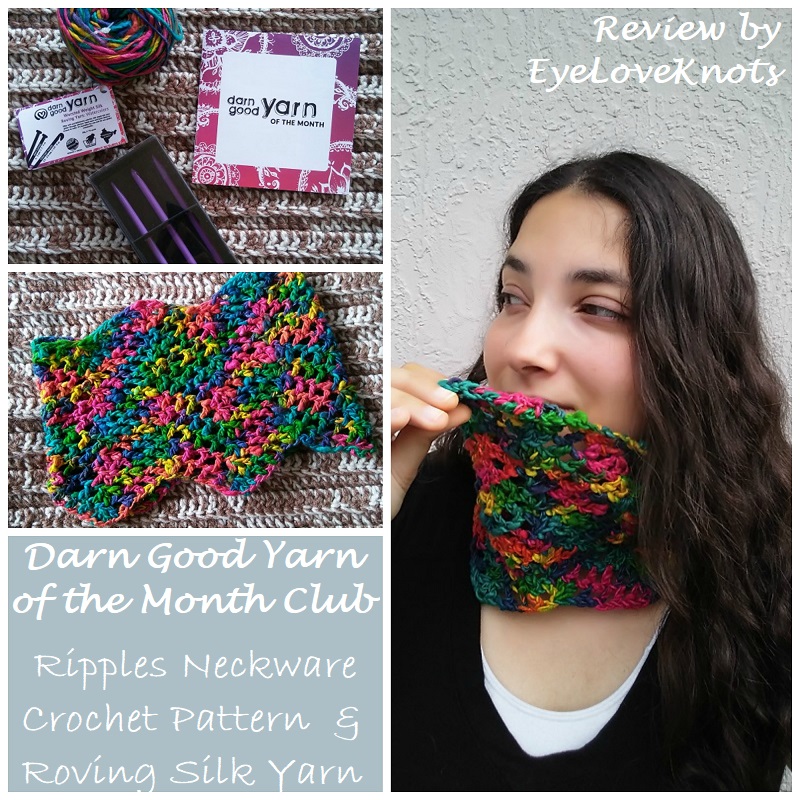 Other than that, put your favorite show on, sit back and relax while you work with this gorgeous yarn, and enjoy your Ripples Neckware! Also would make a lovely gift idea!
Ready to order your own Yarn of the Month Box? Darn Good Yarn has graciously provided a special code for you to use – 15% off your entire order! Use code: EYELOVEKNOTS15 at check out 🙂
Join the EyeLoveKnots Crafting Community on Facebook to share your creations, and see what others are up to!
Linked Up To…
Nifty Thrifty Sunday #358 – Meet Our Life
Sundays at Home #228 – Celebrating Everyday Life
Inspiration Monday – I Should Be Mopping the Floor
Creative Mondays Link Up – Claire Justine
Handmade Monday #99 – Sum of their Stories
Merry Monday Link Party #228 – A Wonderful Thought
The Really Crafty Link Party #141 – Keeping it Real
Craftastic Monday Link Party – Sew Can Do
Tutorials & Tips Link Party #372 – Home Stories A to Z
The Scoop Link Party #350 – Worthing Court Blog
445th Inspire Me Tuesday – A Stroll Thru Life
Fabulous Party #239 – Lou Lou Girls
The Linky Ladies Party #144 – The Purple Poncho
Sew It Cook It Craft It Link Party #77 – Sew Historically
Confident Tuesday Linkup – I do deClaire
Talk of the Town #147 – My Repurposed Life
{Wow Me} Wednesday #375 – Ginger Snap Crafts
Your Whims Wednesday #379 – My Girlish Whims
The Wednesday Link Party #269 – The Stitchin' Mommy
Wall to Wall DIY Wednesday Link Up Party Week 21 – Dabbling and Decorating
Style Me Wednesday – Shopping my Closet
Crafty Love Link Party #39 – Jessie at Home
Best of the Weekend – Hello Little Home
Home Matters #208 – Domestic Deadline
Sweet Inspiration Link Party #131 – Purple Hues and Me
Pretty Pintastic Party #233 – Sparkle Living
Friday Frenzy Link Party – 11/02/18 – Kelly Lynn's Sweets and Treats
Link Your Stuff – Anniemarie's Haakblog
Snickerdoodle Create Bake Make Link Party #256 – Across the Boulevard
Weekend Wear Linkup – Mom with Style
Friday Favorites Link Up – Lizzie In Lace
Fashion Files Link Up #185 – Curly Crafty Mom