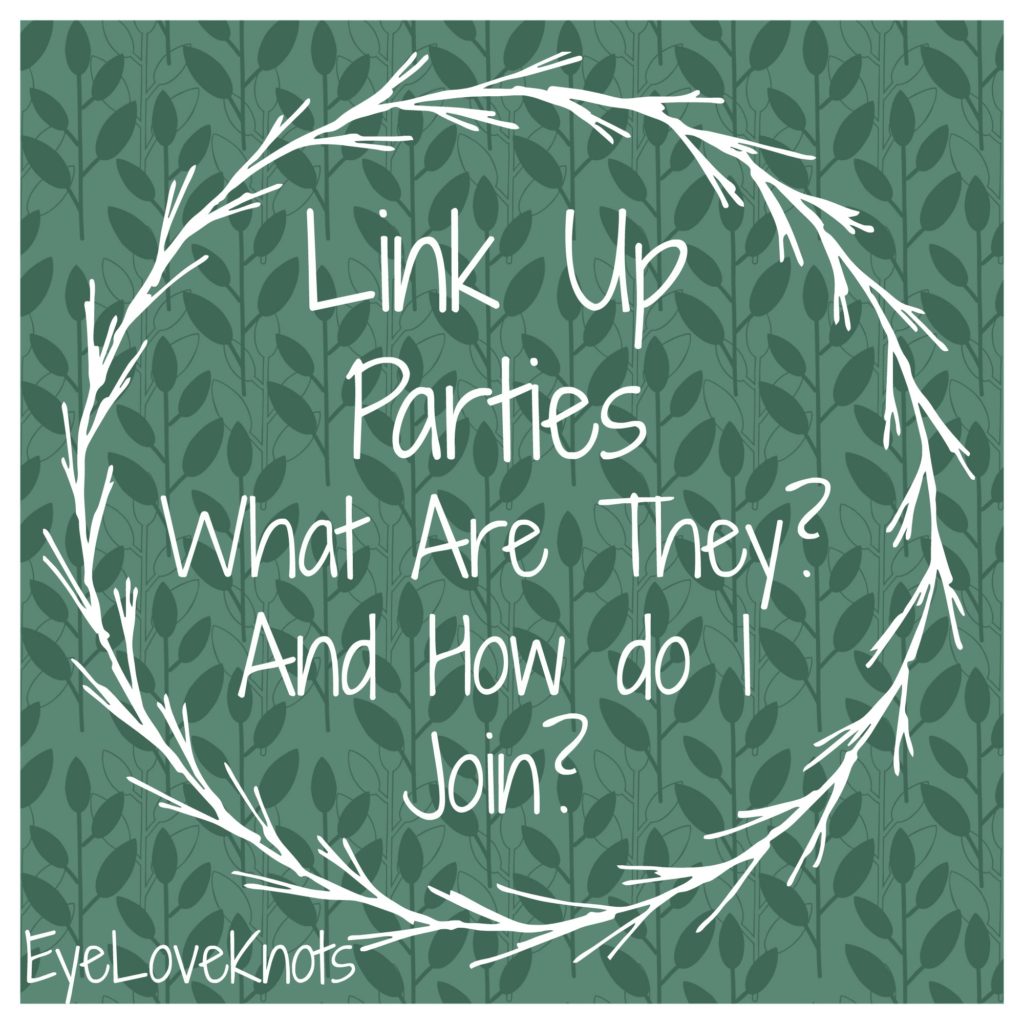 I have MANY linky parties that I attend on a weekly basis, and visiting them, and checking out what others have been up to is a highlight of my week. I find it so fun, and relaxing, plus they are a great source for sharing, finding inspiration, and getting more traffic.
Through linky parties, I discover new blogs to follow (that I wouldn't otherwise see), come across awesome posts/DIYs (that might otherwise get missed on social media), especially seasonal stuff, and have made so many wonderful new friends.
Check out where I party: Linked Up To…
So, what is a linky party?
A linky party (or linkup/link up) is simply a post someone puts together containing a tool (usually InLinkz) in which you can submit one of your recent links (from a blog, Twitter, Instagram, Facebook, Pinterest, etc) with corresponding image to be viewed by all who visit the same party. At the end of a linky party post, you will see organized thumbnails with short description under, and these are submissions by other viewers. When you see one that catches your eye, you click on it, and it takes you right to that blog post or social media post.
Why would I want to submit my links?
I have been to some parties where there are over 100 links shared! Imagine how many people are going to attend that party, scroll through the post, and then share there own links. Linky parties are an excellent opportunity to be seen, and get more traffic to your blog or social media outlet potentially bringing you more followers, PLUS – it's fun!
How long does it take to attend a linky party?
Well… Mondays are my busiest blog days, one of my tasks being linky parties. The first party at the top of my list is Inspiration Monday hosted by i should be mopping the floor (and a few others, but this is the blogger I link up through). I spend the most time here because these are all new links to me that I haven't seen yet, so a lot catches my attention. All in all, I probably spend about an hour, and 45 minutes scrolling through the parties, clicking on posts that intrigue me, commenting on and pinning inspiration, and linking up my own projects.
I timed myself last Tuesday… In 50 minutes, I linked up to 10 parties, checked out 13 posts, found a new party to attend actually making it 11 parties, AND painted my nails!
The further into the week, the less time it takes to attend a linky party because there is a lot of repetition – people go from one party to another and share the same links. With this repetition, it is easier to scroll through the links, and get to sharing your own links.
Do I have to click on, and visit other posts?
You should! We all should be supporting each other. Click on something that interests you sending some traffic that way, and the blogger will appreciate it. A comment saying you saw them at a linky party is even better!
ALSO, don't forget to comment on the linky party itself. It's nice to know that the party is appreciated. I used to comment ALL the time, but it got to a point where it felt very impersonal to me, so I decided to check out the most recent posts shared by the hosting blog, and comment on/pin those posts that interested me. I do comment on the linky party post if one of my projects has been chosen as a feature – to me, the support is so appreciated!
Is there anything I CAN'T share at a linky party?
Per InLinkz rules, you are not allowed to link up to a for sale listing, so definitely no Etsy, eBay or Ravelry listings (or similar). I also think InLinkz said no stock photos. I don't know about this one for certain, but I did realize A LOT of bloggers adding this into their set of rules, so I assume so.
Some parties also ask not to link up to giveaway or other linky parties (ie one you are hosting), but this varies on the blogger. Also, some parties are theme specific – example: Turning Heads linkup hosted by Elegantly Dressed and Stylish is specific to fashion and lifestyle posts, In Stitches Party hosted by Nicki's Homemade Crafts is specific to free crochet/knit patterns, Ginx Woolly Linx Party hosted by Ginx Craft is specific to fiber posts, etc. To play it safe, check out the rules section of the linky party you are attending – you should find this just before the thumbnails begin.
What is a party button?
Some part hosts have a special "button" you can grab to display on your blog to show others where you party at. The little image you see is what would be displayed on your posts/blog page if you copied (or grabbed) the html code underneath, and placed it somewhere appropriate. Some place it on their blog side bar, or on the bottom of the post they shared, or have an individual page with all of their parties listed.
Personally, I include a section on the bottom of my blog posts that says "Linked Up To…" and underneath it, I share the name, and link of the party that I shared that particular post to. This helps me keep track, and shows others where I party at.
Okay, I am ready to link up. Walk me through it.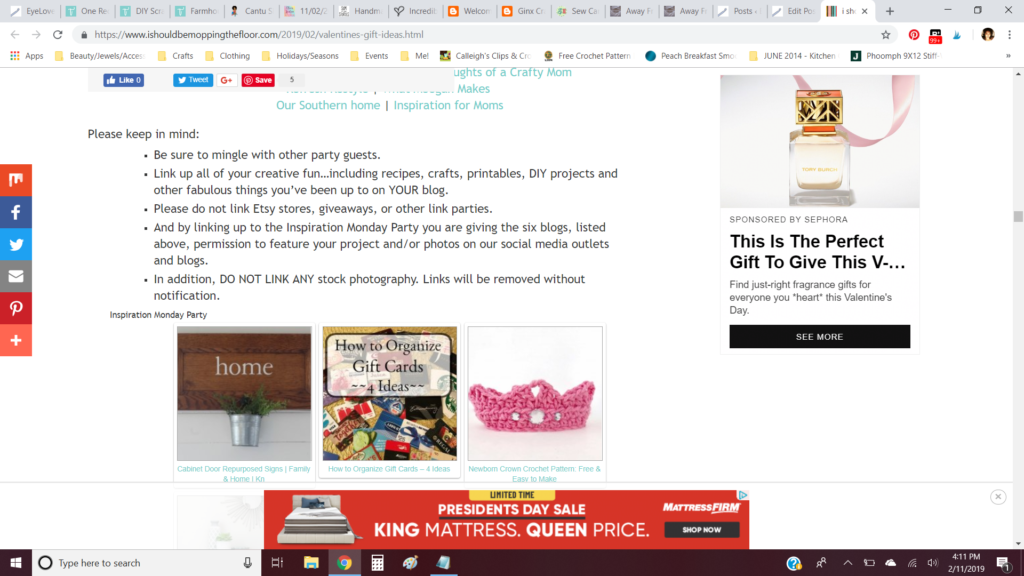 After the introduction, and featured posts, continue scrolling to the rules section. Make sure to read them to see if there are any restrictions.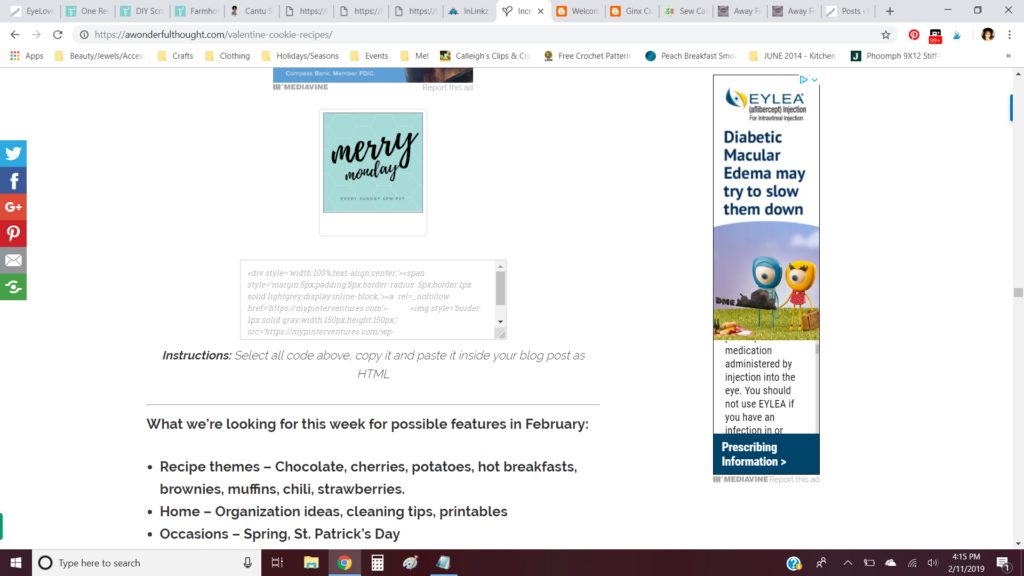 This is what a party button looks like, with the code underneath it.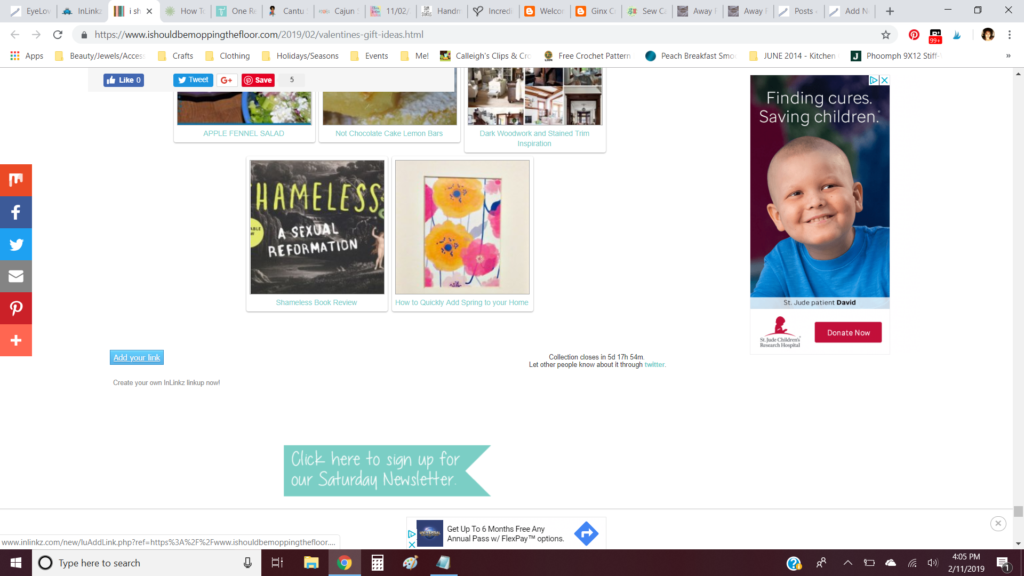 Scroll through the thumbnails you see (like the ones above). Click on the descriptions of the ones that interest you to visit the page containing that information. When you are done, and reach the bottom, click on the blue "Add Your Link" button you see on the left side.
The time you see on the right is the time you have left to share you link at this particular party. Bloggers usually have them open for a few days or a week, and then close them so a new party can be started.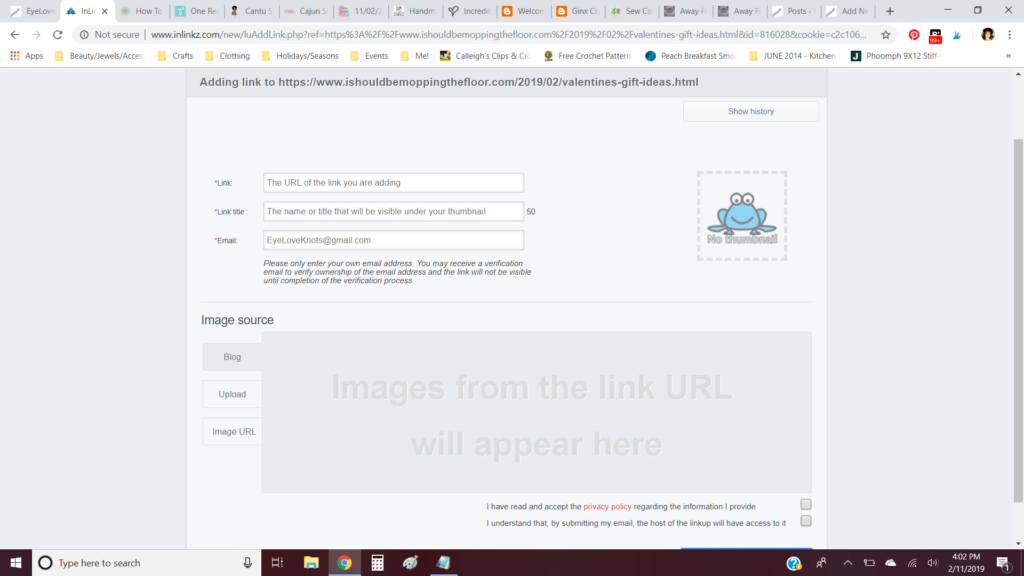 After you click on the blue tab, a screen like this IF it's a classic version of InLinkz. There is a new version of InLinkz where you click on the blue button, it asks you to log in through social media, and then you link up directly from the party page, as opposed to this new tab. There is also another party tool I think called The Linky Tools. It's set up similarly.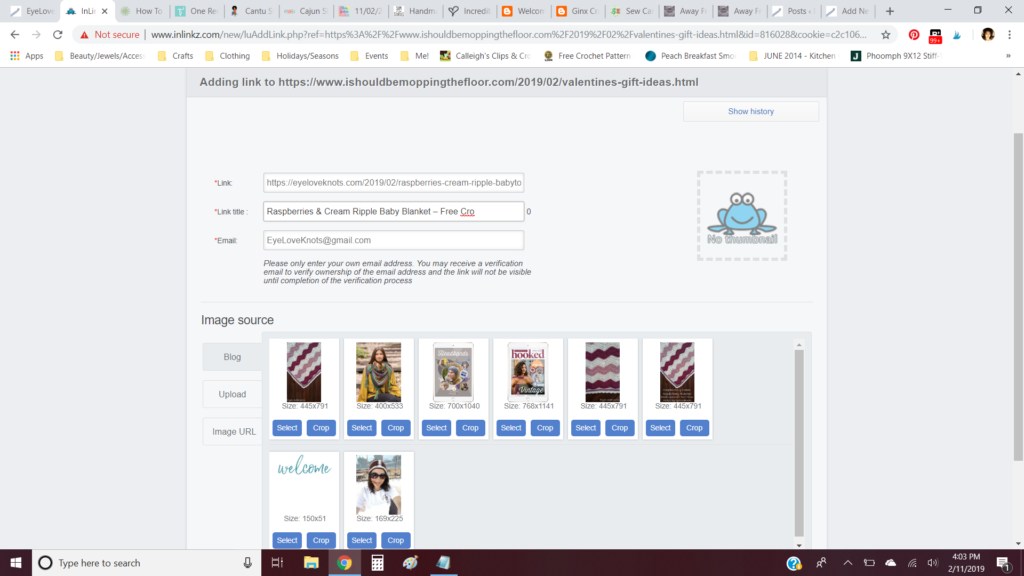 In the box next to where it says "*Link:" you will paste the URL from your link.
Hit the tab button on your keyboard, and the next line ("Link Title") will automatically be generated. You can edit it if you want it to say something else, but I go to so many parties that I usually leave it as is. Some parties have character restrictions, and in these cases, you should get creative with the title to attract readers.
If you have attended a linky party before, your email address will be in the "*Email" box. First time, you may need to enter it. This is required for security purposes!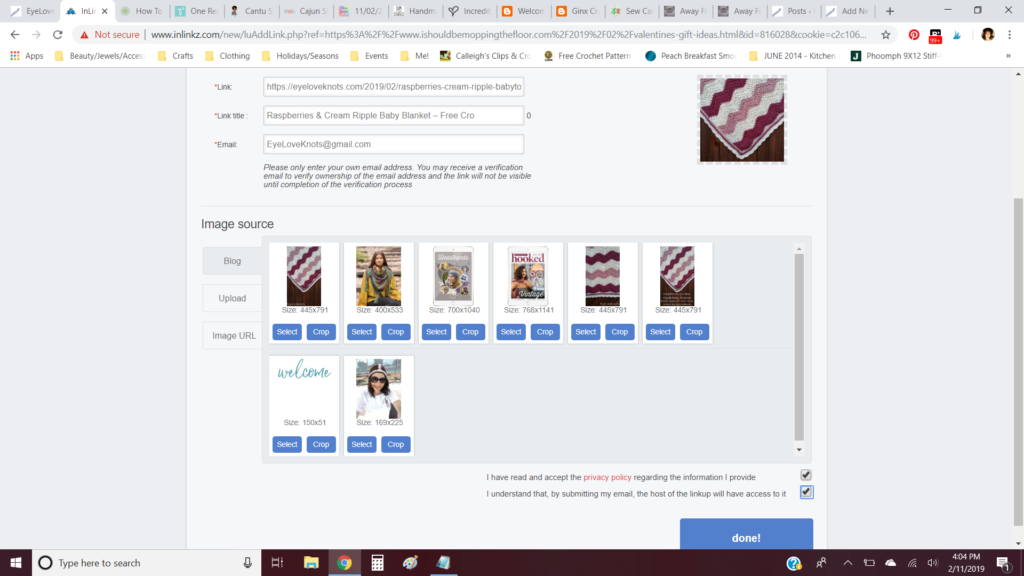 When you hit the tab button after inserting your URL, the images from your posts should also generate at the bottom under "Image source". Here you can select the image you think fits best for your posts.
Click "select" to see that image in the thumbnail box (top right). Play with the images to see which one looks the best. You may need to click "crop" under the image you like to crop it to a good size for the thumbnail box.
How the image appears in the thumbnail box is how the image will appear at the actual linky party.
When you are happy with everything, check the two boxes under the images, and click the blue "done!" button. You MUST check both boxes, or your link won't be accepted.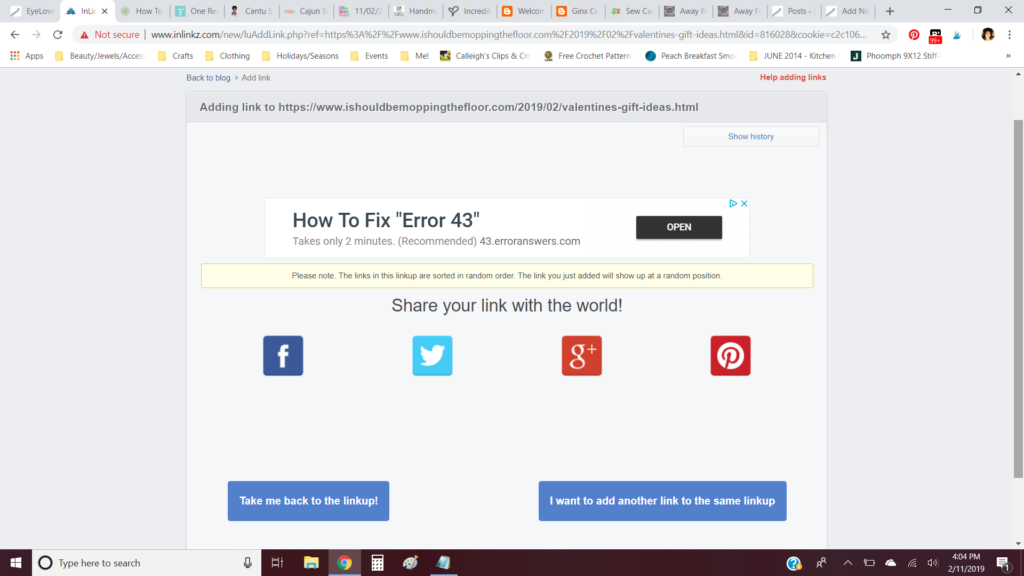 And this is the screen you will see after you have clicked done. You can chose to click the bottom left button to go back to the original linky party page, or you can chose to click the bottom right button to go back to the screen where you add your link, and select the corresponding image if you want to share another link at the same party. If you are done, simply click out of the tab.
And that's it! You've got your FAQs out of the way, and got a run down of how to add your own links to a linky party. Now, it's time for you to go explore, and have some fun. Visit my Linked Up To… page to see a list of the parties I attend on a weekly basis.
Join the EyeLoveKnots Crafting Community on Facebook to share your creations, and see what others are up to!