Summer recipe and summer DIY finds including a orange creamsicle recipe, mermaid inspired bracelet DIY, beach inspired wreath DIY, beach ball free crochet pattern, and a retro Summer embroidery hoop.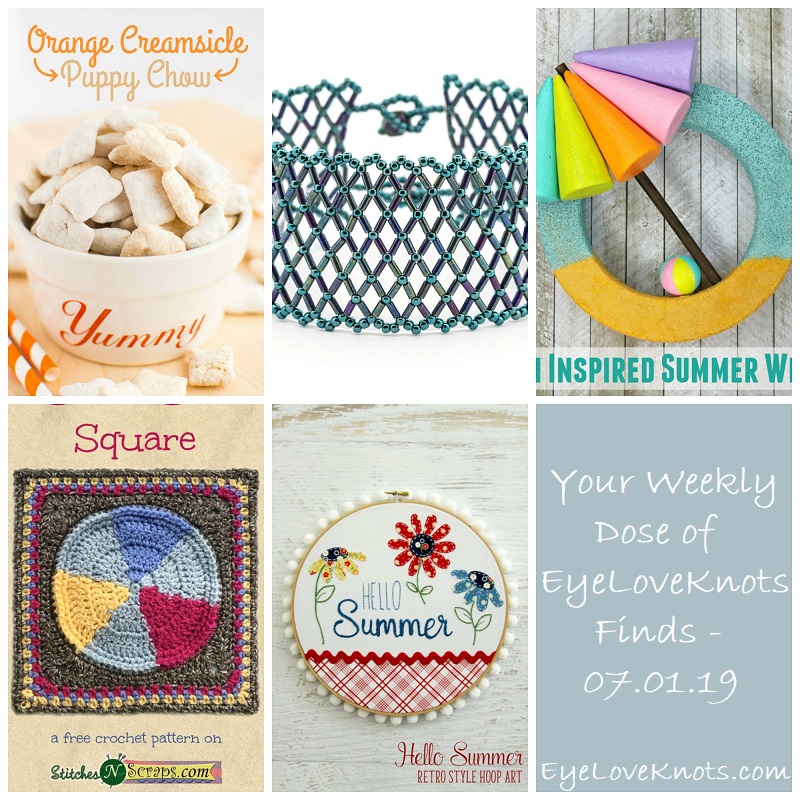 Today has been a HOT one! We've been on heat advisory basically since I woke up and checked my phone at 6:15am this morning. Something like 95 degrees, feels like 111? I put together some Summer finds perfect for working on indoors.
I always love to share awesome patterns, tutorials, and finds with ya! If you would like to see a review on any of them, feel free to drop me a line!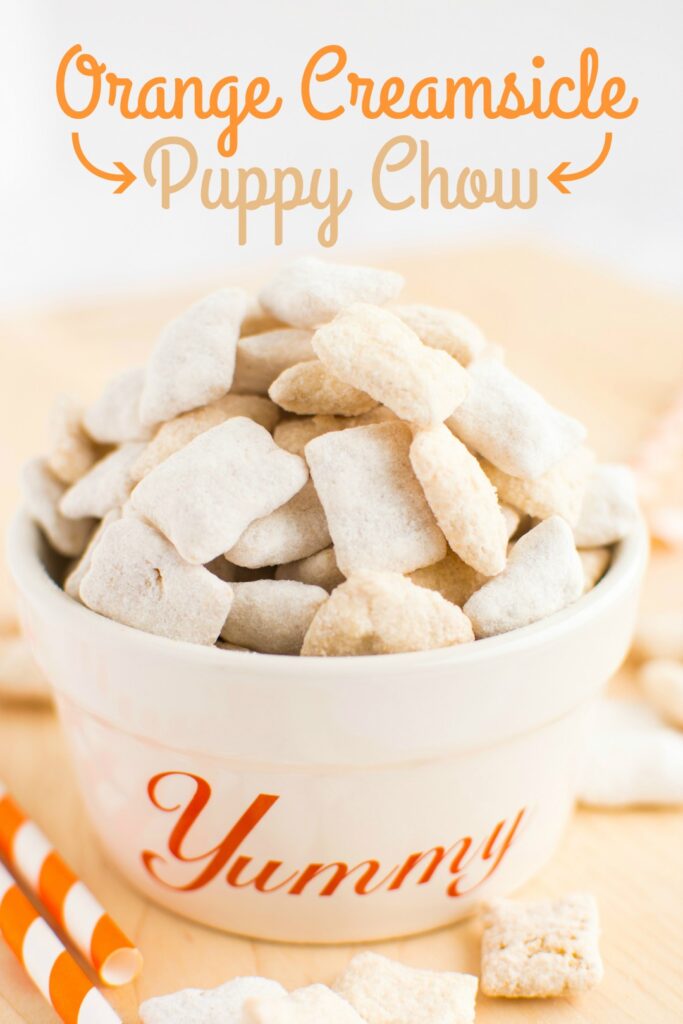 I will admit that "Orange Creamsicle" did catch my attention, just as Jillian thought it would, hehe. I didn't realize how easy it was to make puppy chow! Did you? This is a great recipe to use as a basis to experimenting with other flavor combos, but aside from that, a great treat to share, especially in the summer time when you an orange creamsicle really does sound soooooooo good and refreshing. This is a fun family dessert – my cousin Tiffany says puppy chow is a great one to get the kids to help with – as well as an easy and quick snack to prepare for a play date or party.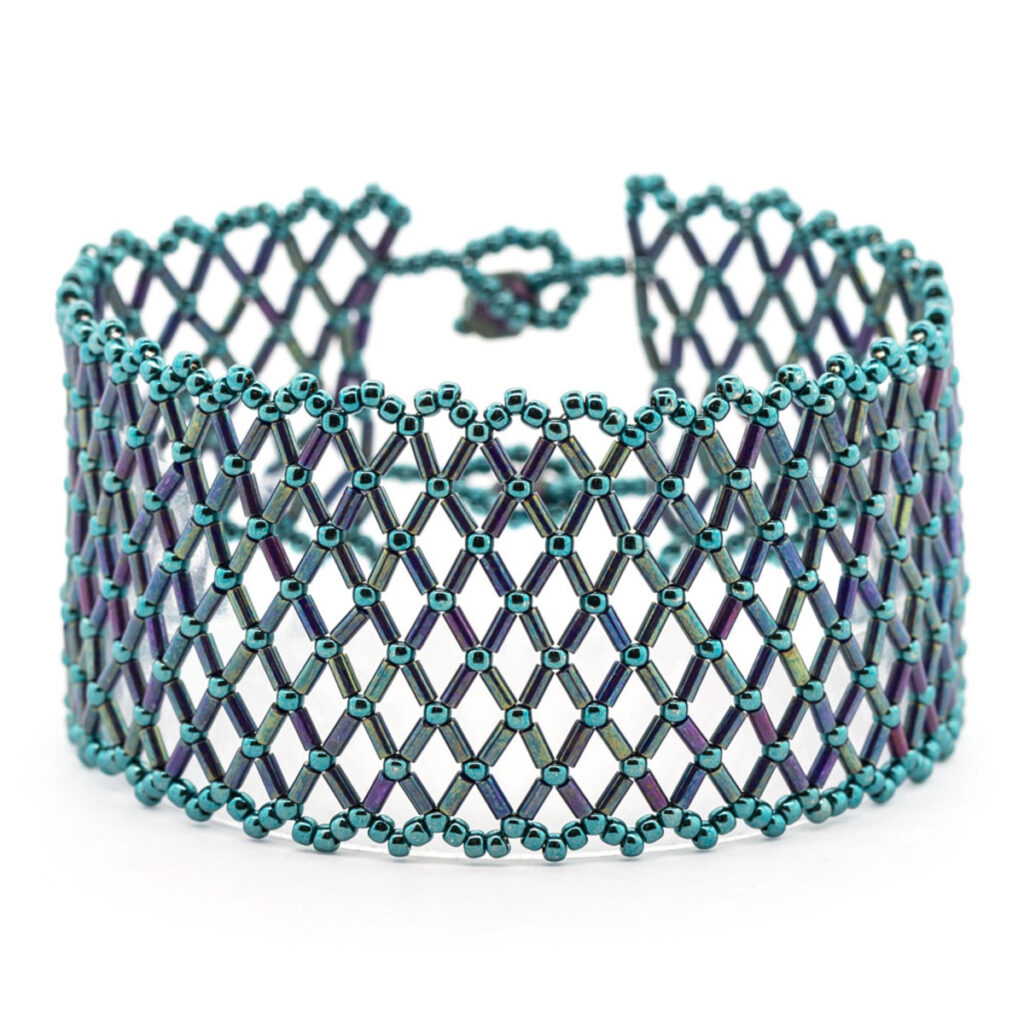 Jewelry/Beauty Find – Mermaid Magic Bracelet (Free Jewelry DIY) from Fusion Beads:
I love the way beaded jewelry looks, but also has been intimidating to me. When I saw this Mermaid Magic Bracelet, I fell in love! I love the way the long beads create the netting with the short, pop of the seed beads. Checking out the Basic Netting Technique, it looks a lot easier than I am making it out to be in my mind, ha! I think I am going to order the materials, and try my hand at one.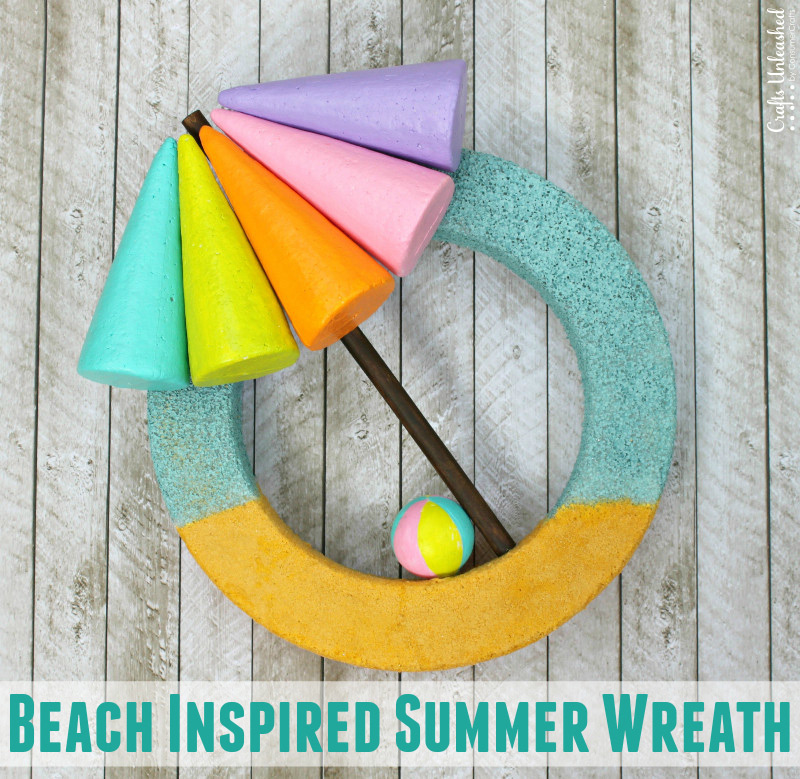 This wreath is soooo cute! And is a pretty simple and quick DIY project – I think the longest part is waiting for the paint to dry (and maybe choosing the paint colors for your umbrella, hehe!). I honestly didn't know how easy it was to paint styrofoam. I think I might have to sit down and brainstorm some styrofoam ideas because I have seen so many neat ideas created with them – including this Beach Inspired Summer Wreath! You could also set up a sandcastle and pail next to the beach ball, or even a beach bag full of goodies or a cooler, or even just a pair of sandals!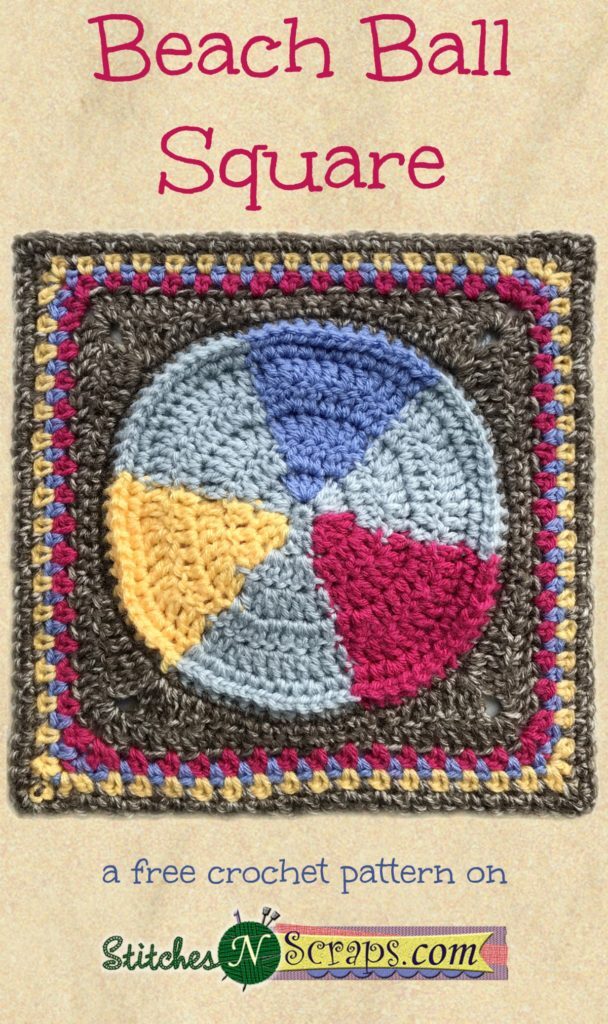 Yarny Find – Beach Ball Square (Free Crochet Pattern) from Stitches 'N' Scraps:
Though I live in The Sunshine State where two different beaches are only 45 minutes away, and we're able to visit them year 'round, Summer time always screams beach to me. When I saw this Beach Ball Square by Pia of Stitches 'N' Scraps, I couldn't help but think this would make a great summer project!
Also being a single square, you could make up a bunch to work up any size blanket, work in cotton yarn and use as a washcloth or potholder, work up in a thicker yarn and use as the front of a cushion – just to name a few.
This square was originally designed as Afghan Block #7 in the Moogly CAL 2017. Make sure to follow this link and check out Tamara's review, and version using 6 colors!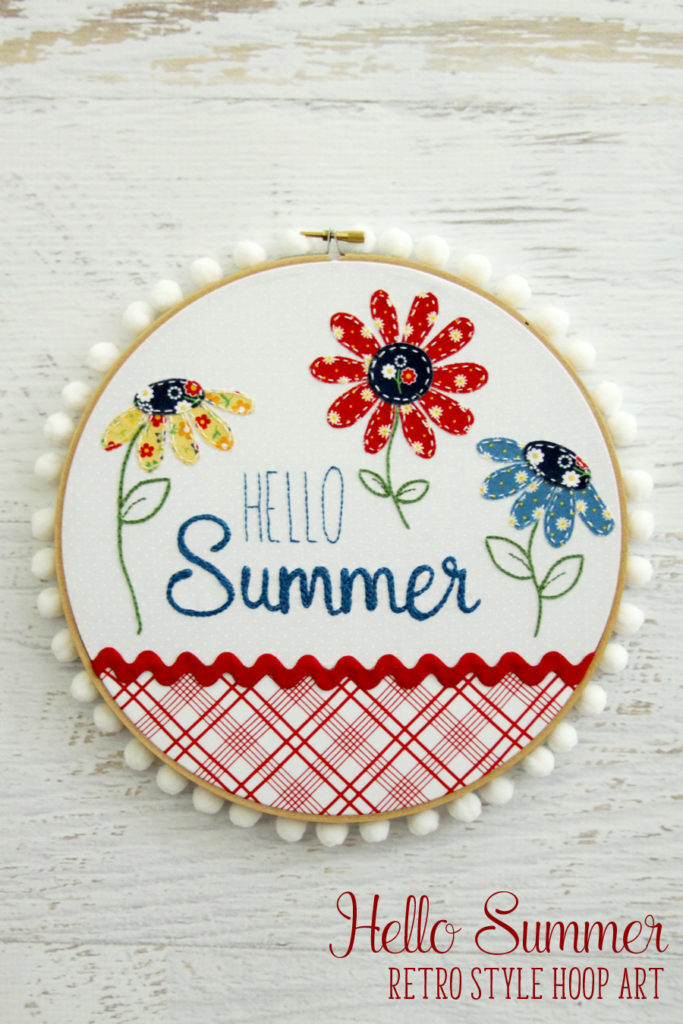 Stitching Find – Hello Summer Retro Style Hoop Art (Free Embroidery Pattern & Photos) from Flamingo Toes:
Hellllooooo Summer! I share Bev's love for this Gingham Girls fabric line from Amy of Diary of a Quilter. How cute are the flower pieces in this hoop art, that feature the sweet little flower prints?! I think the yellow based one on the left is my favorite, but I think they all make fantastic little flowers.
Another think I really like about this hoop art, is the fact that the three flowers are in different poses. Personally, I probably wouldn't have thought to make the half-petaled flowers. I probably would have done all of them like the center one – big and full, plus I really do love how the other two look.
I don't know about you, but hand stitched pieces have always been a favorite of mine, but I've been too intimidated by the idea of doing it to try. Bev includes photos along the way with easy to follow instructions which make this piece look easy and fun to do. I will definitely be adding this one to my list! And with different colored flower fabric (or plain), you could easily change this up for Spring or Fall too!
Join the EyeLoveKnots Crafting Community on Facebook to share your creations, and see what others are up to!