Halloween Craft and DIY Finds including a ghost treat holder, skeleton cameo necklace DIY, easy child's rainbow costume, a cat ear headband DIY, and bonnet sewing pattern and tutorial.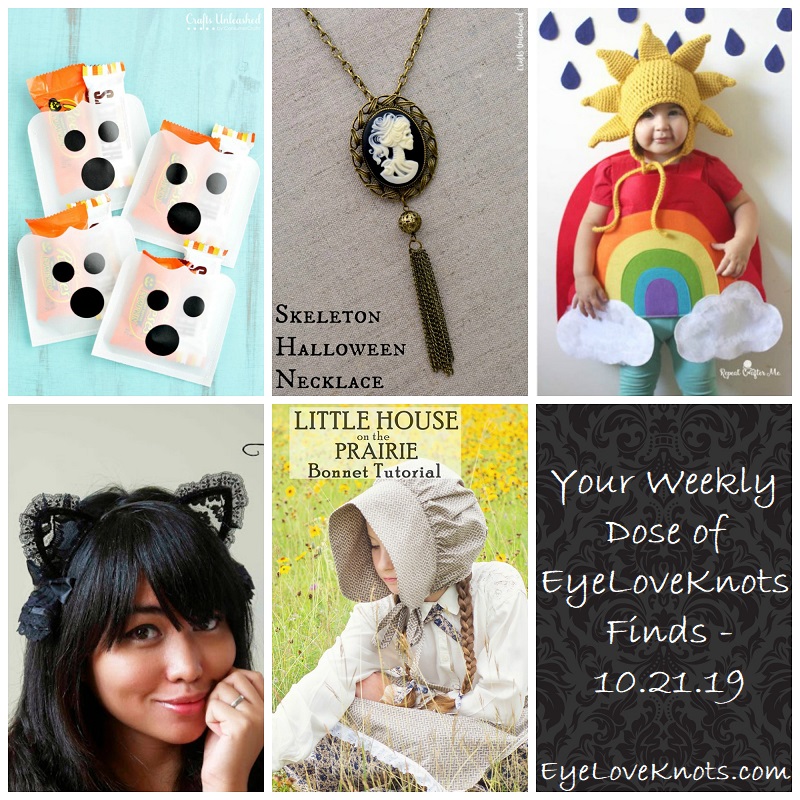 Just about a week and a half left until Halloween! I have some more Halloween finds to share with you this week 🙂 Next week, we'll go back to Fall for a bit more, and then Christmas and Winter – woo!
I always love to share awesome patterns, tutorials, and finds with ya! If you would like to see a review on any of them, feel free to drop me a line!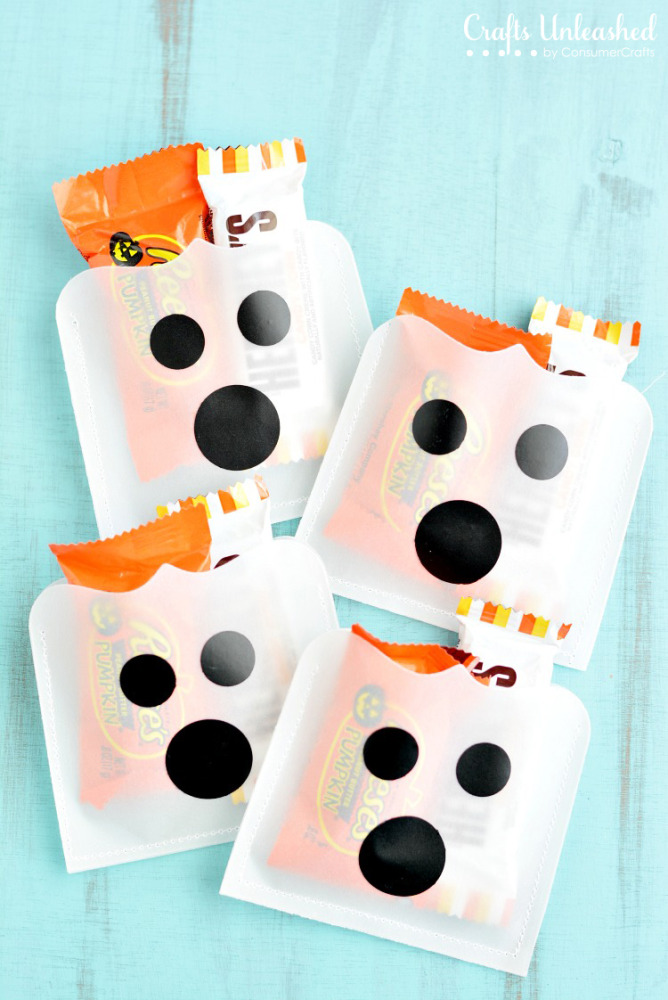 I love these cute little Ghost Treat Holders! And they can be worked up quickly, and stuffed last minute to make favors to hand out at an Halloween party, or to your little trick-or-treaters.
Now, one thing I wanted to touch on with this craft, was that you DON'T need a sewing and die cutting machine or vinyl to create your own little ghosts. You can easily create your own with some vellum, which is transparent as seen in the photo, or any white colored paper, and some glue or tape – I am thinking that thing-a-ma-bob that looks like a white out runner, but with tape in it instead, PLUS a marker or construction paper to create the face.
From the file I clicked on to add the photo to this post, the orange top looked almost like a little bow. That would be a super cute addition to the ghost, and could be handed out to little girl trick-or-treaters.
I am also thinking a pumpkin made similar to this ghost treat holder would be awesome! So many fun possibilities.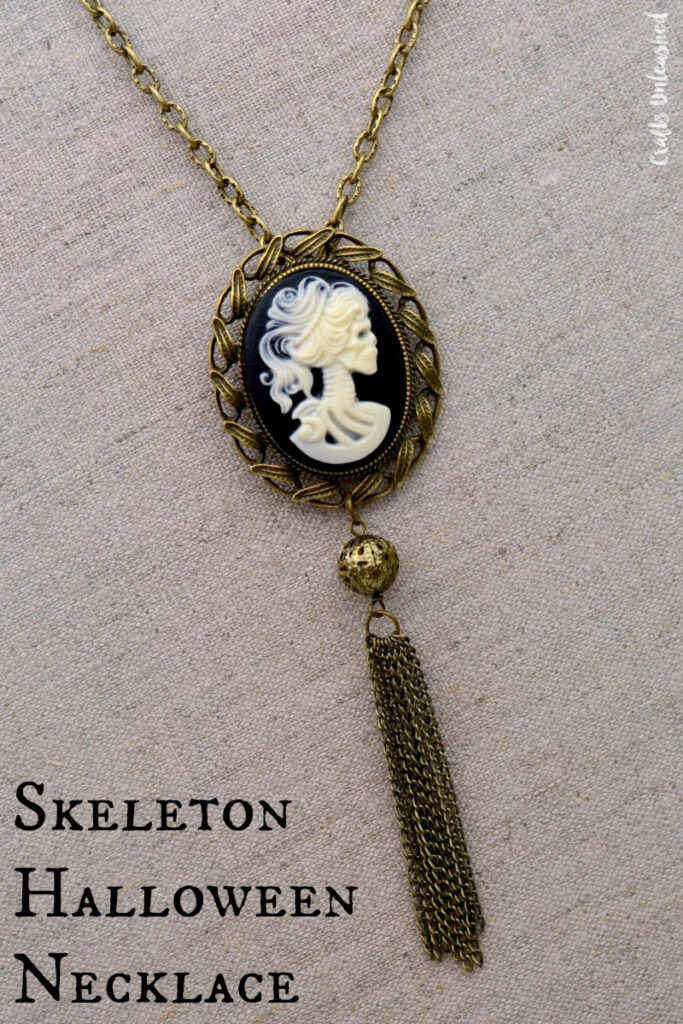 I feel like this is classic piece – on trend for a while now, to include the chain tassel, skeleton cameo, and Y shape.
In this necklace, Adrianne uses a skeleton cameo charm, which makes for a quick jewelry DIY, but you can also purchase the blank charms, some E6000 and any cameo to fit. There are several shops on Etsy as well as Fire Mountain Gems that sell cameos by themselves. You could also use a gem of the same size – I am thinking an emerald or ruby one would be really pretty too!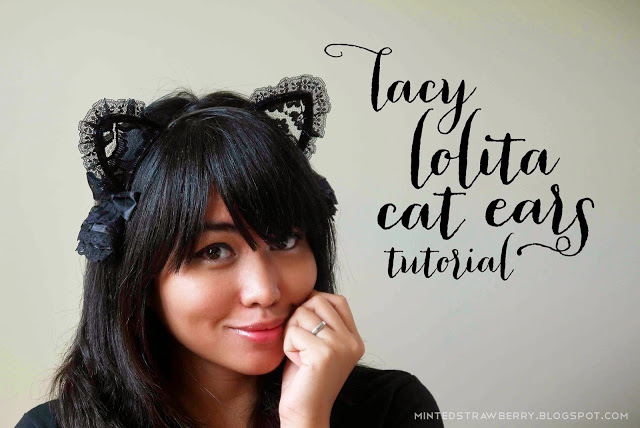 A Black Cat is a great, quick, easy, inexpensive and CUTE costume idea. These Lacy Cat Ears are no exception! And would be an excellent addition to said costume.
Aside from Halloween, embellished cat ears seem to be an on trend thing for festival season. You could use the base of this project, and add some flowers to the ears, some LED of some sort, or fun fabric/lace prints more appropriate for the summer festival season. This would be a good craft show piece!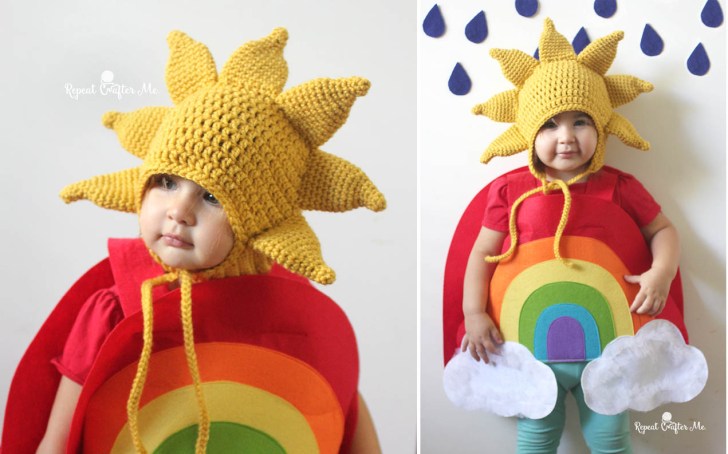 This is such a sweet costume idea for a little one! The Rainbow Costume was found at a store, but looking at it, it looks like it would be such an easy outfit to DIY with some felt – either with a sewing machine, sewing by hand or fabric glue.
The hat is the perfect addition to this costume! So creative with the rays extending from the hat. It would also be a good summer themed hat. I am thinking an added brim would be a great touch to keep the actual sun off the face.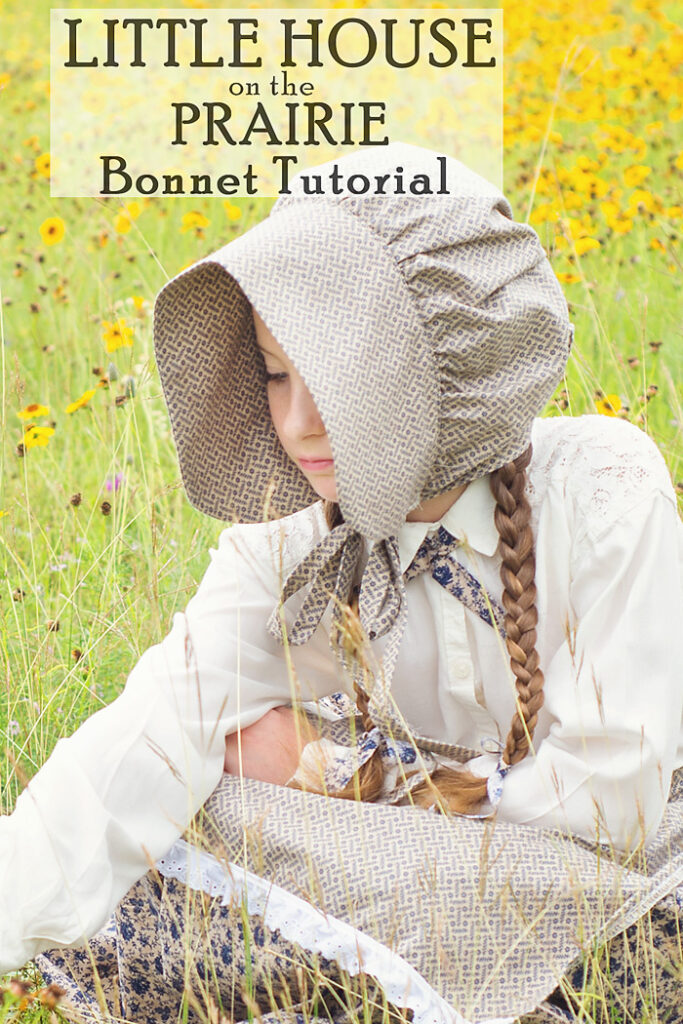 This is such a fun dress up idea! Though this was designed for a school project, this would also make a great Halloween costume, or the hat could even be used to just keep the sun off the face – Funny story… I actually bought myself a bonnet similar to this when I went to visit Fort Clinch several years ago, and in high school, I used the bonnet during summer band camp, as hats were a requirement. Anywho…
This tutorial includes step by step photos showing how to take your head measurements, cut fabric, add ruffle and straps. As a beginner sewer, I appreciate all the pictures, and have added this to my list – maybe for next Halloween either my niece or little cousin would like to have a costume like this, or maybe just for dress up.
Join the EyeLoveKnots Crafting Community on Facebook to share your creations, and see what others are up to!