This is a simple pasta recipe for a quick and easy side for dinner or a whole meal by itself. Cheesy,Delicious,Quick and Easy.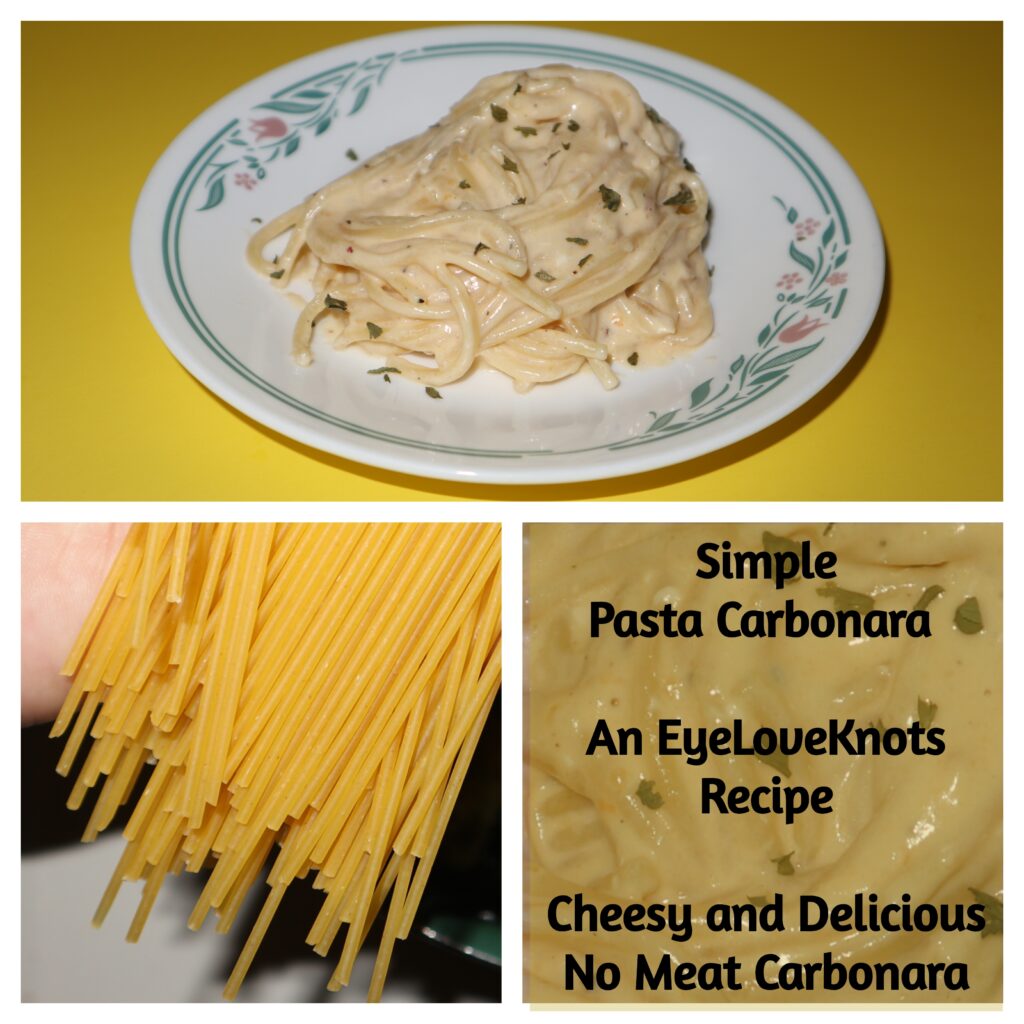 I have an unhealthy obsession with pasta. If you let me, I will eat pasta EVERY DAY! From eating pasta so much, I found a way to make it simple and delicious with no jar sauce (personally not a huge fan of those).
Carbonara is typically made with Pork Fat like
the easily obtainable Bacon or hard to find Guanciale, but I myself am not a HUGE fan of meat. My recipe has butter, garlic and onion as a replacement for the Bacon fat.
I feel so fancy every time I make this recipe, and the short amount of time it takes is fantastic. I can't wait for you all to give this a try!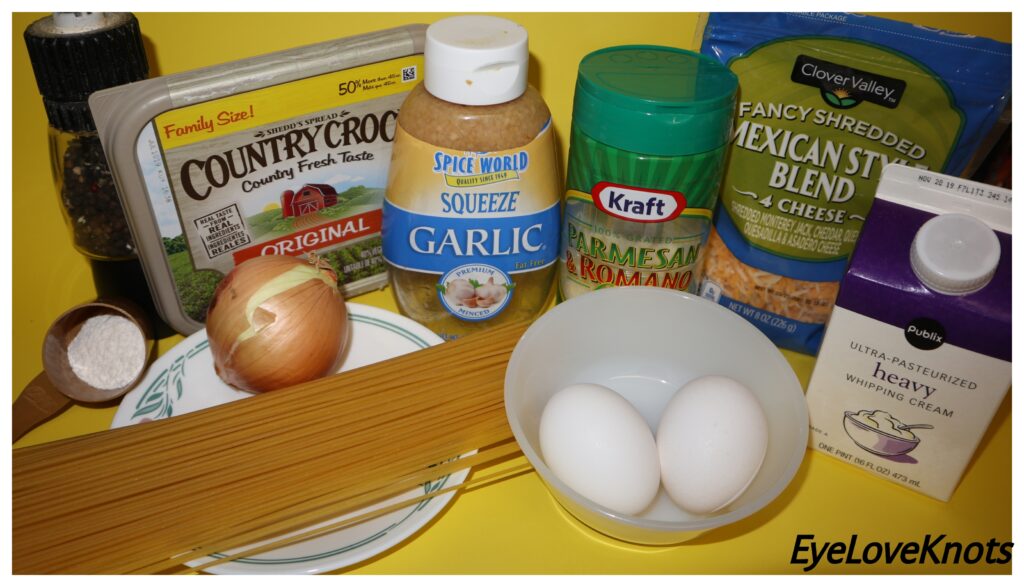 Disclaimer: This post contains affiliate links for Amazon. If you make a purchase by clicking on them, I make a small commission at no extra cost to you. Thanks for your support!
Makes:
4 Servings
Cook Time:
15 – 20 Minutes
Ingredients Needed:
Box Of Spaghetti
Sea Salt
Half of An Sweet Onion
Minced Garlic (1 Table Spoon)
Heavy Cream (1/2 Cup)
ANY 4 Cheese Blend OR Shredded Cheese (1 Cup)
Parmesan Cheese (1/4 Cup)
Butter (1 Table Spoon)
Two Eggs
Fresh Cracked Pepper (2 Table Spoons)
White Flour (1 Table Spoon)
Optional Parsley for Garnish
Tools Used:
Medium Pot for pasta
Large Pot for Sauce
Silicone Spatula
Silicone Whisk
Measuring Cups & Spoons
Small Bowl for Mixing Eggs
Silicone Whisk
Large Tongs
Serving Plate or bowl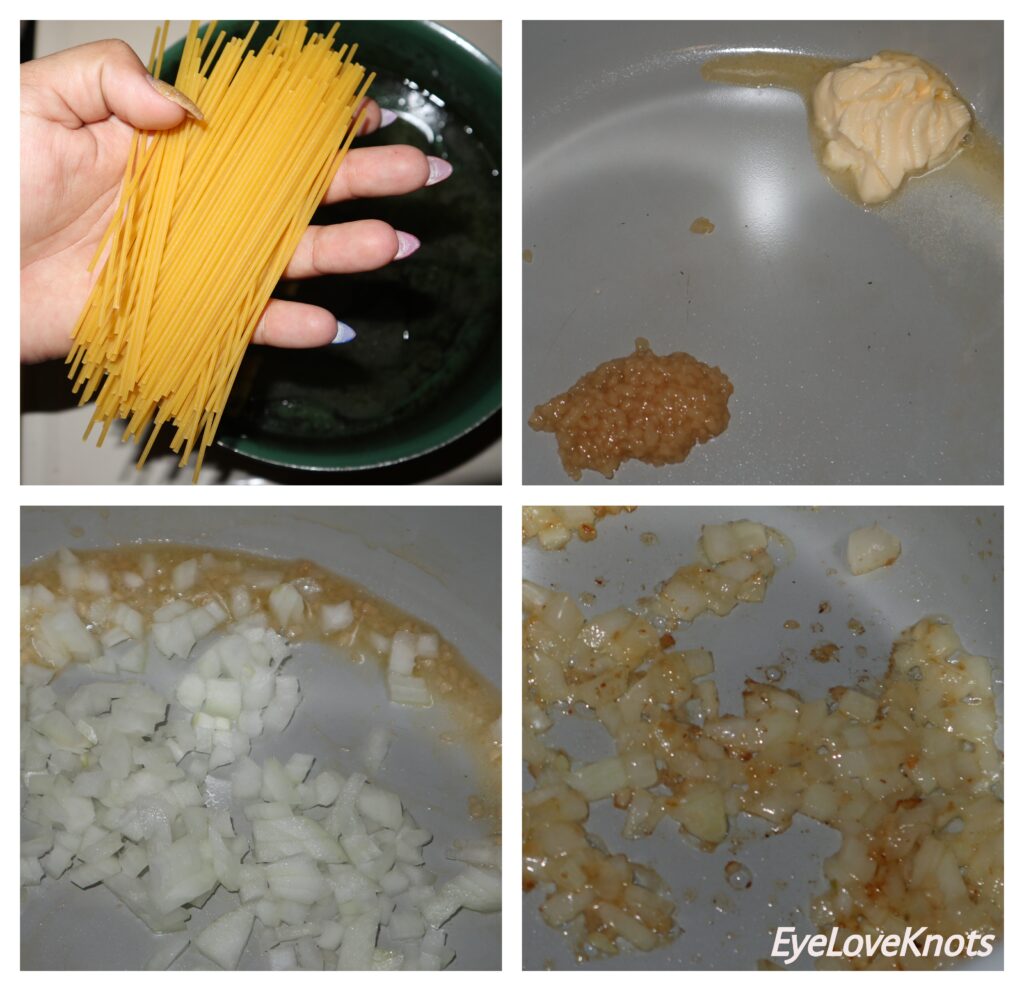 1. Start by boiling the Pasta. Make sure the water tastes salty like the sea.
This will be all the salt you will be using in this recipe.
Boil your Noodles Until Al-Dente OR follow the instructions on the boxed pasta. Once the pasta is cooked, DO NOT drain. Move the noodles to a separate bowl or plate, and set aside the pasta water – you will need about 2 cups.
2. Place your Butter and Garlic to the large pot on high heat. Once the butter melts, and the garlic is incorporated add the sweet onion. Cook until desired, or after 5 minutes.
I personally prefer the onion with a bit of crunch, so I don't cook mine for too long.

3. To the large pot with the onion, add the Heavy Cream, 1/2 cup of pasta water, Cheese and Parmesan. Mix until well incorporated, then bring to a light simmer for 2 minutes.

4. After 2 Minutes add the two eggs. Whisk continuously for 1 minute, or until well incorporated. You don't want the eggs to cook before its well incorporated into the sauce.
If the sauce is too thick, add pasta water little by little, or if the sauce ends up too watery, then add flour little by little until it thickens. The consistency of the sauce should be thick like potato soup or like that of a jar of Alfredo.
5. Add the cracked pepper once the sauce is complete, and mix.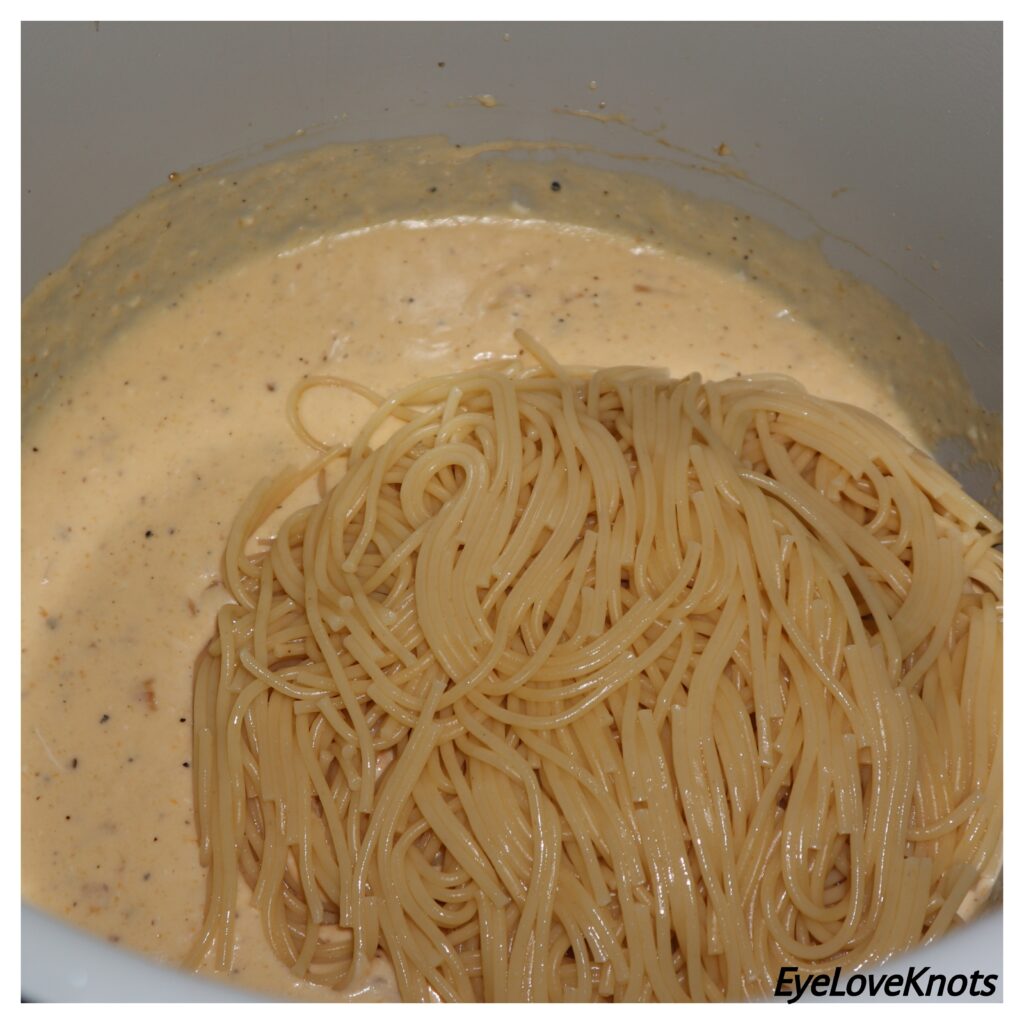 Add the cooked pasta to the sauce, and mix. I used some large tongs to mix it well.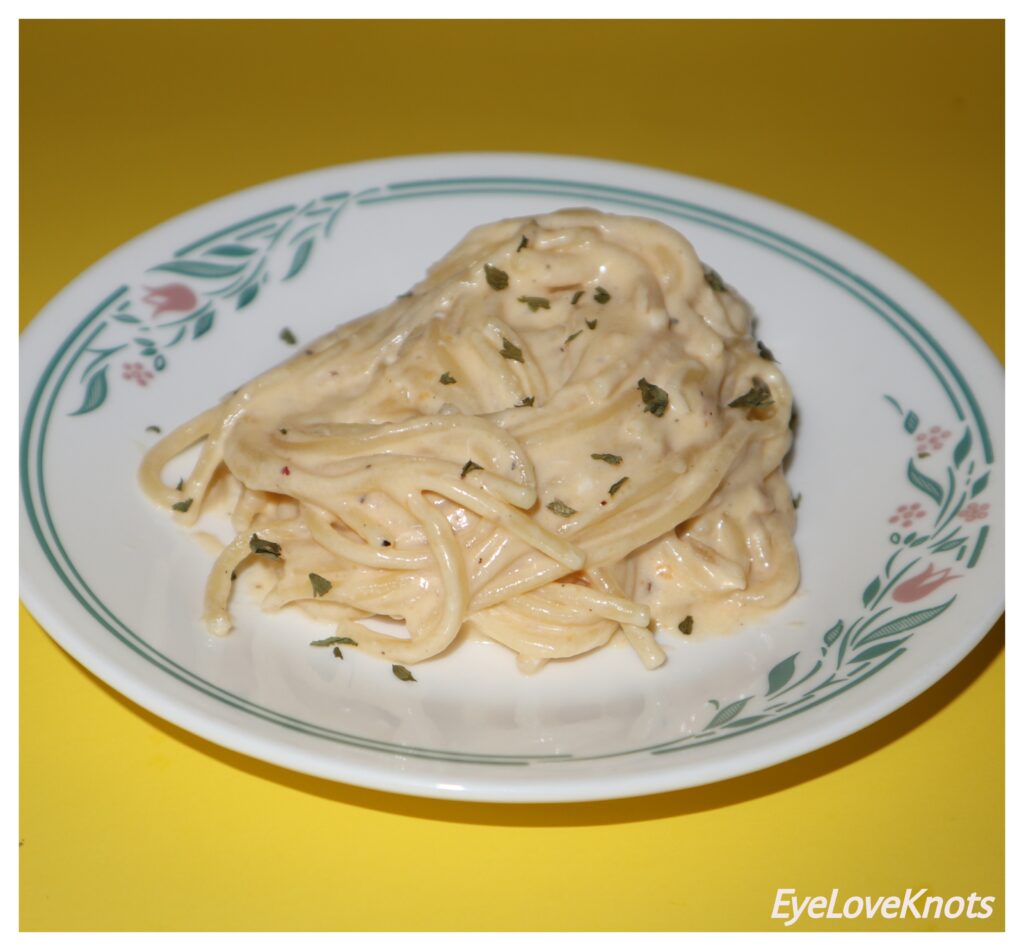 Plate your creation, garnish and ENJOY!!!
Let Us know below if you ever tried Carbonara.
What is the BEST Pasta dish you've had?
Have you ever tried to Replicate your favorite childhood dish?

Follow My Instagram
Sunday and Wednesday Posts
Please DO NOT claim this recipe as your own nor should you sell my recipe, and DO NOT re-publish my photos as your own.
DO NOT copy and paste my recipe anywhere, link to it instead.
Join the EyeLoveKnots Crafting Community on Facebook
to share your creations, and see what others are up to!
Linked Up To…
Craft Schooling Sunday – Creative Jewish Mom
Weekly Link Up – Claire Justine
Handmade Monday #151 – Sum of their Stories
The Really Crafty Link Party #193 – Keeping it Real
Craftastic Monday Link Party – Sew Can Do
Ginx Woolly Linx Party November – Ginx Craft
What's for Dinner? Sunday Link Up #126 – Lazy Gastronome
Little Cottage Link Party #27 – Love my Little Cottage
All About Home Link Party #14 – Common Ground
Project Inspire{d} Link Party #349 – The How-to Home
524th Inspire Me Tuesday – A Stroll Thru Life
Fabulous Party #293 – Lou Lou Girls
Tuesday Turn About #25 – My Wee Abode
Talk of the Town 200 – My Repurposed Life
{Wow Me} Wednesday #429 – Ginger Snap Crafts
The Wednesday Link Party 321 – The Stitchin' Mommy
To Grandma's House We Go Link Party 166 – Chas' Crazy Creations
Your Whims Wednesday #433 – My Girlish Whims
Creativity Crafty Link Party #197 – Life Beyond the Kitchen
Thursday Favorite Things #415 – An Artful Mom
Pin Party #342 – The Pin Junkie
Best of the Weekend – Calypso in the Country
Home Matters #259 – Modern on Monticello
Handmade & Otherwise Weekly Link Up Week 25 – Petals, Pies and Otherwise
Create, Bake, Grow & Gather Party #393 – Shabby Art Boutique
The Super Fabulous Friday Link Party #8 – A Big Green House
Snickerdoodle Create Bake Make Link Party #310 – EyeLoveKnots