Fall Recipe and Craft Finds including a Pumpkin Muffin recipe, wire wrapped earring DIY, Fall floral wreath DIY, free Turkey Wreath crochet pattern, and free women's hoodie sewing pattern.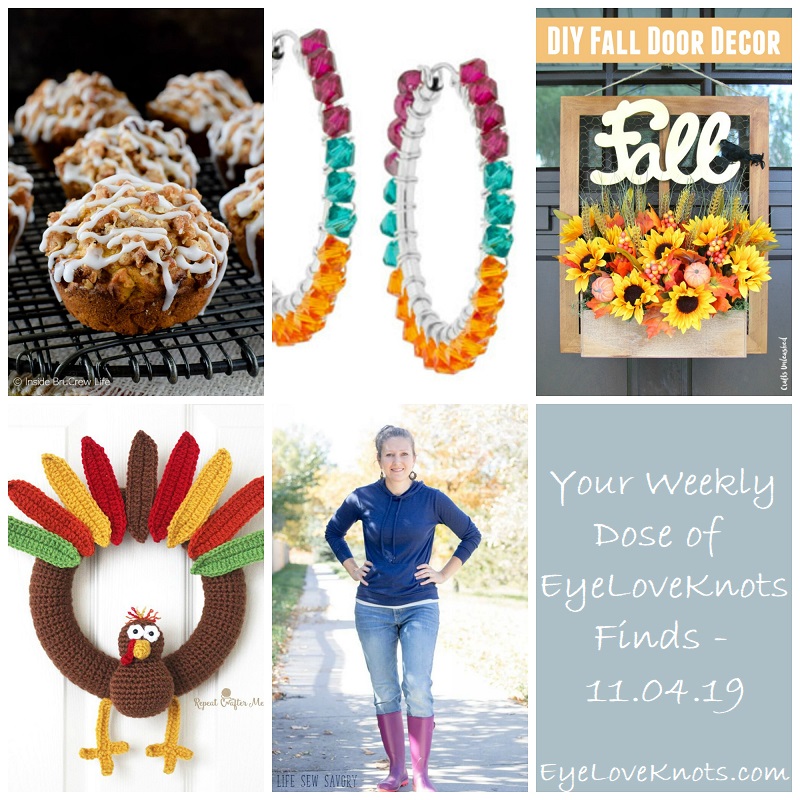 Halloween is over, and Christmas is nearly upon us, but not before Thanksgiving, so how about a little more Fall Finds 🙂
I always love to share awesome patterns, tutorials, and finds with ya! If you would like to see a review on any of them, feel free to drop me a line!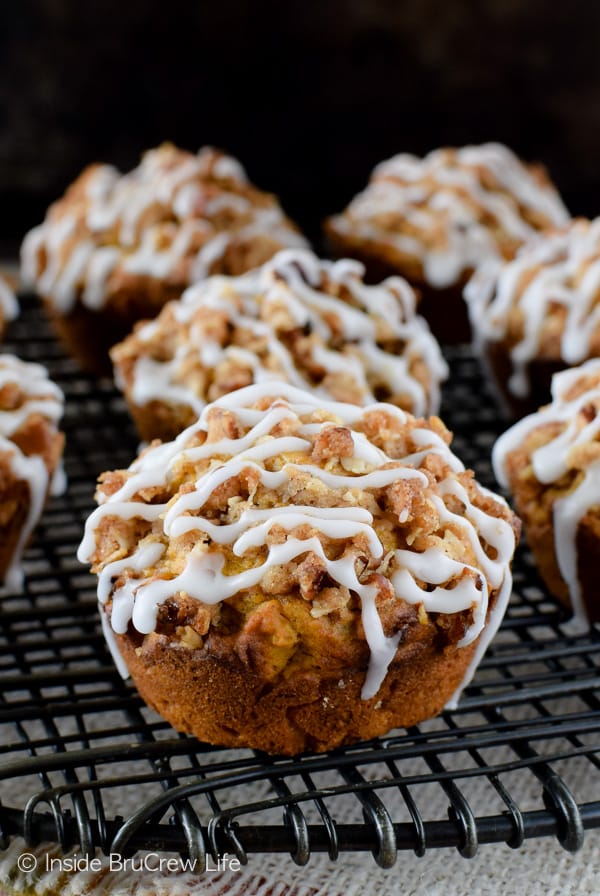 I love anything with a delicious, crunchy streusel glaze top – muffins, coffee cake… I think I might get in trouble too with these, and the desire to eat the tops off, and drag on eating the rest… But not too much! The bottom is a good part to eat with a cup of coffee.
These muffins are great for gifting, snacking, or as a fall breakfast. They'd also make a great addition to the Thanksgiving dessert table.
Jewelry/Beauty Find – Tango Block Earrings (Free Jewelry DIY) from Fusion Beads:
I have had these Tango Block Earrings bookmarked for a while. I love the look of the twisted wire around, and the colors in this pair are just gorgeous together! They scream fall. They could easily scream a different holiday, season or occasion by simply changing the colors. They would also look great in just one solid color, or half on color, and half another.
Looking at these, I can also so a wire wrapped bangle. I will have to go over and see if they have bangles to do so with! Or a solid ring for a necklace pendant. So many possibilities!
One thing I always end up checking when deciding which Fusion Bead project to attempt next is the cost in materials, so I am including an Estimated Cost in Materials for you: Just under $20.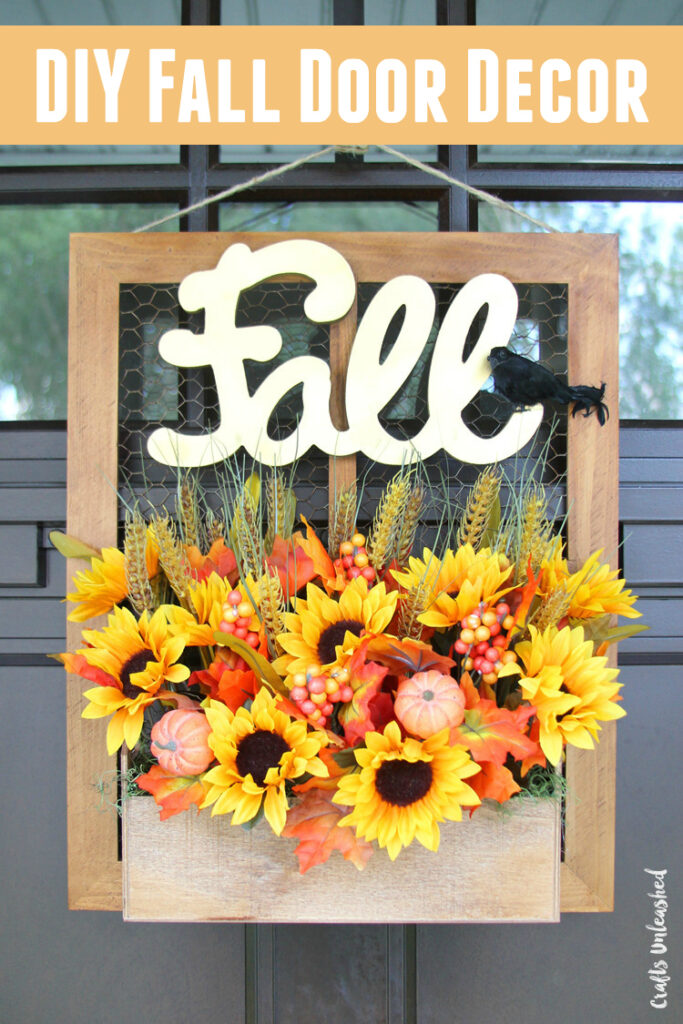 DIY Find – Fall Planter Box Door Hanger from Crafts Unleashed:
I love this Planter Box Door Hanger as a fall harvest wreath! Perfect all the way through Thanksgiving. It's also perfect as a wall hanging in your kitchen, or maybe even dining room.
Looking at this planter box, I am envisioning a piece that can be changed throughout the year. With a floral block, you would be able to remove the floral picks, and change out the pieces for any time of the year. The "FALL" phrase… Maybe some clear zip ties could be used to secure, rather than permanently gluing down. As far as the stain goes… This is perfect year round for a rustic or farmhouse home, or change it up to better match existing wood colors at home.
I am in love with this! Wait! Just thought of something else! Instead of using the "FALL" wood piece, how about using small clothespins to attach fall photos and/or post cards to the chicken wire, or even small trinkets?! So many possibilities!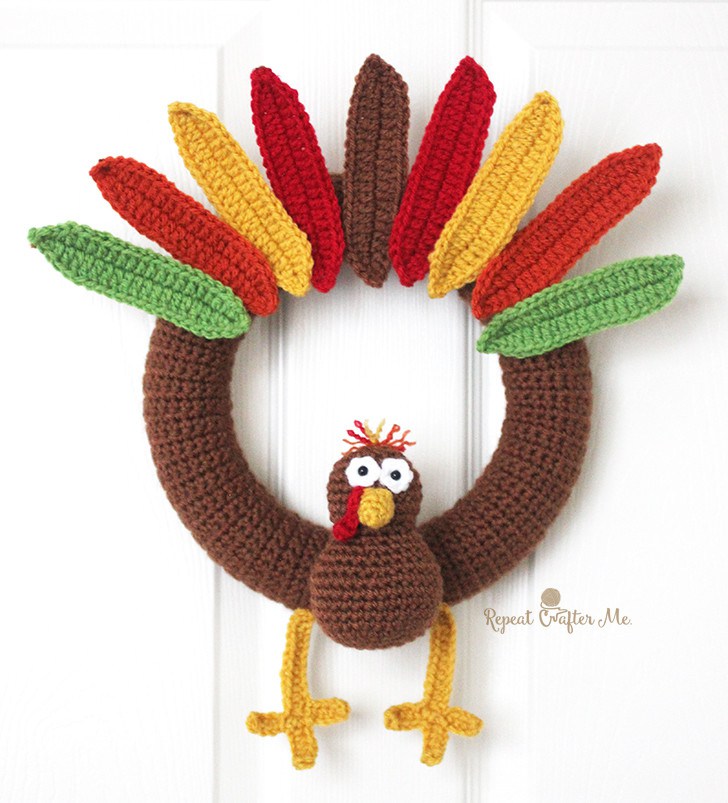 Yarny Find – Crochet Turkey Wreath (Free Crochet Pattern) from Repeat Crafter Me:
So also in this week's round up, you saw the Fall Planter Box Door Hanger, which could be used as your fall wreath through the whole season, but if you are looking specifically for a Thanksgiving Wreath, this is such a fun one to make! I just love the cute little body with the fuzzy "hair", and the dangling legs.
As far as the feathers go… while crocheting the whole thing is fun, a nice alternative would be to purchase some feathers at your local craft store as an alternative, or some pretty, detailed paper feathers! Could even place a wood sign that says "Happy Thanksgiving" along the bottom side of the feathers.
Though not mentioned in the post, I included hot glue and sticks in the materials below. It takes a lot of work to make the turkey and feathers, save yourself a lot of time with assembly by just hot gluing the pieces together! Sarah also uses pipe cleaners to make the feathers stand, but I am sure some fabric stiffener would also work well!
Looking for a bigger wreath form? I have a free crochet pattern for a Basic 12″ Wreath Form Cover.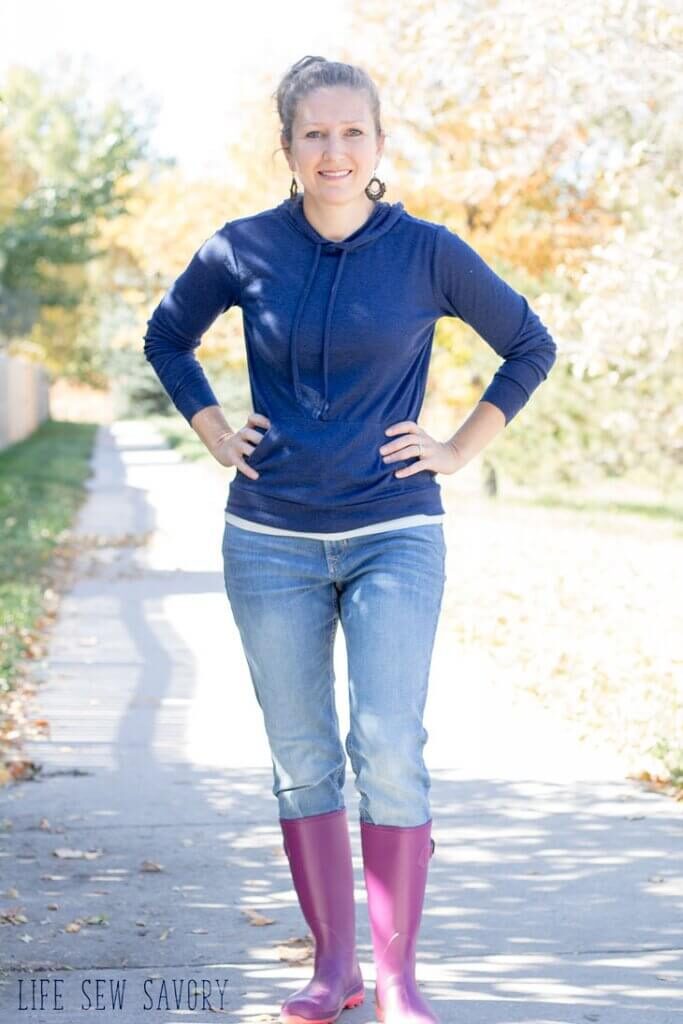 Stitching Find – Women's Hoodies (Free Sewing Pattern) from Life Sew Savory:
I don't know about you, but I LOVE tops like this hoodie! Made from a lightweight stretchy fabric, has a phone pocket (well… that's what I use it for!) and either at the full long sleeve length, or short sleeve, or my favorite – 3/4 sleeve length! I probably own 8? Hehe. Now with this free sewing pattern, I can make my own!! And with sizes XS through XXL, you can too! They would make great gifts too!
As a beginner sewer, I really appreciate the fact that there is a photo tutorial of assembly too!
I will say, pattern does state to use a double/twin needle or knit stitch for all seams, and I don't know what that means, but! Have no fear, because there is a link to a tutorial on that as well, and there is a video included in that link! Definitely a worthy tutorial to pin to my Hobby: Useful Sewing Info board.
Join the EyeLoveKnots Crafting Community on Facebook to share your creations, and see what others are up to!