This is a crochet pattern review of the Linen & Lace Backpack pattern from designer The Plush Pineapple. Review done by A Stitch Shy of Normal for EyeLoveKnots.
This post contains affiliate links for Lion Brand Yarn and WeCrochet. If you make a purchase by clicking on them, I make a small commission at no extra cost to you. Thanks for your support!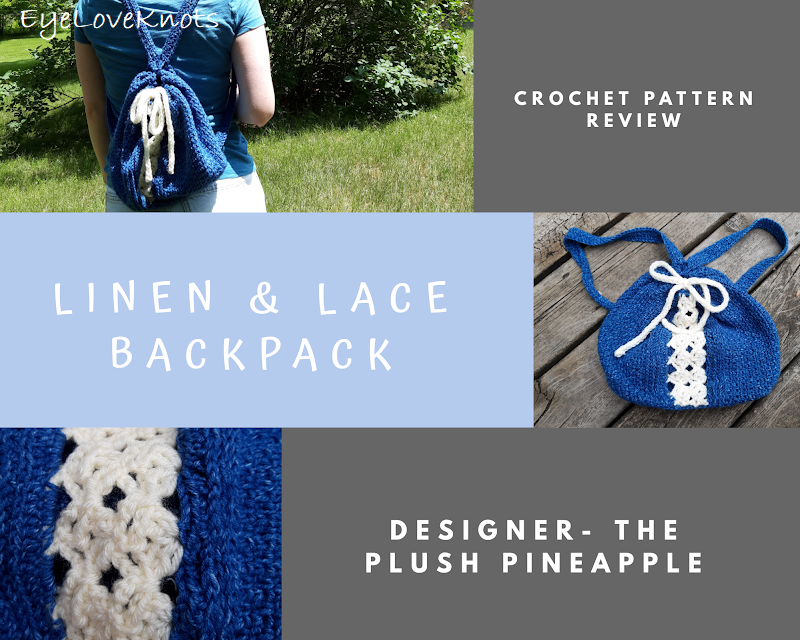 Visit with me on Instagram @astitchshyofnormal for all kinds of awesome crochet makes and inspiration.
I am a sucker for texture. I'll admit it. One of my favorite looks is when a design has an accent texture piece. I have a few designs in mind or in progress that feature this technique, and every time I see one from someone else I have to drop everything and make one!
When I saw the Linen & Lace Backpack from the designer The Plush Pineapple, it was no exception. In fact, it was the perfect example! She even used neutrals for hers, a gorgeous gray for the main bag and a beautiful ivory/cream texture section. It was basically a trap for me, I had to make one starting immediately. I dropped all my other WiPs and dug through my stash to get started!
Materials I Used:
Material Notes:
I chose Lion Brand Jeans for the main backpack because well, let's be honest, I had it in my stash and that meant I could get started that day rather than wait for a trip to Joann. And especially right now, randomly going to the yarn store takes a bit more time and effort than usual, so stash yarn is the smarter choice most of the time!
The pattern calls for cotton and I just didn't have enough yardage for that in any cotton yarn (I just have dozens of individual/partial skeins), and I don't plan to take this bag to the beach or anything.
My accent color was an unlabeled partial skein that I'm about 95% sure was Vanna's Choice, and I'm also about 95% sure it was Linen. That would be quite fitting for this pattern name! This is a thicker yarn compared to Jeans, but I went ahead with it anyway because as the accent section, it would not really affect gauge a significant amount. As long as it's within the same category, it should work out (and it did).
Jeans is a very stretchy and comfy yarn and wonderful for garments but it wasn't necessarily the perfect choice for this pattern. I regret absolutely nothing, it's an adorable bag, but I'd like to know how it would come out as a sturdy beach/summer bag with durable cotton!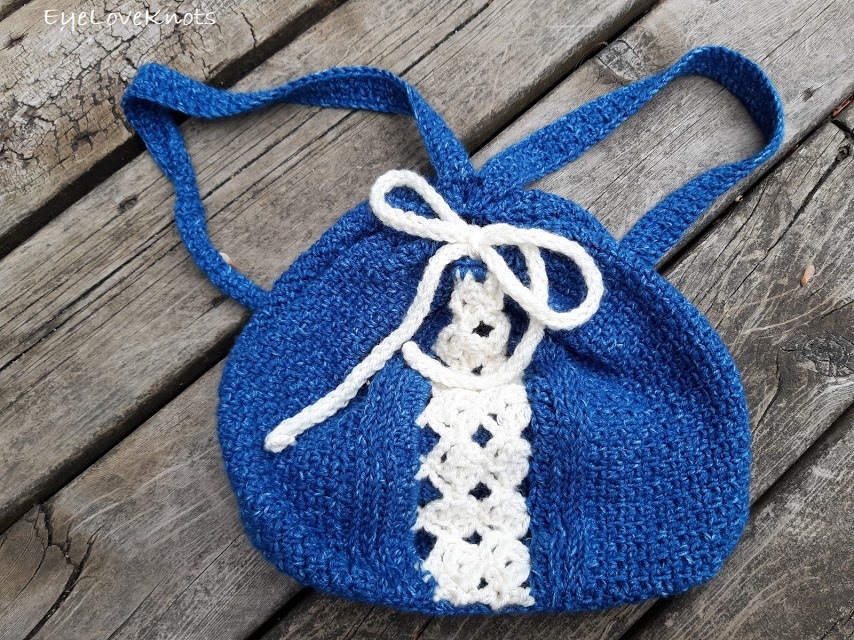 Time Spent:
5-6 hours, approximately. Linen stitch is quick once you get going!
Measurements:
A bucket-style bag is a little hard to measure but it is approximately 10.5″ tall (measuring from where the bag is joined to the bottom section), and about 11-12″ wide measured flat. My straps are shorter than the pattern because I have a short torso (and I still might have done them shorter, now that I've worn it).
These measurements are close to the suggestions in the pattern. The designer suggests a height of 11 inches and a circumference of 26 inches, so I was in the correct range.
My straps measure something like 28 inches, and her suggestion is 32 inches. I believe this is meant to be worn as a low-hanging slouchy bag, rather than one snugly up against your back.
Gauge Info:
Pattern gauge: 4″ x 4″ = 8 stitch repeats (linen stitch) and 18 rows
My gauge: 4″ x 4″ = 9 repeats and 16 rows.
This fits with my result, I ended up with a backpack roughly the same height as hers (the stitch count, in this case) but mine isn't as wide (the row gauge).
Pattern Notes:
I wouldn't really say there's much to stress about with this pattern as almost all of it is linen stitch. As long as you continue to count every row, you shouldn't have many issues! I do strongly suggest counting EVERY SINGLE ROW, however. It's easy to miss a stitch.
My only confusion was in the joining when it comes to the lace rows specifically. There are some interesting techniques where you don't join certain rows, but it's intentional to get a good look to the finished lace! I had to think it over for a little while and I was still hesitant but I am glad I trusted the pattern and followed it to the letter.
I mean, just look at this beautiful texture…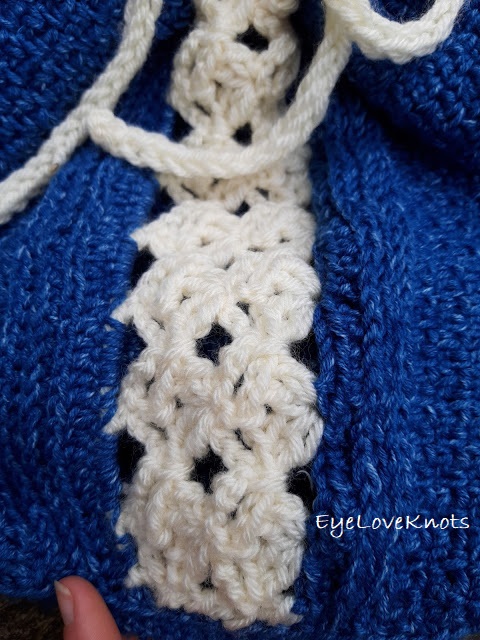 My only modification in the bag itself was to the straps, I made mine only 10 stitches shorter but I must have also had very tight tension as mine were 3-4 inches shorter than hers. As I mentioned, when I make this pattern again I plan to make it even shorter to see how that fits.
Next time I make one of these, I likely will actually use cotton yarn, because I want to know how that affects sturdiness and stretch. However, as I said, I'm satisfied with the bag I ended up with and I do use it!
Now I need to head out for some summer adventures to test and/or show off this gorgeous little number!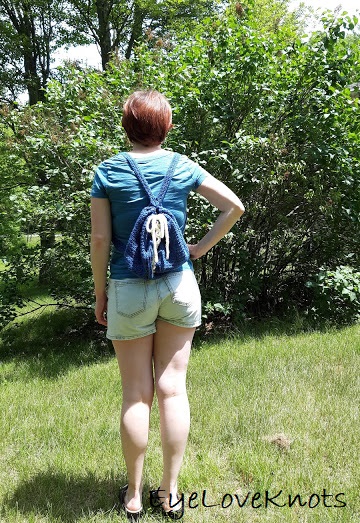 Don't forget to visit with me on Instagram @astitchshyofnormal for all kinds of awesome crochet makes and inspiration.
If you love to DIY: Join the EyeLoveKnots Crafting Community on Facebook to share your creations, and see what others are up to!
If you love Fashion: Join the Pretty Nails & Fun Fashion with EyeLoveKnots Facebook group to share, and see what others are up to!
Linked Up To…
Craft Schooling Sunday – Creative Jewish Mom
Unlimited Monthly Link Party 13 – Grammy's Grid
Happiness is Homemade Link Party #327 – Create with Cynthia
The Really Crafty Link Party #222 – Keeping it Real
Handmade Monday #180 – Sum of their Stories
Craftastic Monday Link Party – Sew Can Do
Little Cottage Link Party #55 – Love my Little Cottage
Fabulous Party #324 – Lou Lou Girls
Ginx Woolly Linx Party June – Ginx Craft
Weekday Wear Link Up – Away from the Blue
551st Inspire Me Tuesday – A Stroll Thru Life
Linky Ladies Party #187 – The Purple Poncho
Turning Heads Linkup – Elegantly Dressed and Stylish
Confident Twosday Linkup – I do deClaire
Hookin on Hump Day #217 – Moogly Blog
{Wow Me} Wednesday #459 – Ginger Snap Crafts
Your Whims Wednesday #464 – My Girlish Whims
Style on the Daily Link Up – Straight A Style Blog
The Wednesday Link Party #352 – The Stitchin Mommy
Thursday Favorite Things #444 – An Artful Mom
Creatively Crafty Link Party #228 – Life Beyond the Kitchen
Traffic Jam Linky Party #238 – My Bijou Life
Style Six Link Up – The Queen in Between
Chic and Stylish Link Up – Mummabstylish
Thursday Fashion Files Link Up #262 – Curly Crafty Mom
Trendy Thursday LinkUp – Thirty Minus One
Pin Party #373 – The Pin Junkie
Best of the Month June 2020 – Calypso in the Country
Link Your Stuff – Annemarie's Haakblog
Creative Compulsions Linky Party #64 – My Bijou Life
Style Link Up – Lizzie in Lace
Fancy Friday Linkup – Nancy's Fashion Style
Snickerdoodle Create Bake Make Link Party 340 – EyeLoveKnots