This is a crochet pattern review of the Spiral Seashell Top pattern from designer Nicoletta Tronci for Interweave Crochet. Review done by A Stitch Shy of Normal for EyeLoveKnots.
This post contains affiliate links for WeCrochet. If you make a purchase by clicking on them, I make a small commission at no extra cost to you. Thanks for your support!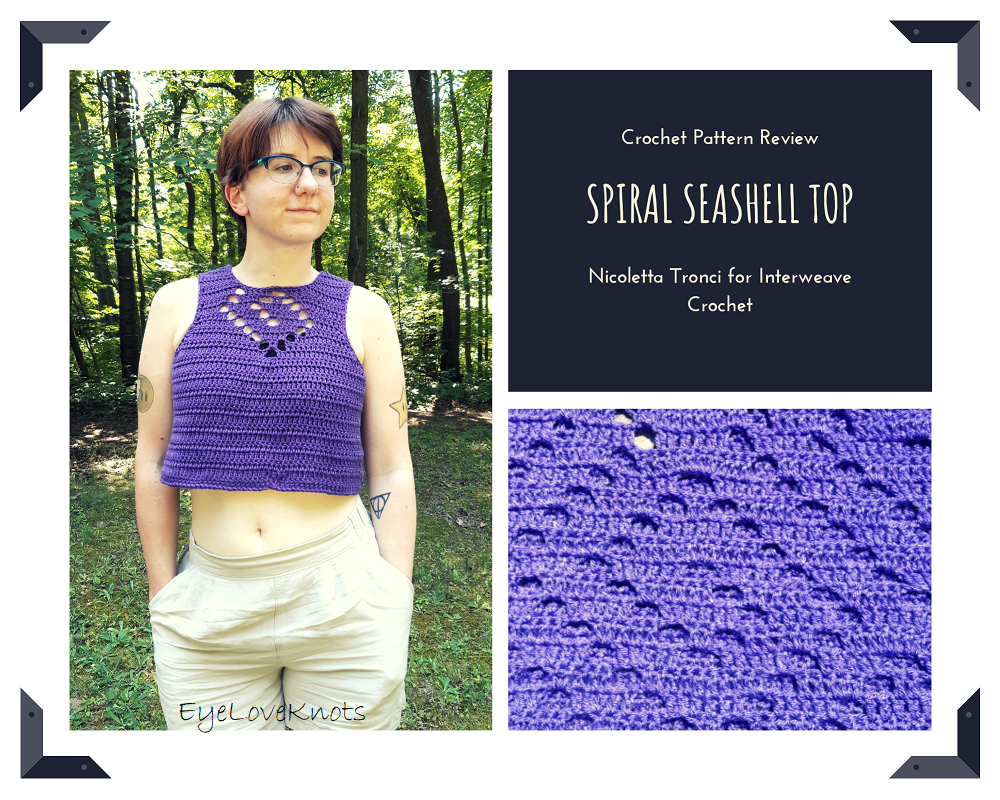 Visit with me on Instagram @astitchshyofnormal for all kinds of awesome crochet makes and inspiration.
It's summer! The heat and the craziness means I want to be cool and comfy, and I don't want to work forever with large bulky projects. This is where gorgeous little tops come in handy! They're quick, they're fun enough to hold my attention, and then I have an adorable garment in the end.
When I was considering what pattern to review this month, I knew immediately that it had to be a tank or crop top. The hard part was choosing which pattern! I now have a long list of tops to make next, I found some gorgeous treasures. The winner this time was the Spiral Seashell Top from Interweave Crochet, for several reasons:
I love spirals. I doodle all the time, and that's one of my favorite doodle options. I even have a tattoo of one!
It's such a unique texture! The filet crochet technique makes it really interesting both to make and to wear!
It's a kinda-crop-top. It's like halfway between a crop and a full top, at least it is on me.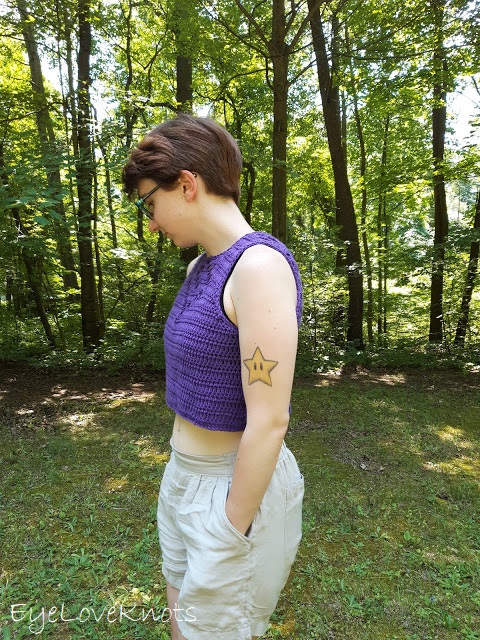 Materials I Used:
Material Notes:
This pattern calls for DK weight yarn and Joy DK is one of my personal favorites. Many DK weight yarns come in pastel/baby colors but this one has a range of beautiful neutrals and jewel tones. I chose gorgeous deep purple for this top because it's one of my favorites!
I knew this would be a good fit because the yarn is actually identical in gauge to the suggested option of Cascade Yarn Hampton (which is a cotton/linen blend). This yarn is the same skein weight for the same yardage, so I knew exactly how much I would need.
If (when!) I make another one of these tops, I do plan to use something closer to the cotton-linen blend suggested. It's very comfortable in this acrylic yarn, but I can see how it might be even more so in a light cotton, bamboo, or linen yarn.
Time Spent:
I did this as an evening after-work project for an hour or two at a time and it took me only a week. I'd say I spent roughly 8-9 hours on it all in all. Assembly was very quick and easy, less than an hour.
Measurements:
The suggested dimensions for the pattern are a little different. The front panel of this top is actually an inch or two smaller in width than the back panel (depending on size made). This means the back ends up slightly gathered when sewn together, but it gives a very comfortable fit!
I made the size listed for 33.5″ bust (it has some ease, it's a loose-fitting top) and it fits great, loose and comfy but not too much! I generally wear XS or S in most tops.
This size is suggested to be 16 inches for the front panel and 17.5 for the back, and laying flat after assembly, mine is just under 17 inches across. This means I was just about right! The dimensions listed for length for this size are 13.5 inches tall from the top of the straps, and my top is actually more like 14.5. This is probably just my tension, or how this yarn works out with the stitch pattern.
Pattern Notes:
If I had to give a difficulty rating to this pattern, I would say it's solidly intermediate. It's simple once you get going but takes some work to understand at first. This fits with what Interweave Crochet gave it as a rating, they have a 1 to 4 rating for their published patterns and this one is a 3 (which means "fair amount of focus required" or has "involved stitch patterns"). I would consider this accurate.
My biggest struggle in this was counting the stitches in the filet pattern section. The phrasing isn't clear at first when discussing the edge of the top, as in the first and last stitches of each row. The description often mentions the turning chain counting as a DC, then doing a stitch, then starting on the second or third stitch of the row, you switch to the chart. I struggled with this (figuring out how many stitches to put on the outside), but I soon figured out that even if I was misunderstanding it, as long as I did it the same on every row I'd be fine!
What I ended up doing is treating it as though there is a stitch outside of the chart on both edges, every row. I am still not quite sure if this is what the designer intended, but I think it works best because the chart sometimes ends with a chain space and this way I could do the entire row to keep the gorgeous filet pattern intact!
If you are not comfortable reading charts, this pattern might be challenging. The front of the top has more written directions because it is largely a solid panel with only a small charted portion at the top, but the back is 99% filet crochet and therefore given as a chart. I personally am not great at using patterns that are only a chart, but I wanted to challenge myself and I was able to do it just fine. Check out the back to see a better idea of what I mean on how unique and interesting the back is!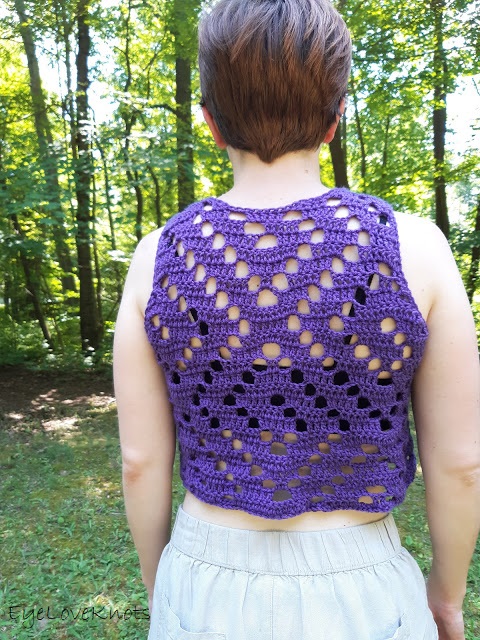 I did not make any modifications to size or row count or anything of the sort, it fits great as written!
I sincerely enjoyed this pattern and I think it will make a great summer top! I specifically purchased a cute bralette to wear underneath it because of the open back, and I'm glad I did. I think the overall look is very cute and perfect for this intense summer we're having.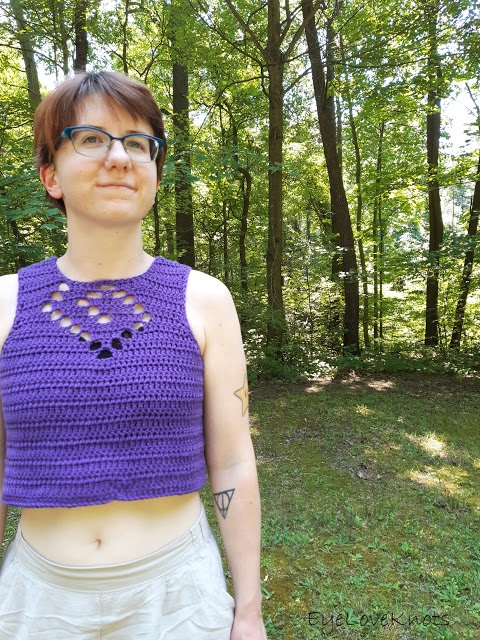 Don't forget to visit with me on Instagram @astitchshyofnormal for all kinds of awesome crochet makes and inspiration.
If you love to DIY: Join the EyeLoveKnots Crafting Community on Facebook to share your creations, and see what others are up to!
If you love Fashion: Join the Pretty Nails & Fun Fashion with EyeLoveKnots Facebook group to share, and see what others are up to!
Linked Up To…
Craft Schooling Sunday – Creative Jewish Mom
Unlimited Monthly Link Party 14 – Grammy's Grid
Handmade Monday #184 – Sum of their Stories
Hearth and Soul Link Party – April, The 21st Century Housewife
The Really Crafty Link Party #226 – Keeping it Real
Ginx Woolly Linx Party July – Ginx Craft
Craftastic Monday Link Party – Sew Can Do
Weekday Wear Link Up – Away from the Blue
Fabulous Party #328 – Lou Lou Girls
Linky Ladies Party #189 – The Purple Poncho
555th Inspire Me Tuesday – A Stroll Thru Life
Turning Heads Linkup – Elegantly Dressed and Stylish
Confident Twosday Linkup – I do deClaire
Scraptastic Saturdays Party 297 – Scrapality
A Morning Cup of Joe Linky Party – The Cottage Market
Link Your Stuff – Annemarie's Haakblog
Snickerdoodle Create Bake Make Link Party 344 – EyeLoveKnots
Party in Your PJS #318 – The Apple Street Cottage
{Wow Me} Wednesday #364 – Ginger Snap Crafts
Your Whims Wednesday #369 – My Girlish Whims
Style on the Daily Weekly Link Up – Straight A Style
Style Six – The Queen in Between
Scrappy Stitchers Link Party #64 – Stitches n Scraps
The Wednesday Link Party #357 – The Stitchin Mommy
Creatively Crafty Link Party #233 – Life Beyond the Kitchen
Artsy-Fartsy Party #302 – Artsy Fartsy Mama
Chic and Stylish Link Up – Mummabstylish
Thursday Favorite Things – An Artful Mom
Creative Compulsions Linky Party #69 – My Bijou Life
Traffic Jam Weekend Linky Party #243 – My Bijou Life
Pin Party #378 – The Pin Junkie
Friday Favorites – Busy Being Jennifer
Thursday Fashion Files Link Up #267 – Curly Crafty Mom
Trendy Thursday LinkUP – Thirty Minus One
Style Link Up – Lizzie in Lace
Fancy Friday – Nancy's Fashion Style