This is a crochet pattern review of the Vivian Turban Hat from designer Stitch of Nature. Review done by A Stitch Shy of Normal for EyeLoveKnots.
This post contains affiliate links for Etsy and WeCrochet. If you make a purchase by clicking on them, I make a small commission at no extra cost to you. Thanks for your support!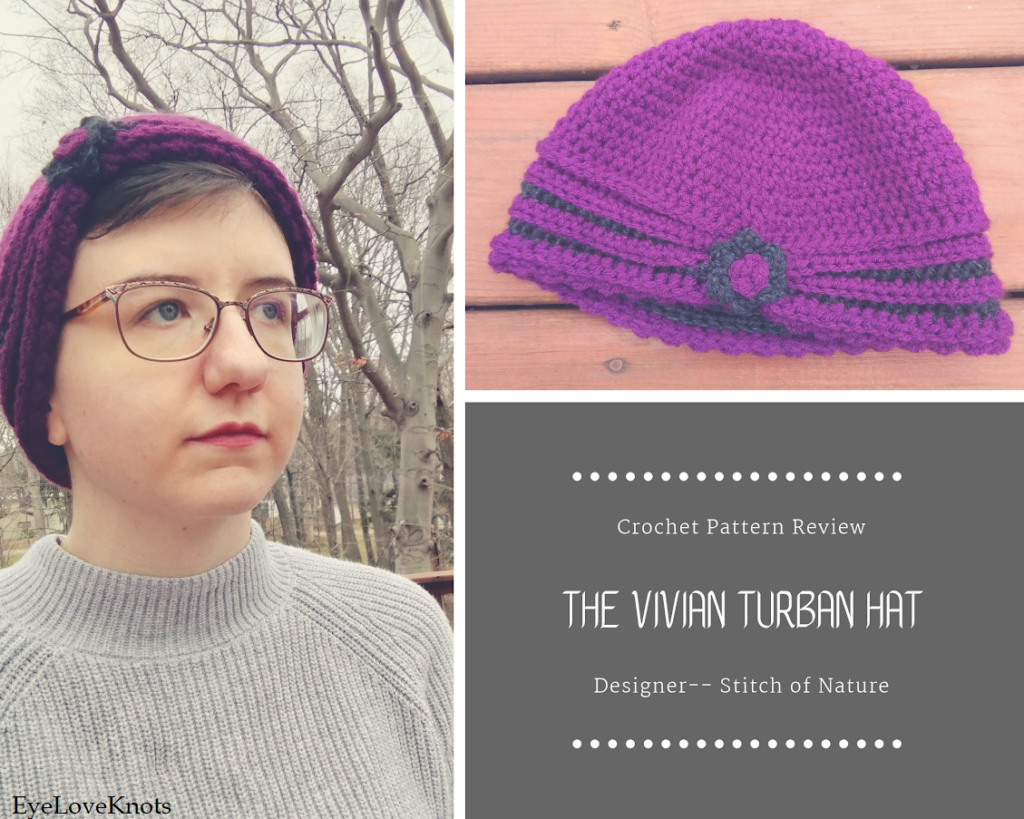 Visit with me on Instagram @astitchshyofnormal for all kinds of awesome crochet makes and inspiration.
I realize that last month I mentioned a larger WIP that got pushed to the background for a smaller item…well, I'm still unpacking boxes and that sweater is still 80% finished and hiding in a box somewhere!
I realized that's alright though, because I could spread the word about a wonderful pattern that's just the sort of thing we're all looking for in the holiday season. That pattern would be the absolutely gorgeous Vivian Turban Hat! Just look at this little beauty…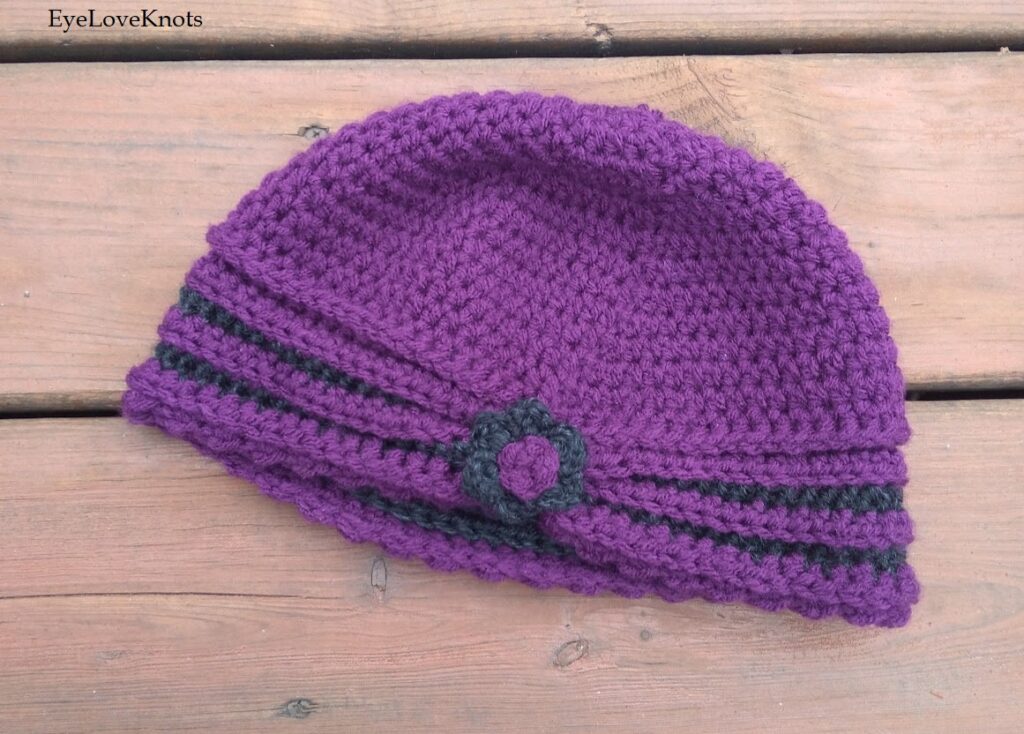 It checks all the boxes:
Simple stitches (with just a little flair)
Uses yardage that almost all of us have in our stash–a single skein of the main color, and small partial-skein stash amounts for the accent color!
Looks amazing on everyone, kids to adults
Works up in literally a few hours. I made mine one evening because I didn't have a purple hat and I wanted one. (So…great gift idea!)
I think right now, we could all use something simple and quick that turns heads. Plus in addition to being adorable, it's actually very comfy and warm! I've worn it to work a few times already and a coworker ordered one for herself…she chose black with red accents, which I think is going to be stunning on her!
Materials I Used:
Material Notes:
Red Heart Super Saver is a go-to choice for accessories for a reason, it looks adorable and should hold up for years of wear! Side note–can we talk about how much softer this yarn has become over the years? When I first started crocheting 8ish years ago, I would absolutely not have chosen Super Saver for anything but stuffed animals. Now I would totally use it for a sweater, and I have! I'm not imagining things, I found an old skein from my early days of stitching, and it's almost scratchy in comparison. The more recent stuff is a cloud when compared to what it used to be!
Anyway, this yarn worked perfectly for gauge, and had perfectly fine stitch definition. I love that it's also washable and sturdy, so it results in a hat that you can shove in your coat pocket each night or even pack away in a box during the warm seasons, and it looks as good as new the next time you pull it out! Obviously I've only put this hat through mild abuse so far because I only made it a couple of weeks ago, but I have no doubt that it will be one that lasts me years. I'll probably lose it before it gets any damage.
As I mentioned, I don't know what yarn my contrast color was, but in a pattern like this it wouldn't really matter. For the hat itself, you only use it for just a few rows, so as long as it's the same weight it will work out.
My main question when it comes to thinking about the yarn I used in a project like this is…would I choose this exact same yarn again for making this pattern next time? And the answer is absolutely!
Time Spent:
Maybe 3-4 hours, and that was while watching TV and coming up with a grocery list, so you could probably take that down to a solid 3 if you were cranking these out for gifts and actually focusing!
Measurements:
The designer included information in this pattern for many sizes, from Doll up to Adult. I followed the directions for adult, and that lists the finished circumference as 22-23.5″. My head is right around that 23.5″, but I knew a hat like this would stretch to fit nice and snug without constricting. The stitch count would not be difficult to modify for in-between sizing, either.
My finished hat was about 22″ around without any stretching, so I was right on track!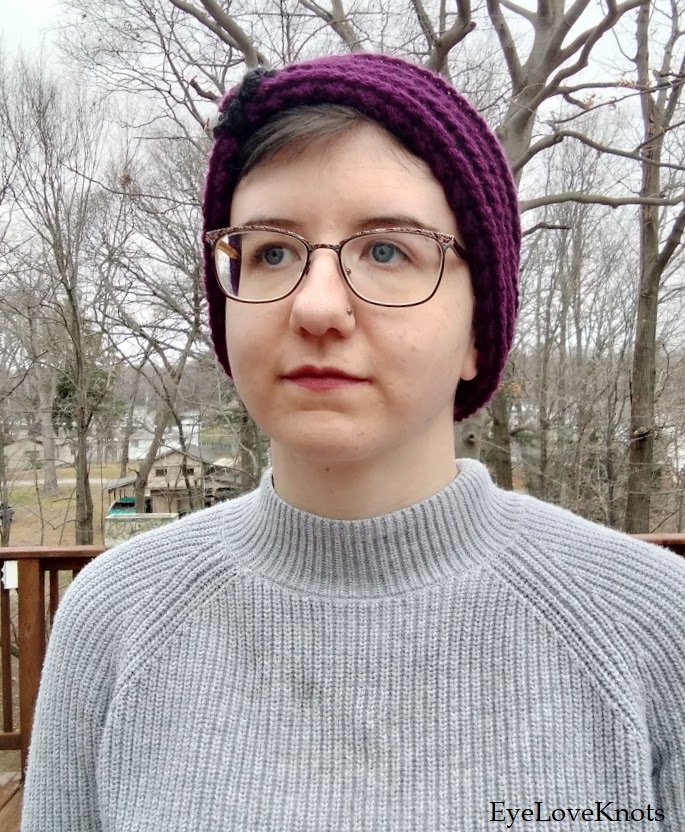 Gauge Info:
The designer lists it as 4″ being either 15 HDC or 11 rows, and my results were basically exactly the same. I believe before wearing it at all, I had 16 stitches in that 4 inches (and 10 rows exactly) but I knew it would stretch back and forth so anything around her number was close enough.
Pattern Notes:
The main portion of this pattern is just a basic hat, so that part was very simple to understand and I could zone out while working on it. This also would make it easy to modify, as you could probably use whatever simple hat pattern you've found fits your head as long as it's simple HDC/DC stitches, and you would just make it short then continue to her "brim" section for the final 8 rows (the striped portion that becomes the adorable cinched section as well!)
The brim portion was simple enough to understand, I just needed to read carefully to find out how to stripe the colors correctly! If you're not looking closely, you might miss where it says when to change color. However, you should always read every line of the pattern directions carefully, so I can't really call this a complaint. The alternative would have been typing out each line of an identical stitch pattern for each row, and telling you what color to use each time, so she definitely found a more efficient way to do it!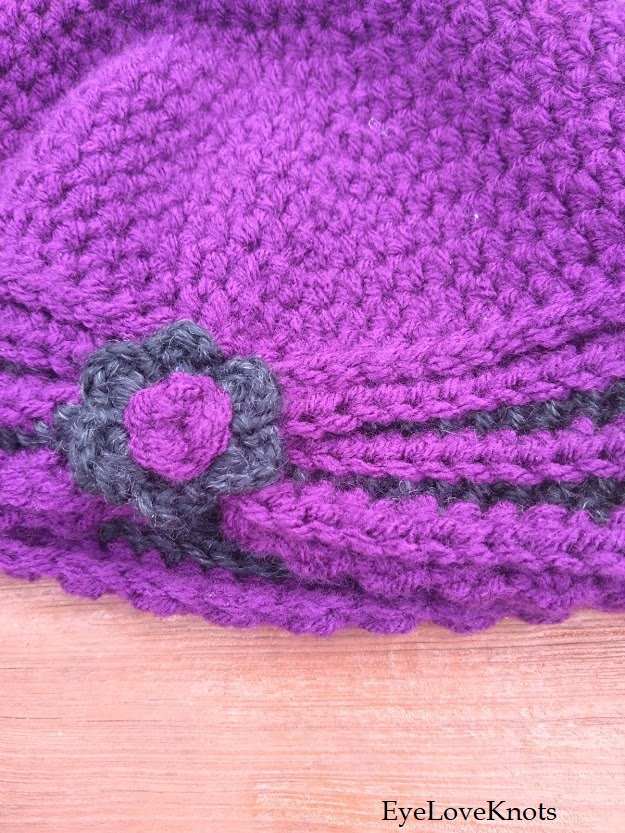 I did slightly modify the flower portion, since I only wanted the flower itself and not the "leaves" on either side. I did the flower exactly as written but then simply stopped there and attached it. This wouldn't have affected the yardage much at all, I just used a few yards less of my contrast color than stated.
This pattern is written well and easy to read, and gave me a wonderfully adorable and unique hat as a result! I would 100% recommend this pattern to anyone looking for a cute gift for a family member or friend. You could use so many different color combos to match their personalities, and even mix up the accents to change up the look!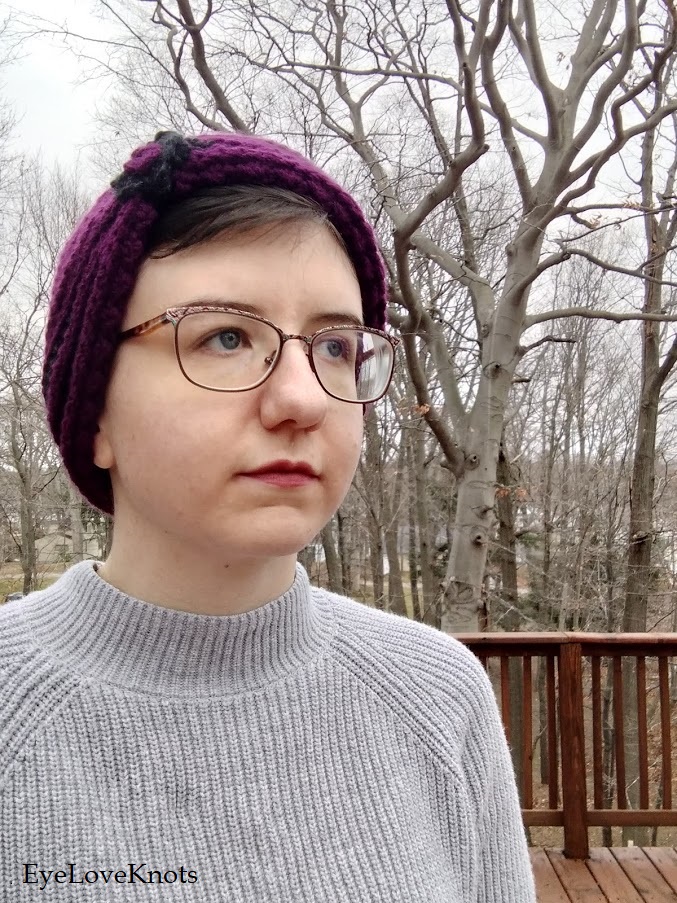 Don't forget to visit with me on Instagram @astitchshyofnormal for all kinds of awesome crochet makes and inspiration.
If you love to DIY: Join the EyeLoveKnots Crochet & DIY Community on Facebook to share your creations, and see what others are up to!
If you love Fashion: Join the Alexandra Lane Lifestyle Facebook group to share, and see what others are up to!
Linked Up To…
Over the Moon 255 – Marilyn's Treats
Happiness is Homemade Link Party #353 – Decor Craft Design
You're the Star Blog Hop – Decor Craft Design
The Hearth and Soul Link Party – April, the 21st Century Housewife
Handmade Monday #206 – Sum of their Stories
The Really Crafty Link Party #245 – Keeping it Real
Ginx Woolly Linx Party December – Ginx Craft
Craftastic Monday Link Party – Sew Can Do
Weekday Wear Link Up – Away from the Blue
Fabulous Party #350 – Lou Lou Girls
Linky Ladies Party #200 – The Purple Poncho
Turning Heads Linkup – Elegantly Dressed and Stylish
Confident Twosday Linkup – I do deClaire
Weekly Link Up #203 – Beauty by Miss L
Party in Your PJs #339 – The Apple Street Cottage
{Wow Me} Wednesday #484 – Ginger Snap Crafts
The Loop Scoop #4 – Moogly Blog
Your Whims Wednesday #489 – My Girlish Whims
The Wednesday Link Party 378 – Oombawka Design Crochet
Creative Crafts Linky Party #20 – Creatively Beth
Style Six Link Up – The Queen in Between
Style on the Daily Link Up – Straight A Style
Thursday Favorite Things #469 – An Artful Mom
Creatively Crafty Link Party #254 – Life Beyond the Kitchen
Artsy-Fartsy Party #323 – Artsy-Fartsy Mama
Encouraging Hearts & Home Blog Hop – Apron Strings and Other Things
Creative Compulsions Linky Party #88 – My Bijou Life
Thursday Fashion Files Link Up #286 – Curly Crafty Mom
Chic and Stylish Link Up – Mummabstylish
Pin Party #398 – The Pin Junkie
Traffic Jam Weekend Linky Party #262 – My Bijou Life
Friday Favorites – Busy Being Jennifer
Create, Bake, Grow & Gather Party #450 – Shabby Art Boutique
Embracing Home and Family Link Party #20 – The Everyday Farmhouse
Style Link Up – Lizzie in Lace
Fancy Friday Linkup – Nancy's Fashion Style
December's Stylish Monday Link Up – Style Splash
Style with a Smile Link Up – Style Splash
Link Your Stuff – Annemarie's Haakblog
A Morning Cup of Joe Linky Party – The Cottage Market
Snickerdoodle Create Bake Make Link Party 366 – EyeLoveKnots