This is a crochet pattern review of the May Flowers Bralette pattern by Lambent Creations. Review done by A Stitch Shy of Normal.
This post contains affiliate links for Lion Brand Yarns, WeCrochet, and Etsy. If you make a purchase by clicking on them, I make a small commission at no extra cost to you. Thanks for your support!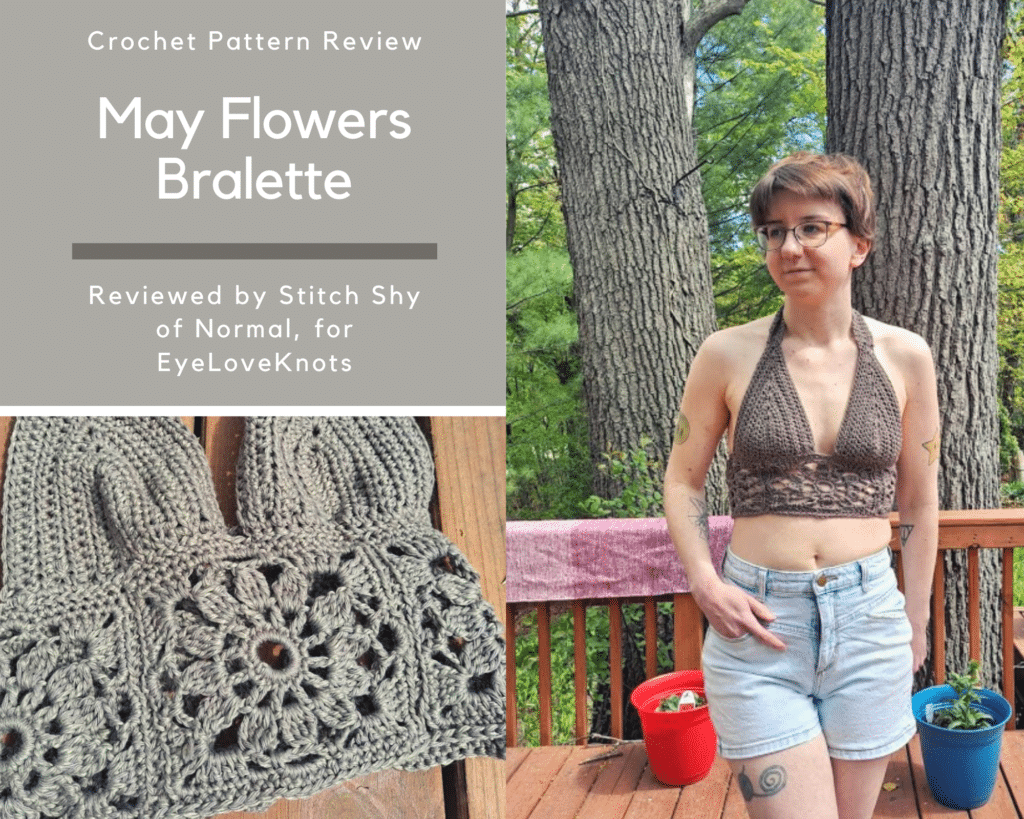 Visit with me on Instagram @astitchshyofnormal for all kinds of awesome crochet makes and inspiration.
I simply couldn't resist making my May crochet pattern review choice the "May Flowers Bralette". I had put it on my Ravelry queue a couple months ago, because while I don't like to lock in my choices for these until the month before, I sort of pick seasonal options in advance. For example, my current queue has a crossbody bag that looked perfect for summer shopping and a gorgeous cami pattern, and then a few fall items I'm hoping to try out when the weather cools down!
So when I came across the May Flowers Bralette pattern, I thought it would be funny to put that on my list for May. Then in mid-April when I checked it out to find my next review pattern, I realized it actually was pretty darn cute…and why not? It's not something I would wear to work, but it seemed fun for a summer afternoon hanging out at home. Maybe even something I could wear to the beach with a swim suit!
After making it, I'm very happy I did. The pattern is very in-depth on measurements and describes how to get your best custom size possible. It's written in sizes XS through XXL, and cup sizes A through DDD. The designer then explains how to check this fit as well as how to customize it further! I really appreciated these tips, and did use some of the techniques to check my fit as I went. She did a great job and I will make this pattern again.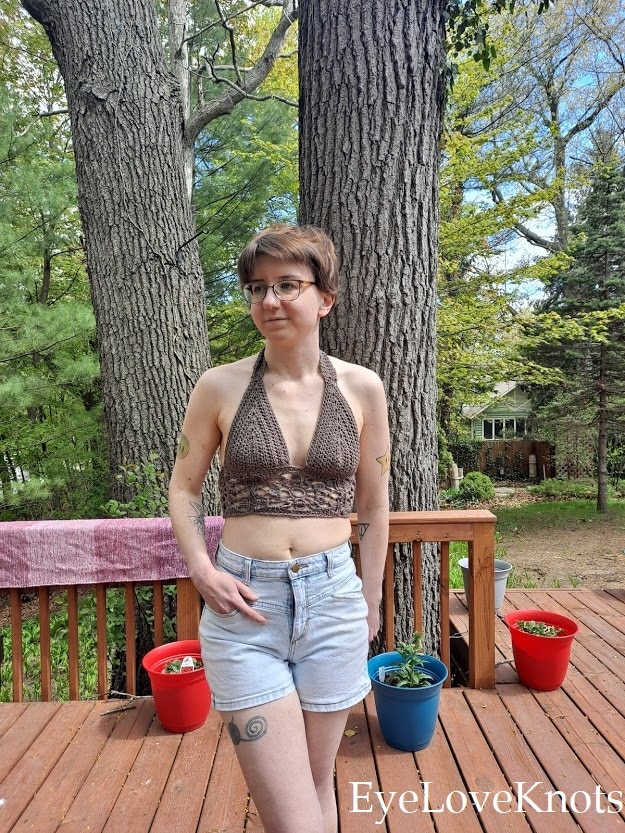 Materials I Used to Make my Bralette:
Material Notes:
In terms of comfort, I love the yarn I chose. Why did I go with a weight 3 instead of the listed category 4? That's what worked best with my gauge (I'll go into detail on that in the gauge notes) and also felt really comfy and soft, so I thought it might be a good pairing. This pattern is intended to be worn alone without undergarments, so I wanted something that would be soft on the skin. And that's exactly what I got, it's not at all rough or scratchy and it feels great!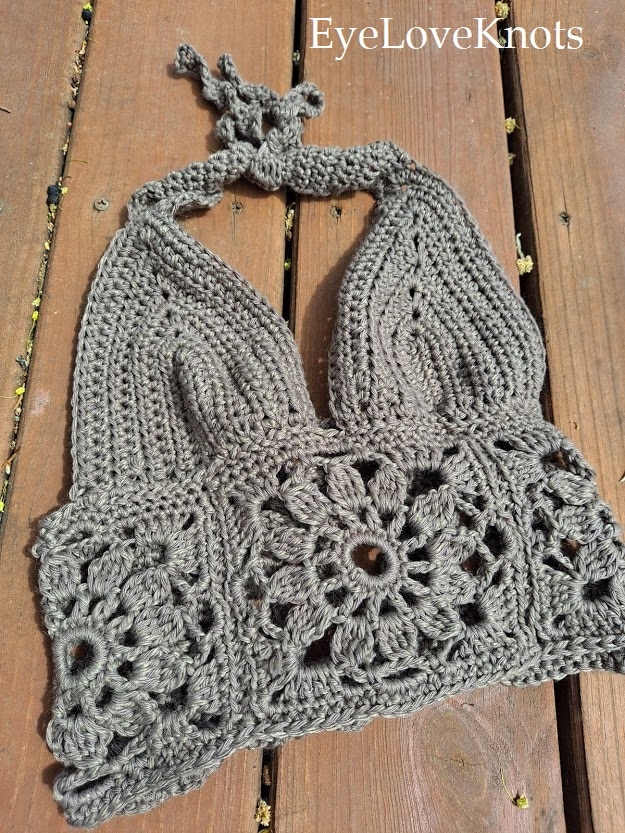 The downside is that this yarn is on the stretchier side. This is normally a wonderful quality, and one of the reasons I reach for this yarn for many spring or summer garments! It has a gorgeous drape and it just hangs so well. However, in a garment like a bralette where you want support, I now realize it might not be the best choice. Another yarn that is entirely cotton might have been better, and wouldn't stretch as much.
Why is stretching a problem? I think it's making it a less-supportive fit. The main body portion of this bralette fits me well (although the cup size isn't perfect either but that was just my own sizing mistake), but then as I tie the straps snug, they just stretch out and don't really pull the bralette much tighter. It's hard to describe but in a garment like this you would actually want less stretch so that it can hold everything a little more snug and tight, versus an open breezy top where you want some stretch and give for comfort.
Would I use this yarn again for this pattern? Maybe. It's hard to say for sure because I also made some imperfect choices on sizing, but I think the stretchiness really does cause a problem in getting the correct fit. The designer recommends a cotton yarn, and I would add that it should be more than the 50% cotton choice that I made. I love this yarn, I love the pattern, I just don't think they're a good fit together.
Next time, I'll probably use something along the lines of the Handicrafter Cotton she recommends, or maybe Lion Brand's Pima Cotton. Something that's entirely cotton, but still comfy and comes in gorgeous shades (that's why the Pima Cotton came to mind, there's some beautiful shades in that line). There's still a lot of warm weather in the future, so I'll have plenty of time to make (at least) one more of these tops!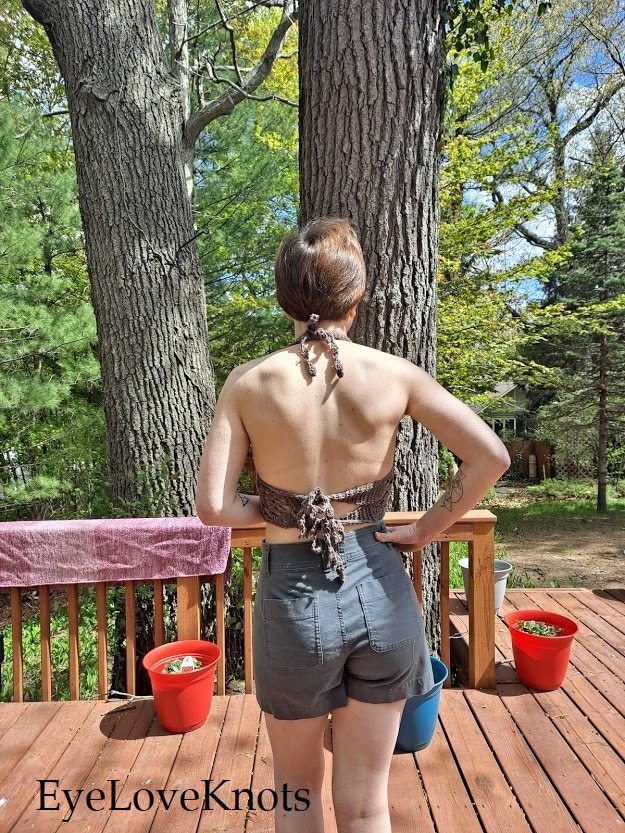 Time Spent:
Surprisingly, I think I got this done in about 8ish hours altogether. I'm sure the time spent depends on your sizing combination, but I was still expecting a top to take longer. You make the cups with their halter straps, then whip up a couple of squares with the back straps, and you're already at assembly! I'm not kidding when I say I was checking through the pattern to see if I missed a step because I was surprised to be done.
Measurements:
I chose the cup size B and the size S for any other reference. She also lists the bra band sizes for the number of squares you make on the bottom, and I did the 3-square option listed as band sizes 32-36.
Is it a perfect fit? Not quite, but I think I understand why. For one thing, I chose the cup size of B even though I wear a C. Why did I do this? She explains that to get a custom size, you can do your starting chain and hold it up to yourself to measure the length. When I chained the amount listed for B, it fit this measurement perfectly, so I decided to move forward with this since I figured it was better to go too snug than too loose (I still believe that would be true for a pattern like this). I then didn't choose to add any rows because it looked like it would fit. I realize now that I should have added a row or two, and I'll try that on my next one.
The other slight imperfection of my fit was my straps. As I mentioned in the material notes, I think my yarn stretched more than it should for something that's meant to fit snug and supportive. Was it a wonderful pattern? Absolutely. All the information is in there to help me get it perfect the next time, now that I know better.
Don't get me wrong from all of this back and forth on the fit. It does fit me, it covers the essential parts, and it'll stay on and stay up! It just doesn't feel as secure as I would really prefer. I'll see how that changes with a different yarn/gauge.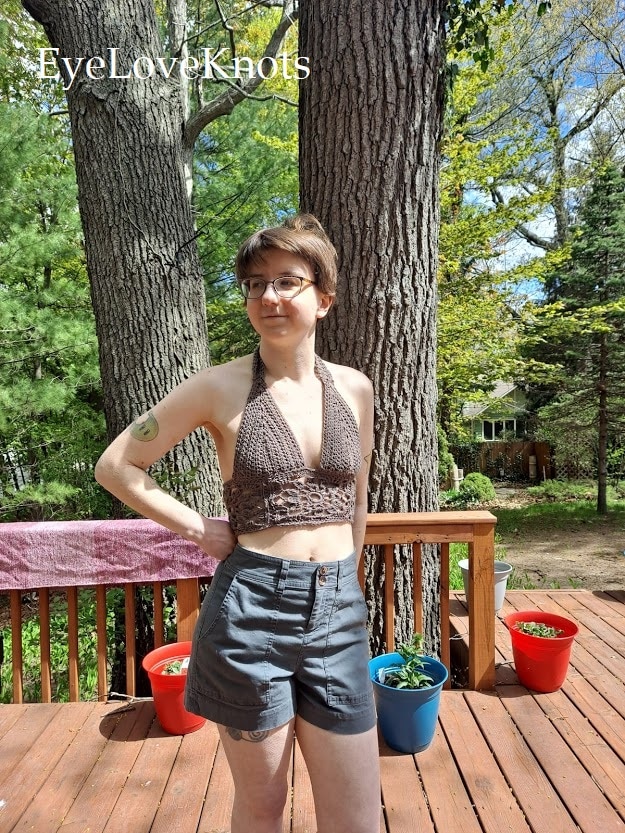 Gauge:
The pattern gives the gauge based on the cups, being in plain HDC. It's listed as 6 rows of 8 HDC = 2″x2″.
My gauge is close but not perfect. In 2″, I have more like 6.5 rows, and 7 HDC.
The pattern calls for category 4 and I tried it first with Lion Brand 24/7 Cotton but got something further off like barely 5 rows in that height, which wasn't close enough for me. On a whim, I grabbed some of my Comfy Cotton (which I always have around in the warmer half of the year) and whipped up a swatch that worked much better!
With the Comfy Cotton, my gauge was what I mentioned above (just one stitch/row off each way) and that was close enough that it felt right to proceed with this category 3. This yarn has always been kind of between categories 3 and 4 in my opinion. I call it a "heavy DK/light worsted". So I'm not surprised it worked here. And with the pattern being so customizable, I decided I could alter things a little to make this work.
Pattern Notes:
I've mentioned it throughout this review but I just love how customizable this pattern is. And it's not overwhelming, either! Each section lays out how to pick your fit for that one portion, and then they all fit together with a little math! I love the touch of attaching the cups from the inside out, so the pattern doesn't need to list a million different stitch counts to explain attaching ten different cup sizes to two different band sizes (don't think too hard about my math there).
As I said, I chose S and B, and even making not-perfect size choices like I did, I could still have easily fixed it with some extra rows for more coverage! It also helps that this top is a halter, and has the straps at both the top and the back. This allows for a little more size leeway, as you can tie the straps tighter or looser for your own fit preference. You could even make your straps as long or short as you want in order to have more hanging down or less! It would be super cute to have nice long straps and tie a bow on each one to really show it off. Also this has nothing to do with the review but wouldn't it be adorable to make this top in a black yarn but then the straps in a multicolored or rainbow yarn? It would be a little touch of personality when you turn around!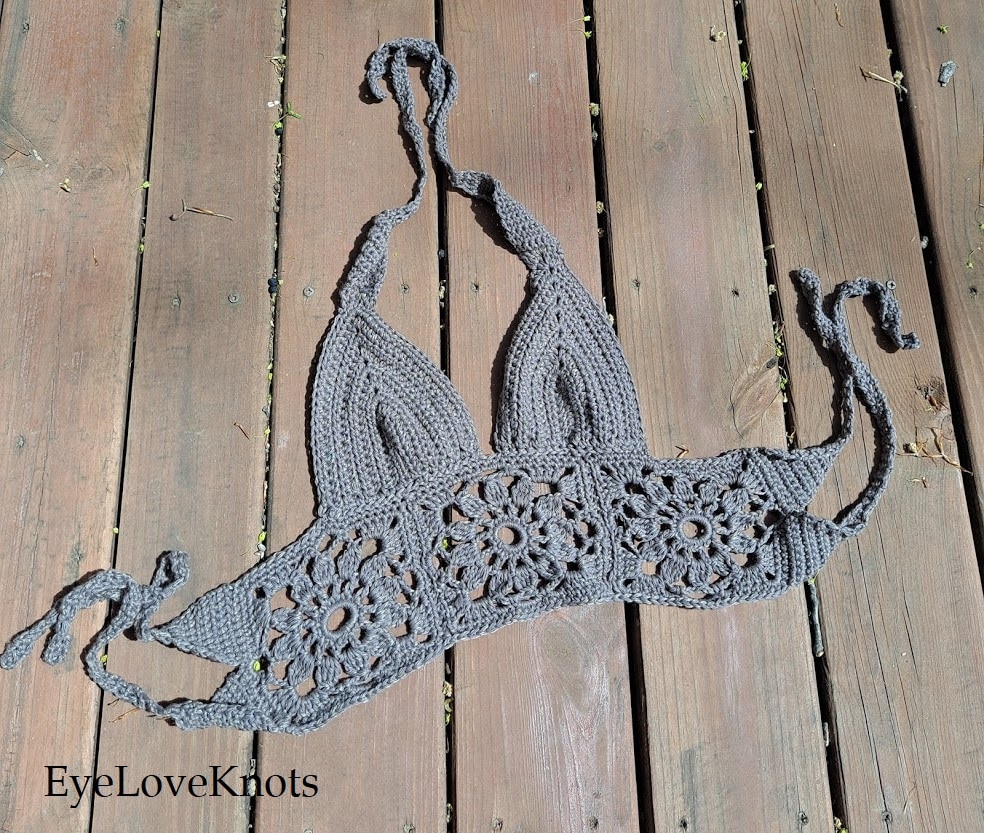 I loved the decreasing strategy used for the straps. I can't really explain why this stood out to me so much. It's not obvious, it's just a nice gradual decrease. I guess I just really appreciate the level of technique and skill used to design this, when even the straps are designed with care.
This pattern hugs that line between cute and flirty but also practical with decent coverage. A lot of crochet summer tops are really gorgeous but not something I would personally feel comfortable wearing by itself. This pattern has both, with the gorgeous squares and open back but also supportive cups and nice sturdy straps.
I'm torn on the practicality of wearing this without a bra underneath. It's intended as such, and it works. I would just feel fairly self-conscious about wearing this in public as it is. I've considered the possibility of putting a lining in the cups, or using fashion tape or something to just make sure everything stays where it's supposed to be. I haven't tried any of these methods, though. I've only worn the top for a few hours total at home to test things out and model for the pictures.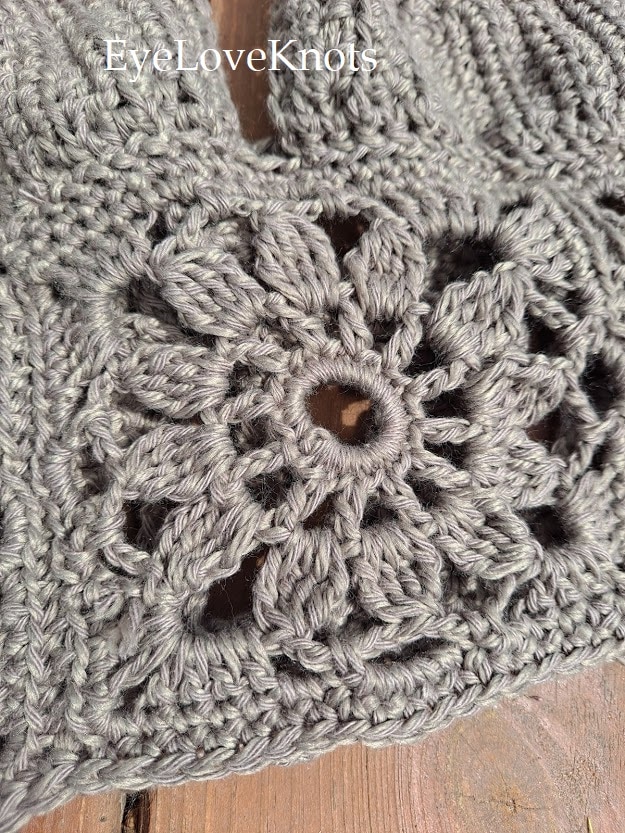 The best strategy I found to get a good fit takes a little bit of time but it worked well for me. I put it on, tied all the straps, and then I started again with the top strap and re-tightened them all. It's just a little hard to get the correct fit with three different straps, so it was kind of awkward until I discovered this process. If you have someone helping you, it might be easier. I didn't, but I was still able to get a good fit tying a bow behind my own back!
I will be making another one of these–changing up my yarn, and tweaking my sizing choices–to see if my small issues with the fit are resolved. Even though mine turned out "only" 95% perfect, I am still very glad I bought the pattern and I will still find an excuse to wear mine all summer!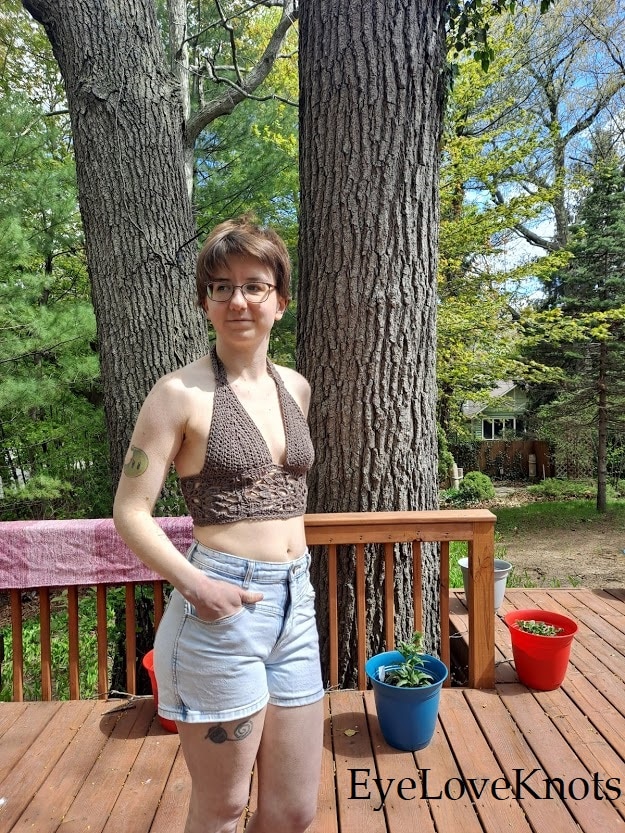 How would you style this top? Summer festival style with short shorts? Beachy and breezy? With a cardigan for warmth and comfort? Let me know!
Don't forget to visit with me on Instagram @astitchshyofnormal for all kinds of awesome crochet makes and inspiration.
Join one of our awesome Facebook groups to share your creations, and see what others are up to!
– EyeLoveKnots Crochet & DIY Community
– DIY Home On Rockwood Lane
– Alexandra Lane Lifestyle
Linked Up To…
Weekday Wear Linkup – Away from the Blue
Turning Heads Tuesday – Elegantly Dressed and Stylish
Confident Twosday Linkup – I do deClaire
Weekly Link-Up #224 – Beauty by Miss L
Style Six – The Queen in Between
Style on the Daily – Straight A Style
Thursday Fashion Files #306 – Curly Crafty Mom
Chic and Stylish Link Up – Mummabstylish
Fancy Friday Linkup – Nancy's Fashion Style
Ginx Woolly Linx Party May – Ginx Craft
Loop Scoop #14 – Moogly Blog
Craftastic Monday Link Party – Sew Can Do
{Wow Me} Wednesday #505 – Ginger Snap Crafts
Creative Crafts #42 – Creatively Beth
The Wednesday Link Party – Oombawka Design
Craft Schooling Sunday – Creative Jewish Mom
Happiness is Homemade #375 – Decor Craft Design
Handmade Monday #228 – Sum of their Stories
The Really Crafty Link Party #267 – Keeping it Real
Creatively Crafty Link Party #276 – Life Beyond the Kitchen
Artsy-Fartsy Party #345 – Artsy-Fartsy Mama
You're the Star Blog Hop – Decor Craft Design
Unlimited Link Party 26 – Grammy's Grid
The Hearth and Soul Link Party – April, the 21st Century Housewife
590th Inspire Me Tuesday – A Stroll Thru Life
Fabulous Party 372 – Lou Lou Girls
Party in Your PJs #359 – The Apple Street Cottage
Your Whims Wednesday #512 – My Girlish Whims
Thursday Favorite Things #490 – An Artful Mom
Encouraging Hearts & Home Blog Hop – Scratch Made Food
Traffic Jam Weekend Linky Party #282 – My Bijou Life
Friday Favorites – Busy Being Jennifer
Funtastic Friday Link Party #333 – Simply Beautiful by Angela
Link Your Stuff – Annemarie's Haakblog
A Morning Cup of Joe – The Cottage Market
Snickerdoodle Create Bake Make Link Party 386 – EyeLoveKnots