This is a crochet pattern review of the Crochet Kiki Pillow pattern from designer Kristi Simpson for Leisure Arts. Review done by A Stitch Shy of Normal for EyeLoveKnots.
This post contains affiliate links for WeCrochet and Leisure Arts. If you make a purchase by clicking on them, I make a small commission at no extra cost to you. Thanks for your support!
Find the crochet pattern review below, or click here to find the pattern available for purchase on Leisure Arts!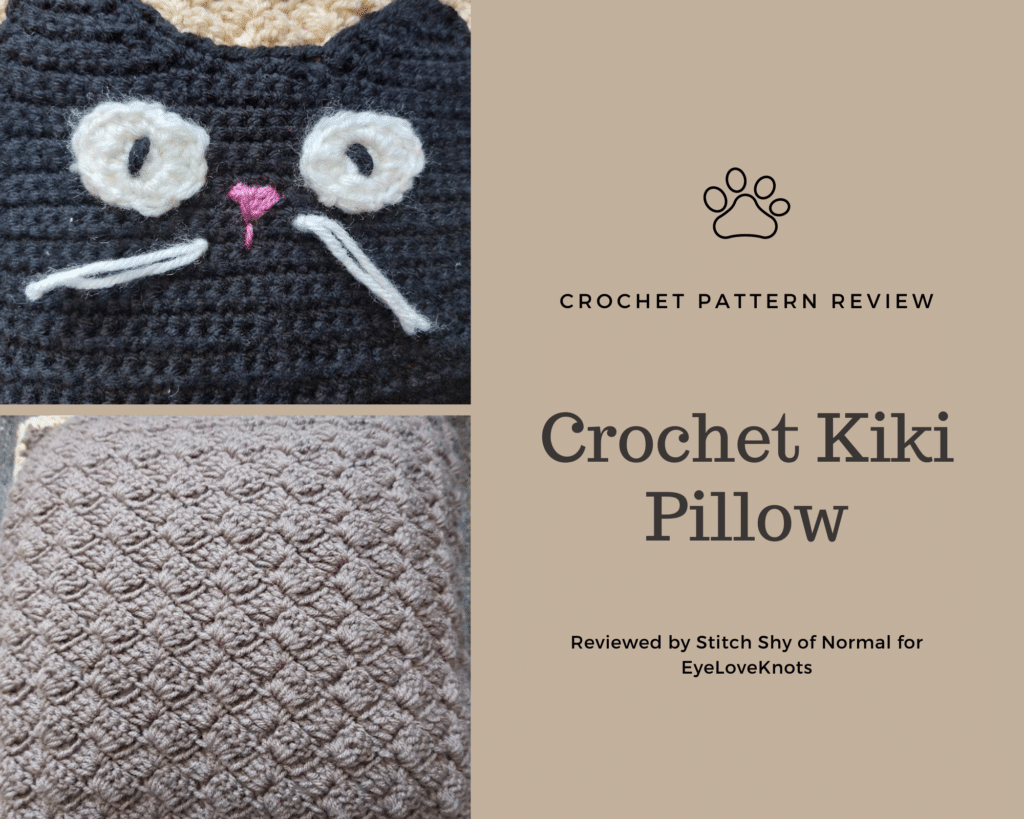 This pattern is just plain cute. I was just browsing Leisure Arts patterns because they always have new fun stuff popping up! Suddenly the most recent patterns were all cat-themed items and I was in love already. I loved the amigurumi and the decorations, but wanted something useful. I also don't currently have a cat in the house so the practical pet items like a bed or a feeding mat weren't the best options. But this pillow was the cutest thing I had ever seen and I knew it was the right choice for my next couch addition.
The backstory is just as cute, too! The pattern explains that the inspiration came from a shelter cat who would hide in a pile of pillows and peek its head out–so this pillow captures that cuteness by featuring a peek-a-boo kitty face on a gorgeous pillow so Kiki (the cat behind the story) can say hi to people forever! My family has always had animals since well before I was born, with a few cats always in the mix. While I don't have one right now, I want to eventually, so this is a great way to keep that kitty-cat spirit in my home for now until there's a real one to snuggle with!
Visit with me on Instagram @astitchshyofnormal for all kinds of awesome crochet makes and inspiration.
Materials I Used to Make the Pillow:
Less than a skein each of Big Twist Soft yarn in "Cream", "Taupe", and "Black"
Scrap amounts of white and pink yarn for accents
H8/5mm crochet hook for the cat – I like Clover Amour Ergonomic Hooks
4.5mm crochet hook for the pillow
Scissors and a yarn needle to assemble
Poly-Fil Premier 14″ pillow form (link is to the "Basic" one since that's all I can find on the Joann site right now)
Kiki Pillow, Paid Crochet Pattern via Leisure Arts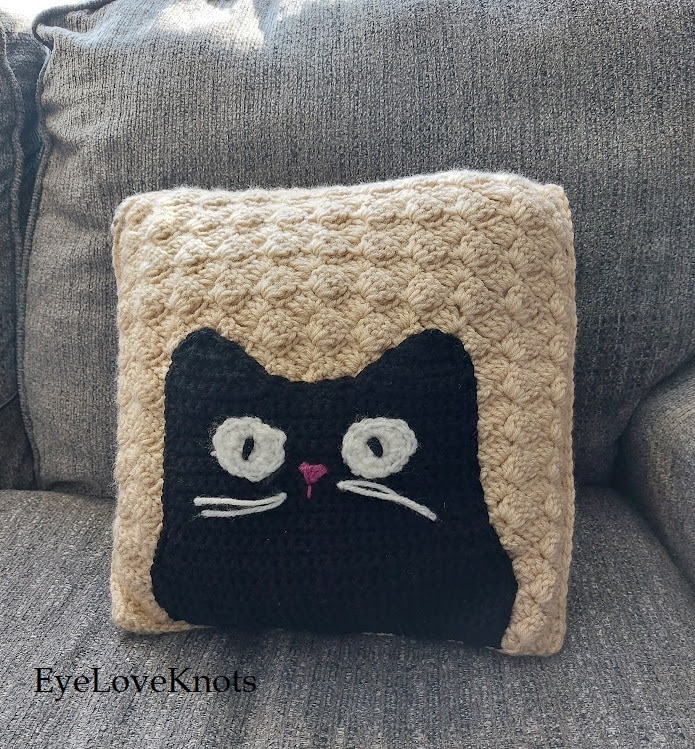 Material Notes:
This yarn worked out wonderfully, and even was very close to the pattern's intended shades! The designer suggests just a medium weight yarn and lists the colors, I'm not sure if they had a specific one in mind. I went to Joann without a specific plan but knew I could get something basic like Super Saver if I couldn't find anything else. They just happened to have a sale on their whole Big Twist line at the time and I had tried the Soft version before so I snapped it up! The listed colors for the pattern are Aran, Taupe, and Black while I found one called Cream instead of Aran. It worked close enough for me because really all it meant was a nice neutral to let the adorable cat pop off the front of the pillow. And I think my Taupe is decently darker than the designer's pillow, but again the purpose is the contrast while still being coordinated neutrals.
Overall I did love this yarn for this purpose, it was soft but feels like it will hold up nicely. Would I use this again for a pillow? Yes, of course. The colors are gorgeous and the yarn felt pleasant to work with. The pillow has a little bit of halo fuzz after it's been sitting on my couch for a few days (I had to test it, obviously!) but that happens with literally any yarn and it doesn't affect the look of the pillow in general. I haven't had the time to put this one to a long-term test but I have made home items with this yarn before (check out my tapestry crochet wall hanging that I reviewed a few months ago and used this same colorway for the main color!) and it stays looking nice.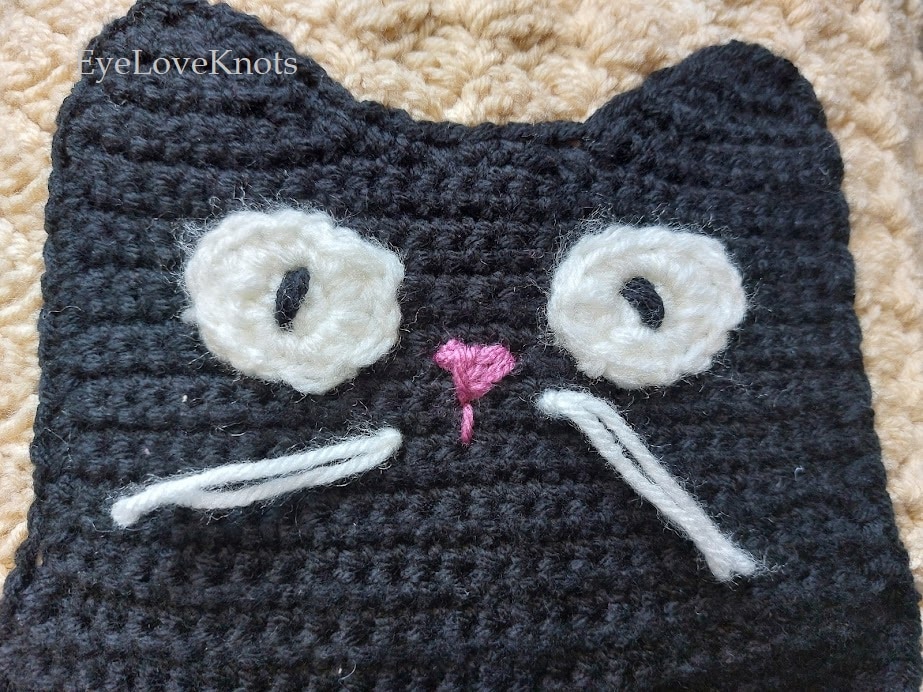 I really do recommend the "Premium" version of the pillow form, because I was very happy to be able to open it up and add extra stuffing. I don't think I've done that before but it was nice to make it extra plump instead of the pillow being flat and boring.
You saw it above but while the pattern calls for H8/5mm for the hook, I ended up going down one step for the pillow. The cat worked out fine but my first pillow panel was going to be up to an inch too wide which just doesn't work very well. In my experience you want it a little bit smaller than the actual pillow size, so it hugs it nice and tight.
Time Spent:
This was a quick project! I probably didn't take more than 10-12 hours on this one in total. It was a very simple project to work on after I got home in the evenings. The cat is the most complicated part that you actually have to pay attention to a little bit but once you start the panels it's a breeze. Sewing also took me maybe an hour all in all.
Gauge:
Remember that I did change my hook size for the pillow, but not the cat. To avoid being confusing here I'm going to only share my pillow gauge because I would consider that way more important. As long as the cat looks solid and fits on the pillow it's fine in my opinion.
The pillow gauge listed is 3 "repeats" (I assume the block clusters of the stitch pattern) and 6 rows in 3.5 inches.
My pillow, measuring 3 repeats corner-to-corner is 3.5 inches exactly. I'm honestly not sure how they're measuring their rows though. Because this stitch pattern is composed of slanted blocks it's not clear. For me, if I measure 3 pairs of those blocks stacked on top of each other and measure them from their furthest points, it's more like 4 inches. If I only do 3 blocks high, it's the written 3.5″. So I'm going to consider it close enough.
This is why I changed hooks. I'm not sure if it was my yarn choice (since I don't know what they used) or my tension, or maybe both. But with my substitute hook I got pretty much exactly the listed dimensions!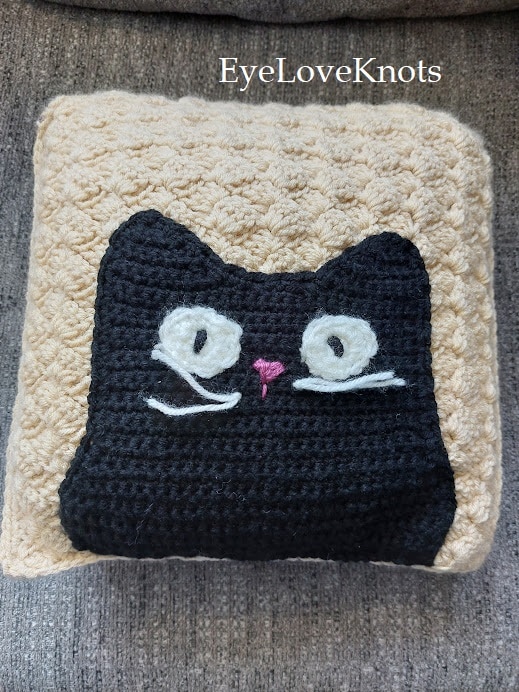 Measurements:
Of course my finished pillow is…14 by 14 inches. But assuming it means panels before sewing–they were right about 13.5″ unstretched and I could lightly stretch them to be 14. This is where you want a pillow to be in my opinion, a tiny bit smaller than the actual pillow form so it fits nice and tight. The panels will stretch over time and you want to leave them some room to do so and still be snug!
Pattern Notes:
This kitty pillow is so cute. That's the biggest thing I want to share here, how darn adorable it came out. The backstory about the real cat is even cuter so it's just a wonderful design all around. The stitch texture has so much fun to it, but at the same time it lets the cat shine and be the true focus. I love the idea of it being two colors and also with the cat only on the one side–this way you can flip it around and have the solid side showing if you want! It would also be cute with the two panels in the same color, I'm sure.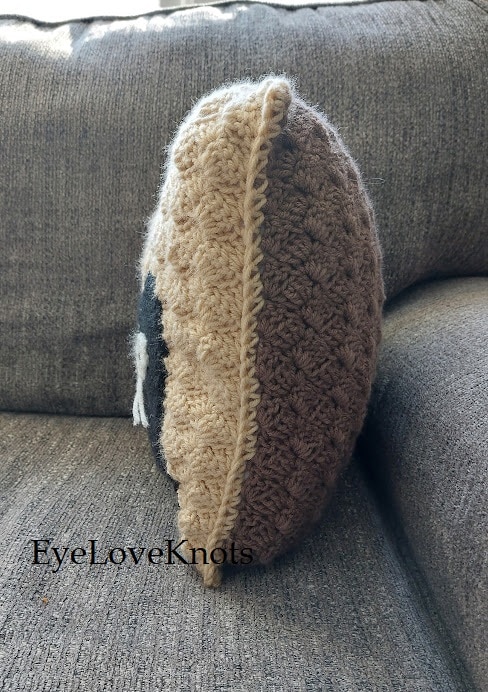 Speaking of that gorgeous texture of the panels, it can be a little challenging to figure out how to start. I had to frog and re-try the first panel a few times. And I still am not entirely sure I was doing it perfectly. The stitch count listed in the pattern says there should be 60 stitches in the rows, and no matter what I did, I kept getting 59. That's just what I got, and even when I went through and counted the stitches they list in the instructions, it's still just 59. I hope I was doing it right but even if I'm not, I got a beautiful pillow so it worked, didn't it? And once you get that pattern down, it's just that same row for the whole length. It's so simple once it clicks and by the time you're getting bored of it, it's over.
The cat is a little bit more complicated but it's just a bunch of shaping. And if you're not perfect, you go around and put an edging on at the end so you can fix most lumps and bumps. Or, you can remember that it's a cat and they're not all perfect so it might be a little unique-looking! I followed the pattern suggestion of black but it might be fun to do different colors. You could do a collection of them to represent each cat in your household! The pattern does say to work the cat first, so it's kind of nice because you get through the "hard" (relatively speaking) part first and then you just have two simple squares followed by a quick assembly.
My only actual issue, if I'm getting picky, is the final row of the pillow panels. I'm not sure what could be better but I don't like the concept of just chaining between each square. I'm not speaking from any kind of experience or authority here, I don't have any better idea, but if there is a way to improve upon this I would like to try it for my next one. You can see in this picture below what this edge looks like, while the rest have a nice single crochet border look without as large of gaps showing the inner pillow form.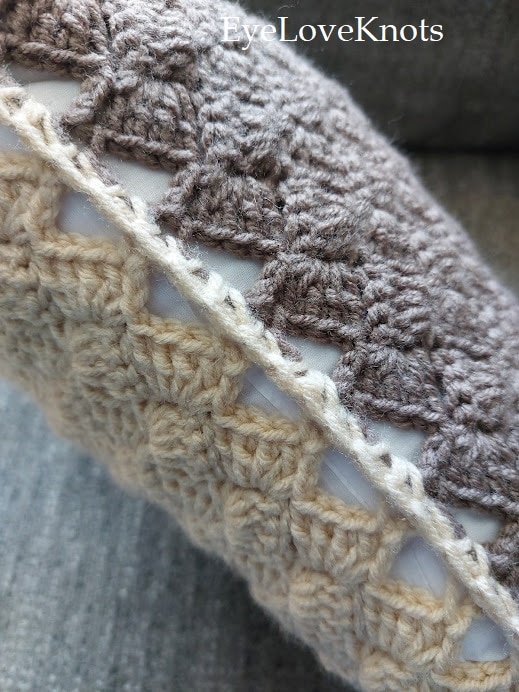 Thinking back on the whole process, this design was a joy from start to finish. It was fun, it was easy, and it gave me a really nice and adorable finished pillow to enjoy. Compared to my Mare Knot Pillow that I reviewed last week which was a much longer and more complicated endeavor, this one was a breeze and exactly what I needed to cleanse my crochet palate right now. I'm dreaming up all the ways you could play around with this concept and the different color combinations of the cat and pillow that could be done!
If you were to make one (or more) of these to represent your kitty family, what colors would you do and what pillow colors would you pair with the cat?
Don't forget to visit with me on Instagram @astitchshyofnormal for all kinds of awesome crochet makes and inspiration.
Join one of our awesome Facebook groups to share your creations, and see what others are up to!
– EyeLoveKnots Crochet & DIY Community
– DIY Home On Rockwood Lane
– Alexandra Lane Lifestyle
Linked Up To…
The Wednesday Link Party 439 – Oombawka Design Crochet
The Loop Scoop #32 – Moogly Blog
{Wow Me} Wednesday #543 – Ginger Snap Crafts
Tuesday Turn About #139 – My Wee Abode
Linky Ladies Party #221 – The Purple Poncho
Beautifully Made Link Party for Home Decor 203 – Across the Boulevard
Craftastic Monday Link Party – Sew Can Do
Creatively Crafty Link Party #317 – Try It – Like It – Create It
Friday with Friends Link Party – My Hubbard Home
Saturday Sparks Link Party 504 – Pieced Pastimes
Share the Wealth Link #13 – Big Fat Menopausal Life
Happiness is Homemade #415 – Decor Craft Design
Craft Schooling Sunday – Creative Jewish Mom
Sundays on Silverado #81 – The House on Silverado
Handmade Monday #267 – Sum of their Stories
The Really Crafty Link Party #304 – Keeping it Real
Link-Up Potpourri #32 – My Bijou Life
You're the Star Blog Hop – Decor Craft Design
Hello Monday – Pink Lady
Anything Goes Linky 320 – My Random Musings
627th Inspire Me Tuesday – A Stroll Thru Life
Fabulous Party 412 – Lou Lou Girls
Talent-Sharing Tuesdays Link-up 8 – Scribbling Boomer
The Happy Now Blog Link-Up #309 – JENerally Informed
All About Home Link Party #132 – Common Ground
Spread the Kindness Link Up #263 – Shelbee on the Edge
Wonderful Wednesday – Oh My Heartsie Girl
Wow on Wednesday – It This Mutton
Wonderful Wednesday Blog Hop – My Life Abundant
Encouraging Hearts & Home Blog Hop – My Slices of Life
Grace at Home No 458 – Imparting Grace
Home Matters Linky Party #369 – Modern on Monticello
Create, Bake, Grow & Gather Party #509 – Shabby Art Boutique
Funtastic Friday Link Party #374 – Simply Beautiful by Angela
A Morning Cup of Joe – The Cottage Market