This is a crochet pattern review of the Mini Cupcake Plushie designed by Ashley Bronstein of LTK Cuties. Review done by Candace of T&C Crafters for EyeLoveKnots.
This post contains affiliate links for Etsy and Amazon. If you make a purchase by clicking on them, I make a small commission at no extra cost to you. Thanks for your support!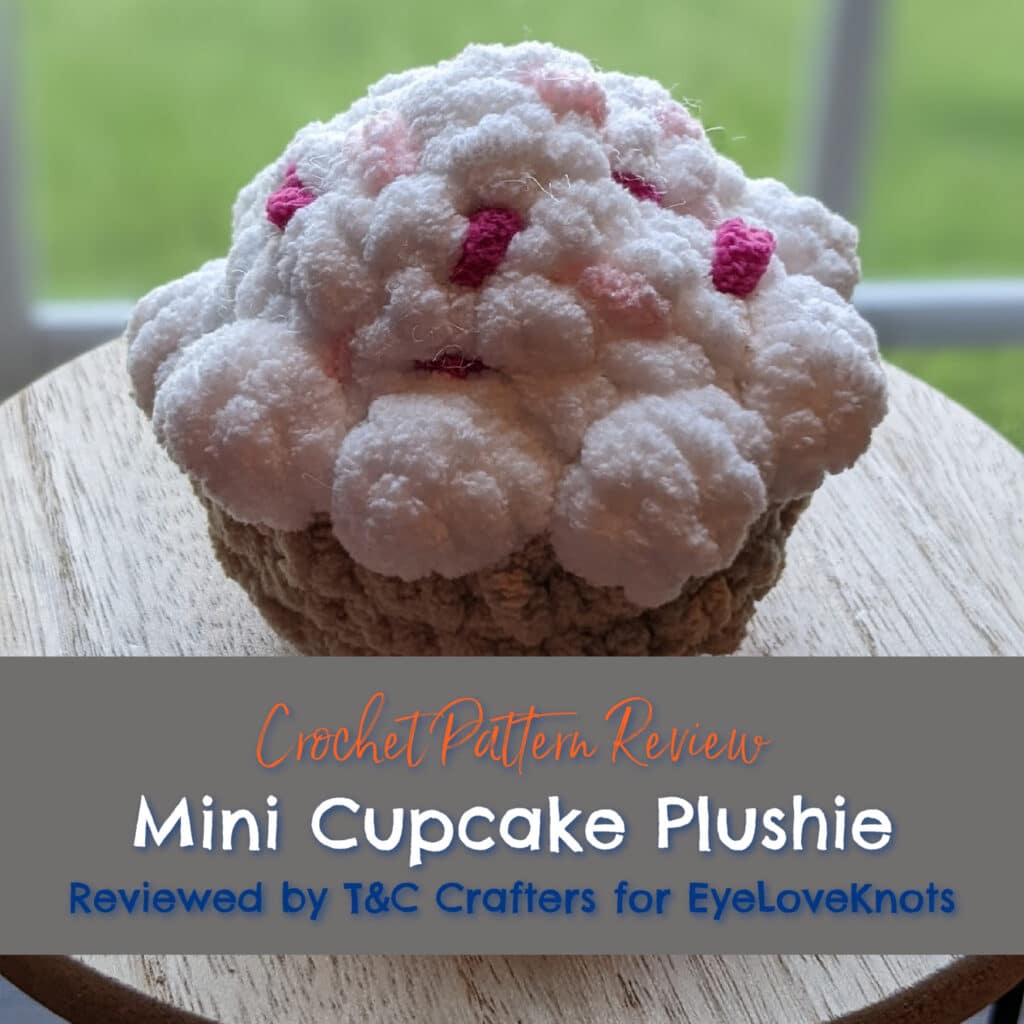 Visit with me on Facebook for all kinds of awesome crochet makes and inspiration.
I have been on a huge amigurumi kick and have been making tons of cute, little plushies to stock up for my summer and fall markets. My daughter has loved playing with all of my recent makes, so for her second birthday, I wanted to make her a cute little plushie to add to her other presents. When I saw that Ashley of LTK Cuties just released a mini cupcake plushie, I knew that would be the perfect make for her!!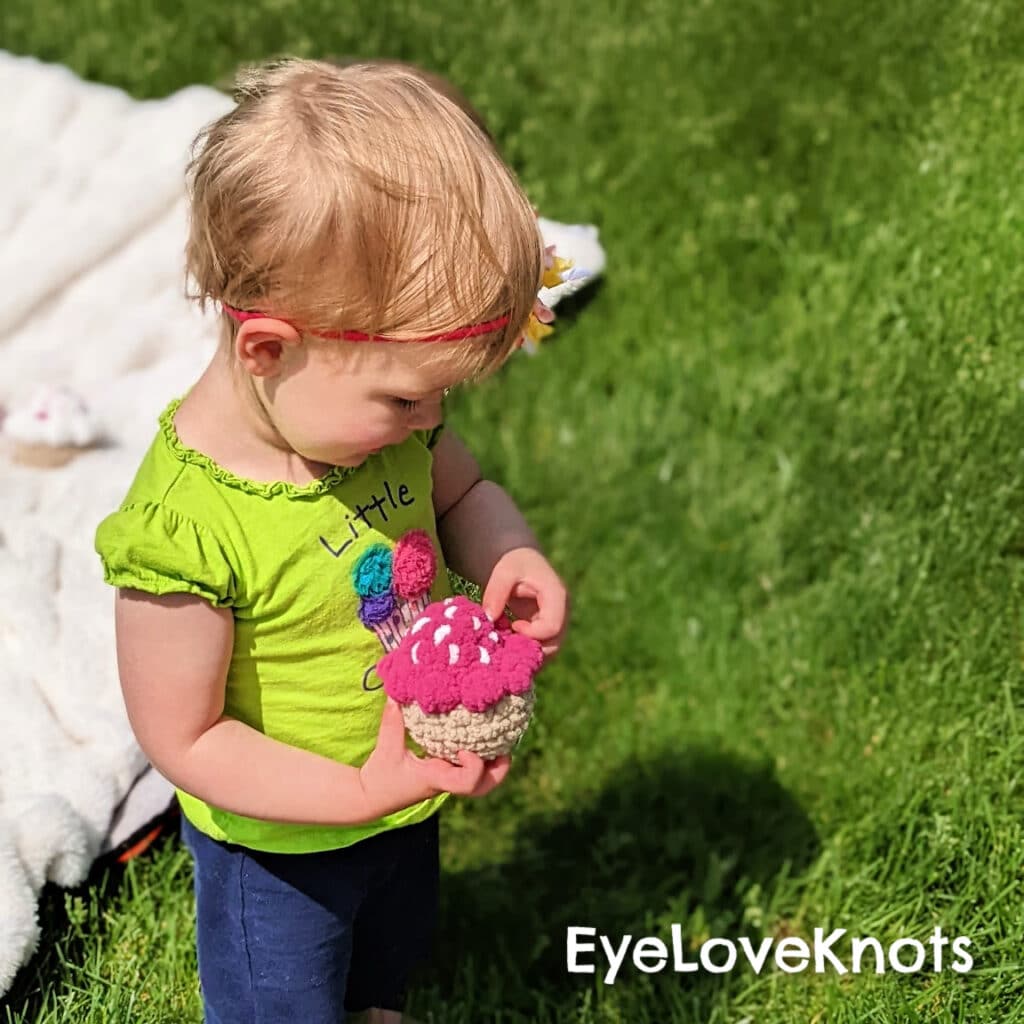 The Mini Cupcake Plushie pattern works up super quickly with just a little bit of yarn. It is completely no sew, which is a major time saver! This pattern can be made in almost any type of yarn and any color combination, so you can whip up a bunch for easy party favors, gifts, or craft fair inventory. You could even make a bunch of tiny ones and string them together to make a garland!
I will warn you – this pattern is super addicting! After making my first one, I may have went a little crazy. The mini cupcakes work up so incredibly fast that it is really easy to make a ton of these in such a short amount of time. I definitely suggest that you try out this pattern and make your own calorie-free cupcake creations!
Materials I Used:
Bernat Blanket Yarn in Almond, White, and Deep Fuschia and Big Twist Cuddle in Blush
J10/6mm Crochet Hook
Darning Needle
Mini Cupcake Plushie, paid crochet pattern by LTK Cuties via Etsy
Material Notes:
The original pattern calls for size 6 yarn. The pattern writer used Premier Parfait Chunky to make her cupcakes, but other super bulky yarns would work. If you are using this particular yarn, the pattern recommends a H8/5 mm crochet hook.
In the pattern, the designer provides information about what type of hook to use with different weights of yarn. For Bernat Blanket yarn, the pattern suggested using a 5.5 mm – 6.50 mm hook, so I decided to use my J10/6mm hook. If you are using Bernat Velvet yarn, the pattern suggests a 5.00 mm hook. For worsted weight yarn, the pattern suggests using a 3.5 mm – 5.00 mm hook. I plan on trying out all different types of yarn with this pattern, and I can't wait to see how they look!
This pattern does not require a lot of yarn or fiberfil, so you can easily make them with just a few materials. If you decide to add sprinkles like I did (not part of the pattern), you can easily use up some yarn scraps.
Time Spent:
This mini cupcake pattern works up extremely quickly! I was able to make each of my cupcakes in about 20 minutes from start to finish.
Measurements:
My finished pieces were 3.5 inches tall and just under 4 inches in diameter. They are the perfect size for little hands!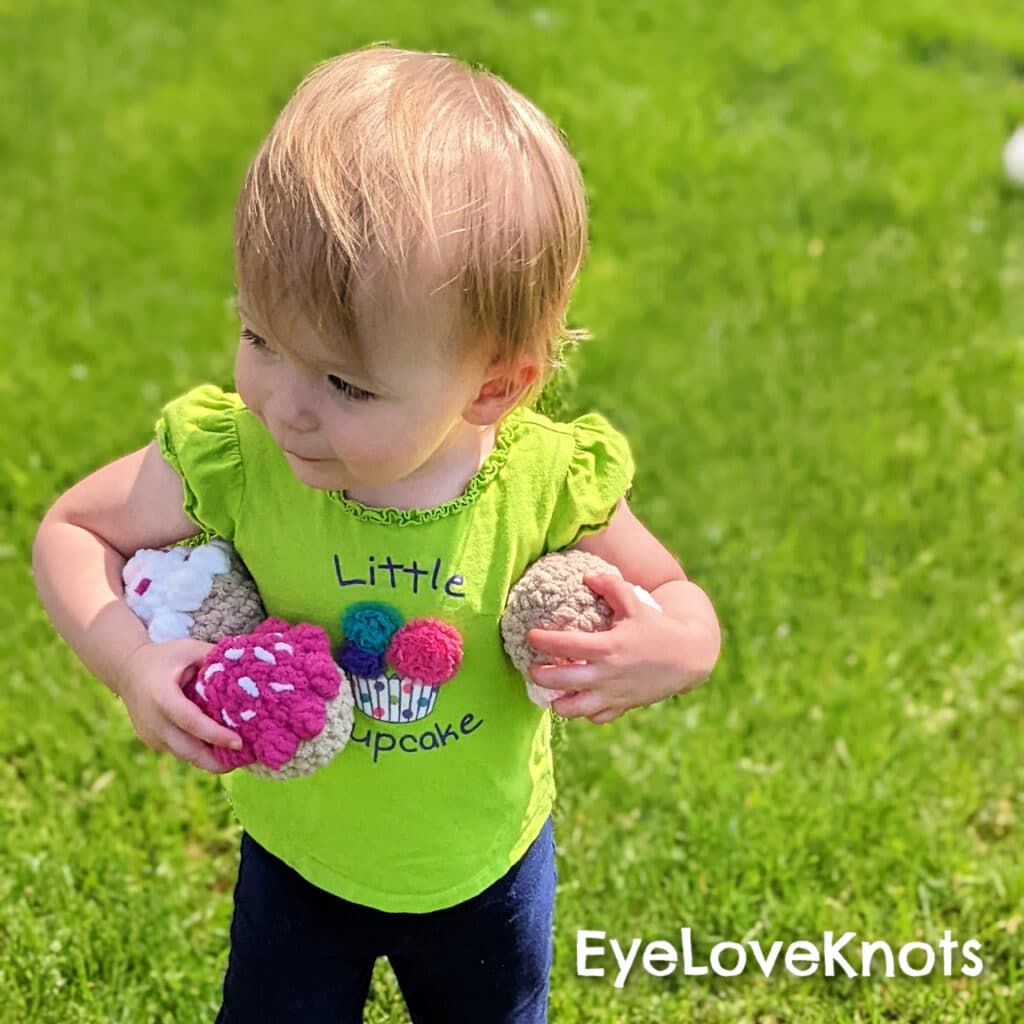 Gauge:
There is not a gauge provided in this pattern, however, the pattern does explain what hook sizes to use for different weights of yarn. Gauge is not critical for this pattern, except that you want to make sure there are not gaps between your stitches where fiberfil can come out. Typically you will want to use a smaller hook than is recommended for the yarn you are using and make sure your stitches are close together.
If you want to make sure that your cupcake turns out the same size as mine, when using a J10/6mm crochet hook with blanket yarn, a magic circle with six single crochets should measure 1 inch in diameter, and after a second round of increases in each stitch, it should measure approximately 1.75 inches in diameter.
Pattern Notes:
This pattern is extremely easy to follow and perfect for a beginner. In order to complete it, you will need to understand how to work in the round, single crochet, increase, decrease, and bobble stitch. The pattern clearly describes the steps for completing the bobble stitch, so this would even be a really great pattern to learn that stitch if you are not familiar with it yet.
The pattern begins with the bottom of the cupcake. This part works up really, really fast. The use of back loops only when transitioning from the bottom to the sides of the cupcake base make for a really clear edging on the bottom and helps to make it sit nicely on a flat surface. When I was making my cupcakes, I made all the bottoms first, and then switched over to the tops. This is what I plan to do when making more for markets in the future.
When changing color in amigurumi, I am normally really worried about my color change being too obvious. Because the color change happens right when the pattern moves to the bobble stitch for the cupcake icing, it is really easy to hide the color change and it is only visible if you are really looking for it.
The pattern provides a helpful tip for creating the icing portion. When completing the bobble stitch, you may have to make sure the bobbles get pushed out so that the bumps go the correct way to look like icing. After that, there are just a few more rows until you get to the cherry on top!
The pattern has a cherry on top that is made in the last two rows with one more color change. I wasn't wild about how the cherry looked in the colors that I was using. However, I do plan on making more with a red cherry on top. Because I opted for all one color, I sewed my final stitches down a little tighter so that there wasn't as much of a point on top like I would have wanted if there was a cherry.
When stuffing your cupcake, the pattern warns to not over-stuff, as this makes the bottom too round. As I stuffed mine, I made sure to keep pushing the bottom up so it was flat. You will only need a small amount of stuffing, so don't feel the need to add too much.
I decided to add some sprinkles on top of my cupcakes to make the three colors correspond with one another. You could also glue on felt pieces to add sprinkles if you wanted to do that. If the cupcake is for a gift, you could even make a felt birthday candle to place on top!
If you are looking for a simple, quick project, the Mini Cupcake Plushie by LTK Cuties is the perfect pattern to get! While you're snagging it on Etsy or Ravelry, be sure to also check out her other quick and easy projects like the Meadow Cup Cozy.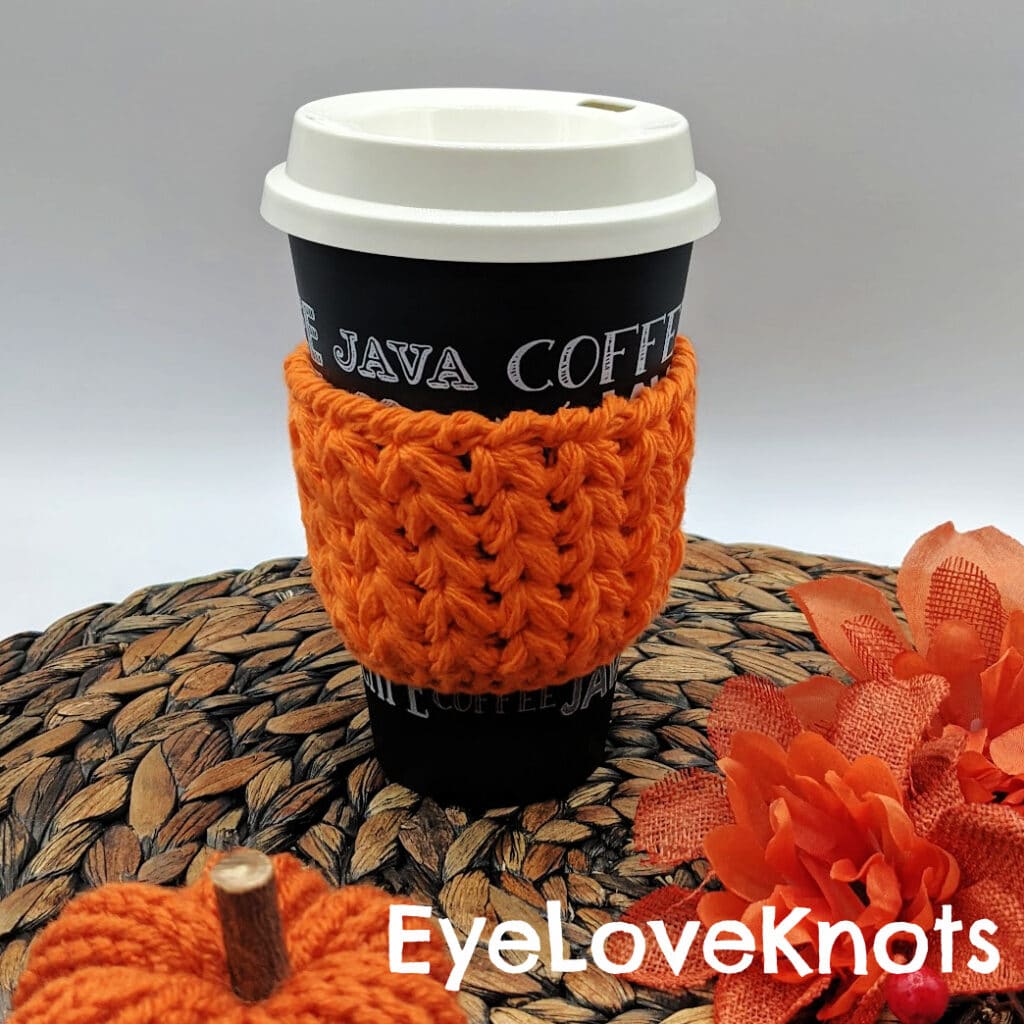 You can find my pattern review of the Meadow Cup Cozy right here on the EyeLoveKnots blog. If you decide to whip up some of these adorable cupcakes, we would love to see them! Be sure to tag @eyeloveknots, @tandc_crafters, and @ltkcuties on social media so we can see your finished pieces!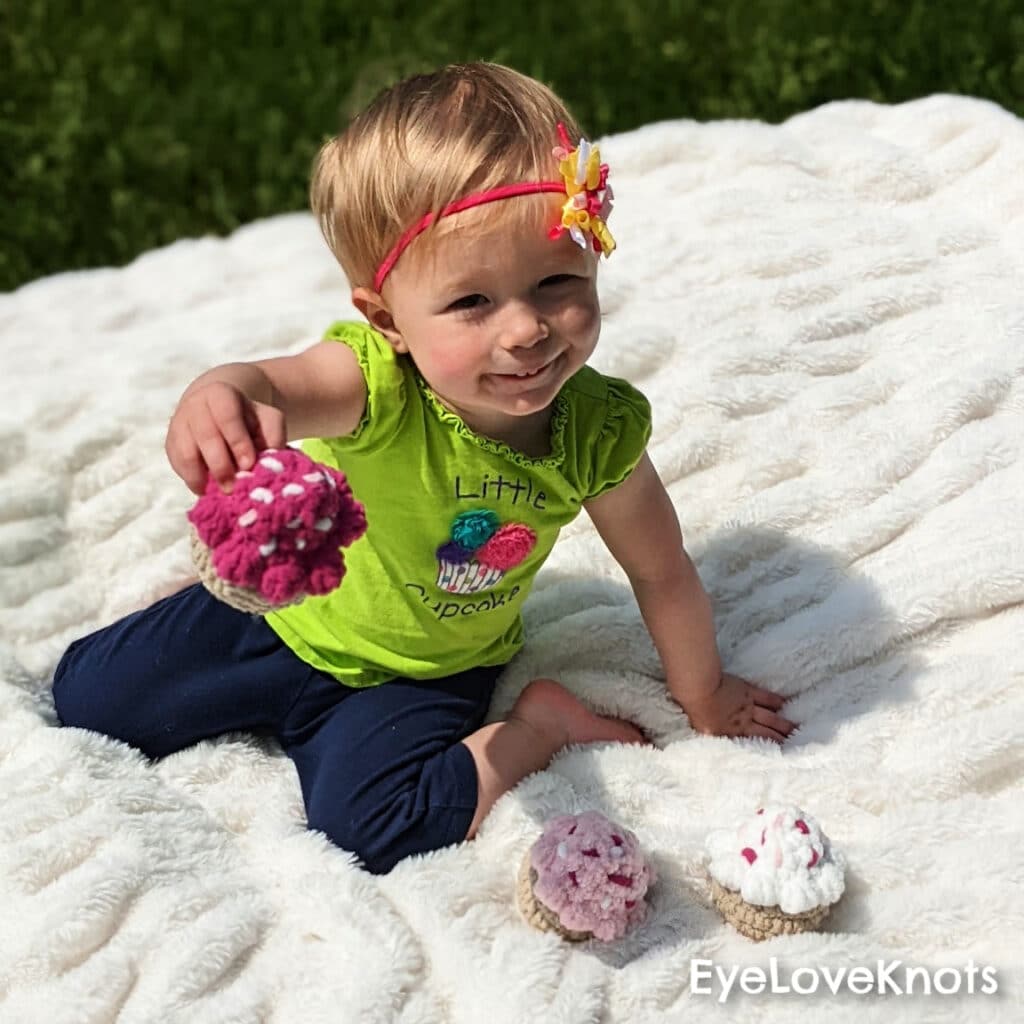 Don't forget to visit with me on Instagram for all kinds of awesome crochet makes and inspiration.
Join one of our awesome Facebook groups to share your creations, and see what others are up to!
– EyeLoveKnots Crochet & DIY Community
– DIY Home On Rockwood Lane
– Alexandra Lane Lifestyle
Linked Up To…
Fabulous Friday Link Party 6.3.22 – Peacock Ridge Farm
Home Matters Linky Party #382 – Modern on Monticello
Inspirations Link Party 3 – Pieced Pastimes
Share the Wealth Linky #20 – Big Fat Menopausal Life
Craft Schooling Sunday – Creative Jewish Mom
Happiness is Homemade Link Party #429 – Decor Craft Design
Sundays on Silverado #95 – The House on Silverado
Handmade Monday #280 – Sum of their Stories
The Really Crafty Link Party #317 – Keeping it Real
Link-Up Potpourri #46 – My Bijou Life
Craftastic Link Party – Sew Can Do
You're the Star Blog Hop – Decor Craft Design
Anything Goes Linky 332 – My Random Musings
Traffic Jam Weekend Link Party #326 – My Bijou Life
Create, Bake, Grow & Gather Party #522 – Shabby Art Boutique
Funtastic Friday Link Party #387 – Simply Beautiful by Angela
Saturday Sparks Link Party 517 – Pieced Pastimes
Anything Goes – How Sweet the Sound
A Morning Cup of Joe – The Cottage Market
Hello Monday – Pink Lady
Fabulous Party 429 – Lou Lou Girls
Talent-Sharing Tuesdays Link-Up 21 – Scribbling Boomer
The Happy Now Blog Link- Up #324 – JENerally Informed
Linky Ladies Party #225 – The Purple Poncho
The Loop Scoop #39 – Moogly Blog
The Wednesday Link Party 454 – Oombawka Design Crochet
Team Creative Crafts Link Party #97 – Artsy-Fartsy Mama
Wonderful Wednesday – Oh My Heartsie Girl
Wonderful Wednesday Blog Hop – My Life Abundant
Wednesday Link Party #299 – To Grandma's House We Go
Thursday Favorite Things #544 – An Artful Mom
Encouraging Hearts and Home Blog Hop – My Slices of Life
Creatively Crafty Link Party #331 – Try It, Like It, Create It
Traffic Jam Weekend Link Party #327 – My Bijou Life
Create, Bake, Grow & Gather Party #523 – Shabby Art Boutique
Funtastic Friday Link Party #388 – Simply Beautiful by Angela
Crafty Creators Link Party #22 – Life as a Leo Wife
All About Home #147 – Common Ground
Fabulous Friday Link – Peacock Ridge Farm
Home Matters Linky Party #383 – Modern on Monticello