This is a crochet pattern review of the Wild Vera Vest pattern from designer Nomad Stitches. Review done by A Stitch Shy of Normal for EyeLoveKnots.
This post contains affiliate links for Lion Brand Yarn, Annie's and WeCrochet. If you make a purchase by clicking on them, I make a small commission at no extra cost to you. Thanks for your support!
Find the crochet pattern review below, or click here to find the pattern listing on the Annie's website!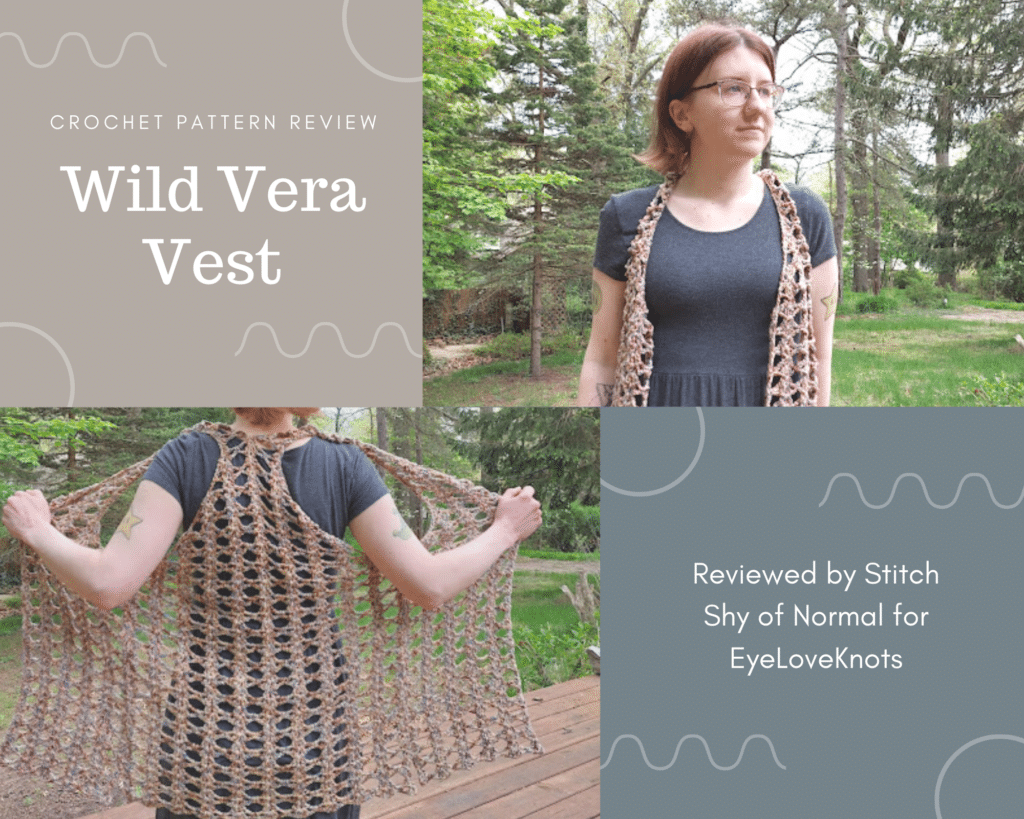 Visit with me on Instagram @astitchshyofnormal for all kinds of awesome crochet makes and inspiration!
At this point I'm pretty sure we skipped over spring entirely. Even today is the coolest it's been in a couple weeks in my area, and it was still comfy enough to be outside for a photo shoot in shorts! Apparently Michigan went right from the last snow storm to summer, and I'm not really thrilled about skipping my second-favorite season (fall is still my number one). But on the other hand, it means I can pull out all my shorts and sandals already, as well as get into stitching up all the fun summery things like crop tops and flowy vests!
So as I was browsing the patterns on the Annie's Catalog website, this gorgeous burnt orange number caught my eye. It's flowy and chic and looked incredibly comfy and lightweight. The vibes just screamed chill and relaxed, and it looked like it would be perfect for a festival or an outdoor party…not that I take part in either of those activities, but it would still be super cute for some shopping and then hanging out in my air-conditioned home! And the pattern met all my expectations. It was simple enough to make but held my interest, it looks more complicated than it ended up being, and it gives a beautiful but laid-back look to pretty much any warm-weather outfit. If you paid attention to my last review a week ago, you'll notice that I used the exact same yarn. I thought that would be the perfect way to avoid further adding to my stash, and this Comfy Cotton seemed like it would go great with a lightweight summer vest! (Spoiler: it really did work great.)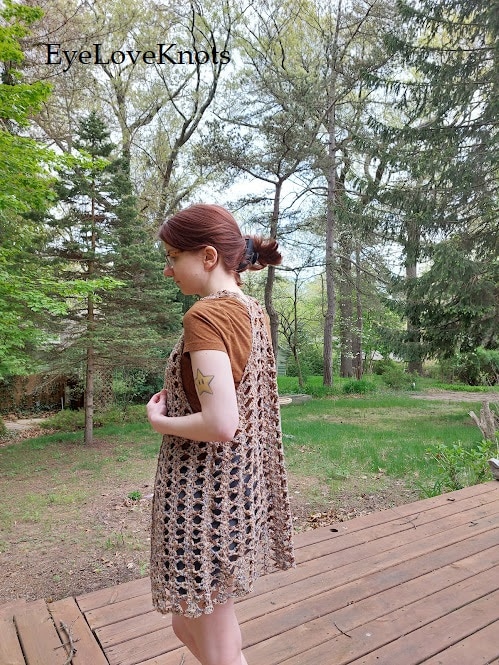 What Materials Do I Need to Make This Vest?
Material Notes:
While I found the crochet pattern on the Annie's Catalog site, you can also find it right here on the Nomad Stitches site.
This yarn was perfect. My gauge ended up working great in terms of width, but not so great in length. But since this is a vest worked from the top down, and doesn't give a specific length, I used it anyway. The width mattered more for getting a good fit, the length was entirely up to me anyway. As I'll explain later, I didn't do a swatch but I did measure my stitches once I got going.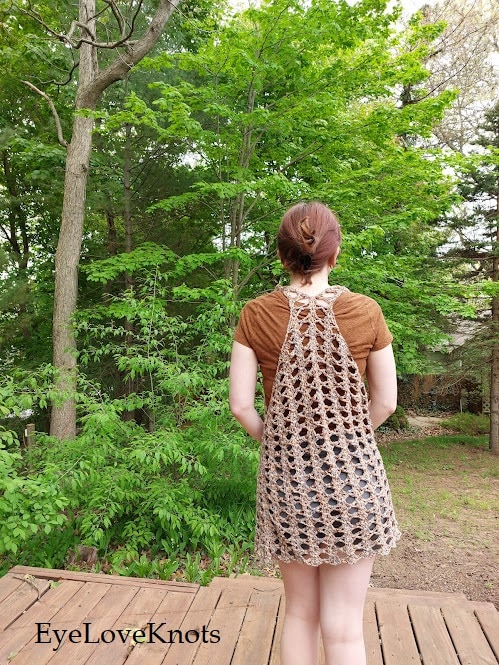 The Comfy Cotton Blend yarn, like I've mentioned before (because it's one of my favorites), is great for lighter garments because it is a blend of both cotton and polyester, giving it the best of both worlds. It holds up well, it doesn't really crease or wrinkle, and it weighs very little in the finished piece. But at the same time it's soft and feels great on the skin, compared to yarns that are purely cotton. I haven't tried machine-washing this one yet but I will in the future and I think it will do fine.
Would I use it again? No question about that, it was perfect. I want to see what it would look like in a solid shade, but you saw that whole rant last week about how I wish Comfy Cotton Blend had a wider color selection. If I could make this in a forest green or a navy blue I would be so happy. I'll just need to play around with other DK options if I want to achieve my color dreams.
How Long Does it Take to Crochet a Vest?
This took me somewhere around 8 to 10 hours. The stitching is nice and open, and while it's not a very large hook (I used a 5.5mm as the pattern suggested), the shell stitching and chain spaces mean each row is pretty tall. So you don't need to work too many rows to get a good length.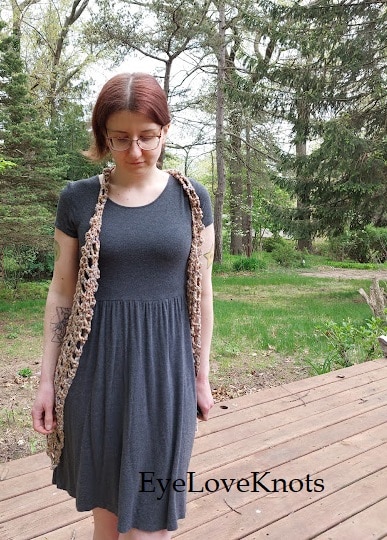 Gauge:
Pattern gauge for this one confused me a little bit and I ended up not doing a swatch beforehand (shame on me, considering this is a garment, I know). The designer does give a gauge but I was thrown off when they mentioned SC stitches but also pattern repeats, when it's not done very much in single crochet. So I decided to start working and check it as I went. I think I interpreted it right because I ended up with a good fit!
They want it to be that 2 pattern repeats, which I'm assuming means shells, is 4″ wide. Mine fits that exactly. However it then says that 4″ should also be 6 rows tall, and mine is 8 when unstretched. I'm not sure if it will stretch out the more I wear it and get that 6 row number eventually. That's more up to my tension in stitching rather than the yarn, I must have shorter DC stitches than the designer does. But again, the length is up to you, so this worked out fine.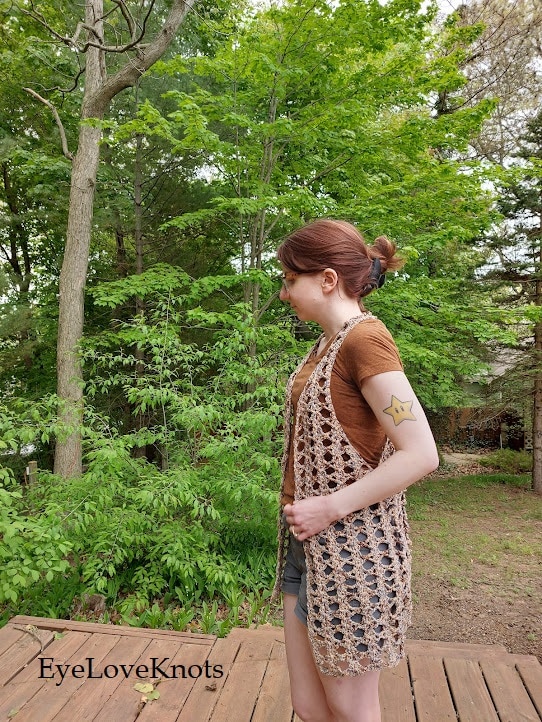 Measurements:
This pattern does not really give a measurement guideline. They say that it's written for general sizing of Small, Medium, and Large, but that's about it. There is not any dimension listing or a suggestion that this will fit tight versus loose so you should size up or down, etc. That bothered me a little bit but I chose to start with Small because in most store brands I wear XS/S.
However, when I got to the point where the Small size would stop, I tried it on/held it up to myself, and found that if I stopped the increasing there (which seems to be the only sizing difference), it would fit more snug and not as a flowy hippie vest. I chose to continue on making a Medium instead, and this gave me the fit I was looking for. So I would suggest sizing up if you want a loose boho fit!
I'm not upset at the lack of sizing direction, I just think having it in there would help in picking sizes. It also just says to work rows until it's the length you want. That's fine, again, but I would like general suggestions to get the same look the designer has. I wish it said something like "work until roughly X length for a short topper vest, about Y for one that goes past your hips, and Z if you want it as a long knee-length vest" or whatever. I just measured myself from the shoulders down to about where I wanted it to end, and used that as my guideline.
Pattern Notes:
In case you couldn't tell from what I've already said, I love the look of this vest. It perfectly fits in a boho sort of look, and it would make a great summer accessory. Because the sizing is so open-ended, you could make matching or coordinating vests for your friends and all have a matching look for a summer event! Because this yarn is relatively affordable, it would make a wonderful gift. Don't take my critiques about the sizing as a negative thing, I'm just trying to openly review it and that's the biggest thing I would change if given the opportunity. I would have personally had a much easier time figuring out my own project if there was more guidance in the dimensions, that's all!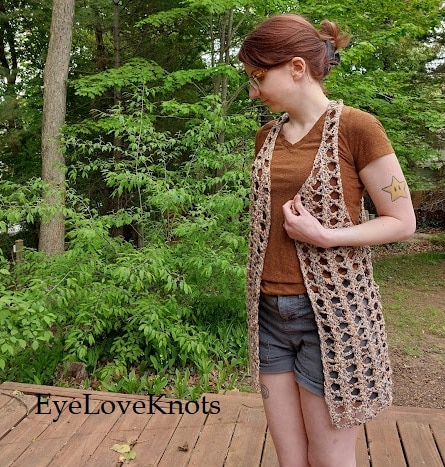 The directions are clear, you just have to pay pretty close attention to what row you're on. They can easily look the same and a couple of times I caught myself working the same row twice, which would throw off the look. It also took me a bit to figure out how to count the rows easily, but I got there! It's simplest if you look at the shells instead of the chain spaces, because each row (except sometimes at the beginning or end of a section) contains a shell repeat. So that's the easiest spot to count from, in my experience.
I can see this piece being very versatile for spring or summer! On a bright summery hot day, it would go great on top of shorts and a little tank top, and this vest would pull it all together into an outfit! Or a day like today for me, when it's gray and "only" in the 60-degree range, it would be adorable with jeans and a tee. I tried to display a couple of different options for you guys on how I would personally wear it. I can imagine it working great as a swim cover too, but I wasn't willing to model that in this weather. It can really add some sparkle to anything basic.
The designer gives a suggestion at the end that you could add beads or fringe for even more pop and pizzazz, and I totally agree! I wasn't feeling these options for my own project but I can see it being beautiful. I felt that my colorway was busy enough that the look didn't really need fringe, and I wanted to try beads but didn't have any and was too cheap to buy any for this project. After all, I was using leftover yarn and I wanted to keep the sustainability going by not buying anything new for this besides the pattern itself!
In the end, I'm really happy with this project and I only had a few small changes that I would make if I could tweak it at all. It fits great, now that I found my own sizing needs, and it ended up a great length for me. It's light and comfy, it goes great with anything, and it was a breeze to stitch up! I can't recommend it strongly enough, I think you all need to make one this summer. I would love to see the yarn or colors you would choose!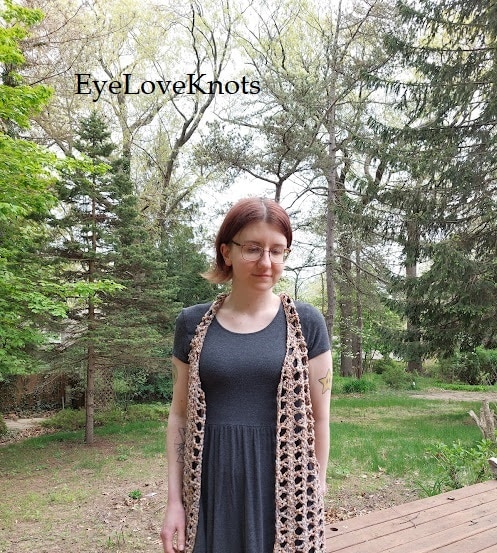 Don't forget to visit with me on Instagram @astitchshyofnormal for all kinds of awesome crochet makes and inspiration.
Join one of our awesome Facebook groups to share your creations, and see what others are up to!
– EyeLoveKnots Crochet & DIY Community
– DIY Home On Rockwood Lane
– Alexandra Lane Lifestyle
Linked Up To…
Craft Schooling Sunday 05/22/22 – Creative Jewish Mom
You're the Star Blog Hop – Decor Craft Design
Link-up Potpourri #45 – My Bijou Life
Hello Monday – Pink Lady
Anything Goes Linky #331 – My Random Musing
Last Week, This Week – Fine, Whatever…
Weekday Wear Linkup – Away from the Blue
639th Inspire Me Tuesday – A Stroll Thru Life
Fabulous Party 425 – Lou Lou Girls
The Happy Now Blog Link- Up #322 – JENerally Informed
Team Creative Crafts Link Party #95 – Artsy-Fartsy Mama
Wonderful Wednesday – Oh My Heartsie Girl
Wonderful Wednesday Blog Hop – My Life Abundant
Wow on Wednesday – Is This Mutton
Style on the Daily – Straight A Style
Turning Heads Tuesday – Elegantly Dressed and Stylish
Confident Twosday – I do deClaire
Style with a Smile – Style Splash
Thursday Favorite Things #542 – An Artful Mom
Encouraging Hearts & Home Blog Hop – My Slices of Life
Linky Party – Karins Kottage
Thursday Fashion Files – Doused in Pink
Chic and Stylish Link Up – Mummabstylish
Traffic Jam Weekend Link Party #325 – My Bijou Life
Remarkable Rags Link Up #7 – My Bijou Life
Link Up on the Edge #297 – Shelbee on the Edge
Style Link Up – Lizzie in Lace
Fancy Friday Linkup – Nancy's Fashion Style
Neverending Style Linkup – The Grey Brunette
A Morning Cup of Joe – The Cottage Market
Pink Saturday – How Sweet the Sound
Happiness Is Homemade Link Party #428 – Decor Craft Design
Handmade Monday #279 – Sum of their Stories
Craftastic Monday Link Party – Sew Can Do
Linky Ladies Party #224 – The Purple Poncho
The Loop Scoop #38 – Moogly Blog
The Wednesday Link Party – Oombawka Design Crochet
Creatively Crafty Link Party #329 – Try It, Like It, Create It
Create, Bake, Grow & Gather Party #521 – Shabby Art Boutique
Saturday Sparks Link Party 516 – Pieced Pastimes
Share the Wealth Linky #20 – Big Fat Menopausal Life
Inspirations Link Party 3 – Pieced Pastimes