This is a crochet pattern review of the Octavia Scarf pattern, found right here on the EyeLoveKnots blog! Review done by A Stitch Shy of Normal for EyeLoveKnots.
This post contains affiliate links for Lion Brand and WeCrochet. If you make a purchase by clicking on them, I make a small commission at no extra cost to you. Thanks for your support!
Find the crochet pattern review below, the free pattern right here on the EyeLoveKnots blog.
In a hurry? Pin this for later.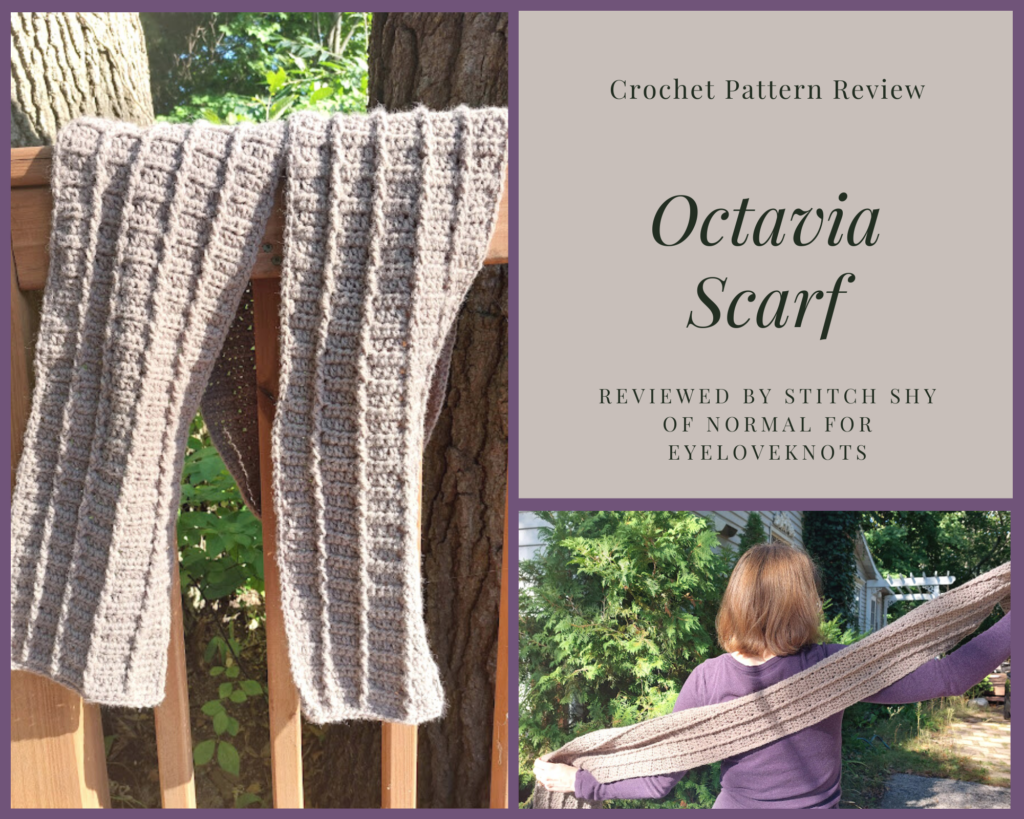 Visit with me on Instagram @astitchshyofnormal for all kinds of awesome crochet makes and inspiration!
You guys know my obsession with fall. I'm cranking out sweaters left and right, and counting down the days until it's socially acceptable to wear beanies all day at work again. (Although I've already started wearing scarves now and then, but only my lighter ones and I get pretty warm in my cubicle!)
Since we're still at the very beginning of the seasonal transition, this is the perfect time to make sure you're prepared for the cold weather with all your basic staples. A few hats, lighter cowls, bulkier scarves, plenty of mittens, you get the picture. You don't want to realize you need these things only after the temperature hits single digits in the morning! I checked out what I had, which is quite a lot, and found mostly cowls and infinity scarves along with dozens of beanies. Can you tell what my favorite thing to make is? But I wanted a "classic" scarf to go along with these. The traditional long rectangle, rather than connected loop scarves. I checked out my options and discovered that Alexandra has a super cute and very simple one right here on the blog, and it's even free! That made my choice pretty clear. I even had most of a skein of Lion Brand Pound of Love in a beautiful (and sadly discontinued) taupe shade that would be so perfect for a basic neutral scarf.
And I love the result! See below for my more in-depth thoughts but I can say it was an awesome and easy pattern to whip up, and I'd recommend checking this pattern out if you're wanting to make some simple scarves for gifts or donations this year, or needing to add to your winter accessories wardrobe.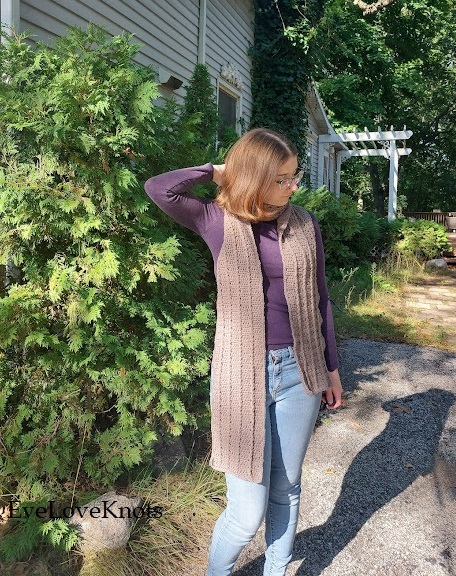 What Materials Do I Need to Crochet a Scarf?
Material Notes:
This yarn was a great choice. Alexandra originally suggests Red Heart Super Saver or Lion Brand Vanna's Choice among other options. When I read this, I understood it to mean that any good worsted weight yarn of your choice would be great for this pattern. I checked my stash and found about 75% of a skein of Lion Brand Pound of Love in a discontinued color, and it was even a gorgeous neutral shade! This was fate. I jumped in headfirst without even checking gauge because it's a scarf and slight sizing variation wouldn't bother me.
It's a very warm choice! I always expect Pound of Love to be on the thinner side, but I think it's actually a trick of the eye. The larger skein makes the strands appear thinner in my brain. It's actually a nice thick worsted that works great for garments or accessories. Plus it's 100% acrylic and machine-washable so it can hold up to wear and tear of daily life! There's no reason a scarf should get particularly dirty, but I always manage to spill coffee on myself or something at least once each winter.
This yarn is one of my favorites for larger projects because it's so affordable. To make this scarf in the largest adult size in most worsted yarns you would need two skeins, so probably about 8 to 10 bucks. Yes, this one is 14 dollars on Lion Brand's site (and pretty close to that in stores I think), but you could make two of these scarves in adult size out of one skein! Obviously both of these things are still great options but if you want to make multiple of these scarves, grabbing a couple skeins of Pound of Love would be a great cost-effective way to do it.
Would I use this again in this pattern? For sure. I chose to make it one solid color versus the pattern option of two different colors, so next time I'd probably do that and add another color. Two shades of Pound of Love would be lots of fun and they have a lot of options available!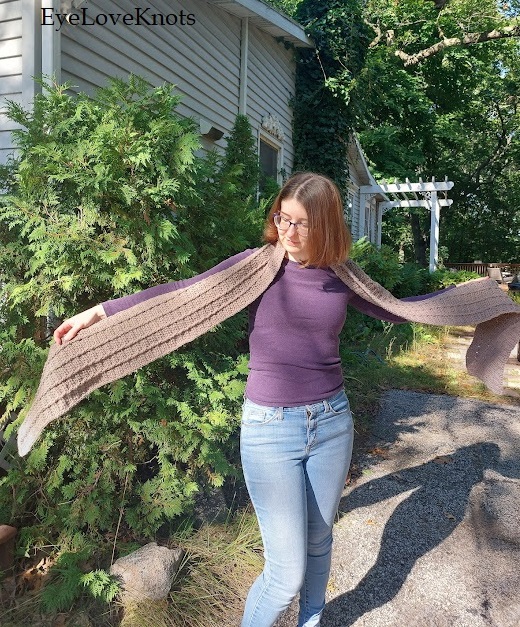 How Long Does it Take to Crochet a Scarf?
This was a very quick project! I think I took less than 6 hours overall to make what I feel is a fairly long scarf. The simple stitching is really what allows this one to just fly off your hook.
Gauge:
The given pattern gauge is 11 HDC = 3″ Wide; 9 Rows = 3 1/8″
Following these listed counts, mine is 11 HDC = 3.5″ wide, and 9 rows = 4″
This explains why my scarf is so large, my gauge was quite a bit bigger than the pattern. Like I said, Pound of Love is thicker! But I don't mind, because a nice wide and long scarf is only more comfy. And it was my own choice to only check gauge after I finished the entire thing.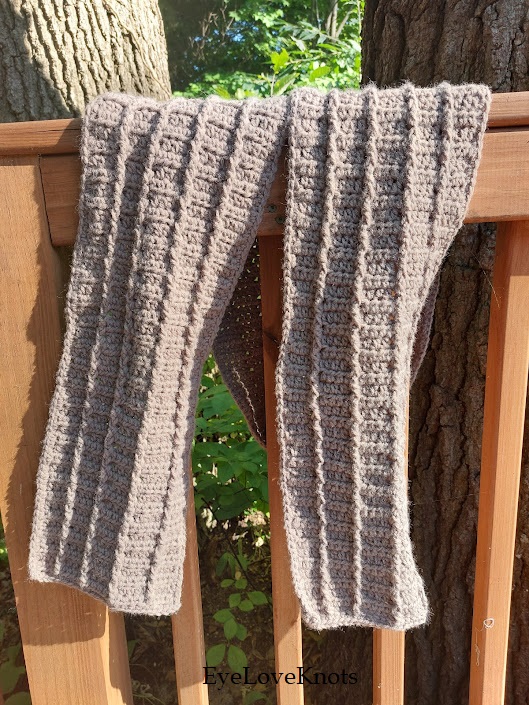 Measurements:
The adult large size (what I chose to make) is supposed to be about 7″ wide and 70″ in length. After seeing how my gauge was decently off, I'm slightly nervous to measure mine in comparison but I want to share the honest details with you guys! Here we go:
My width is 7.5″ (not too far off) and my length, having stopped about 10 rows short because it seemed plenty long enough, is about…90″. Wow. I never measured it while I was working on it, I just counted my rows. But as I approached the end, I realized it was getting long so I stopped a little early. I could have stopped a lot early! However, while an extra twenty inches is slightly overkill, a long scarf just gets warmer and warmer! (I did steam it first a little bit, although it seems like I didn't need to help it stretch out at all.)
My biggest note of caution here is to warn you to check your gauge (at least row height) if you're doing the two-color option! If you get to the second color and realize it'll be too long, you can't really take any rows out of your first color without frogging all your work. I have the advantage in the single color of being able to just take out a few dozen rows. I'm not going to do this, but I could if I wanted to be closer to the intended size.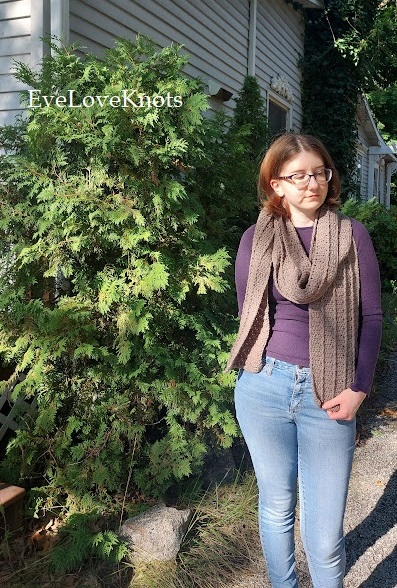 Pattern Notes:
I've already mentioned it a few times, but this pattern was so incredibly simple and easy to understand. It's very approachable for beginners or anyone wanting to practice simple textures! I was pretty nervous about post stitches in my first year or two of crocheting and I would avoid any pattern that used them, so something like this would have been excellent practice. If you're more experienced, you'll still enjoy it and find it a great mindless project.
Speaking of those post stitches, they add just enough texture to be visually impactful but not overbearing. The yarn itself gets to be the star in this scarf, and the post stitch columns help it pop. I can see in the example picture in the post that a tonal yarn looks great, and I wonder how something with slow color changes might work out. Overly colorful variegated yarns might be too much, but I'd also like to see it to know how it works out.
I'm a lazy crocheter and I almost decided to skip the edging on this one but I do suggest doing it (be better than lazy me). Just to be clear, I did do it, but I tried to talk myself out of it first. However, it adds a nice clean edge and it really elevates the look to something that you could find in a store.
The pattern gives four size options and it would be simple to adjust it from there to make a custom size if you need something outside of the given range. I was thinking this scarf would be very cute with some fringe on the end. Or instead of doing the edging and leaving it rectangular, you could maybe stitch it with fewer rows and join the ends if you do want an infinity scarf after all! But exactly as written, this pattern was very worth the time and I'm glad I came across it. I will be making more of these for quick and useful gifts this holiday season.
I sincerely enjoyed stitching up this pattern, it's a simple two-row repeat and you don't even really need to count your rows if you really don't want to. You could simply measure the length and then make sure you end on the right side to start the edging. It's the best of everything about this craft. It's simple stitches with a little bit of interest, and it looks just as gorgeous in bright colors as it does in simple neutrals. I'd love to make one of these in something tweed, and another one in a sparkly yarn! What color would you do?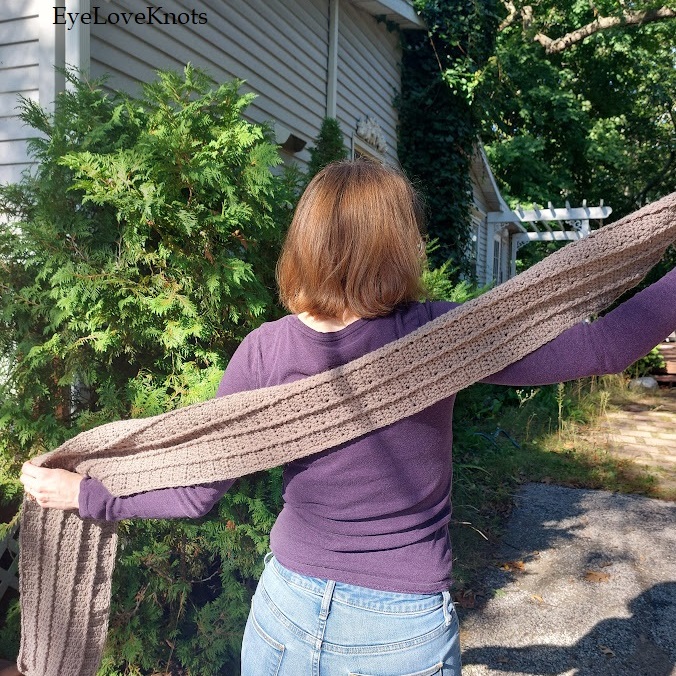 Don't forget to visit with me on Instagram @astitchshyofnormal for all kinds of awesome crochet makes and inspiration.
Join one of our awesome Facebook groups to share your creations, and see what others are up to!
– Yarn Crafts & Coffee Community
– DIY Home On Rockwood Lane
– Alexandra Lane Lifestyle
Linked Up To…
Craft Schooling Sunday – Creative Jewish Mom
The Really Crafty Link Party #332 – Keeping it Real
Handmade Monday #295 – Sum of their Stories
Craftastic Monday Link Party – Sew Can Do
Happiness is Homemade Link Party – Decor Craft Design
You're the Star Blog Hop – Decor Craft Design
Hello Monday – Pink Lady
Anything Goes Linky 347 – My Random Musings
Sundays on Silverado #112 – The House on Silverado
Weekday Wear Link Up – Away from the Blue
655th Inspire Me Tuesday – A Stroll Thru Life
Fabulous Party 443 – Lou Lou Girls
The Happy Now Blog Link-Up #340 – JENerally Informed
Talent-Sharing Tuesdays Link-Up 35 – Scribbling Boomer
Turning Heads Tuesday – Elegantly Dressed and Stylish
Confident Twosday – I do deClaire
Spread the Kindness Link Party #294 – Shelbee on the Edge
The Wednesday Link Party 470 – Oombawka Design Crochet
Creative Crafts Linky Party #113 – Creatively Beth
Wonderful Wednesday – Oh My Heartsie Girl
Wonderful Wednesday Blog Hop – My Life Abundant
Wednesday Link Party #315 – To Grandma's House We Go
Style on the Daily – Straight A Style
Wow on Wednesday – Is This Mutton
Creatively Crafty Link Party #347 – Try It – Like It – Create It
Encouraging Hearts and Home Blog Hop – My Slices of Life
Grace at Home No. 483 – Imparting Grace
Linky Party – Karins Kottage
Crafty Creators Link Party #37 – Life as a LEO Wife
Thursday Fashion Files – Doused in Pink
Chic and Stylish Link Up – Mummabstylish
Thursday Favorite Things #560 – An Artful Mom
Create, Bake, Grow & Gather Party #539 – Shabby Art Boutique
Funtastic Friday Link Party #404 – Simply Beautiful by Angela
Link Up on the Edge #314 – Shelbee on the Edge
Fancy Friday – Nancy's Fashion Style
Neverending Style Link-Up – The Grey Brunette
A Morning Cup of Joe – The Cottage Market
Saturday Sparks Link Party 533 – Pieced Pastimes
The Sunday Showcase – Chez Mireille
The Loop Scoop 47 – Moogly Blog