Second Winter Hat and Scarf completed!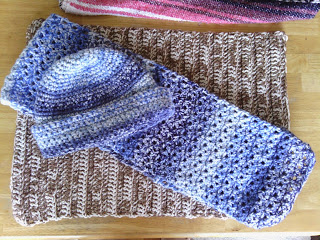 This pattern is courtesy of favecrafts. It was very easy to follow – good for a beginner.
My choice of yarn was the Premier Yarns Deborah Norville Collection in the color Cirrus – chunky, self striping yarn of blues mixed with white. I do really like the Bernat Softee Chunky yarn, but the Premier Yarns happened to be on sale at the time of deciding to make this project. It is also a very good yarn and I would consider it to be a good alternative to the Bernat Softee Chunky yarn.
The pattern states using Bernat Softee Chunky yarn of 80 grams, it should take 3 balls of yarn to complete; however, the yarn I used had 100 grams and it took me just under 4 balls of yarn to finish. The pattern also states to make scarf to measure 48 inches long but it really wasn't long enough so I added an extra two inches to it. I like my scarves on the shorter side but if you're going to knot it around your neck, I recommend making it a little longer, probably around 60 inches or so.