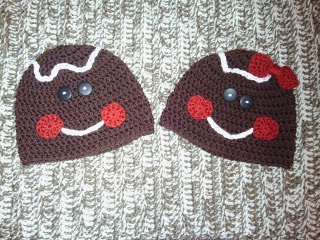 This super cute pattern was courtesy of Sarah at Repeat Crafter Me.


I chose to use Deborah Norville's Everyday Soft yarns in Chocolate (1 ball = 2 hats), Really Red (very small amount), and White (also very small amount), and La Mode 7/8″ Black Buttons (which I got on sale at Joann's – BOGO!)


I made these for Tyler and Madison so was going based on the preschooler size but I couldn't get the half-double crochet (hdc) to work for me – was measuring too big – so I changed to regular double crochets (dc).


My icing came out all funky. After doing the first one and shaking my head at myself, the second one came much easier. I pinned it down first, and then went back to sew it in place.


Easy pattern to follow. Took me about 45 minutes to an hour to complete the hat and embellishments, and another half hour to 45 minutes to sew on and fasten off all embellishments.


I have a pair of leggings in the works, but ran out of yarn so I will be completing and adding that here shortly.


I did also make two pairs of fingerless gloves with a pattern I found on Stitch11.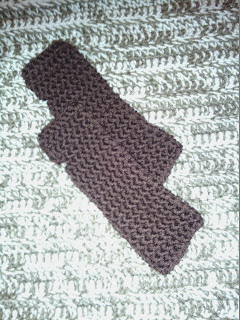 These measure approximately 3″ wide by 8″ long, and should fit a toddler 2-4 years old.
Quick, and easy to work up. Each pair took me less than an hour to put together. And with one ball of yarn, I was able to complete two pairs of fingerless gloves with a little left over.


Upon completion, I showed the set to my 6 year old nephew, Sylas. His response was, "That looks a little scary. Will you make me one too?" Haha! So, going to go pick up some more yarn and start on a set for him!