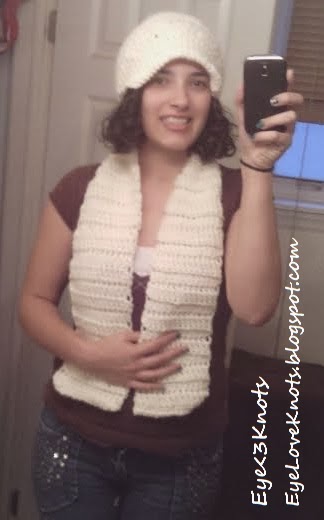 After completing the Short Slouchy Hat with Visor, I decided to pick up another ball of yarn at Joann's and make a matching scarf. The pair will be a gift to my niece, Kynara. I can't wait to see her in it! Update to come.
There was a little yarn left after finishing that hat so I started with that first – giving me about four and a half. This pattern uses 1 ball of yarn, so if you don't make the hat then it'll just be a few rows short.
**Unless you choose a self striping ball of this yarn, in which case your scarf will either be shorter than mine or you'll need to buy an additional ball.
-Tapestry Needle for weaving in ends
**Regarding my choice in yarn: Bernat Softee Chunky is one
of my favorite yarns. This yarn is soft, has a nice stretch to it, is warm, is strong, and comes in a variety of colors. It's chunkiness allows for projects to be worked up quickly. Your choice of color will depend of the number of balls necessary for each project as self striping colors tend to come as 80 grams, and most solid colors in 100 grams.

If you've used Bernat Roving yarn before, you will notice there is a small similarity between these two texture and weight wise. For only $5.99, you can get a lot more yarn in a ball of the Bernat Roving yarn, however, I do prefer the Softee Chunky mainly because it is more durable as the Roving yarn pulls apart easily, but also because the Softee Chunky yarn is a little softer and more flexible. The Roving yarn also tends to tangle similar to that of the cord to a land line phone.
dc – double crochet (American, not British)
BLO – back loop only, to create ribbing
Measurements:
-Scarf Using Extra from Hat: 45″ long by 5.5″ wide
-Scarf Using Just 1 ball of Yarn: 40″ long by 5.5″ wide
CH 14. SC in 2nd CH from hook and in ea CH across. (13 sc)
Row 2: CH 2 and turn. DC in 2nd SC from hook and in ea SC across. (13 dc)
Row 3 – 46: CH 2 and turn. In BLO, DC in 2nd SC from hook and in ea SC across. (13 dc)
Row 47: CH 2 and turn. In BOTH loops, DC in 2nd DC and in ea DC across.
Row 48: CH 1 and turn. SC in 2nd DC and in ea DC across.
Fasten off and weave in ends.
**If you are only using the one ball, and not the extra from the hat, then you will have to cut the scarf five rows short. In this case, it will be Row 3 – 41, Row 42, and Row 43 respectively.
A scarf this size will measure approximately 40″ long.
Please feel free to make and sell this scarf, but please DO NOT claim this pattern as your own nor should you sell my pattern, and DO NOT re-publish my photos as your own.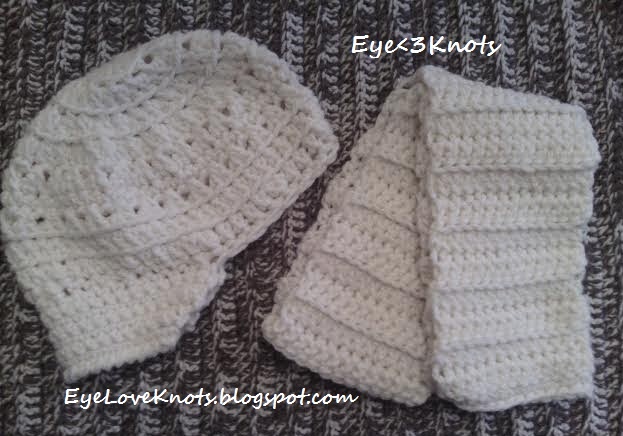 This Ribbed Scarf for the Short Slouchy Hat with Visor is available for purchase in my Etsy shop. Size and color are completely customizable so don't be shy to ask! Here, you can find the color options.


I welcome custom orders and/or adjustments so please don't be shy to ask!