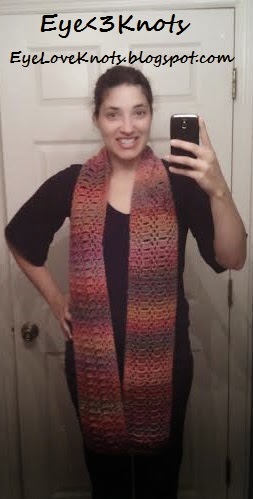 A few weeks ago, I decided to accept the Spring Has Sprung Crochet Challenge posed by Mikey of The Crochet Crowd.


Basically, the challenge was to follow the basic pattern for the Button Up Neck Warmer provided by Red Heart Yarns and make either a cowl as stated, a full length scarf or a baby blanket.


I did not noticed there wasn't a yarn requirement (until this morning!), so I stuck with the Red Heart Boutique Treasure yarn and choose the colors Abstract (mixture of pink, red, orange, yellow, green) and Mosaic (mixture of greens and blues).
The yarn is 70% acrylic and 30% wool. It is soft, and tweed like.


While I am not allergic to wool, I do not particularly care for it.
I added this scarf to my list of things to do but in different yarn types.


This pattern was very easy to follow and worked up quickly. Time frame was approximately 3 minutes per 4 rows).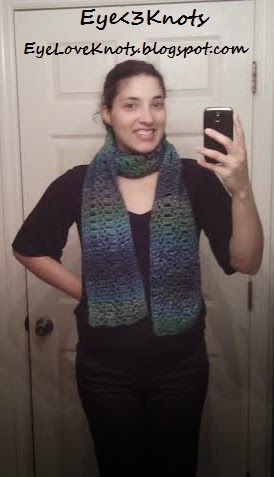 The length requirement for the scarf was 6 feet, which is 72″. To complete this length, it took two full balls and just a tiny bit of a third ball. It was finished in approximately two hours and fifteen minutes.
I also do not particularly like long scarves, especially for the Spring. I would probably change the length to 60″ for the cooler months, and 40-54″ in the warmer months.


With the extra yarn from the third ball, I was able to complete the full button up cowl. Update to come with photos of the cowl.


Overall, the challenge was very fun and quick. The end result is BEAUTIFUL!


Thanks for the challenge, Mikey. Can't wait until the new one – a spring afghan – starts! Find out more about this challenge, here.