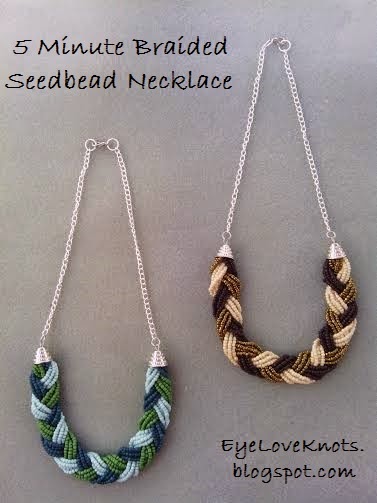 This necklace is gorgeous and sure to be the perfect accent piece to any outfit, as these are available in assorted colors! And no one has to know that it only took you five minutes to put together!

My inspiration for this piece? Really, I didn't have any! I went to meet my boyfriend, Chad, for dinner and had a few minutes to kill so I walked into the Michaels store that was next to his job. Almost right in front of me as I walked in was the jewelry supplies and such and the Glass Seed Bead Bracelet by Bead Gallery in a White, Turquoise and Coral color popped out to me. As I walked down further, I found the braided seedbead bracelet available in array of colors! I picked the two that would best match what I wear – the Green and Amber. 

I knew right away I wanted them to be necklaces so I walked over and picked out a chain to put them on, and proceeded to the check out line before Chad started asking where I was.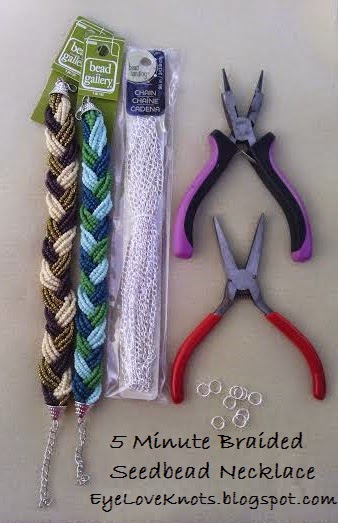 I do also plan on learning how to make some of these so I can use whatever colored seedbeads tickles my fancy, but haven't gotten that far yet. For now – this works great!
Materials I Used:
– Glass Seed Bead Bracelet by Bead Gallery in Green and Amber (Michaels)
– 4 (2 each) Silver 8mm 18 Gauge Open Jump Rings from CanterburyLane
– 20″ (10″ each) worth of Silver color Open Curb Chain by Bead Landing (Michaels)

Time Spent:
     Seriously – 5 minutes!

Measurement:
     20″ around

Tutorial Notes: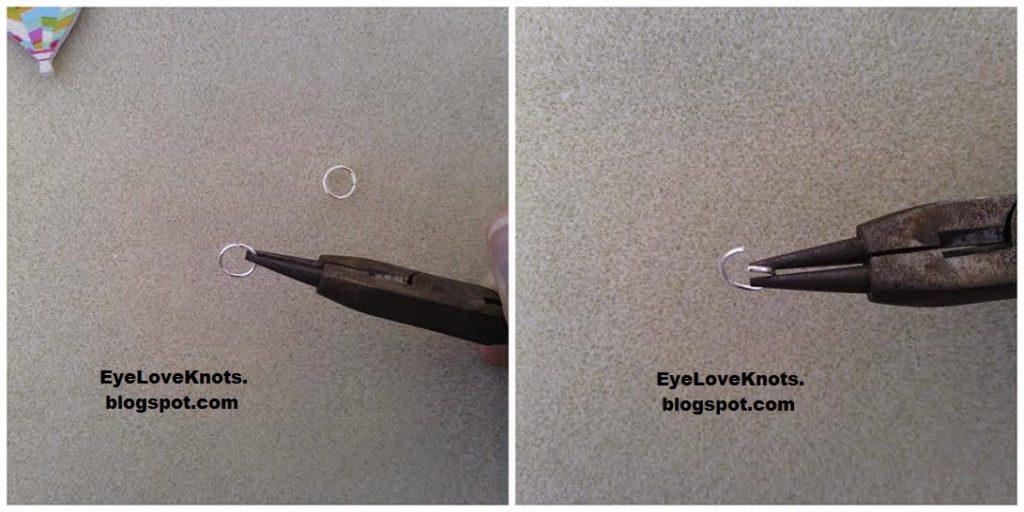 Grab one end of your jump ring with your round nose pliers. 
You will need to grab the other end with another pair of pliers or your fingers for leverage and stability.
Pull open the jump ring TOWARDS you, not side to side.
Tutorial: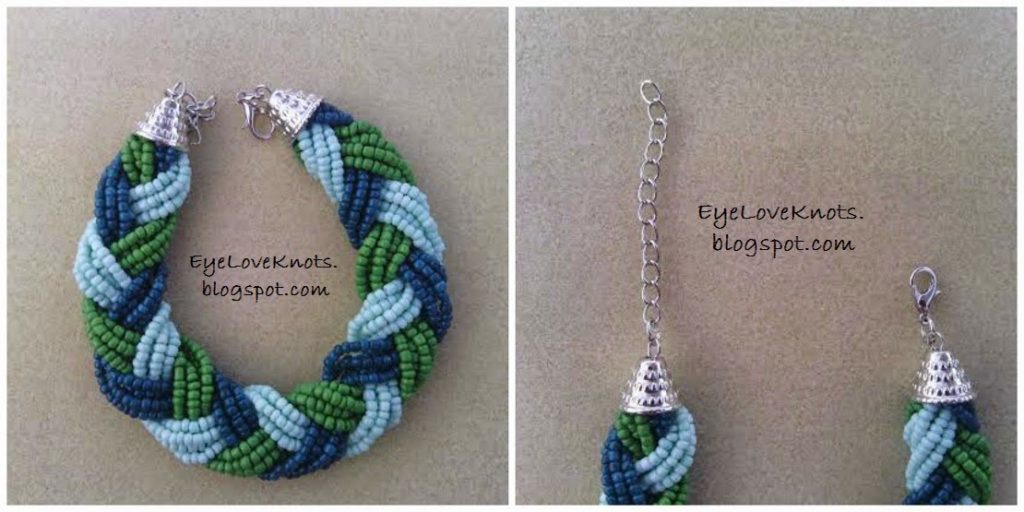 This is what you will start out with.
There are jump rings that come with the piece, attaching the lobster clasp on one end and the additional chain on the other end. Go ahead and open those jump rings to remove the small amount of chain and lobster clasp. 
These jumps are really strong and consistent, leave those to use.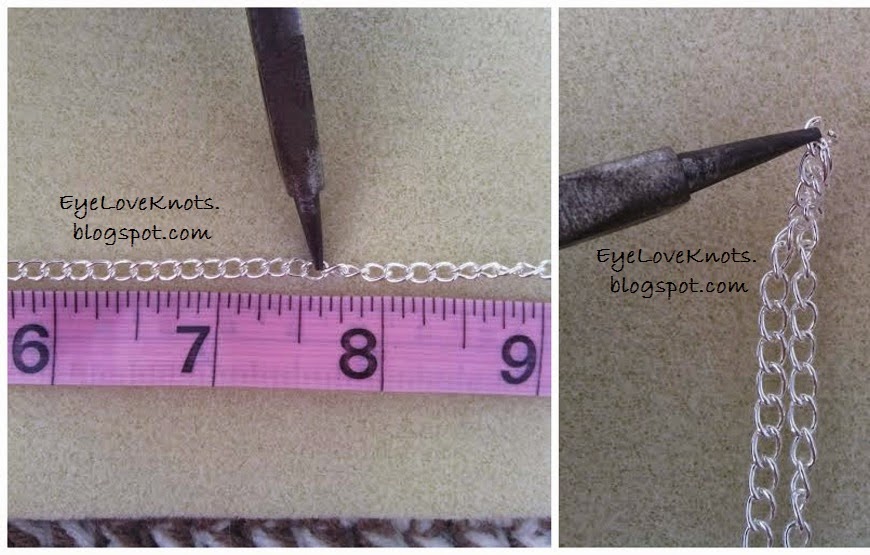 The necklace chain will be cut in two pieces – 
one for each side of the braided part.
The above photos were taken before I settled on the length I was going to cut for the chain but in this example, I measured up to 7.5″.
Once settled, then grab the chain link that was immediately after that measurement – See LEFT PHOTO.
You can then get a quick and accurate measurement for the second piece of the chain by holding up the chain to hang links next to each other. Your links should match up – See RIGHT PHOTO.
Use your pliers to open and remove this central chain link as you would a jump ring. Discard.
I cut my chain to measure 5″ – in this case, 37 chain links. Cut 2.
*This can all vary depending on how you want your necklace to hang, and the number of chain links can vary depending on your choice of chain.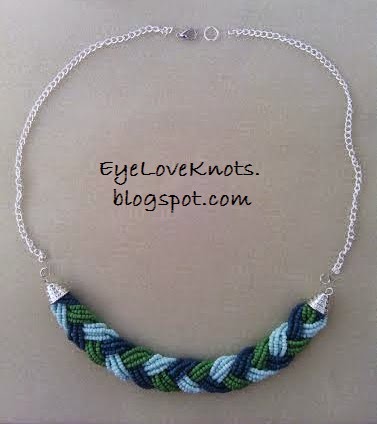 I always lay out all my pieces – and I do this at a few different points.
2.) Before the final assembly.
It really helps you visualize the piece without going the extra steps of assembling them. Much easier to make adjustments now.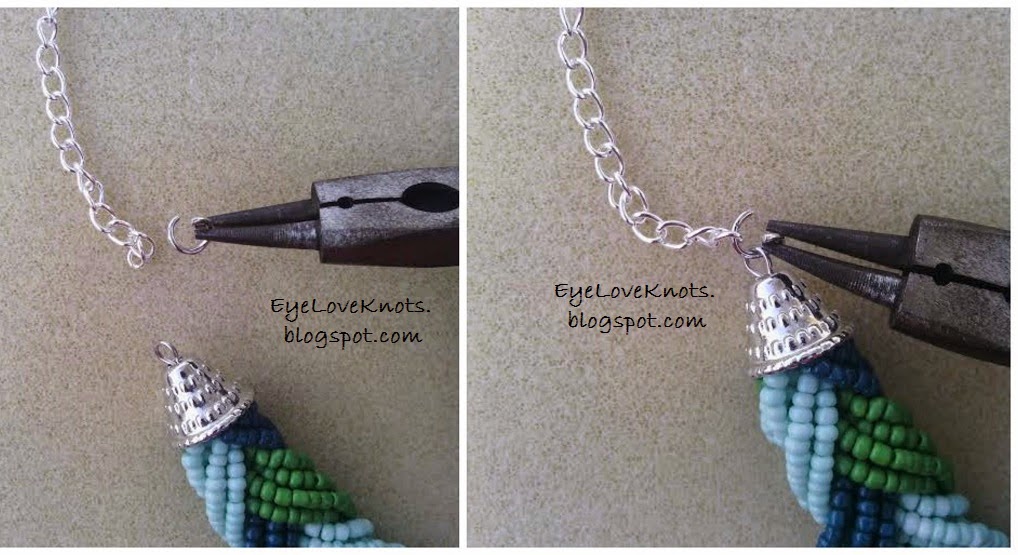 Use the jump that was originally here holding the lobster clasp and small amount of chain to connect the 5″ pieces of chain – one on each side.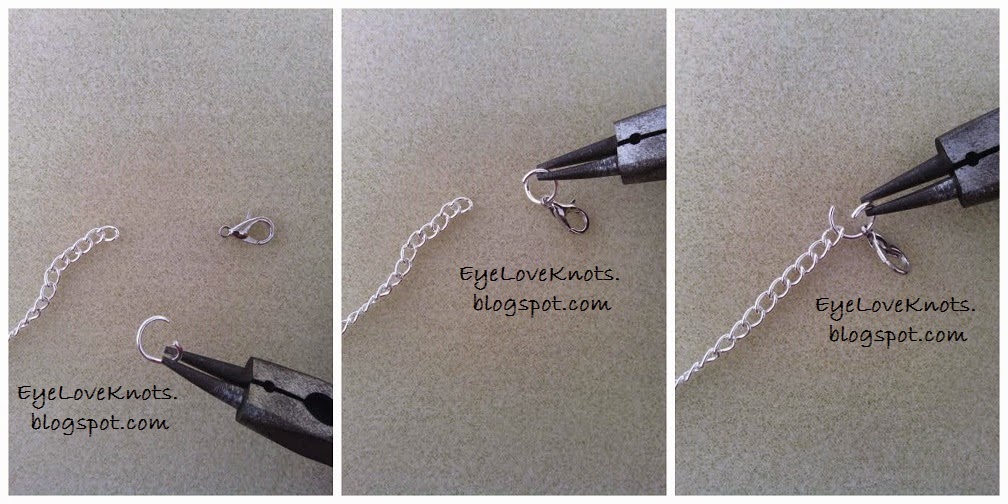 Pull out a jump ring to attach the top part of your chain to the lobster clasp on one side, and another jump ring on the other side. This second side is the one that the lobster clasp will grab when you put it on.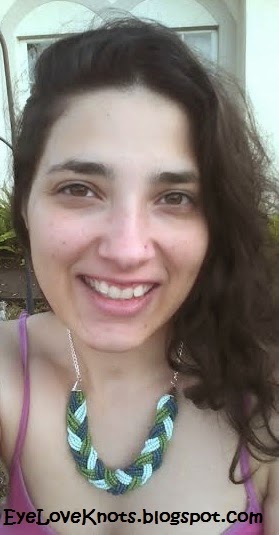 And now you have a beautiful necklace!