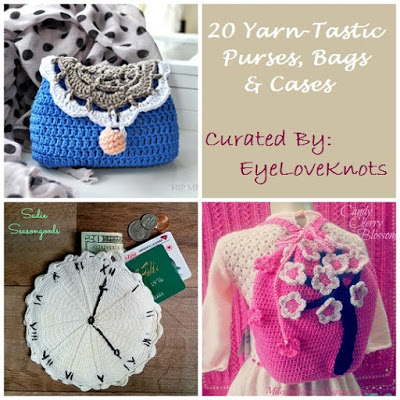 Since our current Yarn Fanatic Party is a long one, I thought I'd add in some round ups made up of Yarn Fanatic Party entries. I am getting a late start as this is my first and we are in week 4 of the party, but I wanted to get started on some round ups in general so this will be the first of many!

Below you'll find 20 fun crocheted purses, bags and cases. They consist of Free Patterns, Links to Patterns, and Crochet Inspiration. 

Enjoy!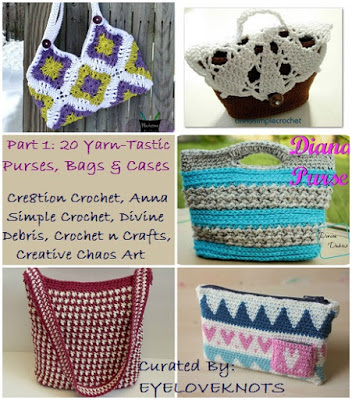 Left to Right, Top to Bottom:
This is such a fun bag full of beautiful colors and great texture. Use it as a market bag, beach bag, or purse. With so many color combinations, you are sure to impress!

2. Small Cosmetic Case – Anna Simple Crochet – Inspiration
I just love the trend in creating purses with doilies! This is a very neat one too, I think because the bottom of the purse reminds me of a basket. I am thinking a soft store basket would make a neat pair to a doily, or perhaps a jute bottom.

3. Another Diana Handbag – Divine Debris – Free Crochet Pattern Included
I really love all the texture in this handbag! It's such a simple purse, but the texture and color changes say so much! Looking at the bag inspires me so much as I can see this pattern in many other yarn ideas – can't wait to see what Amber shares with us next!

4. Alternating Bag – Crochet n Crafts – Free Crochet Pattern included
I really do love the alternating pattern created in this bag. I tested out a Chunky Slouch Hat for Rhelena last Winter using the alternating pattern and it was so fun and easy to work, I ended up making three hats! It paired with the beautiful color combination of the cream and cranberry colorways paired with the layout of the bag make this a must on my crochet list! How about you?

5. Tapestry Case – Creative Chaos Art
As I've said before, this is such a cute little bag! I have a soft spot for the tapestry crochet patterns, mostly I think because my first love was plastic canvas, but the colors and pattern are awesome in this! Link is included for basic pattern, but Helen took it a step further and added a cute row of hearts and a coordinating front pocket.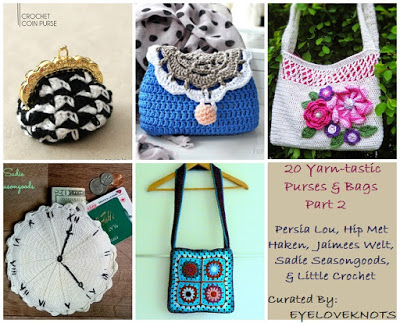 Left to Right, Top to Bottom:
6. Crochet Coin Purse – Persia Lou – Free Crochet Pattern Included
Coin Purses are so old-timey to me, and I love the idea of it! Alexis includes a photo tutorial showing how to attach the finished crocheted piece to the purse frame which helps me understand it much better and makes me want to work up a bunch of these! 

7. Blue Clutch Purse – Hip met Haken – Link to Free Crochet Pattern
Saskia has the right idea! Beautiful, blue clutch purse GIFT TO SELF – yes! I am in love with the great color combination here – they all go together so well. Not to mention the doily purse top.

8. A Blooming Flower Pouch – Jaimees Welt – Link to CAL Included
This is such a sweet little purse! Perfect for any little girl on your list, or any lady on a larger scale or perhaps crossbody. It's adorned with lovely crocheted flowers, fancy buttons and a beautiful lacy top PLUS a pretty pink lining. Also, Jana includes a great idea for improving the purse straps – something we can all benefit from. I LOVE IT!

9. Vintage Hot Pad Coin Purse – Sadie Seasongoods – Inspiration
This is such a great idea! Anyone who knits or crochets, I am sure has many doilies, mandalas, washcloths, half finished hats, etc that could easily be turned into an adorable coin purse. You could add velcro as Sarah has done, or a zipper. Even though I crochet, I am tempted to look around my local thrift stores to see if I find and pieces I could turn into my own little purse. So far, I think I am the only crafter in my area – or at least the only crafter who donates crafty things.

10. Blanket Bag on Granny Wednesday – Little Crochet – Link to Square Pattern
Am I in love with this Blanket Bag as part of Granny Wednesday? You bet I am!! I LOVE the different colors used that are different but go together so well, the fact that one side has four squares and the other one large, a fun lining and zipper! Oh yes!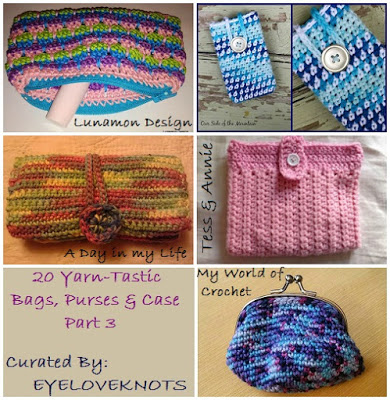 Left to Right, Top to Bottom:
11. Zipper Purse Tutorial – Lunamon Design – Free Crochet Pattern Included
I have just recently discovered the Larks Foot pattern and I really like the look of it! Monica includes a photo tutorial on how to crochet the purse straight onto the zipper, top down. What a great idea, and tutorial! It will surely come in handy later.

12. Cell Phone Cozies – Our Side of the Mountain – Link included.
Cell Phone Cozies for the Family! I love it! Though I haven't been using a cell phone cozy for very long, they are quite fun to keep your phone in! Hehe. And they are great for several reason: 1) They protect your phone; 2) They are pretty; 3) They double as a small wallet in that you can usually slide in your ID, bank card and some cash; 4) They make great gifts!; 5) They work up very quickly, as proven by Jessy in her introduction. Check it out!

13. Crochet Wallet – A Day in My Life – Link to Crochet Pattern
I have loved this wallet since day one! It's a great size, can be made in practically a million color combinations, has pockets inside and a beautiful, lacy exterior piece. Being small, I am sure it works up fairly quickly making this something you can customize for each outfit.
14. Ipod Case – Tess and Annie – Free Crochet Pattern Included
What a fun look to this Ipod Case. I really like that the bottom is work in one direction, and the top in another. Though I don't have an iPod or Tablet, I think this cover would make a really cute phone or laptop case if slightly modified.

15. Coin Purse – My World of Crochet – Crochet Inspiration
For a first purse – GREAT JOB! The colorway is pretty, looks well sewn on and quite a generous size. So cute! And great addition to a busy purse.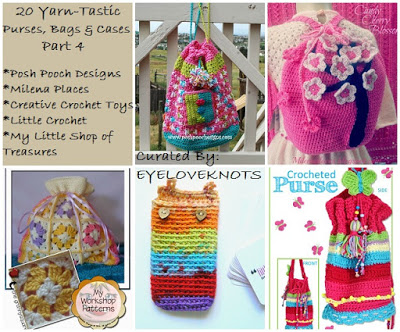 Left to Right, Top to Bottom:
16. Sweet Treats Drawstring bag – Posh Pooch Designs – Free Pattern Included
A beach bag – Yay! Just as I imagined a drawstring bag, plus some with the fun color combinations. Also a great option for an on-the-go yarn bag! On a smaller scale, this would make a cute little purse bag.

17. Cherry Blossom Backpack – Milena Places – Link to Crochet Pattern
For many of us/our children, school is set to go back in the next few weeks. Here is a sweet little Cherry Blossom Backpack perfect for your little little one as she enters Pre-K or Kindergarten. It's also great for carrying around toys, or use as a small purse backpack. So cute!

18. Winter Sock Bag – Creative Crochet Workshop
By now, I am sure everyone knows that I have a soft spot for granny squares. They are so versatile and fun to use including in this Winter Sock Bag. The story behind the creating of this bag is a funny one, but is a great reason to make such a pretty little bag! As is, I think they'd also work great for storing small toys. On a smaller scale, these would be great as favor bags.
19. Business Card Case – Little Crochet – Inspiration
At first glance, this case looks just like a cell phone cozy – and it definitely could be made into such! But the thought of a business card case is a great one. I just keep mine in with my ID, debit card and the other things that have made it into my little purse. A nice card case would help to prevent them from getting bent, and it adds to the conversation when you pull it out to retrieve a business card from, especially if you made it yourself!

20. Crochet Purse for Girls – My Little Shop of Treasures – Inspiration
This bag is so cute! It's full of fun colors, a few different textures and as Darlene says, "dangly do hickeys". It truly is a bag any girl would love! Not to mention this girl right here. I think a bag like this would make a great beach tote made of some cotton yarn.

I hope you enjoyed my first round up! And are feeling inspired.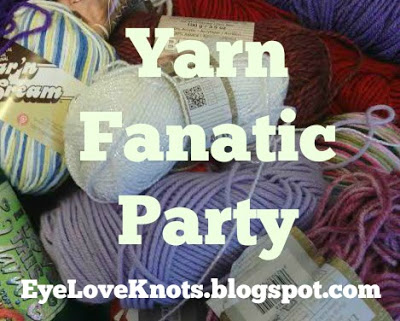 Make sure to link up what you've been working on at our Yarn Fanatic Party #46, and enter the Yarn Giveaway from Never Enough Thyme!