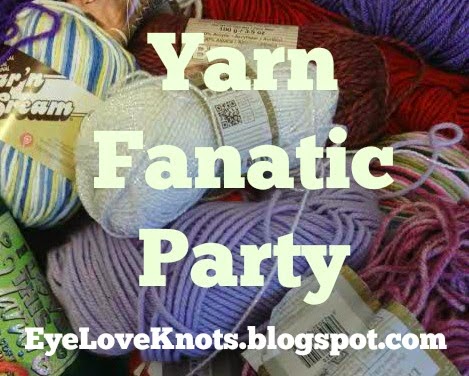 Welcome to the 52nd Yarn Fanatic Link Party, and my 35th as co-host, alongside Rachel from The Philosopher's Wife.

I have been working hard on some crocheted items, but I haven't gotten photos of anything nor have I published anything since our last party. It doesn't help that my computer was left in another city while visiting and then missent in the mail! I am soooo happy to have it back, and will be on a better posting schedule this week.

Most Clicked: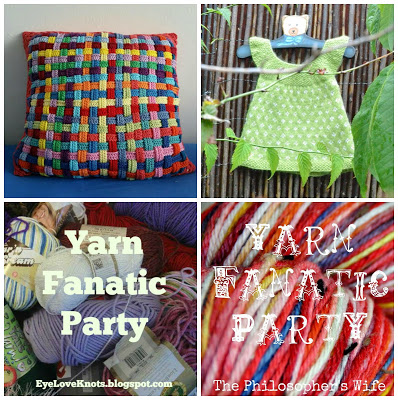 Flechtkissen
from My World of Crochet – Crochet Inspiration. This is such a fun pillow! I am not really sure what the title translates to since it didn't translate in the Google translate, but I am thinking something like Woven Crochet Pillow? Whatever the name, I love the fun covers, texture and pattern! Great inspiration piece!
Baby Daisy Dress

from Ginx Craft – Paid Knitting Pattern Link Included. Ginny did a beautiful job designing this adorable little dress for baby! And I really love it in the green with white little flowers. Beautiful pattern and great texture. Though I don't knit, it is stated that this is worked in worsted weight yarn so it works up fairly quickly as well as something "quite easy to follow". Love it!

EyeLoveKnots Yarn Favorites: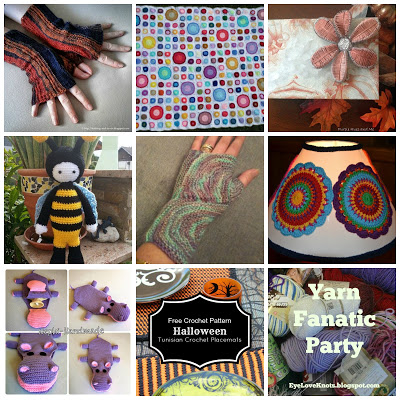 From Left to Right, Top to Bottom:
Strata Fingerless Gloves from Knitting and So On – Free Knitting Pattern & Schematics Included. This is a neat pair of fingerless gloves. Though it is constructed in an "out-of-the-ordinary" way, it seems simple enough for a beginner to follow along. I just received an email this morning of a new Complete Beginners Guide to Knitting post on Petals to Picots which I will definitely be checking out here soon, and adding these Strata Fingerless Gloves to my When I Learn to Knit board.

Cheerful [Circular Granny Square Afghan] from Vrolijk by Leen – Link to Free Crochet Pattern Included. I LOVE this idea! I have seen quite a few of these around Pinterest, and have it on both my Afghans/Blankets and Granny & Other Afghan Squares pin boards as a future project. Just think of the color and size possibilities! Beautiful job Leen! It's obvious that this afghan took lots of time and patience, and the finished project is just stunning!

Wire and Floss Flowers from Purple Hues and Me – Floss DIY. This is such a neat flower! It's created using an ancient flower making technique called Ganutell. Photo tutorial is included to help us create our own Wire and Floss Flowers. The beautiful finished flower can be used for so many different things such as decorating gift boxes, as ornaments, jewelry on a smaller scale, etc.

Bumble Bee Amigurumi from Hakelfieber – [Rough] Free Crochet Pattern Included. I LOVE this this doll! I have a vision in my mind of creating a line of dolls, but I haven't started working on them yet – just brainstorming. This Bumble Bee Amigurumi Doll makes me want to get started now! I think this would be a lovely little doll to work up for the home this time of year – it reminds me of a child in a bumble bee costume.
Forgive me for not knowing what language the original post is written in, I usually just google translate right away. The pattern does not translate very clearly, hence the "[Rough]" addition, but if asked, I am sure Sandra would be happy to help with the translation.

Pieces of 8 Mitts from Silk & Wool – Knit Review, Link Not Included. I love the color chosen for these fingerless gloves. The pattern is really fun looking! And with fall upon us, and winter right around the corner, these are the perfect addition to your wardrobe!

Mandala Lamp from Atelier Marie-Lucienne – Link to Free Crochet Pattern Included. This is a great out-of-the-box idea! There are really only so many afghans, pillows and wall hanging mandalas you can have around the house, so this gives a great idea for creating something similar to use in a different setting.

Hippo Hot Water Pouch from Nephi-Handmade – Link to Paid Crochet Pattern Included. This is such a fun little hot water pouch thing – not even really sure what they are called, hehe. This pouch will definitely stand out in the home, but no one would ever know that it has a hot water thing inside of it! So fun, and so creative.

Halloween Tunisian Placemats from Olives n Okra – Free Crochet Patterns. I haven't attempted tunisian crochet yet, but these placemats look so fun! And with a simple color adjustment, these could easily be made for any time of the year!
My Philosopher Favorite:
My good friend, Rachel of The Philosopher's Wife, has been busy homeschooling her children and spending spare time with the family out at a local amusement park. Do any of you homeschool your children, or spend your spare time out with the family? Please comment below sharing some of your stories and pointers for Rachel!


Have You Been Featured? Grab Your Button!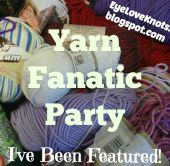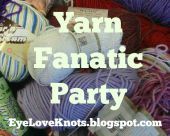 This Months's Giveaway

is sponsored by Jessica of

Chaleur Hand Dyed Yarn

, and will last the whole month of October.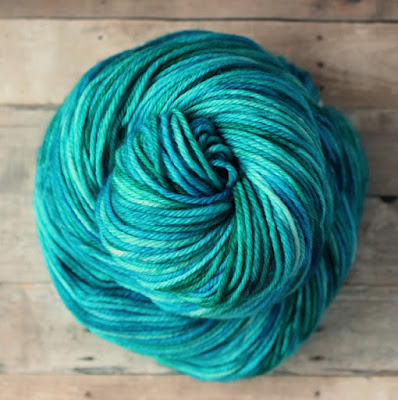 This gorgeous skein of yarn is in a colorway called, Caribbean Waves. Can't you see the beautiful blue/green oceany color within it? It's so serene.
This skein is a sports weight yarn compromised of 75% superwash wool and 25% nylon with 274 yards/100 grams. This gorgeous, serene prize has a $22 value.
Are you a pattern designer – Crochet, knit, plastic canvas, embroidery, latch hook, pom pom crafts, and other yarny crafts… Or do you design yarn related graphics, shirts, buttons, printables, tote bags? Maybe you are a yarn dyer? Or perhaps you have a really large yarn stash and you are looking to do a de-stashing of them? We are in need of giveaway sponsors for the Yarn Fanatic Party! If you are interested in teaming up with Rachel of The Philosopher's Wife and I to sponsor a giveaway at one of our parties, PLEASE contact either Rachel or I.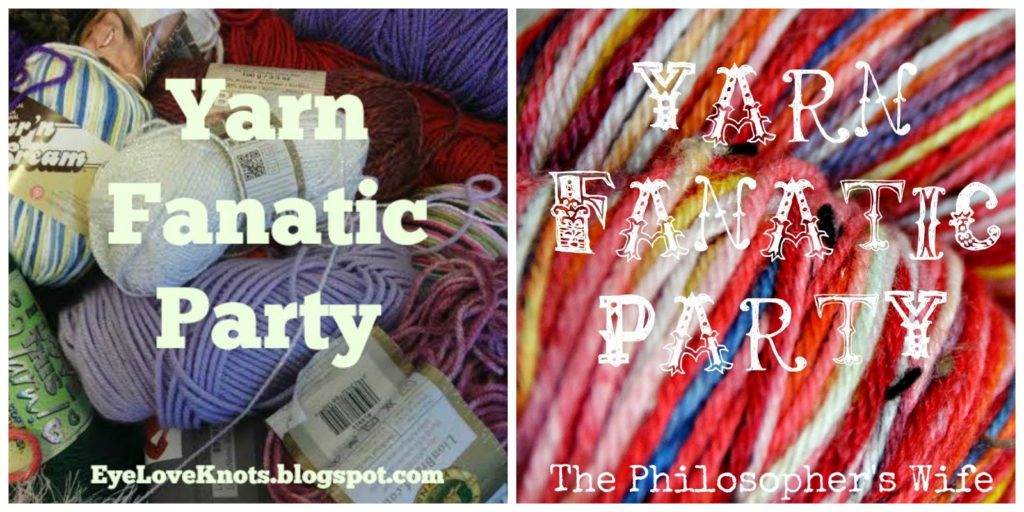 Join the Party!
The Yarn Fanatic Party will begin every Monday afternoon, and run through Sunday night. You have all week and weekend to post your fantastic yarn related projects!
Please share projects that are family friendly, and YARN RELATED; ie Crochet, Knit, with an extension to include Cross Stitch, Needlepoint on Plastic Canvas and Embroidery.
Also make sure you are linking up to your blog post, and just just your blog's home page.
*Become a Follower of the blog where you linked up. Following both is also greatly appreciated!
Alexandra of EyeLoveKnots
Rachel of The Philosopher's Wife
*Check out the other Great Projects that have been linked up!
*Spread the comment love!
Features will be chosen weekly. By linking up, you give us permission to feature your item.
*If you don't have a blog, you can still share with us by creating a Free

Flickr

Account – powered by Yahoo.
Add your projects there, and then come back here with the link for the project.
*Link ups cannot be to Etsy listings or Ravelry pages where patterns are sold. You can link to blog posts, Flickr or Facebook pages, Pins, etc that are directed towards it, but can't directly link to it.
To be clearer though, Raverly pages of finished projects are okay to share. Sorry for the inconvenience! That's per InLinkz guidelines. Thanks!