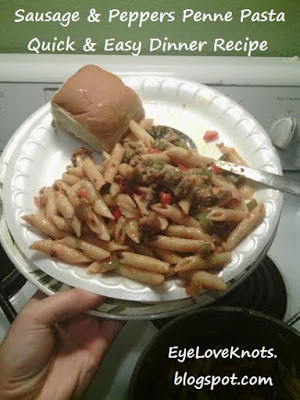 My roommates and I LLOOVVEE pasta dinners! I make them all of the time for us, though this will be the first I have shared here! My photos usually don't come out as well since it's indoors, at night but I'll just have to work on that.
I knew that I wanted to try something different than our usual so while grocery shopping I picked up some ground sausage, a variety of peppers and a sauce with a little mushroom in it. 
The peppers give this dish a crisp and juicy taste with a hint of sweetness, while the mushroom in the sauce is subtle and a nice, little touch. 
This pasta was a big hit in my house! Hope it is in yours too!
Prep Time:
    15 Minutes or Less (less for me!).
Cook Time:
Ingredients:
     – 1 Box of Pasta – I used a box of Winn Dixie brand Penne Rigate
     – 1/4 Cup of Vegetable Oil
     – 1 Large Clove of Garlic, peeled and sliced
     – 1 Pound of Mild Sausage – I used Gwaltney's Mild Pork Sausage
     – 1 Jar of Sauce – I used Ragu's Mushroom & Green Pepper
     – 1/2 Cup of Red Peppers, diced
     – 1/2 Cup of Green Peppers, diced
     – 1/2 Cup of Yellow Peppers, diced
*All ingredients and brands listed here found at my local Winn Dixie. Not a sponsored post.
Ingredient Notes:
     Confession… I have never held, purchased nor used a clove of garlic before… Haha! I figured while I was cooking up the peppers, some garlic would add a nice flavor to it. It was fun to peel apart, and easy to cut.
     I cooked up a breakfast bake a few weeks ago and could not find ground sausage. I ended up getting some actual sausage hot dog things and making them into ground sausage, but this time I was able to find some sausage wrapped like refrigerated cookie dough. It was easy to just cut open the package and cook it up.
     1 Pepper equals about 1 cups worth when diced. While in the produce department, I found a container of pre-diced Yellow, Green and Red Peppers. It's called the Tri-Pepper Dice and has a net weight of 6 oz. I used two of these containers. They tasted fresh, and cut out the hassle of cut and dicing the peppers myself.
You Will Also Need:
     – A Measuring Cup – for measuring the oil
     – A Large Skillet/Frying Pan – for browning the sausage and cooking peppers
     – A Colander – to drain pasta
     – A Spatula – to help brown sausage
     – A Medium Sized Pot – to cook pasta in
     – A knife (be careful!) – to cut!
     – A bowl – for sausage set aside
Recipe:
Step 1: Begin boiling the water for the pasta.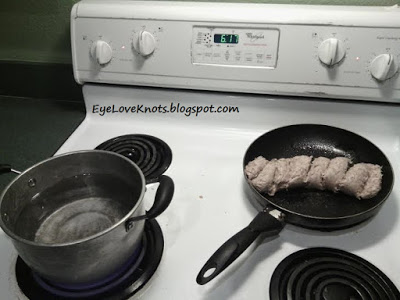 Step 2: While my water was warming up and on it's way to boiling, I browned the sausage. Drain, and set aside.
Step 3: Check your water! It may be time to add your pasta. Cook according to box – mine said 11 to 13 minutes for al dente. I cooked on medium (5) for 12 minutes.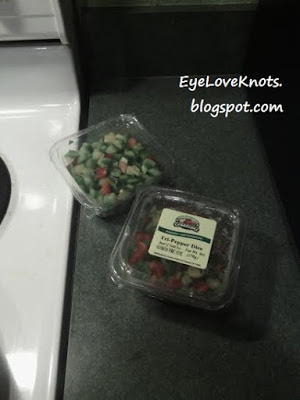 Step 4: While my pasta cooked, I got to work on my peppers. I cheated and used a container of pre-diced peppers so I had no prep time for these.
Add oil and peppers to pan. Cook for about 5 minutes or until peppers are soft, stirring occasionally.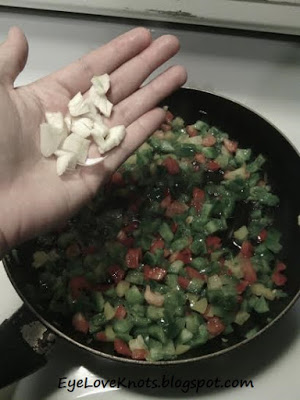 Step 5: I cut my clove in slices, and then cut all of the slices in thirds. Add clove and sausage into pepper mix. Cook for an additional 2 minutes, stirring occasionally.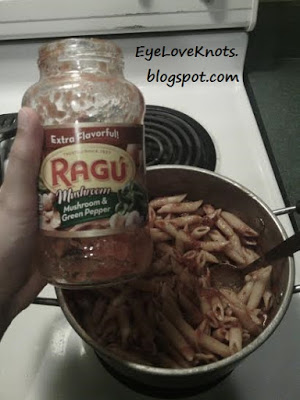 Step 6: After pasta is finished and drained, return it to the pot and stir in sauce.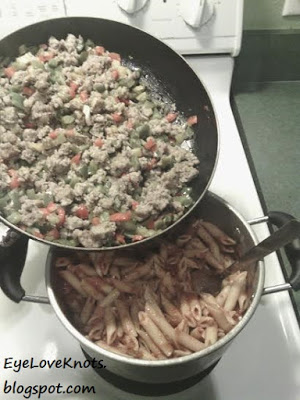 Ready to be served! I added a sweet roll to mine.
Chad and I also enjoyed a caesar salad prior to eating dinner.

Please DO NOT claim this recipe as your own nor should you sell my recipe, and DO NOT re-publish my photos as your own. DO NOT copy and paste my recipe anywhere, link to it instead.

I would love to see your dinners and hear your feedback! Please share your photos on my EyeLoveKnots Facebook page!

Don't miss out on new crochet patterns, reviews, jewelry tutorials and more! Subscribe to EyeLoveKnots by using the box on the right side toolbar, or follow me via Bloglovin!