Quick and easy dinner recipe of ground sausage and a mixture of peppers paired with delicious mushroom marinara sauce – sweet, and delicious!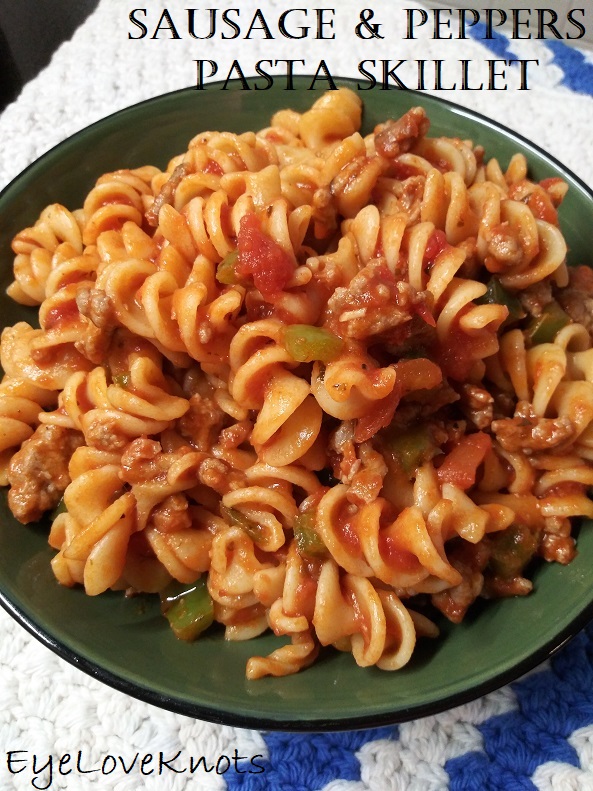 This recipe was originally published in January of 2016. Sadly, it's been about this long since I've made it as my husband doesn't like sausage or peppers. I was missing it though, so I worked it up, and shared leftovers with one of my friends (update 05/25/20). Mmmm… so delicious! How I missed the subtle sweetness of the sausage and pepper combination.
Back then I used to have several roommates, and we loved pasta dinners – I used to make them all the time for us all.
For this one, I knew I wanted to try something different than our usual, so while grocery shopping, I picked up some ground sausage, a variety of diced peppers, and a sauce with a chunky mushroom pieces in it.
This pasta was a bit hit in my house! And in the recent remake, my friend loved it too! I honestly forgot how much a whole box of pasta actually makes since I don't do it anymore, so next time I will be cutting this recipe in half for myself, and will eat on it 3 – 4 days taking to work as my lunch.
Save this to your Favorites on RecipeLion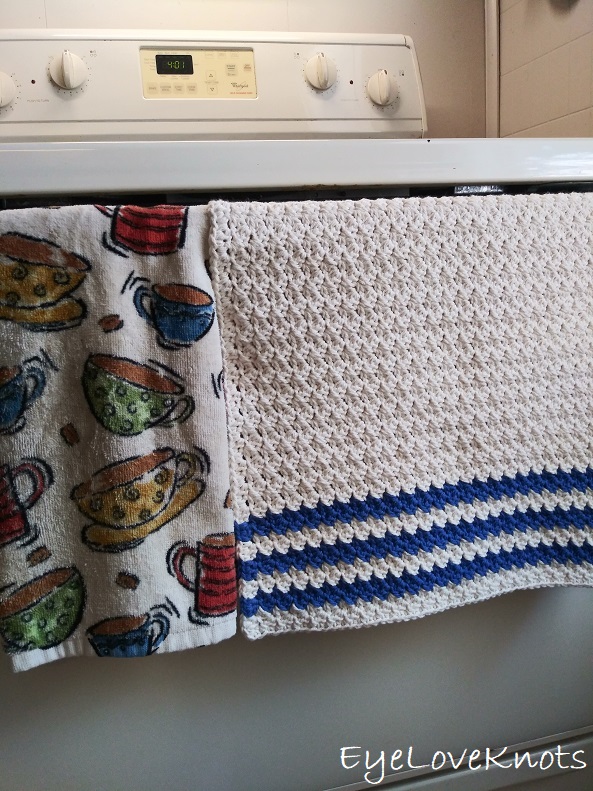 The crochet pattern for my Suzette's Hand Towel is available for purchase in my Etsy Shop, Ravelry Shop and/or LoveCrafts shop.
Feeds:
6 – 8
Prep Time:
15 Minutes or Less
Cook Time:
30 Minutes
Ingredients:
1 Box of Pasta
1/2 Stick of Butter (or 1/4 Cup of Vegetable Oil)
1 Large Clove of Garlic, peeled and sliced (or 1.5 teaspoons of minced garlic)
1 Jar of Marinara Sauce – I like Ragu's Mushroom & Green Pepper for this
1/4 – 1/2 Cup of Red Peppers, diced
1/4 – 1/2 Cup of Green Peppers, diced
1/4 – 1/2 Cup of Yellow Peppers, diced
You'll Also Need:
A Large Skillet to brown sausage in, and cook peppers
1 – 2 Spoons (1 for Sausage, 1 for Pasta – I used the same one for both)
A Medium Pot to cook pasta in
A Small Bowl for the sausage to sit in when aside
The Following are Optional:
Measuring Cup (I used stick butter and pre-cut peppers, so didn't need this)…
Colander (for draining pasta – I don't use one of these, but they are useful)…
Knife (to diced peppers and garlic – I used pre-cut peppers, and minced garlic, so I didn't need one of these)…
Measuring Spoons (I used a teaspoon for my minced garlic)
Ingredient Notes:
Ground sausage comes packaged like ground beef – either on a styrofoam tray or rolled like refrigerated cookie dough. If you are having trouble finding it, you can use actual sausage hot dogs, and cut them over for the meat inside. It's a lot more work, but does work in a pinch.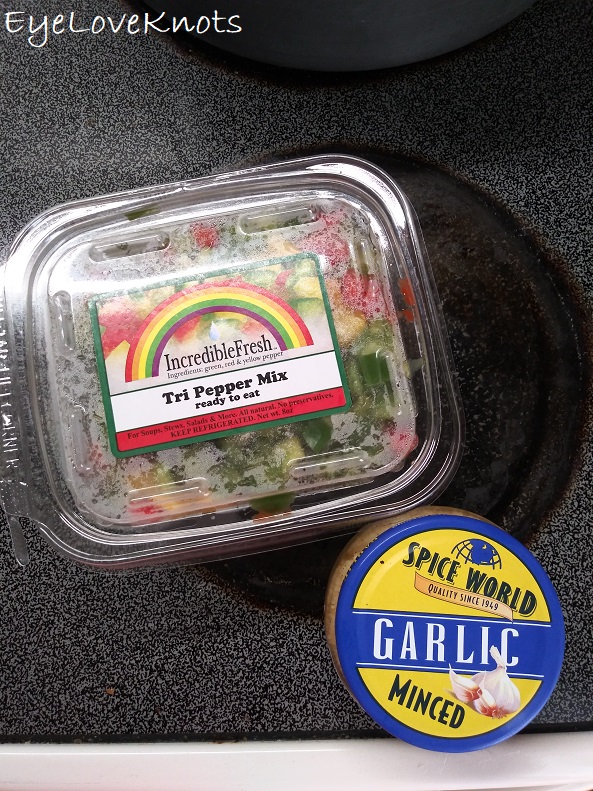 1 pepper equals about 1 cups worth when diced. While in the produce department, I found a container of pre-diced Yellow, Green and Red Peppers. It's called the Tri-Pepper Dice and has a net weight of 6 oz. They tasted fresh, and cut out the hassle of cut and dicing the peppers myself. I have used two of these containers before (which equals 1/2 cup of each pepper), and one of these containers as well (which equals 1/4 cup of each pepper). Really depends on your preference.
Recipe:
Step 1: Begin boiling the water for the pasta.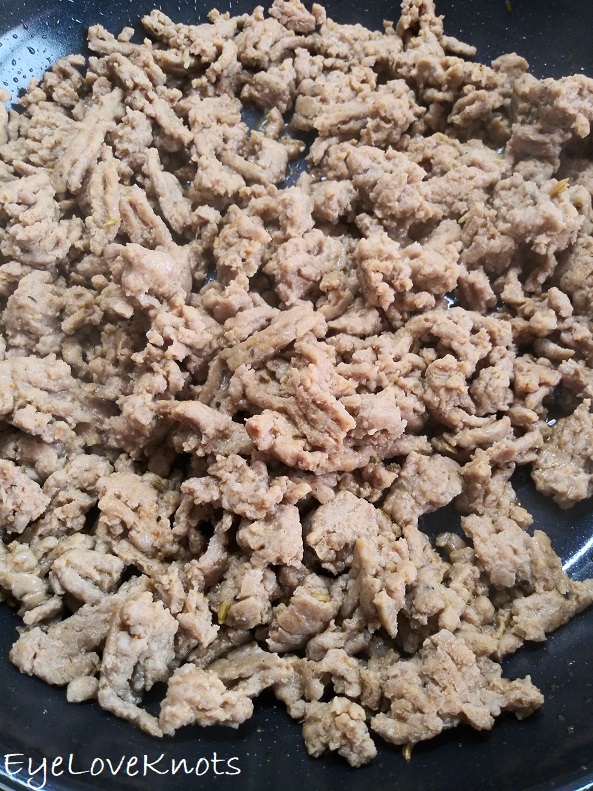 Step 2: While water is on it's way to boiling, brown the sausage. Drain (shouldn't be much), and set aside in a separate bowl.
Step 3: Check the water. It may be time to add the pasta. Cook according to box – mine said 11 – 13 minutes, so I cooked on 6 (out of 9) for 12 minutes.
Step 4: While pasta cooks, add butter (or oil) and peppers to the skillet. Cook for about 5 minutes, or until peppers are soft, stirring occasionally.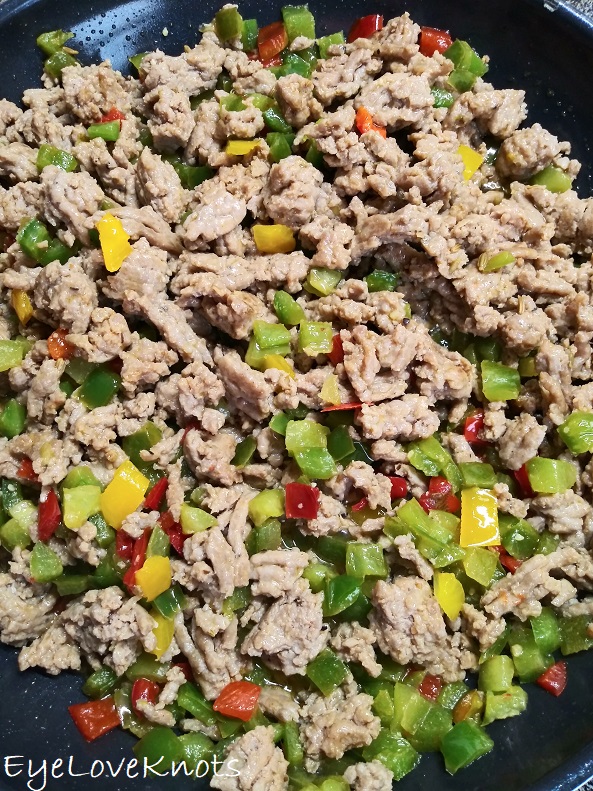 Step 5: Add garlic and sausage into the pepper mix. Cook for an additional 2 minutes, stirring occasionally.
Step 6: After pasta is finished, and drained, add in the marinara sauce, and stir well.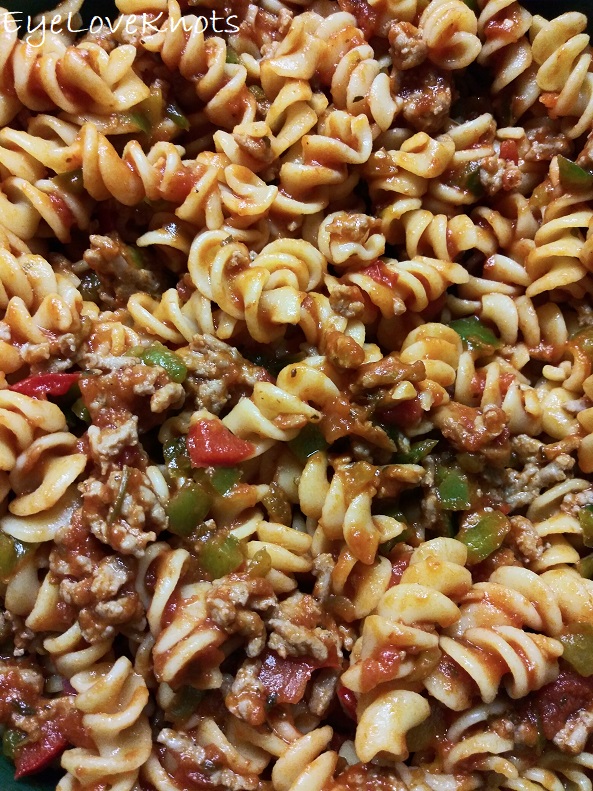 Step 7: Combine pasta with the meat mixture.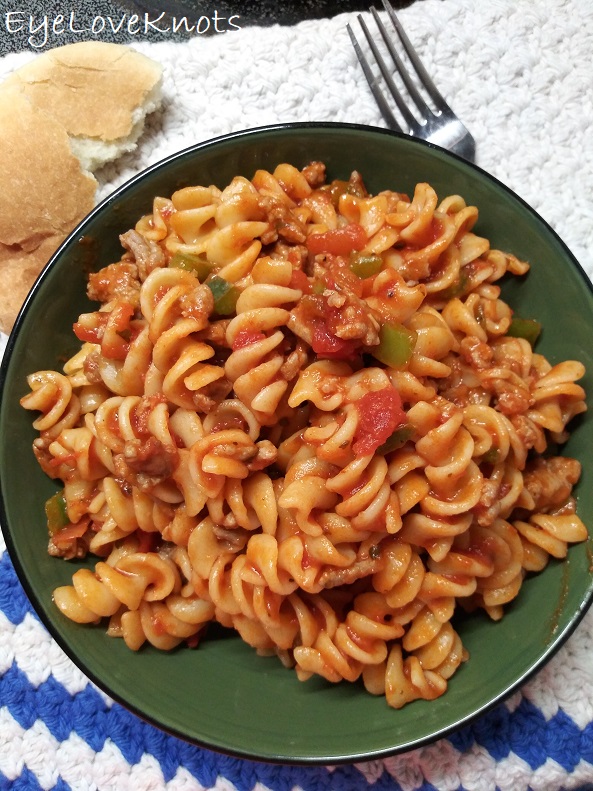 Ready to enjoy! I always add a dinner to mine because I love bread.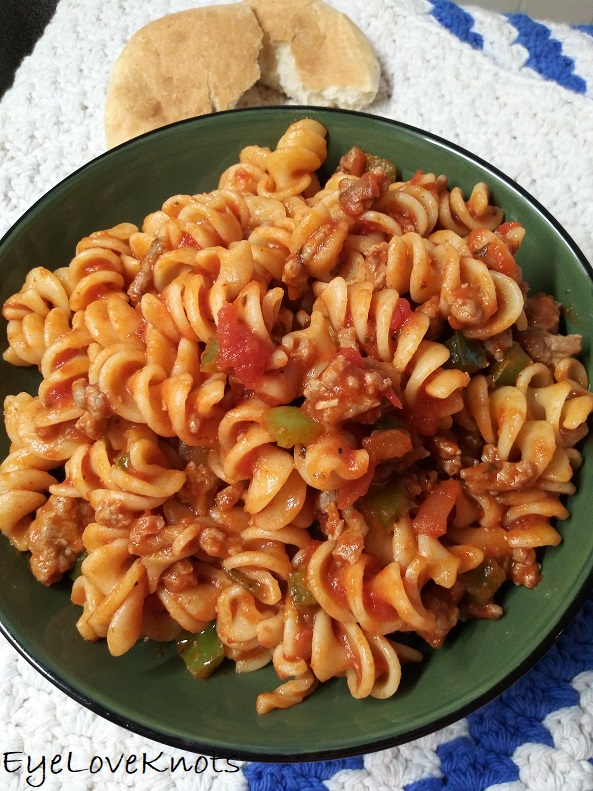 Please DO NOT claim this recipe as your own nor should you sell my recipe, and DO NOT re-publish my photos as your own. DO NOT copy and paste my recipe anywhere, link to it instead.
DIY Lovers: Join the EyeLoveKnots Crafting Community on Facebook to share your creations, and see what others are up to!
Fashion Lovers: Join my VIP Facebook group – Pretty Nails & Fun Fashion with EyeLoveKnots!
Linked Up To…
Handmade Monday #178 – Sum of their Stories
The Really Crafty Link Party #220 – Keeping it Real
Craftastic Monday Link Party – Sew Can Do
Little Cottage Link Party #53 – Love my Little Cottage
Craft Schooling Sunday – Creative Jewish Mom
Happiness is Homemade Link Party #325 – Design Morsels
What's for Dinner Sunday Link Up #255 – Lazy Gastronome
Unlimited Monthly Link Party 13 – Grammy's Grid
550th Inspire Me Tuesday – A Stroll Thru Life
Fabulous Party #322 – Lou Lou Girls
All About Home #42 – Common Ground
{Wow Me} Wednesday #457 – Ginger Snap Crafts
Your Whims Wednesday #462 – My Girlish Whims
To Grandma's House We Go Link Party #195 – Chas' Crazy Creations
Waste Not Wednesday 208 – Faeires and Fauna
Tuesday Turn About #51 – My Wee Abode
The Wednesday Link Party 350 – The Stitchin Mommy
Thursday Favorite Things #442 – An Artful Mom
Creatively Crafty Link Party #226 – Life Beyond the Kitchen
Traffic Jam Weekend Linky Party #236 – My Bijou Life
Pin Party #371 – The Pin Junkie
June 2020 Best of the Month – Calypso in the Country
Home Matters Linky Party #285 – Modern on Monticello
Handmade & Otherwise Weekly Link Up Week 52 – Petals, Pies and Otherwise
Create, Bake, Grow & Gather Party #422 – Shabby Art Boutique
Snickerdoodle Create, Bake, Make Link Party 338 – EyeLoveKnots
Link Your Stuff – Annemarie's Haakblog