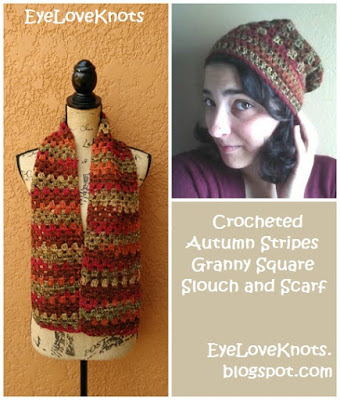 This post has been sitting in my inbox since July of 2014 – oh man! My template is a little different now, but all still good info 🙂


Back Then: One of the projects that has been sticking out in my mind is the Autumn Fall Scarf by Erika and Monika Simmons – The Double Stitch Twins. I went out and purchased some Autumn yarn to try my hand at it but didn't have much luck once I started. The open-ness of the triangles didn't feel as sturdy as I would have liked it to be so I frogged it, removed the scarf from my Yarn Reviews page and placed it on my Pin-Didnt board. It is a beautiful scarf – just not what I was looking for.


Still, I had this beautiful warm, Autumn colored yarn I had purchased for the project. What to do with it…


Then – BAM! Hit me – Corina from Stitch11's Granny Slouch Hat and my Granny Square Scarf.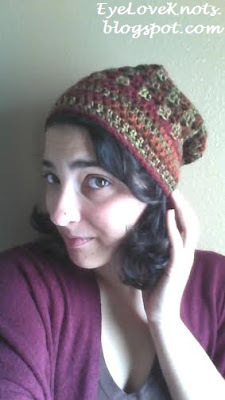 I've used Corina's Granny Slouch Hat pattern before in my Mixed Berries Mommy and Me set. I really liked how easy the pattern was to follow and how quickly the hat worked up.


In my first go 'round, I used Homespun yarn. The Homespun yarn itself is a little bit more difficult to work with taking about two hours to work up. This time, I used Hobby Lobby's I Love This Yarn in Autumn Stripes and worked up a little quicker – in about an hour and a half. I used about half a ball of yarn.


This hat has a finished circumference of about 20″ and will stretch a little to fit a range of sizes.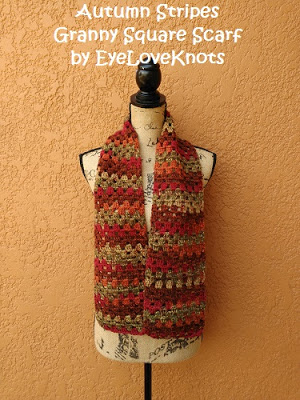 This Granny Square Scarf first made it's debut back March of 2014 in the Pink Camo colorway. It would look great in any colorway though, and was perfect for this fun autumn set. It uses one skein of yarn and can easily be made into an infinity scarf if you desire that look but simply sewing the ends together.


Hope you enjoyed my autumn slouch and scarf set! What accessories are on your list for this fall season?

With so many size, yarn type and color options, I would love to see them! Please share your photos on my EyeLoveKnots Facebook page, or our latest Yarn Fanatic Party Link Up!

Don't miss out on new crochet patterns, reviews, jewelry tutorials and more! Subscribe to EyeLoveKnots by using the box on the right side toolbar, or follow me via Bloglovin!