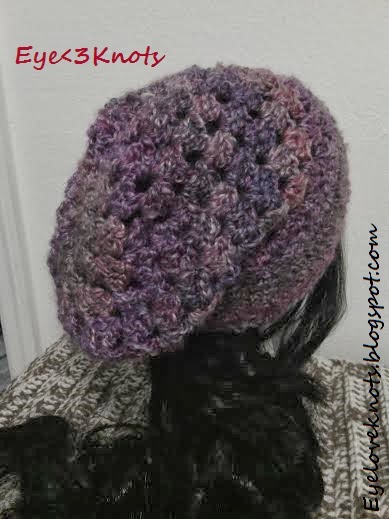 For Christmas I received a gift card to

Joann

's from my Grandma Judy (even though she's really my boyfriend's Grandma, and not mine… YET). I used that bad boy to get some

Homespun Thick and Quick

yarn in Mixed Berries. At first, I grabbed the wrong one 🙁 I picked up the regular

Homespun

yarn in mixed berries and attempted to make the beret. When I was about halfway done, I put the beret up to my head and dropped it in disappointment. Back to Joann's for the correct yarn… (as if going back to Joann's is a bad thing).
I started the beret again, and just wasn't pleased with it. Even with the right yarn this time and the correct size hook, the beret was still too small. Plus, the crinklyness of the yarn, makes crocheting the brim with the FPSC quite challenging. 
Sooooo….. I pulled out the yarn, and started on the scarf – to take a break. What a great idea! The pattern was nice and easy to follow, and the scarf worked up quickly. I was done in about an hour plus weaving in my ends. One of the things I enjoy about the homespun yarn is that weaving in is easier because of the crinklyness. It seems to all get stuck exactly where it needs to.
I decided that since I had a whole ball of homespun yarn from my mispurchase, I would make my little cousin Madison a hat and scarf. Her favorite color is purple as you may have noticed from my

Pretty Purple Set

, so what better to use than a ball of a mixture of purples?
For her scarf, I googled the average size of a toddler's scarf and decided on 4″x30″. I used the same pattern (link found above) but I changed a few minor things: 
     1.) Since I was using a thinner yarn, I switched to a K10.5/6.5mm hook;
     2.) To obtain the size I was going for, I chained 16 to start. The end result was a little shy of the 4″, finishing up at about 3.75″
I was able to work up the adult hat in about 2 hours, and the child's hat in about an hour. For both hats, I used the regular homespun yarn.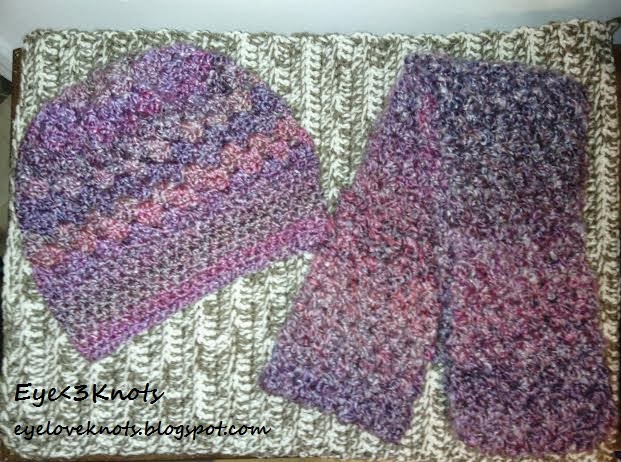 Adult Slouchie Hat and Scarf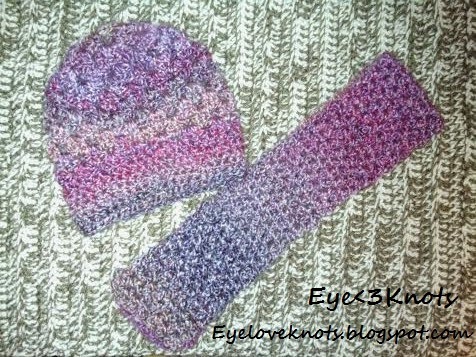 Toddler Slouchie Hat and Scarf
All in all, I used a little more than half a ball of the Homespun Thick and Quick yarn, and a ball and a half of the regular Homespun yarn.
And! While wearing this set for the pictures, I came to the discovery that I definitely need to make myself a set! (As the original will go to my cousin, Tiffany, so she and her little one can match.) It's soft and warm. With temperatures down into the 30's now and working in the booth outside, I could definitely use a nice warm scarf – just have to change up the colors a bit to match my work uniform.