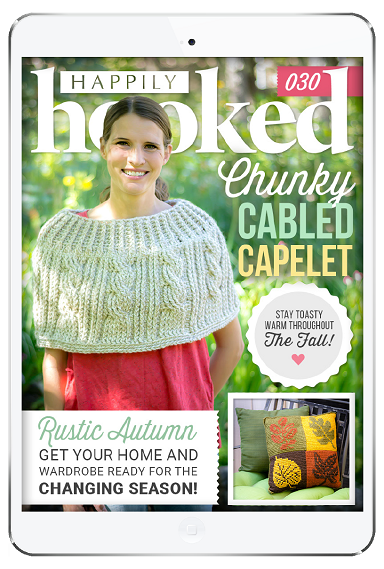 My Chunky Cabled Capelet can be found on the front cover of the latest issue of the Happily Hooked Magazine – September 2016, Issue 30 – which features some gorgeous garments, accessories and home decor all inspired by a Rustic Autumn.

This design was only my second project worked with cables, my first being the Cable Twist Hat that I shared back in April. Up until I tried this hat, I was super intimidated by crochet cables. If you are like I was – don't be! It is so easy to work, and create an amazing look and texture. I knew once I completed my Cable Twist Hat that I wanted to design a cabled capelet and so I set out to do so!

Other inspiration includes the Cowl Shoulder Cozy I completed back in January. This design was by Salena Baca for Red Heart Yarns, and I was in love with the design and how wonderful it was to wear around. Thanks for the inspiration Salena!

To complete this capelet, you will need 5 to 7 skeins of Deborah Norville's Serenity Chunky Yarn – I used the Oatmeal colorway – or 324 to 327 yards of Bulky #5 Yarn, and an L8/11mm crochet hook. Sizing is included for Small/Medium and Large/Extra Large sizes.

Issue 30 Also Features…

These Crochet Patterns:
     – Tunisian Leaf Pillow by Jennifer Stover
     – Zip Zag Scarf by Kenneth Cormier
     – Autumn Breeze Fingerless Gloves by Laura Fanelli
     – Mini Mochila Drawstring Bag by Ashley Mullis
     – Autumn Bobble Cowl by Hannah Cross
     – Rustic Ridgeline Wrap by Melissa Linton
     – Nesting Bowls by Marialena Karofil
     – Eggplant Throw by Salena Baca
     – Coraline Top by Abigail Haze
     – Checkered Hot Pad by Nancy Nehring for Red Heart

These Articles:
     – Stitch of the Month: Silt Stitch
     – Tip of the Month: Using Caron Cakes
     – Crochet Heals: Debby
     – Business: Let's Sort Some Yarn
     – Crochet + Fashion: 2016 Fall Fashion
     – Hooked on Autumn Roundup
     – Red Heart Pattern Roundup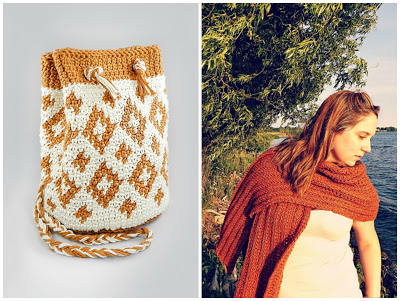 A couple of my favorites include the Mini Mochila Drawstring Bag (left) and the Rustic Ridgeline Wrap (right).

Hop on over to the Happily Hooked Magazine site to subscribe and get the current issue – September 2016, Issue 30!

Share your version of this project on Ravelry – Chunky Cabled Capelet. Check out the EyeLoveKnots Ravelry page to keep track of all your EyeLoveKnots favorites in your que, and share your WIPS and finished projects!

Don't miss out on new crochet patterns, reviews, jewelry tutorials and more! Subscribe to EyeLoveKnots by using the box on the right side toolbar, or follow me via Bloglovin!