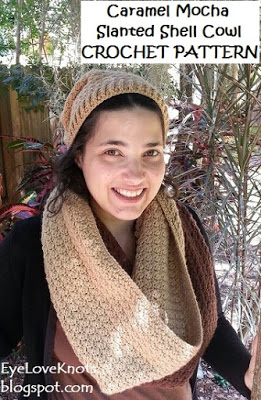 I originally designed this back in October 2015. I was just shooting for a large cowl since I hadn't previously designed one, but it happened to be the perfect design to submit to the Happily Hooked Magazine for their Cold Weather Gear, Issue #21. It was also my first designed published in a magazine – how exciting! It combines one of my favorite yarns with my favorite crochet stitch, is nice and warm, and is the perfect accessory during the colder months as you can wear it around your neck as shown or pull it up over your head in case it gets windy.

Materials:
– 710 yards of Worsted Weight Yarn – I used one skein each of Hobby Lobby's I Love This Yarn in Light Taupe and Brown
– I9/5.5mm Crochet Hook
– Tapestry Needle for Weaving in Ends

Material Notes:
Yarn Alternatives: Red Heart's With Love, Purl Essence Sincerely Everyday (JoAnn's).

Secondarily, you can use a lighter worsted weight yarn such as Deborah Norville's Everyday Soft, Caron's Simply Soft, Lion Brand's Wool Ease, etc but it will produce a slightly smaller cowl hood. Simply add to your beginning chain to make it the same size, or try going up a hook size.

Time Spent:
I worked on this piece for several days, a little bit at a time. It took just under 7 hours to complete.

Measurements:
38″ in circumference by 19″ in Length
Gauge:
With I Love This Yarn and an I9/5.5mm Hook = 4″ x 4″
Chain 16, DC in the 4th stitch, and in each stitch across. (14 DC)
R2 – R8: Chain 2, turn. DC in the 2nd stitch, and each stitch across.
Fasten Off.

Abbreviations:
HDC – Half Double Crochet
SC – Single Crochet
DC – Double Crochet

Pattern Notes:
Joining will be to the first stitch of each row, not the beginning chain.

Beginning chain 1 does not count towards final stitch counts.

Clusters will be worked into Single Crochet's.

Watch for turning directions – turning is not throughout.

To work color change, pull new color through at final yarn over in the last double crochet. I do have a photo tutorial – How to Change Yarn Colors in Crochet the EyeLoveKnots Way.
Pattern:
With Light Taupe, Chain 126. Join to form a ring. Chain 1. HDC in the first chain, and each chain around. Join. (126 HDC)

R2: Chain 1. (SC, DC) in the 2nd HDC, [skip the next HDC, (SC, DC) in the next HDC] around. (63 clusters)

R3 – 30: Chain 1, turn. (SC, DC) in the 1st stitch, [skip the next stitch, (SC, DC) in the next stitch] around. Join.

At the end of the 30th round join the new color – in this case, Brown – and continue on with repeat.
R31 – 59: Chain 1, turn. (SC, DC) in the 1st stitch, [skip the next stitch, (SC, DC) in the next stitch] around. Join.

R60: Chain 1, turn. HDC in the 1st stitch, and each stitch around. Join. (126 HDC).

R61: Chain 1. Slip stitch in the 1st HDC, and each HDC around. Join. (126 slip stitches)
Fasten Off and Weave in Ends. I worked an invisible join. You can see a photo tutorial of this technique in my Newborn Twin Chunky Beanie post.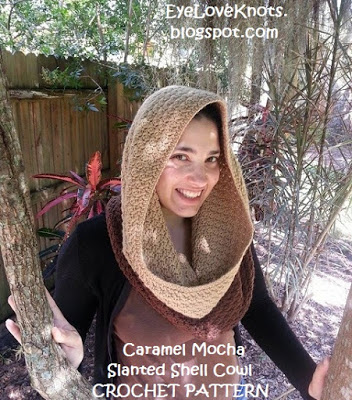 Please feel free to make and sell your own Caramel Mocha Slanted Shell Cowl using this pattern, but please DO NOT claim this pattern as your own nor should you sell my pattern, and DO NOT re-publish my photos as your own. DO NOT copy and paste my pattern anywhere, link to it instead.

With so many size, yarn type and color options, I would love to see them! Please share your photos on my EyeLoveKnots Facebook page!

I am on Ravelry! Check out the EyeLoveKnots Ravelry page to keep track of all your EyeLoveKnots favorites in your que, and share your WIPS and finished projects!

Don't miss out on new crochet patterns, reviews, jewelry tutorials and more! Subscribe to EyeLoveKnots by using the box on the right side toolbar, or follow me via Bloglovin!