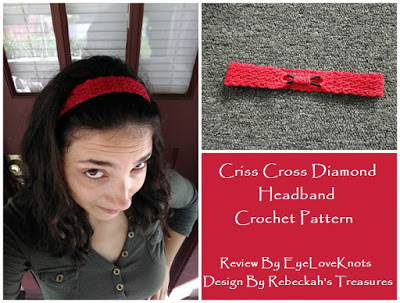 I pattern tested this for my friend Rebeckah of 
Rebeckah's Treasures
. It definitely tested my crochet abilities, and patience. There is lots of information in this pattern, and it took some time of reading and re-reading, working, ripping back, working and ripping back some more. She does have a link included for photo tutorial of the stitch, which I needed to refer to a couple times, but it definitely helped out a lot. If you are looking for a challenge, here's a good pattern to start with, and produces a really pretty stitch pattern.

Are you a raveler? If so, make sure to favorite this Criss Cross Diamond Headband and link up your project to it!
     – #20 Tapestry Needle for Weaving
     – 4.5mm & H8/5mm Crochet Hooks (optional – for Part 1)
Material Notes:
     Yarn Alternatives: Aunt Lydia's Classic #10 Thread. 
     I had mine finished in just over two and a half hours. 
     1 3/8″ Wide by 16.5″ Long (including band) 
Pattern Notes:
     After working Part 1, I pulled out my H8/5mm hook to shape the tube, then I used my 4.5mm hook to pull the rubber band through. Probably much easier to hook a safety pin around the rubber band and pull through, but because I didn't have one, the hook worked too.
The pattern is very detailed with suggestions for starting stitches. I wanted a thinner headband so I started with 14 single crochet onto the band, which left me with three X's. 
I worked a total of 67 rows to equal 16.5″ long (including the band, which is 2.5″ long when folded). The headband came to be a little looser than I would have liked. H
aven made a few headbands now (other reviews to come), I would make it to 15.5″ long (including the band).
I found that even though my starting stitch count was the same as the other headbands I have worked (like the Pebble Bobbles Headband), this headband came to be about half an inch shorter in width. I am sure it had to do with my tension on the X rows. If I worked another, I'd add to the beginning count to work four or more X's.
At the end, I chained 1 and turned. Then I folded the work as to work across, and I did so as the pattern stated working onto the other side of the band. Once across, I fastened off, and turned my piece so the X's were facing on the right side.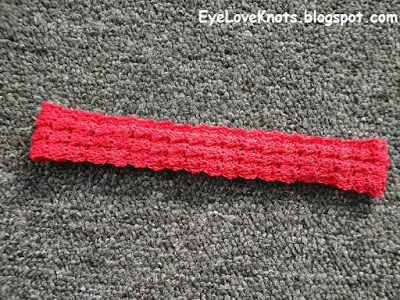 I will say though, the wrong side of the piece (seen above) also has a pretty pattern on it, which resembles a knit-look, making it a reversible piece – two in one!
I did not end up embellishing my headband, but tutorial also includes free crochet patterns for flowers and butterflies that you can work right into the headband.
Overall, this is a great tutorial chalk full of lots of helpful information and photos. The pattern is a little difficult to follow until you get the hang of the stitches, and takes a little extra time to memorize, but produces a beautiful headband sure to get many compliments.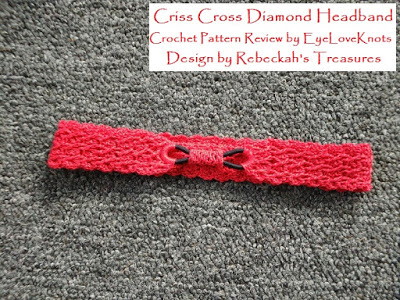 Don't miss out on new crochet patterns, reviews, jewelry tutorials and more! Subscribe to EyeLoveKnots by using the box on the right side toolbar, or follow me via 
Bloglovin
!

You May Also Like…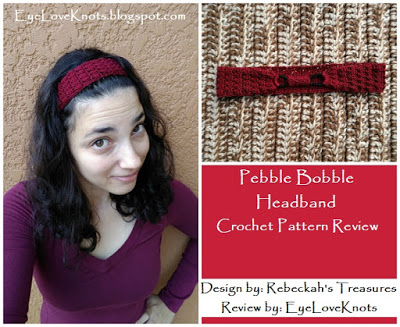 Design by Rebeckah's Treasures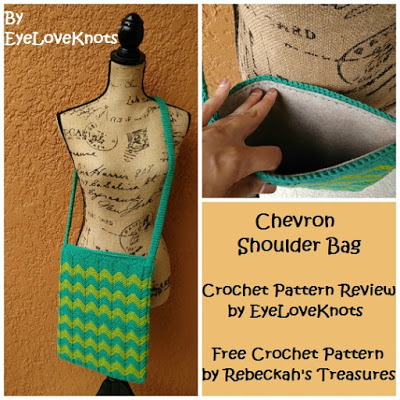 Design by Rebeckah's Treasures