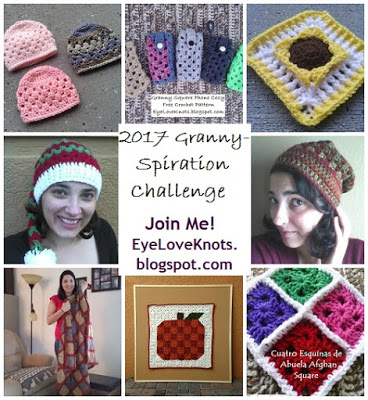 Like many others, I am a big fan of granny squares, especially when used in fun, creative, out-of-the-box ways. In my ideas book, I have sooooo many project ideas for use with granny squares and the granny stitch pattern, but haven't taken much initiative to work them up so I decided a Granny-Spiration Challenge was exactly what I needed.
What is a Granny-Spiration Challenge?
Well, being inspired by granny squares, it's been named accordingly. In this challenge, a new project will be shared the first Saturday of every month from January to December of 2017. You will find both traditional and non-traditional projects created with either regular or solid granny squares, the granny stitch pattern or other afghan squares in the form of either a free crochet pattern, a crochet pattern review, a DIY of some sort or just inspiration piece with tips to recreate.
How to Join in on the Granny-Spiration Challenge:
Join my friends and I the first Saturday of every month as we share our Granny-Spiration project with you, and open a link up for you to share yours! You'll be able to share your WIPs and pictures of completed items in these link ups for a chance to win prizes. 
Tag it on social media as #GrannySpirationChallenge2017.
Chat with others, find inspiration and get updates and reminders in the EyeLoveKnots Crafting Community Facebook group.

Which Blogs Will Be Participating in the Granny-Spiration Challenge:
Alongside myself, the following bloggers will also be participating in this challenge with me, and I encourage you to visit them all for great patterns, DIYs and inspiration!




By the end of 2017, you will have at least 12 finished granny square inspired projects that will be done just in time for the holidays as well as a smaller yarn stash since grannies are great for stashbusting! Can't wait to see your projects!
Join the EyeLoveKnots Crafting Community to share your creations, and see what other's are up to!

Don't miss out on new crochet patterns, reviews, jewelry tutorials and more! Subscribe to EyeLoveKnots by using the box on the right side toolbar, or follow me via Bloglovin!