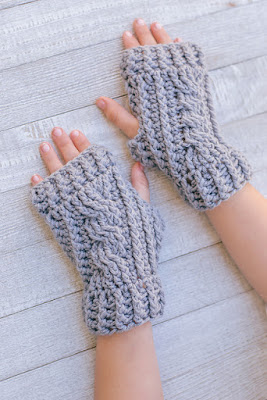 Photo courtesy of Emily Truman for the Pattern Pack Pro.
I'm a little late in posting this, but my Cabled Fingerless Gloves can be found in the latest issue of the Pattern Pack Pro – January 2017 – which features a fun little variety of fingerless gloves.


After my first exposure to cables in the Cable Twist Hat that I shared back in April of 2016, I've been in love. Up until I tried this hat, I was super intimidated by crochet cables. If you are like I was – don't be! It is so easy to work, and create an amazing look and texture. After that hat came my Chunky Cabled Capelet which can be found on the front cover of the September 2016, Issue 30 of the Happily Hooked Magazine and then these beautiful and fun Cabled Fingerless Gloves!

To complete these gloves, you will need less than one skein of Baby Bee's Sweet Delight Yarn – I used the Toy Elephant colorway – or 250 to 350 yards of Lightweight #3 Yarn, and an I9/5.5mm crochet hook. Sizing is listed as child/teen size, but they fit myself. I have small wrists, but average sized knuckles. Alternatively, you can go up a hook size. Instructions included for three lengths.

January 2017 Issue Also Features…

These Crochet Patterns:
     – Tunisian Leaf Pillow by Jennifer Stover
     – Lace Cuff Fingerless Gloves by Ana Dyakova
     – Chelsea Wave Fingerless Gloves by Carol Rupprecht
     – Butterfly Kiss Gloves by Lee-Anne Sartori
     – Cameron Wristers by Sonya Blackstone
     – Textured Arm Warmers by Becky Barker for Red Heart Yarns

These Articles:
     – How To: Work a Foundation Chain
     – 6 Glove Pattern Roundup from Around the Web
     – 6 Red Heart Gloves Pattern Roundup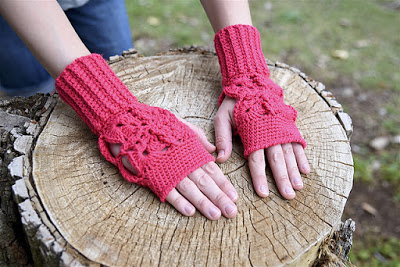 From this issue, I'm really lovin' the Butterfly Kiss Gloves seen above! What a great use basically an afghan square, and perfect design for the upcoming Spring season.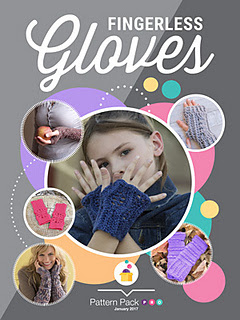 Hop on over to the Happily Hooked Magazine site to subscribe and get the current issue of the Pattern Pack Pro – January 2017!

Share your version of these gloves on Ravelry – Cabled Fingerless Gloves. Check out the EyeLoveKnots Ravelry page to keep track of all your EyeLoveKnots favorites in your que, and share your WIPS and finished projects!

Don't miss out on new crochet patterns, reviews, jewelry tutorials and more! Subscribe to EyeLoveKnots by using the box on the right side toolbar, or follow me via Bloglovin!