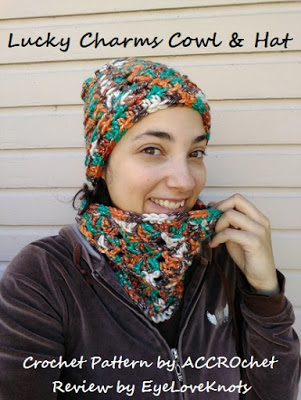 I regularly follow the ACCROchet blog, and receive a newsletter. Recently, I received an email asking for a few pattern testers for a new hat and cowl set. I responded back immediately offering my services – I just love pattern testing 🙂 I was really excited to have been chosen, and through working the pattern, I have put together my review for you. This is a really fun, quick and easy pattern and produces a really beautiful set that has a fantastic fit with the given shaping.

Materials:
     – 200 yards of Bulky Weight Yarn – I used Yarn Bee's Melody Bulky (Hobby Lobby) in the Copper Spice colorway, though I did not find it on their website to link so it may be discontinued
     – L11/8mm Crochet Hook (for Cowl)
     – M13/9mm Crochet Hook (for Hat)
     – #18 Tapestry Needle for Weaving and Sewing
     – Lucky Charms Hat & Cowl Set, Paid Crochet Pattern from ACCROchet

Material Notes:
     Original pattern calls for 200 grams of yarn. I don't do grams, but I have estimated the yardage based on the amount of yarn I've used. It's also worked up in Mots de Laine yarn.

Yarn Review: This was my first time using Yarn Bee's Melody Bulky Yarn. A couple years ago, I was working on a scarf that I wanted to try in similar yarn, so I went to Hobby Lobby to see what I could find. I found two skeins of the Melody Bulky on clearance, and decided to buy them. I never got around to reworking the original scarf, but when it was time to test this set, I decided to pull out the yarn and put it to some use. The colorway is just gorgeous, and the yarn is so soft and cushy, and stretches nicely. It reads a #5 bulky yarn, but is more like a larger worsted weight yarn, and kind of reminds me of Lion Brand's Scarfie Yarn in feel and look (slightly larger in size). 

Time Spent:
     My cowl was finished in just under 45 minutes, and the hat was done in just over 45 minutes.

Measurements:
     My Cowl: Laying flat, it measures 20″ at widest point by 8″ at tallest point.
 My Hat: Laying flat, 9″ at widest spot by 9.5″ tall – stretched to fit my 21″ head

My Gauge:
     First 8 rows of the hat with an M13/9mm hook: 9″ wide laying flat by 5.5″ tall.

Pattern Notes:
     I did not gauge before beginning as I wasn't really sure how to gauge in pattern as stated, but I figured gauge isn't extremely essential with the cowl, which is why I began there. I used an L11/8mm hook for the cowl, and though it came out smaller than given pattern measurements, it fit nice and snug. From here though, I up-ed my hook size for the hat to an M13/9mm. 
For the cowl, I think a stitch count on the last row would be helpful to check yourself. If you're working the smaller cowl size, I ended with 47 single crochets. 

I really like the fit and look created by decreasing on the shells. It creates a less bulky piece that sits nicely and covers everywhere it should. 

The hat also doesn't have an ending stitch count. I worked in each stitch and chain space and ended with 23 stitches. 

To close my hat, I turned it inside out so the WS was facing, and then inserted my needle into one stitch, out the next stitch and skipped the next stitch. Once back around, I pulled the top closed and sewed shut.

I was a little confused with the sizes. I wasn't sure if it was 20″ for the teen size to fit a head size of about 21″ in circumference, or if 20″ was the head size we were shooting to stretch to fit. I have a head size of 21″ so I knew the 22″ size would be a little bigger on me than I like. My hat was about 18″ in circumference (being that it measured 9″ wide laying flat), and stretched to fit my head nice and snug with a little stretch, and I love the slight slouch that it has. I have turned away from some hats because the slouch was too bulky, but this one decreases down beautifully.

Overall, the pattern was very easy to follow and the projects were quick to work up, which is always a big plus. Can't wait to pick up some more yarn (which I'll need to decide on a new yarn line or perhaps a few), and get started on some other colors!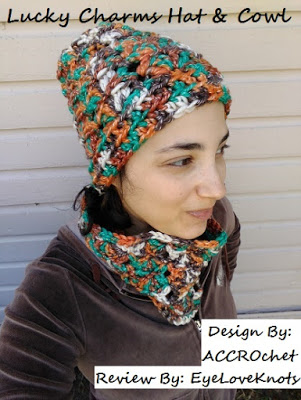 With so many size, yarn type and color options, I would love to see them! Please join the EyeLoveKnots Crafting Community to share your creations, and see what other's are up to!

Don't miss out on new crochet patterns, reviews, jewelry tutorials and more! Subscribe to EyeLoveKnots by using the box on the right side toolbar, or follow me via Bloglovin