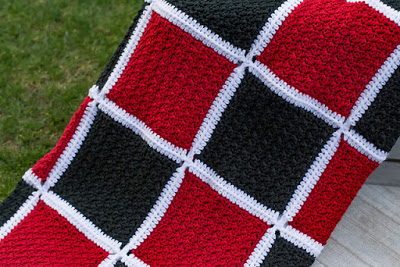 Photo Courtesy of Happily Hooked Magazine.
My Slanted Shell Afghan can be found in April 2017, Issue 37 of Happily Hooked Magazine. This issue features "Stitches and Textures that will take your crochet to the next level".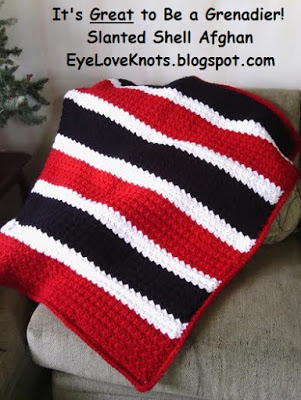 Remember my Great to Be a Grenadier Slanted Shell Afghan(shown above)? I posted this in May of 2015, and designed it specifically for my old high school. I made it in their colors, and donated it to be auctioned off at an end of the year band concert. 
Well… Time for another silent auction so I worked up this new Still Great to Be a Grenadier Afghan named Slanted Shell Afghan for this issue of the Happily Hooked Magazine. This afghan features one of my favorite stitches – the Slanted Shell Stitch – in individual afghan squares, and then joined together using the Pull Loop Through (PLT) Method and one continuous join meaning less ends to weave in!

To complete your own Slanted Shell Afghan, you will need about two and a half skeins each of Color A and B and one skein of Color C for join and border of I Love This Yarn – I used the Red, Black and White colorways – or about 2262 yards of worsted weight yarn, and an I9/5.5mm crochet hook. 

Issue 37 Also Features…

These Crochet Patterns:
     – Julie Lynn Poncho by Salena Baca
     – Tree of Life Pillow by Dianna Judge
     – Petalette Shawl by Padma R
     – Hour Glass Shawl by Amanda Brown
     – Twists & Turns Boot Cuffs by Debbie Richardson
     – Bamboozled Delight Dishcloth by Carol Rupprecht
     – Stella Hat by Danyel Pink
     – Crochet the Rainbow Bag by Shelby Goddard
     – Just Peachie Cocoon Set by Maria Bittner for Red Heart

These Articles:
     – Stitch of the Month: Bobble Stitch
     – Business Tip: 4 Keys to Unlocking Productivity
     – Crochet Heals: Kirsty P
     – Artist Profile: Luisa of Crochetdoll
     – Stitching in Love
     – Hooked on… Roundup
     – Red Heart Pattern Roundup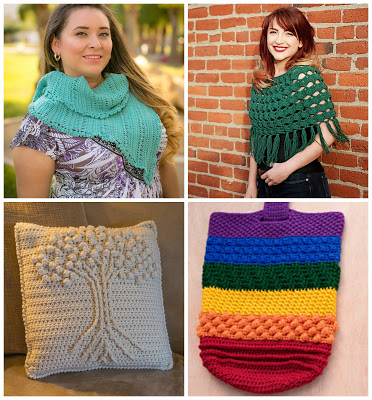 A few of my favorites include the Tunisian Petalette Shawl (top left), the Julie Lynn Poncho (top right), the Tree of Life Pillow (bottom left), and the Crochet the Rainbow Bag (bottom right)!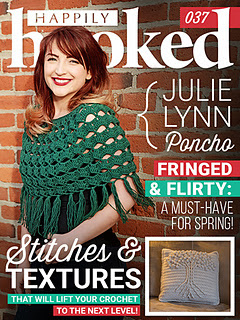 Photo is front cover of April 2017, Issue 37.
Hop on over to the Happily Hooked Magazine site to subscribe and get the current issue – April 2017, Issue 37!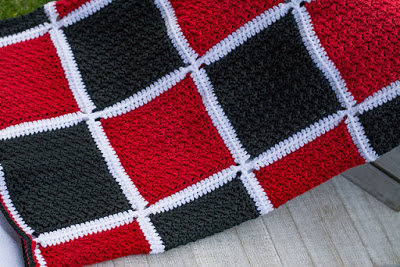 Photo Courtesy of Happily Hooked Magazine.
Now… Who is ready to win their own copy? Let's get on with the giveaway! One winner will be gifted a digital copy of this Happily Hooked Magazine April 2017, Issue 37 via Ravelry. You have until Wednesday May 31st to enter this giveaway. Open to all countries. EyeLoveKnots is responsible for prize. Clocks start over on some tasks everyday so come back and re-enter!


a Rafflecopter giveaway

Share your version of this project on Ravelry – Slanted Shell Afghan. Check out the EyeLoveKnots Ravelry page to keep track of all your EyeLoveKnots favorites in your que, and share your WIPS and finished projects!

Don't miss out on new crochet patterns, reviews, jewelry tutorials and more! Subscribe to EyeLoveKnots by using the box on the right side toolbar, or follow me via Bloglovin!