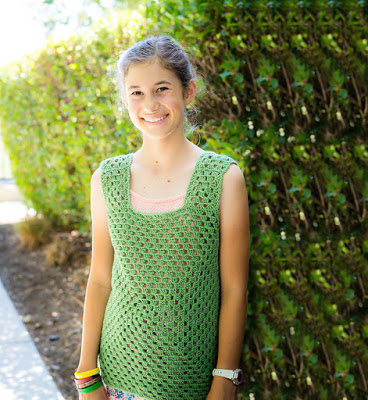 Photo Courtesy of Happily Hooked Magazine.
Yay! This is the eighth post of the year for the 2017 GrannySpiration Challenge! I am so excited to see what everyone has been working on, especially you! At the end of this post, you will find the information for this month's giveaway, and link up.

This month, I am sharing with you my latest published design that can be found in Issue 40 of Happily Hooked Magazine – my Granny Square Tank! When I first saw the call for Lightweight designs, I knew I wanted to work up a top. I kind of still have an idea of a blouse based off this design, but when I was putting it together, it seemed to be a better fit for lightweight and lacy. Working with a yarn such as Modern Cotton DK, is an even better option for hot weather. I plan on ordering some to try out another tank more suitable for Florida.

Being that the tank top is made from a back and a front sewn together, it has more give than a top worked in the round. I designed this top one inch smaller in both pieces to finish with the 2″ of negative ease noted, but there is more that can be given to make a more fitted top. By omitting one more round from each square, you can achieve this.
Please make sure to stop by our other co-host and see what they've been working on too. In the image above, you'll find their projects (and mine) from last month's challenge.
My Granny Square Tank can be found in July 2017, Issue 40 of Happily Hooked Magazine. This issue features "a variety of patterns that use lightweight yarns".