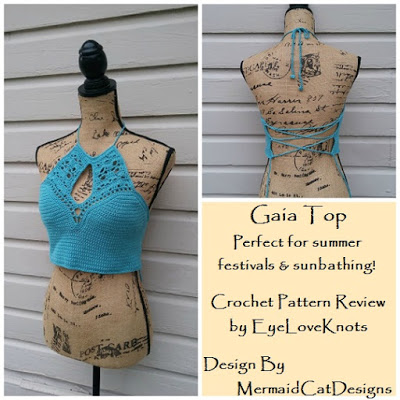 I love all the crochet patterns from Stacey of MermaidCatDesigns! I have never had an issue following any of her patterns, and they also work up so well! This pattern was no exception. I really love how this piece fits – just hugs ya. The lacy design going up to the shoulders is simple in construction, but so beautiful all together, and the straps full in the perfect spots to sit comfortably while worn.

Keep in mind that this top is not meant to be worn in the water, and regardless of what you make it from, it will soak up the water and lose it's shape. It's great for running around at a festival though, or laying out at the beach, and will go great with a maxi-like flowy skirt, paired with bathing suit bottoms, or with a pair of high-waisted pants or a high-waisted skirt.

Materials I Used:
     – 268 Yards (1 Skein) of Berroco Weekend DK in #2926 Clothesline
     – G6/4mm Crochet Hook (larger than recommended)
     – #18 Tapestry Needle for Weaving in Ends
     – Gaia Top, Paid Crochet Pattern from MermaidCatDesigns

Material Notes:
     Knit Picks Cotlin Yarn used in original by MermaidCatDesigns. I have also found similar gauge and fit results using Baby Bee's Sweet Delight Yarn from Hobby Lobby. 

I will say to achieve a good fit, you should get a yarn that is not all cotton so it hugs a little more. I love the Sweet Delight Yarn for tops like this because it stretches well and bounces back, plus is soft on the skin, however, it is 100% acrylic which can be a little warm (not for me). This Weekend DK also hugs well, but I like it more so for a top like this because it has a good amount of cotton in it to help keep you cool in warm weather, but also enough acrylic to help keep it's shape.

Time Spent:
     I spent one evening binge watching Grey's Anatomy, and almost five and a half hours to complete this top.

Measurements:
     I worked the Medium size to fit 34″-36″ bust, but also included is small and large sizes.

My Gauge:
     G6/4mm + Weekend DK: 20 SC by 6 Rows = 4″ by 1 1/8″

Abbreviations:
     SC – Single Crochet

Adsense:

Pattern Notes: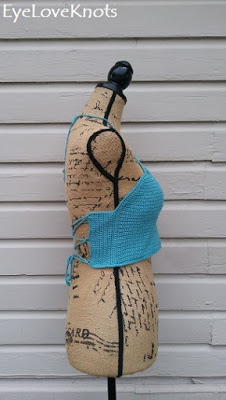 The only thing I did differently other than written was the straps. Back some time ago, I was introduced to cute little bobbles on the ends of my straps from a previous MermaidCatDesigns pattern and I have stuck with the design in several different pieces. I love the finished look it gives the straps, the added ease in weaving in the ends, and gives me reassurance that when the straps are tied, they won't just pull out. So… My adjustment is as follows:

     Neck Straps: Chain 4. Join to form a ring. Chain 1. Work 5 SC into the ring. Join to the first SC. Then proceed as written up through working across the top edge, then I work a chain 84 and slip stitch into the 4th chain from the hook. Chain 1. Work 5 SC into the ring. Join to the first SC, and fasten off.

     Back Strap: Chain 4. Join to form a ring. Chain 1. Work 5 SC into the ring. Join to the first SC. Chain 254, and slip stitch into the 4th chain from the hook. Chain 1. Work 5 SC into the ring. Join to the first SC, and fasten off.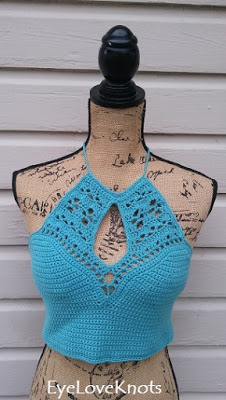 Something shown in my photos being that the piece is on a dress form is the bottom center kind of puffy out. It fits perfectly and lays flat when worn. 

Another thing I was concerned about in construction was that the "V" of the top center was going to overlap and create a weird opening – as it looks when laying flat – but when it's worn, it straightens out so well and really opens up there.

I will say that the breast coverage does not go up too high, so if you are worried or for more modesty, try the top on as you go so you can work it up higher if desired, and adjust the rest as necessary. I did not adjust anything on mine though – I love the way it fits!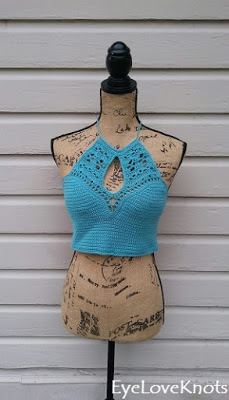 Join the EyeLoveKnots Crafting Community to share your creations, and see what other's are up to! 

Don't miss out on new crochet patterns, reviews, jewelry tutorials and more! Subscribe to EyeLoveKnots by using the box on the right side toolbar, or follow me via Bloglovin! You can also find me sharing on the EyeLoveKnots Facebook page, and @EyeLoveKnots on Twitter!


Don't Crochet but Interested in Purchasing a Gaia Top?
You May Also Like…