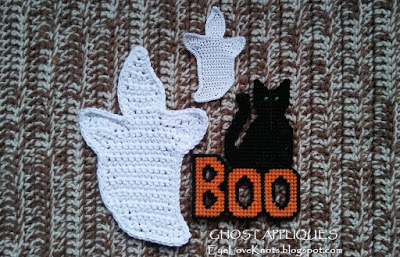 When I first decided on my yarn projects for October, I picked the Ghost Coasters found on the Red Heart site, designed by Kara Gunza of Petals to Picots. I have loved this fun design since it first was published, and only took me a couple years to get around to it. Since working them up, I think they make better appliques than coasters. Read on to find out more.


Before I go on, I worked the cat and "boo" up in plastic canvas and some Red Heart Super Saver that was in my stash. It's a magnet that has a home on my fridge for Halloween – the only Halloween decoration you'll find up this year. I worked this up several years ago, and don't remember what pattern I used for it, but I thought it would be a great addition to my ghosts for the picture.

Materials I Used:
– Small Amount of Artiste #10 Crochet Thread in White
– About 25 Yards of Crafter's Secret Cotton Yarn in White
– H8/5mm Crochet Hook (for worsted weight)
– B/2mm Crochet Hook (for thread)
– Tapestry Needle for Weaving in Ends
– Ghost Coasters, Free Crochet Pattern from Red Heart

Material Notes:
Original design is worked in Red Heart's Super Saver Yarn.

Time Spent:
I finished my ghosts in about just under half an hour each.

Measurements – Taken Across Arms and from Top of Head to Bottom of Tail:
Thread: 2.75″ Wide by 4.13″ Tall
Worsted Weight Cotton: 5.5″ Wide by 8.25″ Tall

Pattern Notes:
This pattern was very easy to follow, and the design was quick to work up. The only thing I found was in the border. If you look at my two ghosts, you will notice they mirror each other. For the worsted weight version, I did turn before starting the border, and for the thread version, I did not turn as instructed. By not turning, it created a small gap at my bottom point. I think it finishes up better if turned. If you are making a set, just work them all the same so they finish the same direction.


When adding the chains for the arms, I recommend working the stitches into the back bumps of the chain, rather than just into the chain. This will give the arms a clean, straight edge, and clearer stitches to work the border into, which will prevent any gaps here, as opposed to just working on the opposite site of the foundation chain.


I also recommend when working the border at the points where the body and arms meet, as well as, where the arms and neck meet, to pay more attention to where you place your stitches. If too many are placed here, these areas will bunch.


I skipped the eye embroidery, but if the embroidery intimidates you, you could also cut out and stitch on or glue some felt pieces, use fabric paint to draw the face on, or even attach some small pom poms for the eyes.


Because the ghost does not lay flat at the arms and head, I feel like it would be better used as an applique where all the points will be tacked down. Using different weight yarns produces different sized ghosts, which could be used for a large variety of projects.


I think the thread weight ghost would be great to embellish with like on a card, hat, afghan square, or shirt pocket, and the worsted weight version would be great to embellish with like on a pillow, afghan, rug, or used to create an art piece. You could also block either size, and string several up to make a garland. If you are feeling up for a challenge, you could use sewing thread and block, and turn the ghosts into a pair of earrings, or use as a necklace pendant.


Overall, I think this is a great pattern – easy to read, and quick to work up, and can be used in some many ways. I will be saving my ideas for next year, but if you would like to see anything specifically, feel free to drop me a line.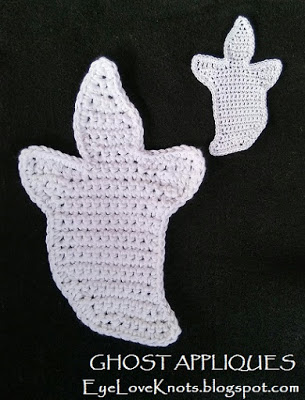 Join the EyeLoveKnots Crafting Community to share your creations, and see what other's are up to!

Don't miss out on new crochet patterns, reviews, jewelry tutorials and more! Subscribe to EyeLoveKnots by using the box on the right side toolbar, or follow me via Bloglovin! You can also find me sharing on the EyeLoveKnots Facebook page, and @EyeLoveKnots on Twitter!



Linked Up To…
Pin Junkie Pin Party #237 – The Pin Junkie
Creativity Unleashed #195 – Practically Functional
No Rules Weekend Blog Party #257 – Sincerely, Paula
Designing You! Link Party #10 – Designing Us
Best of the Weekend – Hello Little Home
Sweet Inspiration Link Party #79 – The Boondocks Blog
Crafty Love Link Party #26 – Jessie at Home
Link Your Stuff – Anniemarie's Haakblog
Funtastic Friday #149 Link Party – Olives n Okra
Home Matters Linky Party #158 – Domestic Deadline
Friday Feature Linky Party – Oh My Heartsie Girl
October 2017 Sharing Time – Raising Memories
Scrappy Stitches Link Party #33 – Stitches 'N' Scraps
Friday Frenzy Link Party – Kelly Lynn's Sweets & Treats
Snickerdoodle Create~Bake~Make Party #204 – Across the Boulevard
Craft Schooling Sunday – Creative Jewish Mom
{nifty thrifty sunday #305} – Nifty Thrifty Things