*This post contains affiliate links. If you make a purchase by clicking on them, I make a small commission at no extra cost to you. Thanks for your support!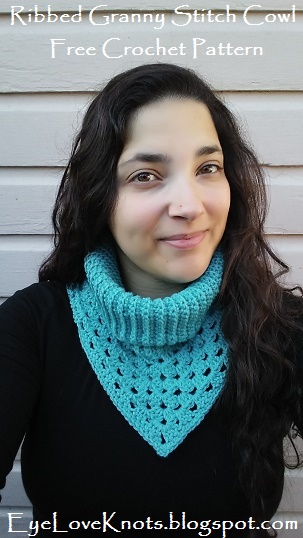 Yay! We have made it to the LAST GrannySpiration Challenge of the year. I am a little sad that the challenge is over, but I am quite proud of myself for sticking to the schedule and theme throughout the whole year. It was a personal challenge that I posed for myself at the end of last year for 2017, and asked a few friends to join in on, and it was awesome working alongside them and seeing what they came up with. At the end of this post, you will find the information for this month's MEGA giveaway, and link up. I have a lot to share about the giveaway below, so brace yourself – hehe!

12/03/17 Update: Okay, so originally I was working on a pattern review of a top I recently discovered. I was so anxious to finish, and even bought a new skein of yarn to finish up, and then at a check point spot (last Thursday night no less), I realized the top was not on point, and would need to be tweaked way too much to be ready in time for this challenge, plus I really didn't want to have to review a pattern for fun, and do a bunch of adjusting to it – call me lazy 😉 I ended up putting the yarn back in my stash – I will definitely use some Sweet Delight in future projects.

I sat and thought long and hard about what to make for this challenge… I thought about a Christmas ornament… a tree skirt… a new pillow… finally a cowl idea popped into mind. I jotted the idea down, and went to bed so I could start fresh on the idea.

First thing Friday morning, I pulled out the last skein of Berroco's Vintage yarn from my stash, and got to work on my vision, and the cowl turned out perfectly!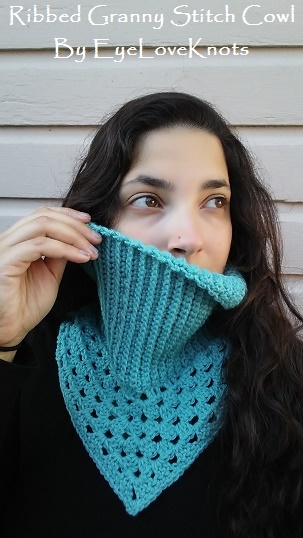 I made the ribbing wide so that it could be pulled up over my face to keep it and my ears warm if it was windy. When not windy, just fold over the ribbing, and it makes for a beautiful collar to go with the granny stitch handkerchief-like pattern.

This cowl only requires one skein, and would make a great holiday gift. Make this in your favorite color, or work the ribbing longer, wider or shorter for a custom fit (and adjust the granny stitch pattern as needed). One last thing I will say about this before I go on to the actual pattern – I wanted mine to be a little looser, but the ribbing has lots of give to it, and stretches about four to five inches. If you want a tighter cowl, shorten the ribbing section by one inch.

Onto the free crochet pattern, awesome giveaway and link up! Thanks for all your support this year!
Please make sure to stop by our other co-host and see what they've been working on too. 
Materials:
     – Tapestry Needle for Weaving in Ends
Material Notes:
     Yarn Alternatives: Hobby Lobby's I Love This Yarn, Lion Brand's Vanna's Choice, Deborah Norville's Everyday Soft, Red Heart's Soft
Time Spent:
     I worked my cowl in two seatings for a total of about three and a half hours.
Measurements:
     As WIP: 6 5/8″ Wide in Ribbing, 19″ Long Before Sewing Ribbing
     Finished: 9.5″ Wide at Ribbing, 11.25″ at Tallest Point
     Sized to fit Average Woman/Teen – Ribbing has lots of give
Gauge:
     14 DC by 8 Rows = 4″ Wide
Abbreviations:
     RS – Right Side of Fabric
Pattern Notes:
     Beginning chain 1 does not count as a stitch, but beginning chain 2 in the granny stitch pattern does.
In the ribbing pattern, it's indicated to work the first and last stitches into both loops as normal. This is to keep a straighter, cleaner edge.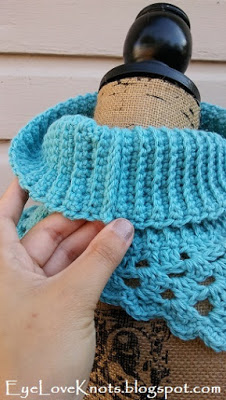 I worked my join in Row 92 with a simple slip stitch, which creates a seam that hides on the wrong side of the cowl, but is visible if you fold the ribbing part down. If this seam bothers you, you may opt to fasten off with a long tail after Row 91, and whipstitch the two pieces together, then you'll rejoin your yarn to begin the granny stitch pattern.
In the first round of the granny stitch pattern, you will work evenly around. In single crochet, this means to work on stitch per row.
Joining will be done to the first stitch, not the beginning chain.
A cluster is referred to as a grouping of 3 double crochets that forms the granny stitch pattern.
Work the slip stitches in the granny stitch pattern loosely as you will work back into these stitches in the final round.
In Rounds 95 through 98, even though there isn't a chain space before and after the center (formed by 3 double crochets, a chain 3, and another 3 double crochets), you will still count it as a chain space to work into as you go.
Pattern:
Begin Ribbing
     Chain 29. SC into the 2nd chain, and into each chain across. (28 SC)
R2 – 91: Chain 1, turn. SC into the first SC, now working into the BLO: SC into the next 26 SC, back in both loops: SC into the last SC. (28 SC)
R92: Chain 1, turn. Fold, and lay right sides together. Working through both layers, slip stitch into the 1st stitch, and across. (28 stitches)
Begin Granny Stitch Pattern
     Turn ribbing so the right side is facing out. Slip stitch into the next stitch. Chain 2. DC into each of the next 2 stitches, chain 1, skip the next stitch, (DC into each of the next 3 stitches, chain 1, skip the next stitch) 22x. Join. (23 clusters)
R94: Turn. Slip stitch into each of the next 3 DC, and then into the chain 1 space. Chain 2. Work 2 DC into the same space, chain 1, (3 DC into the next chain space, chain 1) 9x, 3 DC into the next chain space, (3 DC, chain 3, 3 DC) into the next chain space, 3 DC into the next chain space, (chain 1, 3 DC into the next chain space) 10x. Do not join here, or until the final round. (22 clusters + center)
R95: Turn. Slip stitch into the 2nd and 3rd DC, and then into the chain 1 space. Chain 2. Work 2 DC into the same space, (chain 1, 3 DC into the next chain space) 10x, chain 1, (3 DC, chain 3, 3 DC) into the next chain space, 3 DC into the next chain space, (chain 1, 3 DC into the next chain space) 10x. (22 cluster + center)
R96 – 98: Turn. 
Slip stitch into the 2nd and 3rd DC, and then into the chain 1 space. Chain 2. Work 2 DC into the same space, (chain 1, 3 DC into the next chain space) 10x, chain 1, (3 DC, chain 3, 3 DC) into the next chain space, 3 DC into the next chain space, (chain 1, 3 DC into the next chain space) 10x. (22 cluster
+ center)
R99 (RS): Chain 1, turn. SC into the 1st 46 stitches, (SC, chain 3, SC) into the next chain 3 space, SC into the next 45 stitches, 3 SC into the next DC, SC into the side of the next DC, (SC into the next 2 DC, 3 SC into the next DC, SC into the side of the next DC) 4x, SC into the next 3 DC, SC into the side of the next DC, (3 SC into the next DC, SC into the next 2 DC, SC into the side of the next DC) 4x, SC into the same stitch as the 1st. Join. (148 SC)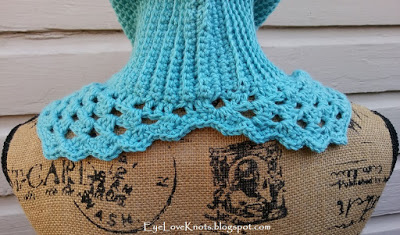 Fasten Off, and Weave in Ends.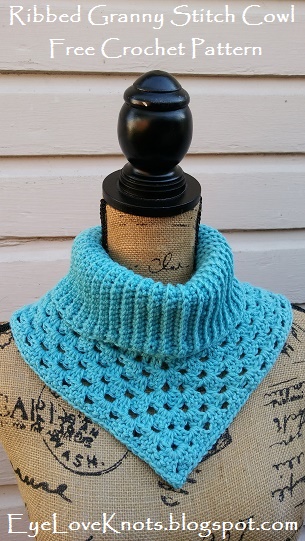 Please feel free to make and sell your own Ribbed Granny Stitch Cowl using this pattern, but please DO NOT claim this pattern as your own nor should you sell my pattern, and DO NOT re-publish my photos as your own. DO NOT copy and paste my pattern anywhere, link to it instead.
Join the EyeLoveKnots Crafting Community to share your creations, and see what other's are up to!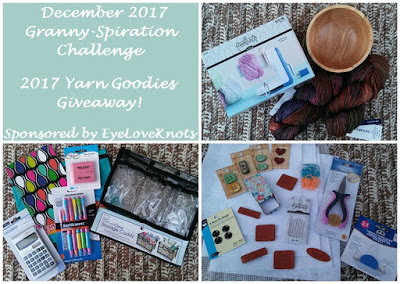 This Month's Giveaway is sponsored by myself, Alexandra of EyeLoveKnots. One winner will receive the 2017 YARN GOODIES ($130 Value) to include…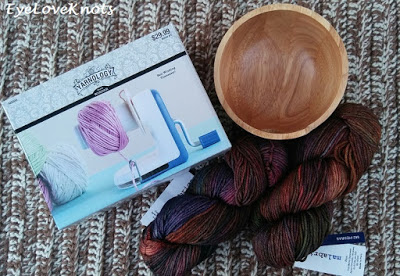 …A cute little yarn winder [Yarnology], a Luxury Wooden Yarn Bowl [Yarnology], and two skeins of Malabrigo's Rios – a worsted weight, pure merino superwash yarn made in Peru – in the Piedras colorway – a mix of pretty autumn colors.

Why these items? Well… I discovered Malabrigo's Rios yarn earlier this year, and started learning to knit with it. I will say that besides it's soft feeling and gorgeous colors, it's a durable yarn that will easily withstand multiple frogs as well as machine washing without getting very fuzzy. I did purchase both skeins together, and although the tag says "no dye lot", I picked the two that were closest in colors. To go with this yarn, you will need a ball winder to wind your skeins – otherwise you will have a big mess trying to work from the skein it's currently in, and why not have a luxurious wooden yarn bowl to go with the Malabrigo's yarn? This yarn bowl has a large hole in it thread your yarn through, and pull from.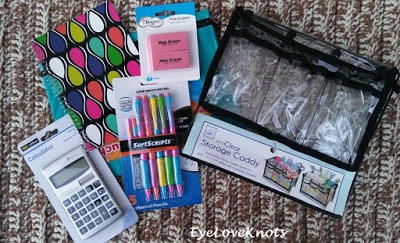 …A blue zippered pencil pouch with three binder rings [7.38″ by 10.25″; Imagine], a small notebook [7″ by 5″], a set of five funky colored mechanical pencils with extra lead [0.7mm Lead; Inc], a small calculator [DG Office], a set of two pink erasers [Imagine], a Clear Storage Caddy with 6 exterior pockets [8.5″ by 5″ by 6.25″; June Tailor, Inc] and the best little bright green Soft Handle Scissors [5.25″; Caliber – not photographed].

Why these items? Well, I think a pencil pouch is the perfect accessory to have to hold all your non-hooking supplies. I know that my crochet hook case only has a small pocket in it only big enough to hold a few hooks that don't fit in the spots, a few tapestry needles and stitch markers. I always carry around a pencil pouch filled with my calculator – a must for working out crochet related math problems, numerous pencils and erasers (plus the odd ball pen or two), a notebook for writing down notes as I go along either pertaining to a pattern I am reviewing or an actual pattern I am designing, as well as scissors (which I am also including in this giveaway, but didn't get a chance to photograph) and miscellaneous items. Though I don't have my own caddy, when I saw this one, I thought it would be a great addition. It's small, but holds all your goodies, and would help keep your workplace a little tidier. Wish they had two on the shelf when I went to the store! I definitely would have gotten myself one.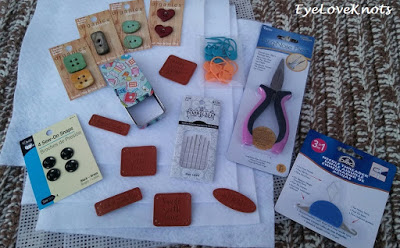 …AND… four sheets of white felt [9″ by 12″], two sheets of 7 count clear stiff plastic canvas [10.5″ by 13.5″; by Darice], a 3-in-1 Needle Threader [for fine threads, medium weight yarns and heavy yarns; DMC], set of six tapestry needles in sizes 18 to 22 [Yarnology], set of eight Removable Stitch Markers [Clover], a super cute retro looking tin needle case, four black Sew-On-Snaps [Size 4; Dritz], set of six small leather labels ["Made with Love", "#TeamDIY", "Handmade with Happiness" and "100% Made with Love"], four different sets of Organic Elements buttons made of coconut by Blumenthal Lansing [two 1″ red hearts, two 1″ yellow and blue/green squares, two 1″ blue/green ovals, and one 1.5″ grayish rectangle], and a pair of Long-Nose Jewelry Pliers [Darice].

Why these items? Well… These are great tools and embellishment pieces.
When I work up little purses, I love to line them with felt – it's one of the easiest fabrics to work with, and won't fray on you! Before sewing in the lining, I like to cut a corresponding piece of stiff plastic canvas to keep my bag stiff and upright. Both can be washed, which is a big plus! You could also use these two items on a handmade basket.
Personally, I use the needle threader, size 18 and 20 tapestry needles for weaving in my ends and sewing pieces together, stitch markers, snap buttons in various projects, and the jewelry pliers. You may think that jewelry pliers may be an odd one to include in a yarny giveaway, but they're great for using to pull your tapestry needle through when weaving in the ends specifically in projects that require a little more energy – like when using cotton or bulky yarns.

a Rafflecopter giveaway

Must be 18 or older to enter. Open to all countries. Void where prohibited. Winner has 48 hours to respond to email notification, or another winner will be chosen. Alexandra of EyeLoveKnots (that's me) is responsible for prize fulfillment.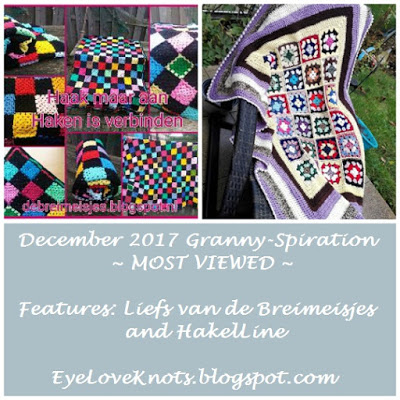 This week I am featuring, from left to right: Dean's Day Blanket is Done, Crochet Inspiration Liefs van de Breimeisjes, and Donation for Sahel eV III (A Granny Square Blanket), Crochet Inspiration from HakelLine.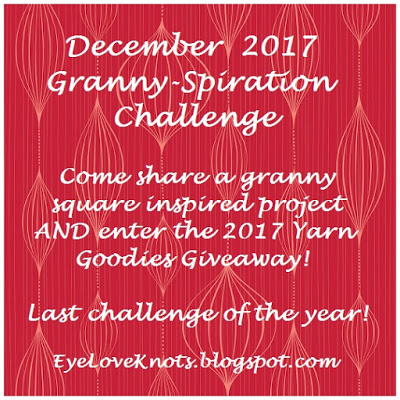 Now, Share Your Granny-Spiration Project With Us!
New Granny-Spiration Projects will be shared from your hosts the first Saturday of each month. Post times will vary. You will be able to link up from 12:00am EST on the first Saturday of the month, through midnight EST on the second Thursday from the start date – specific dates are on top of the Rafflecopter form – giving you almost two weeks to link up and enter the giveaway!
Please share projects that are family friendly, and GRANNY INSPIRED through use of regular granny square or solid granny square, granny stitch pattern or other afghan square in the form of a free pattern, pattern review, or inspiration piece. Not limited to crochet or knit.
Please make sure to link to your post, and not your home page. 
*If you don't have a blog, you can still share with us by creating a Free 

Flickr

 Account – powered by Yahoo. 
Add your projects there, and then come back here with the link for the project.
*Link ups cannot be to Etsy listings or Ravelry pages where patterns are sold. You can link to blog posts, Flickr or Facebook pages, Pins, etc that are directed towards it, but can't directly link to it. 
To be clearer though, Raverly pages of finished projects are okay to share. Sorry for the inconvenience! That's per InLinkz guidelines. Thanks!
Features may be chosen at the discretion of each host. By linking up, you give us permission to feature your item.