*This post contains affiliate links. If you make a purchase by clicking on them, I make a small commission at no extra cost to you. Thanks for your support!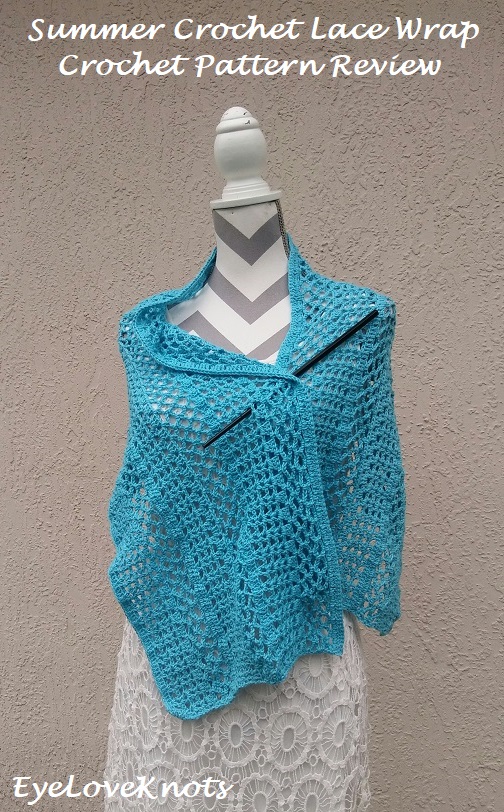 In last month's Super Crafty Sunday Link Up, Rhelena sponsored a giveaway of two skeins of Cotton Fair Yarn. Secretly, she had this wrap being tested for release to accompany the giveaway, and I couldn't wait for it to go live so I could work one up myself! 
At the time, I had two skeins of Cotton Fair Yarn that had been sitting in my stash for I don't know… maybe three years now? I figured that I would just buy one more to match, since both that I had were different colorways, and use it up from my stash, BUT! When I went down to my local Michaels to use up some gift cards I had received from my birthday, they did not have either of the two colors that I had in my stash. Ugh. The link I have provided in the materials list is from LoveCrochet, and they did/do have one of the colors that I had/ve, but I didn't want to wait to get the yarn. You know how that is, right? Anywho, Rhelena has another project coming out worked up similarly to this wrap and in the same yarn (I think), so I will definitely be jumping onto LoveCrochet to order the rest of the yarn I need to work it.
On with the review of this beautiful lacey wrap… Worked in the same yarn, or the alternative I mentioned, this wrap is perfect for warm weather. Use it while you are out and about around town, paired with your favorite little dress for date night, or over a bathing suit.
Materials I Used:
– 560 Yards (less than two skeins) of Premier Yarns Cotton Fair Yarn (affiliate link) in the Turquoise colorway
– G6/4mm Crochet Pattern
– Tapestry Needle for Weaving in Ends
– Summer Crochet Lace Wrap, Free Crochet Pattern designed by CrochetN'Crafts
Material Notes:
Yarn Alternatives: Berroco's Weekend DK.
Time Spent:
I worked my wrap up in a few seatings, in just over 11 hours.
Measurements:
My wrap finished at 54″ Wide by 12″ Tall, smaller than the Rhelena's
Pattern Notes: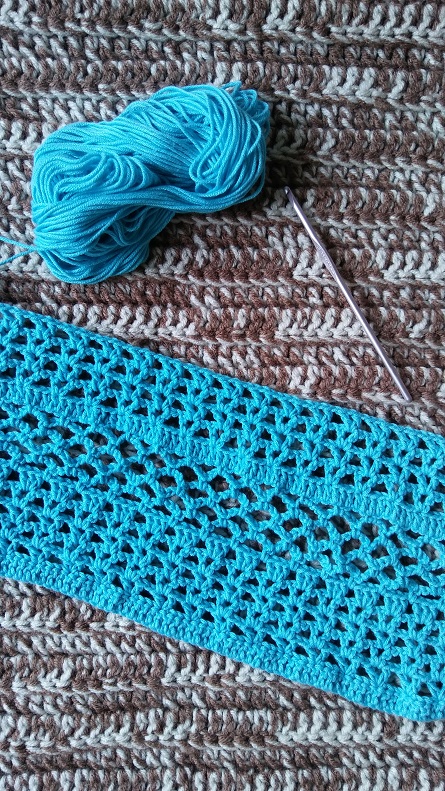 This pattern was so easily to follow, and memorize. It's worked long ways so the rows take a bit of time to complete, but you don't really have to work that many of them.
I did make two small boo boos in my wrap, and didn't notice until I was on the last repeat, but I just kept going. I worked the second repeat's cluster stitches (Row 7) into the chain spaces in between V's, instead of into the chain spaces of the V's, and I also skipped Row 6 of the V-Stitch pattern. Oops! The cluster mistake really isn't noticeable, and the V-Stitch pattern is consistent so overall, no biggie! Just things to look out for.
One thing I did want to point out is Row 13. I worked my double crochet's into the actual chains of Row 12, not just into the space, so it would give it a nice, clean look, and keep consistent with the foundation. This takes quite a bit more time (7o minutes, versus 10-15 minutes for the others), and patience as the chains can be harder to work into, but the finished look is totally worth it!
You can easily add more repeats to make it longer for a poncho-like wrap, or better bathing suit cover. I didn't weigh my yarn afterwards, but I am pretty sure I have enough yarn left over to work another repeat to make a wrap that is about 16″ tall, instead of the 12″ I ended with.
Oh, while I am talking about measurements. I did not gauge before I began. Why? Because with a wrap, gauge really isn't essential unless you want a specific size, so I just went with it. To get closer to the measurements Rhelena got, I probably would have had to go up two or three hook sizes, which is an easy peasy adjustment, but it wasn't a big deal to me. With the change in hook size, the yardage required could vary, and could require any extra skein of yarn.
Overall, two thumbs up.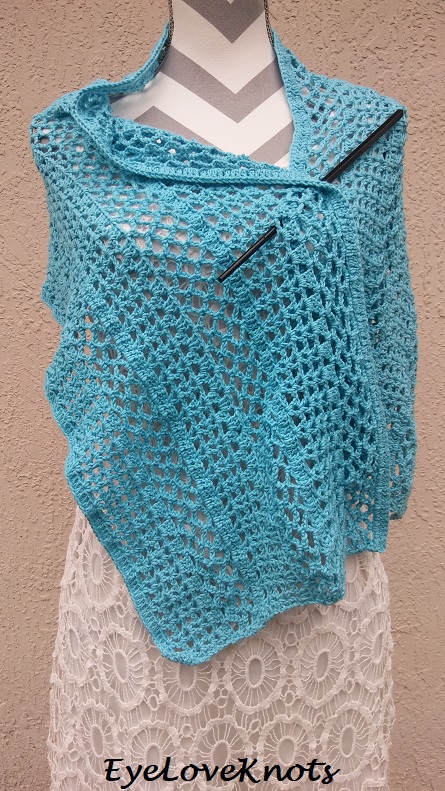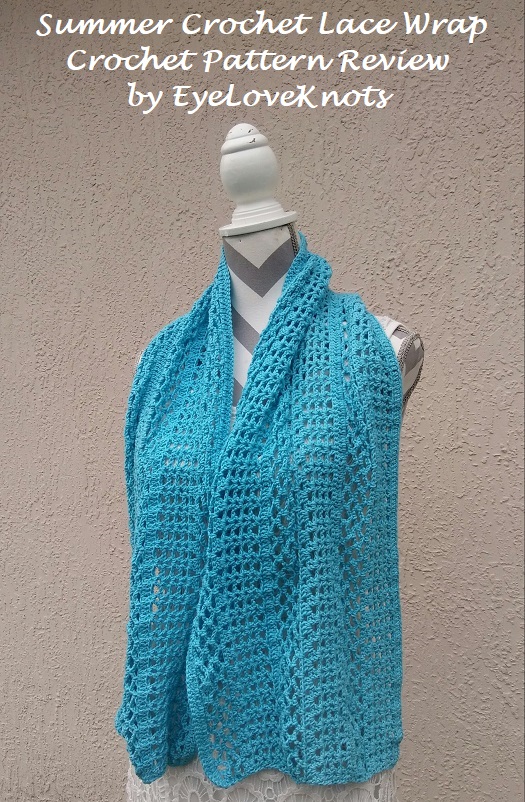 Join the EyeLoveKnots Crafting Community on Facebook to share your creations, and see what others are up to!
Linked Up To…
Craft Schooling Sunday – Creative Jewish Mom
Inspiration Monday – I Should Be Mopping the Floors
{nifty thrifty sunday #336} – Nifty Thrifty Things
Creative Mondays Link Up – Claire Justine
Handmade Monday #77 – Sum of their Stories
Merry Monday Link Party #206 – A Wonderful Thought
The Really Crafty Link Party #121 – Keeping It Real
From Dream to Reality #311 – The DIY Dreamer
425th Inspire Me Tuesday – A Stroll Thru Life
Lou Lou Girls Fabulous Party #217 – Lou Lou Girls
The Linky Ladies Party #133 – The Purple Poncho
Talk of the Town 125 – My Repurposed Life
Sew It Cook It Craft It Link Party #56 – Sew Historically
The Style File Link Up – Lady in Violet
Turning Heads Link Up – Elegantly Dressed and Stylish
Confident Twosday Linkup – I do deClaire
You're the Star Linky Party – Gods Growing Garden
The Scoop Link Party #328 – Worthing Court Blog
Tutorials & Tips Link Party #354 – Home Stories A to Z
{wow me} wednesday #353 – Ginger Snap Crafts
Your Whims Wednesday #357 – My Girlish Whims
The Wednesday Link Party 247 – The Stitchin' Mommy
The Blended Blog Link Up – Living on Cloud Nine
Funtastic Friday #181 Link Party – Olives n Okra
Best of the Weekend – Hello Little Home
Sweet Inspiration Link Party #109 – The Boondocks Blog
Friday Frenzy Link Party – 06/01/18 – Kelly Lynn's Sweets and Treats
Style Wise Link Up – Northwest Mountain Living
Weekend Wear Linkup – Mom with Style
Lizzie in Lace Link Up – Lizzie in Lace
Link Your Stuff – Annemarie's Haakblog
Snickerdoodle Create Bake Make Party – Across the Boulevard
Sundays at Home #208 – Celebrating Everyday Life
In Stitches Party #39 – Nicki's Homemade Crafts
Craft Schooling Sunday – Creative Jewish Mom
Creative Mondays Linkup – Claire Justine
Handmade Monday #133 – Sum of their Stories
The Really Crafty Link Party #176 – Keeping it Real
Ginx Woolly Linx Party July – Ginx Craft
Craftastic Monday Link Party – Sew Can Do
506th Inspire Me Tuesday – A Stroll Thru Life
Fabulous Party #274 – Lou Lou Girls
Weekday Wear Linkup – Away From the Blue
Tutorials & Tips Link Party #398 – Home Stories A to Z
The Linky Ladies Party #162 – The Purple Poncho
Talk of the Town #181 – My Repurposed Life
Sew It Cook It Craft It Link Party #108 – Sew Historically
Tuesday Turn About Link Party #6 – My Wee Abode
{Wow Me} Wednesday #310 – Ginger Snap Crafts
Hookin' on Hump Day #194 – Petals to Picots
Your Whims Wednesday #414 – My Girlish Whims
The Wednesday Link Party 302 – The Stitchin' Mommy
To Grandma's House We Go Link Party #146 – Chas' Crazy Creations
Crochet Patterns and Anything Crochet Link Party #13 – Joy of Motion
Turning Heads Linkup – Elegantly Dressed and Stylish
Confident Twosday Linkup – I do deClaire
Scrappy Stitchers Link Party #53 – Stitches 'N' Scraps
Thursday Favorite Things #396 – An Artful Mom
Best of the Weekend – Calypso in the Country
Home Matters 240 – Modern on Monticello
Link Your Stuff – Annemarie's Haakblog
Snickerdoodle Create Bake Make Party 291 – EyeLoveKnots
Link Up – Lizzie in Lace
Trendy Thursday LinkUp – Thirty Minus One