Easter inspired craft finds including a Peeps no bake pie recipe, wooden bunny hair tie tutorial, very popular bunny butt planter, free easter basket crochet pattern, and free butterfly embroidery pattern.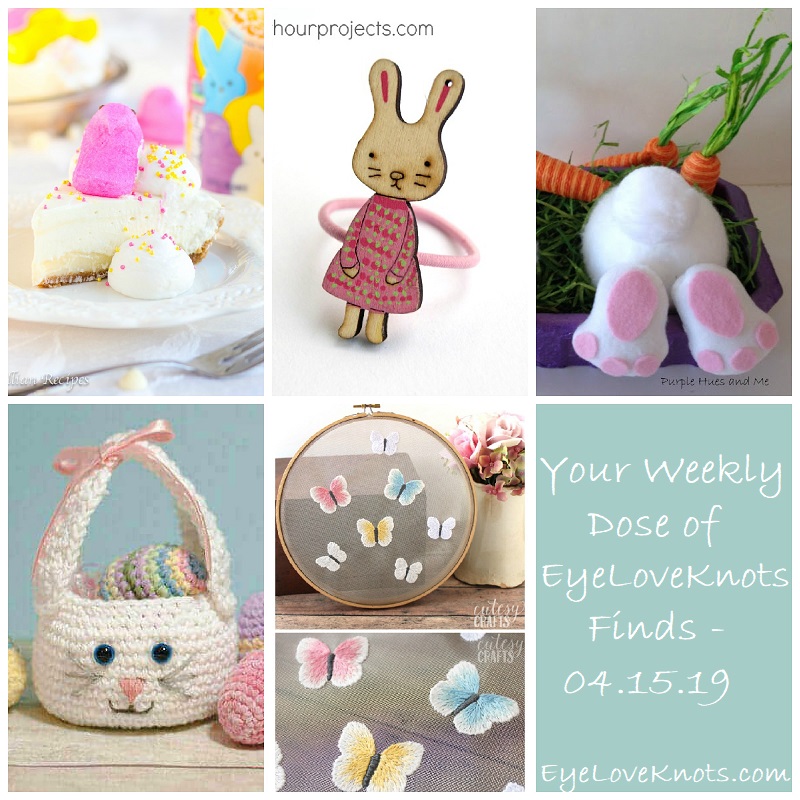 Easter is on Sunday! Woo! Thought maybe some bunny (hehe) would like some fun Easter finds. The Stitching Find is back to Spring.
I always love to share awesome patterns, tutorials, and finds with ya! If you would like to see a review on any of them, feel free to drop me a line!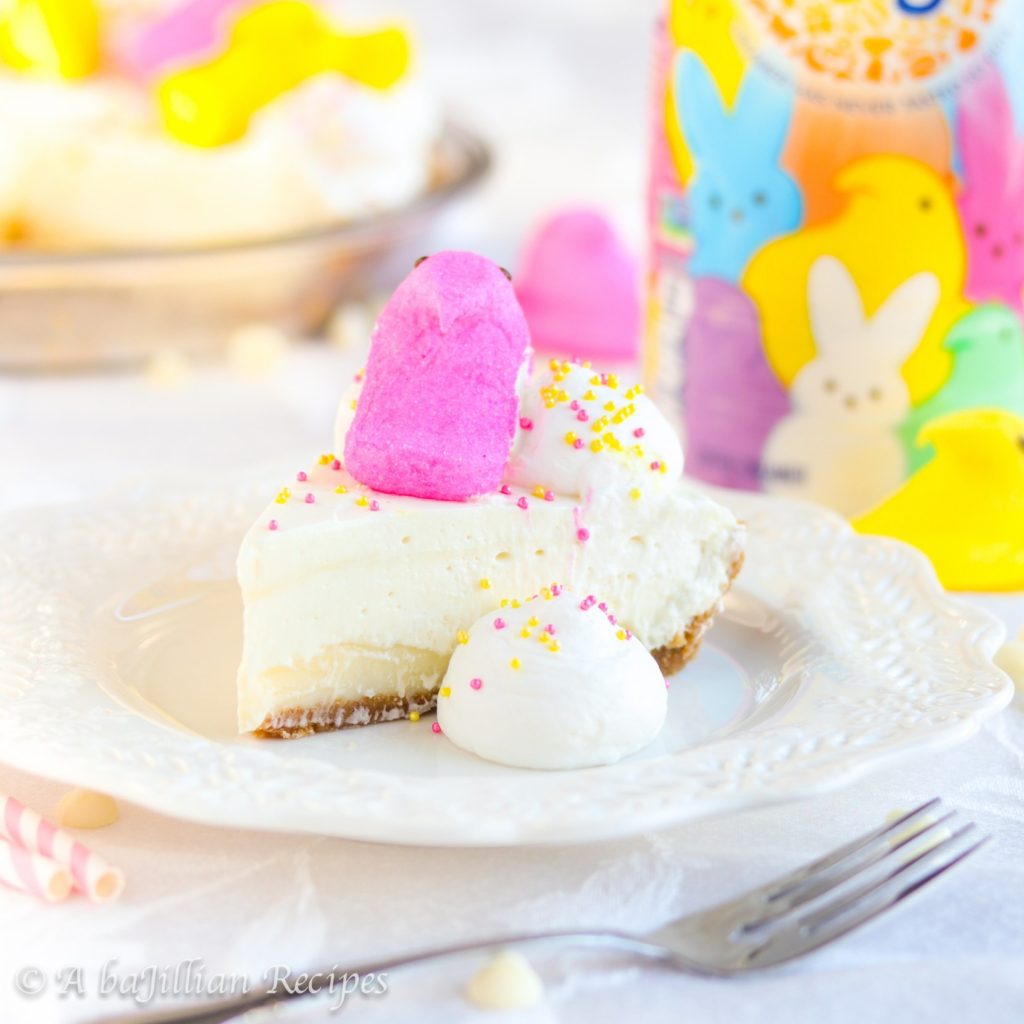 I made this pie as my birthday dessert last month, and it was incredible! HIGHLY RECOMMENDED! At the time, I couldn't find the Peeps Marshmallow Coffee Creamer, so I used French Vanilla, BUT last week I found it! Just in time for Easter. Check out my Peeps S'more Cream Pie Recipe Review.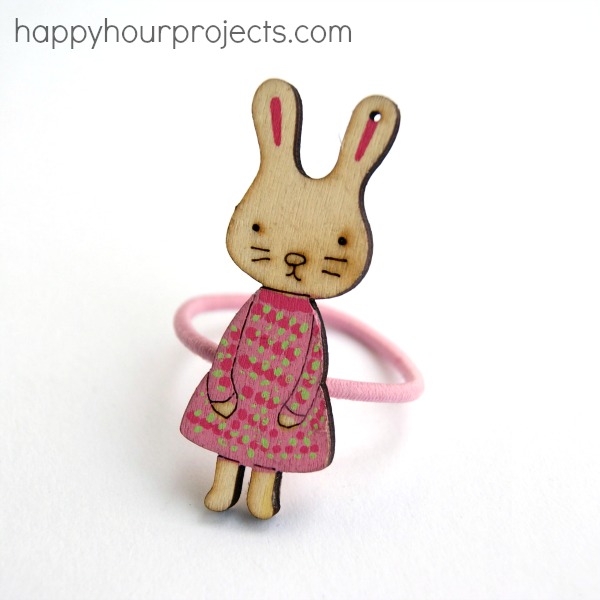 Beauty/Jewelry Find – Easter Hair Ties (DIY with Photos) from Happy Hour Projects:
I searched high and low for an Easter themed jewelry project or hair tutorial, and I came across this adorable Easter Hair Tie from a blog I love (wish she was more active these days). This DIY shows how to attach the bunny to the hair tie, but does not show how to embellish. I love this idea because you can use soooo many different things for embellishing! I am curious to know how the embellishment holds up to wear – does it remain attached for awhile? Or come off easy? If you have tried something similar, please let me know how it has worked for you!
If you aren't familiar with Purple Hues and Me, definitely check this blog out! I LOVE all her upcycling tutorials. Gail creates some quite impressive things from what many would deam trash. Looking at this bunny butt project, Gail used an old carton that once contained tomatoes. I am thinking that the cartons that I get mushrooms in look quite similar, and I wonder if they would work well for a project like this… Hmm…
Back to this find! Make one bunny on one side, and another on the other side, and I think this project would make an awesome centerpiece for Easter, or Spring in general.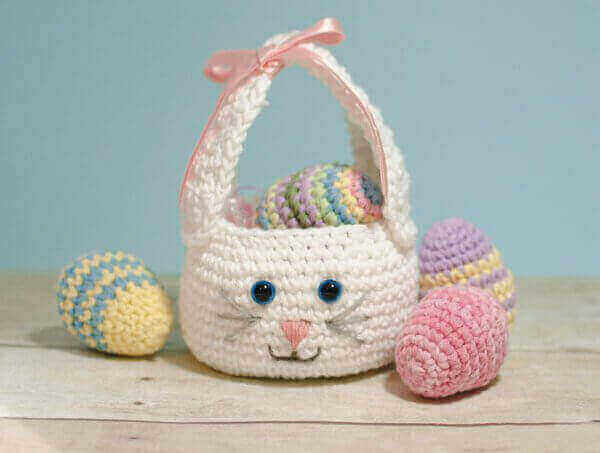 Yarny Find – Easter Bunny Basket, Free Crochet Pattern from Petals to Picots:
In need of a last minute basket for egg hunting? How about this adorable little Easter Bunny Basket?! You can even add some little flowers to embellish around where the ears/handle start.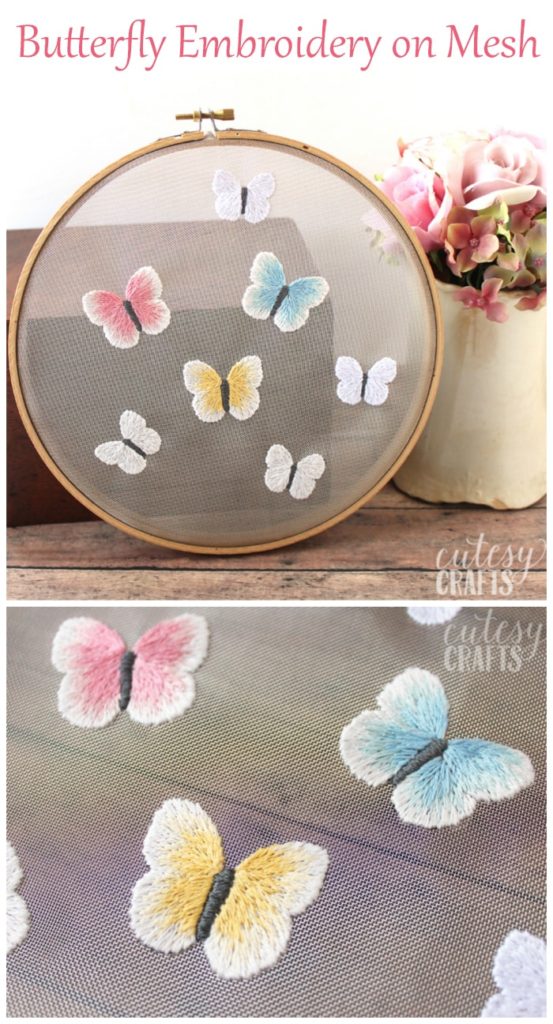 Stitching Find – Butterfly Embroidery Mesh, Free Hand Embroidery Pattern from Cutesy Crafts:
This hoop art is perfect for Spring and Summer decorating. It would also be lovely in a little girls room. I haven't tried any hand embroidery, as me and cross stitching don't get along too well, but I would seriously love to try this out. Free pattern included, but you could easily doodle your own butterflies, and then fill them in similarly.
Join the EyeLoveKnots Crafting Community on Facebook to share your creations, and see what others are up to!