How to organize yarn stash with cube organizers!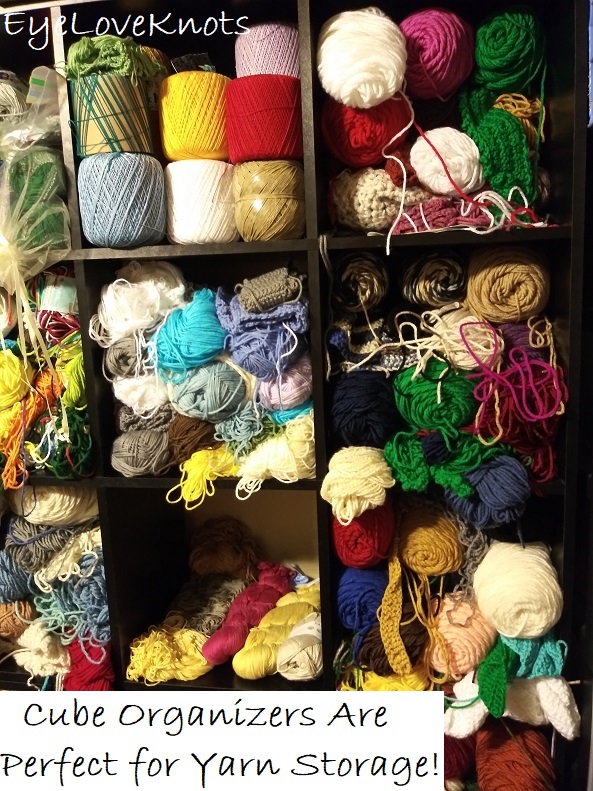 Welcome to the January Pinterest Challenge Blog Hop, hosted by My Pinterventures. The purpose of this Pinterest Challenge is to motivate all the participants of this hop (and you too) to not just pin, but to make it happen!
This month's challenge is a special one because we are changing things up to include a theme now! This month's theme is Organization. When the theme was chosen, I knew I wanted to share my yarn storage with you!
In our tiny little home, we have one spare bedroom that my husband and I split for our hobbies, and well, junk (haha!). I call this space of mine my craft area because that is all it is – yarn storage, and not photographed today are bookshelves with craft books, and all kinds of supplies, as well as a lingerie dresser with other craft goodies like beads and buttons.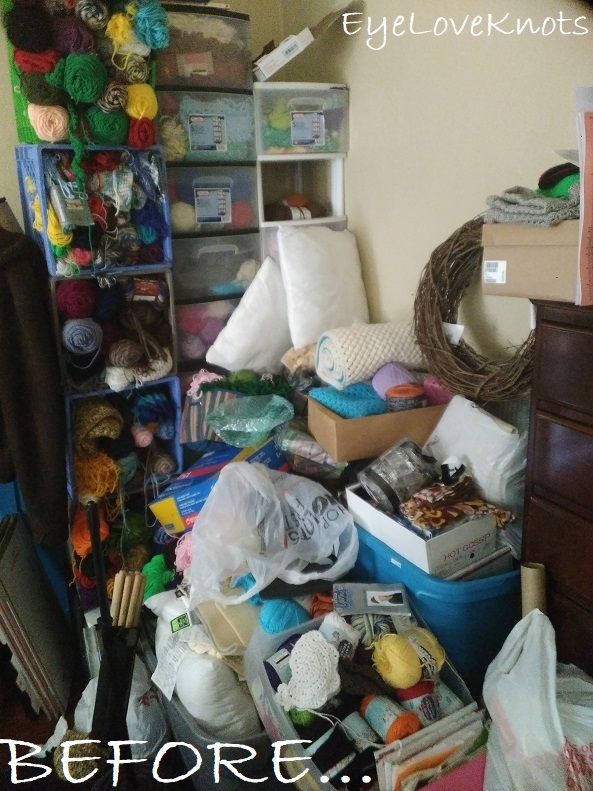 So, in 2017, THIS is how my craft area looked. I KNOW! Really awful, and I definitely couldn't find anything!
For a long time, I have kept my yarn in those clear storage bin towers. It worked, but what I didn't like was that I really couldn't see what I had in there without having to open it, and dig through, plus if you overfill them, the yarn on the top rubs on the drawer above it when opened and closed. After a while, the bins also became kind of weak, and anytime I would try to move them, they would all come apart. I had just gotten fed up with the mess, the bins, and not being able to see all my beautiful yarn at first glance.
So, my inspiration comes from Make and Do Crew with her Easy DIY Yarn Storage Shelves Using Wooden Crates. Find more craft room ideas on my Craft Room Redo pin board.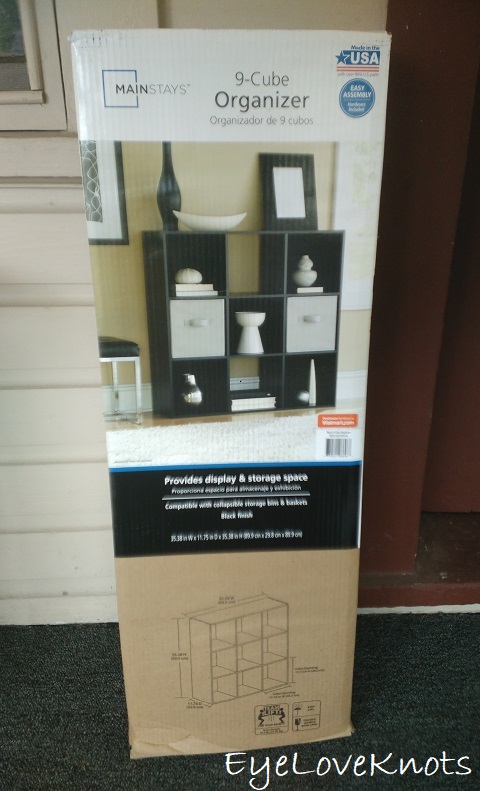 While I love the idea of using the wooden crates, it was a larger cost and time investment than I wanted to put. Working on a budget, I found this 9 Cube Organizer in black for around $40 at Walmart. Excellent!
Real quick before moving on, looking online there were a couple negative comments about edges being sharp, pieces being chipped and not being good quality, but I had zero issues with mine. All hardware was included including five chipboard backings, there were zero chips, the surfaces were (and still are) nice and smooth and the edges in the norm for other shelving pieces I've had. I love my cube shelves, and recommend them! If I had room, I'd purchase more.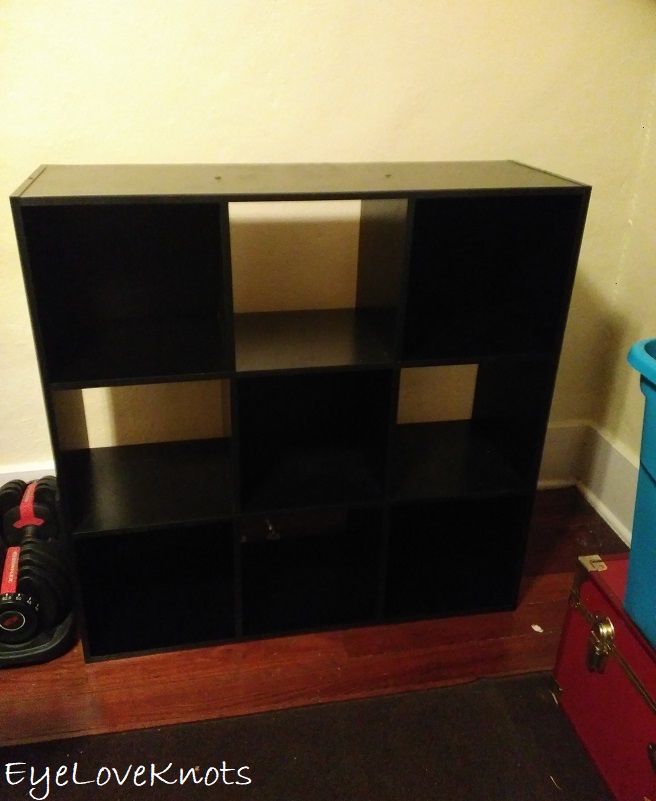 I bought two of them, and my husband built them for me. It fit into the same spot you saw the plastic bins in in my before photo with some room on one side. We stacked the cubes on top of each other, and…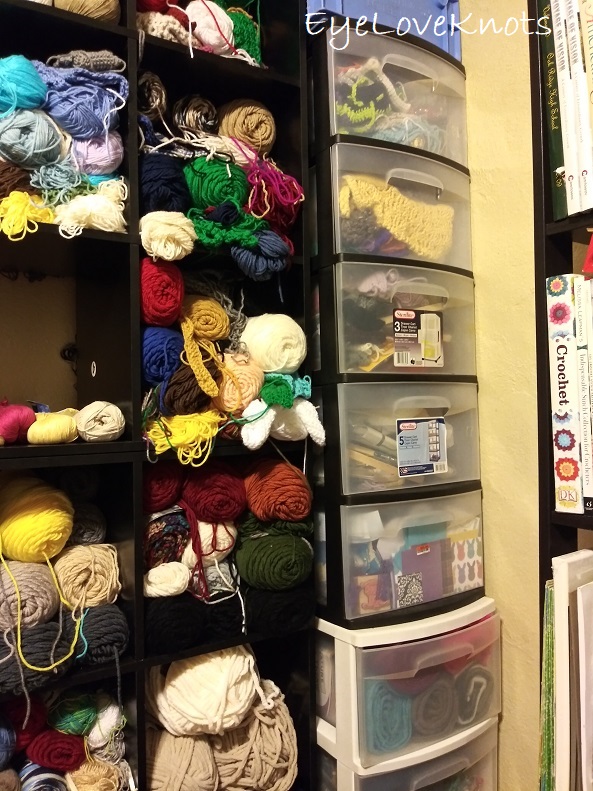 I ended up keeping some of the plastic bins, which I put in the gap to the right. I have a three drawer one on the bottom, and a six drawer one on top.
The top two drawers are finished projects that I will either be using for another project, are waiting to be sold, or waiting to be published on the blog, and the third drawer is one of my many WIP bins. The rest of the drawers are full of supplies – the fourth one has embroidery hoops in there and papercraft overflow, the fifth is full of papercraft supplies and kits, the sixth and seventh are full of throw blankets I intend to crochet around, and the last one has felt in it.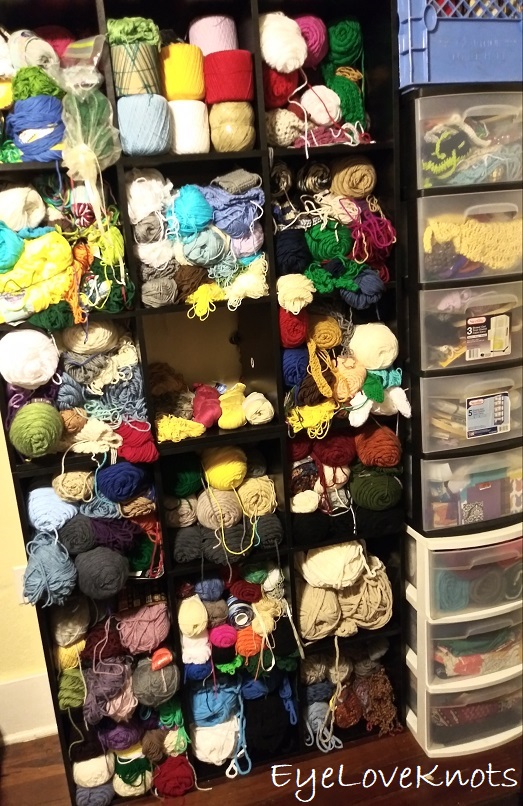 One thing I see in Jess's post, as well as all over the place is that people organize their yarn by color. This definitely makes for a nicer, more cohesive, less overwhelming look, but I organize mine by brand if I can, or by weight – this way, I know exactly what I have just by looking at the cube.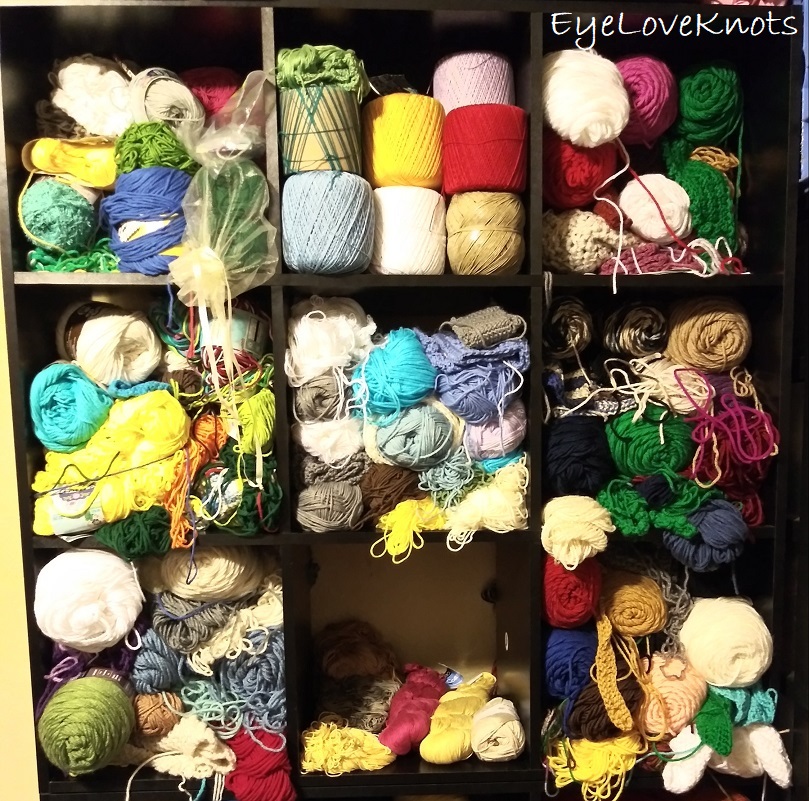 This is the shelf on the top and it has:
Top, Left & Middle, Left: Lily Sugar n Cream, Bernat's Handicrafter Cotton, Crafters Secret Cotton & Misc Worsted Weight Cotton Yarns (like Red Heart Scrubby, Lion Brand's 24/7 Cotton, & Berroco's Modern Cotton).
Bottom, Left: Red Heart Super Saver and Bernat's Super Value (I find them both interchangable).
Top, Middle: Aunt Lydia's #10 Cotton Thread, Artiste #10 Cotton Thread. I even have a skein of thinner Jute there.
Middle, Middle: Baby Bee's Sweet Delight.
Bottom, Middle: Misc Lightweight Cottons (like Berroco's Modern Cotton DK, and Paintbox Yarn's Cotton DK.
All Right Side: Hobby Lobby's I Love This Yarn.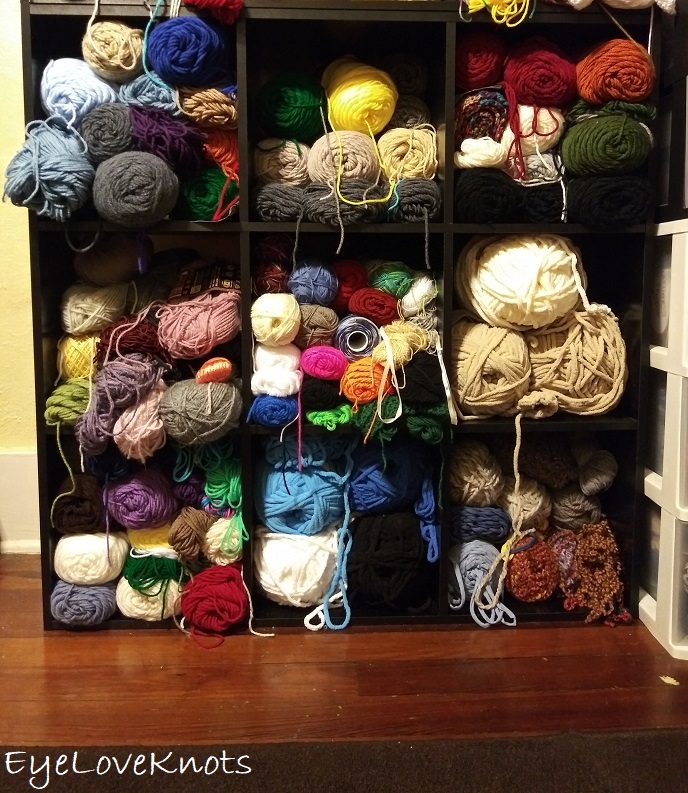 This is the shelf on the bottom and it has:
Top, Left: More Red Heart Super Saver and Bernat's Super Value.
Middle & Bottom, Left: Misc Worsted Weight Yarn (like Lion Brand's Wool Ease, Lion Brand's Touch of Alpaca, Red Heart's With Love, Cascade 220, Berroco's Vintage).
Top, Middle: More Red Heart Super Saver and Bernat's Super Value.
Middle, Middle: Misc #1 to #3 Yarns (like Hobby Lobby's I Love This Sport Weight Yarn, Premier Yarns Wool Free Sock, Premier Yarns Sock, Paton's Kroy Sock).
Bottom, Middle: Bernat's Blanket Yarn.
Top, Right: More of Hobby Lobby's I Love This Yarn.
Middle, Right: More of Bernat's Blanket Yarn.
Bottom, Right: Misc Chunky & Super Bulky Yarns (like Lion Brand's Wool Ease Thick n Quick, Berroco's Vintage Chunky, Lion Brand's Homespun, Bernat's Softee Chunky, Lion Brand's Scarfie, T-Shirt Yarn).
Join the EyeLoveKnots Crafting Community on Facebook to share your creations, and see what others are up to!
Let's see what other things Pinterest inspired! Head over and visit the other hosts to see what they crafted, cooked, built, or tried!
Erlene – My Pinterventures | Jenny – Cookies Coffee and Crafts
T'onna – Sew Crafty Crochet | Marie – Elle Marie Home
Cherryl – Farm Girl Reformed | Beverly – Across the Boulevard
Gail – Purple Hues and Me | Slices of Life | Krista – Teadoddles
Lydia – Life Beyond the Kitchen | Alexandra – EyeLoveKnots
Lauren – Mom Home Guide | Shirley – Intelligent Domestications
Lulu & Celeste | Lynne – My Family Thyme | MM – Coastal Bohemian
Emily – Domestic Deadline | Terrie – Decorate and More with Tip
Kristie – Love my Little Cottage | Cynthia – Create with Cynthia
Terri – Our Good Life | Christina – Christina Faye Repurposed
Terri – Once Upon a Time & Happily Ever After
Pinterest Inspired Projects