This is a crochet pattern review of the Wild Oleander Hooded Scarf designed by Wickedly Handmade. Reviewed by A Stitch Shy of Normal for EyeLoveKnots.
This post contains affiliate links for WeCrochet and Etsy. If you make a purchase by clicking on them, I make a small commission at no extra cost to you. Thanks for your support!
Find the crochet pattern review below. Click here to purchase the pattern from Wickedly Handmade on Etsy.
In a hurry? Pin this for later when you have more time.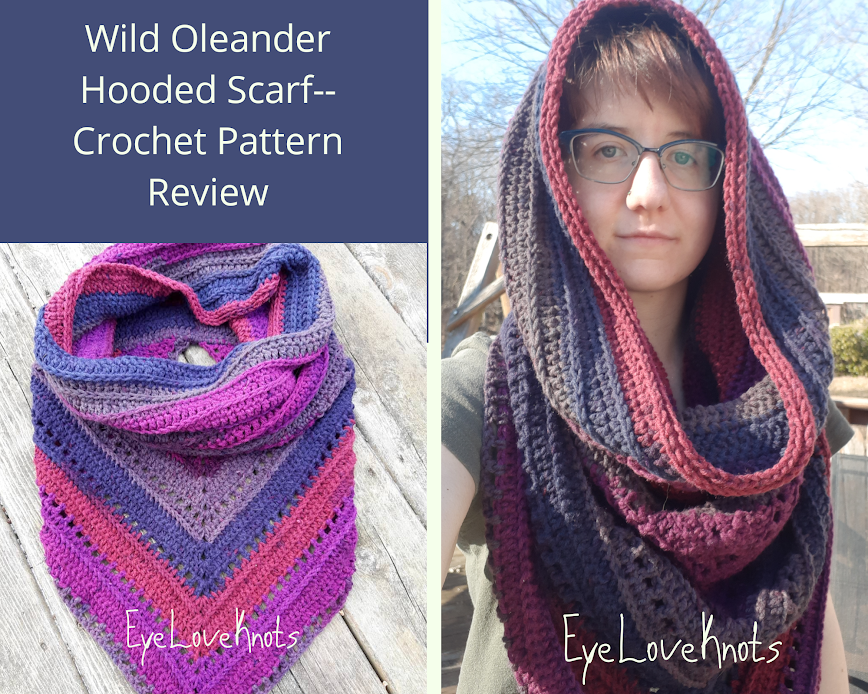 Visit with me on Instagram @astitchshyofnormal for all kinds of awesome crochet makes and inspiration.
For this pattern review, I wanted to try something fun that I wouldn't ordinarily make. I wanted something big and bold that would be an adventure to make and to wear.
Then, as I was browsing around Ravelry, I came across a beautiful photo of a hooded scarf that was colorful and looked oh-so-comfy – I was instantly in love! I've been on a stash-busting kick lately, so I wanted to see if I could tackle two challenges here, and make a pattern to review using something entirely from my stash!
I had some Caron Big Cakes in the colorway "Cherry Compote" leftover from deciding to make a blanket a few years back and never following through. It's a gorgeous mix of red, blue, purple, and a little bit of brown… a perfect colorway for winter coziness! I knew this would be a wonderful combination, and a very warm one at that. Unfortunately, Michigan weather had ridiculous timing, and has been sunny, and nearly Spring ever since I finished the scarf, but I'm sure it'll come back to freezing for at least a day or two so I can properly test this thing out.
The fun part is that this can be worn as the hooded version seen above, but also with the hood down around your neck for a cowl!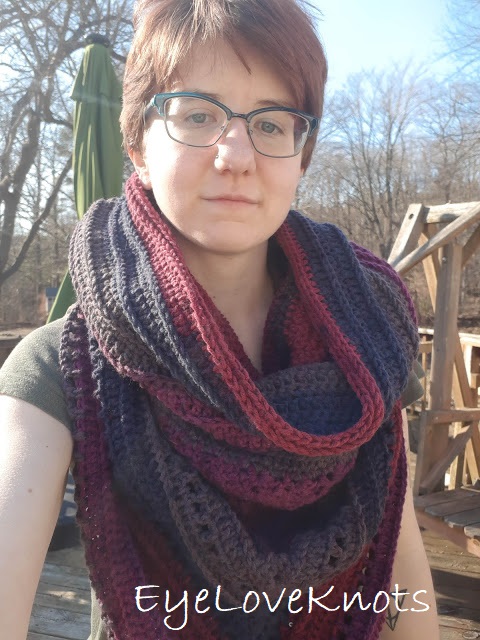 It's very versatile and comfy, and absolutely a wonderful design.
Materials I Used:
Material Notes:
The original scarf from the designer was made in Red Heart Unforgettable, and this would make a more lightweight scarf. It would still be warm and comfy but not as bulky as my result. I plan to do this next time for a spring version!
I did not add fringe on my scarf, so if you choose the same yarn and pattern combo you might end up needing a cake and a half. I loved the look of fringe but since I plan to wear this for warmth more than fashion, fringe would just get in the way being zipped up in a winter coat every day. That seemed like a headache I'd rather avoid!
Time Spent:
Approximately 6-7 hours
Measurements:
Laying flat, approximately 17″ wide (at the top cowl portion) and 36″ long (top of the cowl to the bottom point of the triangle).
I did lightly steam block this scarf, although it was not really necessary. I recently purchased a steamer and wanted an excuse to try it. It did help relax the fabric and it probably gave me an inch or two extra in both directions!
Gauge Info:
The original pattern gauge suggests measuring the scarf after row 8, and gives measurements of 5.5″ tall and 10″ wide.
When I measured at this point in mine, I was just slightly larger than these dimensions (about 5.75″ tall and 10.5″ wide) so I continued without changes. I was fine with a larger scarf, knowing the heavier yarn would affect gauge.
Pattern Notes:
Since I made this pattern, the designer has updated it to clarify the main thing I was slightly confused about with this pattern. The original version had the spacing slightly offset in the rows that involve chaining between stitches, and was not perfectly symmetrical. I followed the directions exactly as written, and finished my scarf before she clarified and changed this. There are no problems with the look of my finished scarf, but using the updated directions will probably give an even better result now that it's symmetrical.
This pattern is very simple once you get going! Like most triangle scarves, it starts with more in-depth instructions and then once you get going it's just repeats until you reach the desired size. This would be very easy to customize if desired, I could see a smaller triangle and a shorter cowl being a cute little scarf!
If I were to do this again with this same yarn, I would have stopped a couple repeats earlier in the triangle and left out a few rows of the hood. I'm short and my final scarf just ended up being the tiniest bit overwhelming on me!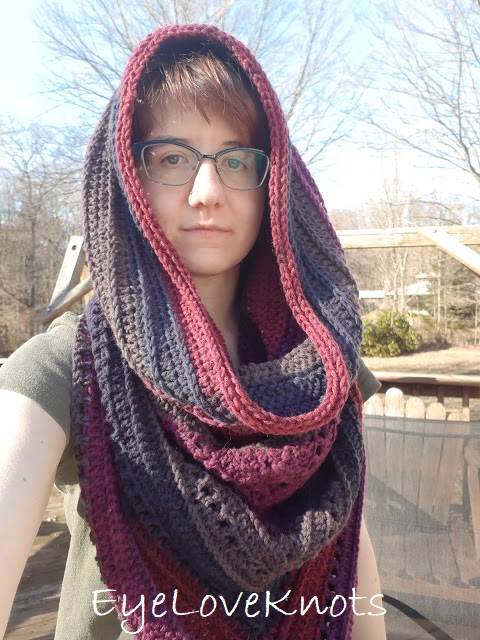 In the end, I am very glad I chose to try this pattern and I will definitely do another one. I'm already planning yarns for my next one!
Join one of our awesome Facebook groups to share your creations, and see what others are up to!
– Yarn Crafts & Coffee Community
– DIY Home On Rockwood Lane
– Alexandra Lane Lifestyle
Linked Up To…
Craft Schooling Sunday – Creative Jewish Mom
Unlimited Monthly Link Party #10 – Grammy's Grid
Happiness is Homemade Link Party #314 – Create with Cynthia
Handmade Monday #167 – Sum of their Stories
Ginx Woolly Linx Party March – Ginx Craft
The Really Crafty Link Party #209 – Keeping it Real
Craftastic Monday – Sew Can Do
Little Cottage Link Party #43 – Love my Little Cottage
Weekday Wear Linkup – Away from the Blue
Motivational Monday – Claire Justine
Fabulous Party #311 – Lou Lou Girls
Linky Ladies Party #180 – The Purple Poncho
Turning Heads Linkup – Elegantly Dressed and Stylish
Confident Twosday Linkup – I do deClaire
{Wow Me} Wednesday #446 – Ginger Snap Crafts
Hookin on Hump Day #211 – Moogly Blog
Your Whims Wednesday #451 – My Girlish Whims
The Wednesday Link Party 339 – The Stitchin' Mommy
To Grandma's House We Go Link Party 184 – Chas' Crazy Creations
Waste Not Wednesday 197 – Faeries and Fauna
Tuesday Turn About #40 – My Wee Abode
Scrappy Stitchers Link Party #61 – Stitches n Scraps
Style Six Link Up – The Queen in Between
Thursday Favorite Things #431 – An Artful Mom
Creatively Crafty Link Party #215 – Life Beyond the Kitchen
Creative Compulsions Linky Party #51 – My Bijou Life
Trendy Thursday LinkUp – Thirty Minus One
Thursday Fashion Files #250 – Curly Crafty Mom
Pin Party #360 – The Pin Junkie
Traffic Jam Weekend #226 – My Bijou Life
Best of the Month Link Party March 2020 – Calypso in the Country
Handmade & Otherwise Weekly Link Up Week 41 – Petals, Pies and Otherwise
Create, Bake, Grow & Gather Party #411 – Shabby Art Boutique
Link Up – Lizzie in Lace
Snickerdoodle Create Bake Make Link Party #327 – EyeLoveKnots
Link Your Stuff – Annemarie's Haakblog