This is a crochet pattern review of the Body Language Sweater by Knits 'n Knots.
This post contains affiliate links for WeCrochet. If you make a purchase by clicking on them, I make a small commission at no extra cost to you. Thanks for your support!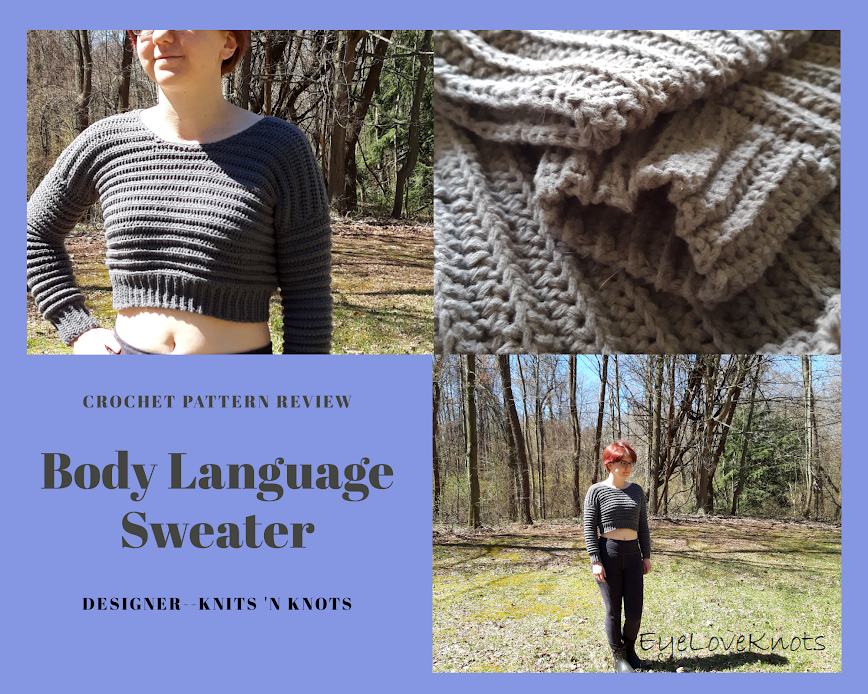 Visit with me on Instagram @astitchshyofnormal for all kinds of awesome crochet makes and inspiration.
This pattern has been making the rounds on social media! I follow the designer so when she originally posted it, I was excitedly watching all the tests and enjoying the gorgeous pictures. But I was scared to make (and wear!) a cropped sweater, so I came up with ideas and excuses for why I couldn't make one. I'm ashamed now that I could have had this gorgeous piece weeks ago, but I was telling myself that "I'd never wear it", or "it wouldn't look good on me like it does on these other people". All of these were total lies, and I wish I'd had the confidence to ignore them earlier!
I was finally convinced when I saw a few different people I follow on Instagram post their finished makes of this pattern, and they all looked so happy and confident and lovely! All of them said basically the same thing in their captions–they loved how it felt, they loved how flattering it was on every body type, and it was one of those magical garments that just works for everyone!
I was finally convinced and I bought the pattern. I made it, it went super fast, and it was so easy. Even after I finished seaming it all together, I was nervous…then I put it on and looked in the mirror.
My thoughts? To quote the famous anchorman Ron Burgundy…"I look good. I mean really good. Hey, everyone! Come and see how good I look!"
Obviously, that's an exaggeration, but only barely! This sweater gives me so much confidence. It just works with your body to make you look (and feel) so amazing. I've seen it on so many body types and everyone has that same face of amazement at how wonderful they feel wearing it.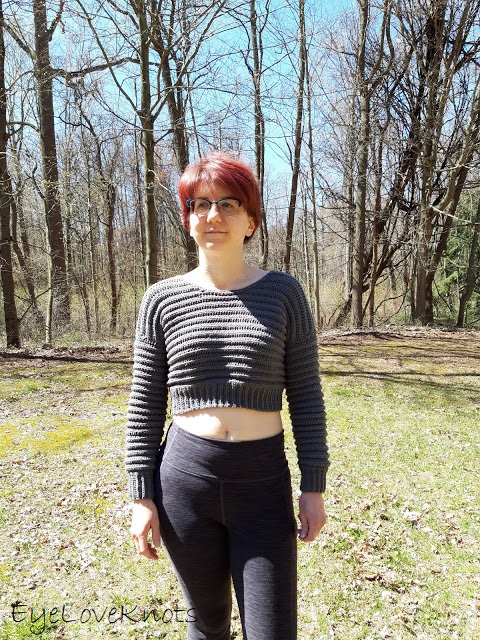 I had the confidence to post a picture of myself wearing it on Instagram, and I still can't believe I uploaded a picture of myself in both leggings and a cropped sweater for the world to see, but that's how amazing this sweater is….and then others said the same as me! They were afraid to make/wear something cropped, but my post finally convinced them!
So this pattern is spreading organically throughout the crochet world and I absolutely love that. People are making it, raving about it, and that finally convinces others to do the same. That's my favorite thing about sites like Instagram and how we can all spread the joy of something like this around to others.
Materials I Used:
Material Notes:
This was actually the yarn recommended by the designer, although her website includes other suggestions that her testers used. I had heard that it's very soft and comfy…and that's totally correct, it is!
She recommends 5 skeins for the size small, which is what I made, and this would probably be best. I got very close and if I was doing it again I would still buy 5. I had an interesting situation that I'll explain quickly below:
I ordered my yarn through curbside pickup at Joann, and because I couldn't go in person to look at dye lots, my 5 skeins ended up being 3 of one dye lot and 2 of another. And it WAS noticeable, at least in indoor light. But with current circumstances, I had to work with what I had! So I made the main body with the larger dye lot, and then striped the two for the sleeves in the hopes that it would look intentional and maybe a little stylish! This did work out, luckily! But I had been extremely careful with my tension and conserving every inch of yarn, so if I was not striping and being so careful I would likely have used up the entirety of four skeins and possibly even scraps from a fifth.
If you look at the below WiP picture of the first sleeve, you can see that the striping is indeed visible. But if you look at any of the outdoor pictures when I'm modeling it, you can't even tell. So I think lighting made this situation seem scarier than it really was.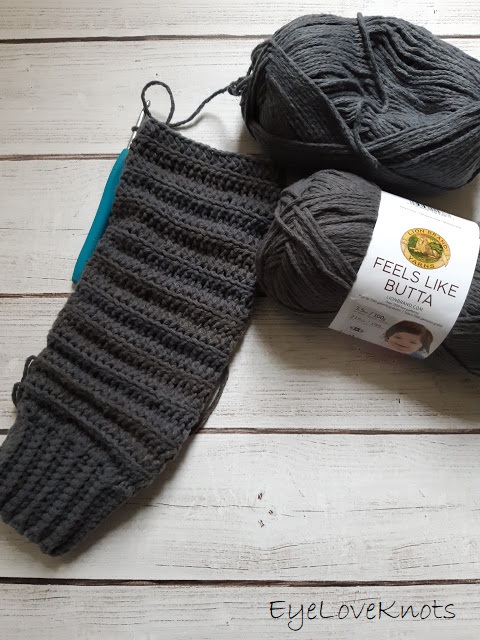 Time Spent:
10-12 hours, estimated. Assembly took longer because of my striping, and therefore what felt like a million ends to weave in.
Measurements:
I usually wear sizes XS or S in most tops, and with this being a closer-fit item I went with small to be safe. It fits great, so if you're in between or unsure I would say go with the higher of the two.
From the top of my neckline to the bottom of the ribbing, my sweater is about 14″ tall. It measures about 18″ across underneath the armpits, and my sleeves are about 16.5″ long measuring from where they're attached to the main body.
Gauge Info:
Her gauge says that 4″ should be 9 rows tall and after being worn, mine is 10 rows in that measurement. She also suggests 16 stitches in that 4″ and mine is 18.
However, this stitch pattern is VERY stretchy so there is definitely some wiggle room in the gauge, and she addresses this in the pattern. I believe my swatch came out similar, and I could lightly stretch it in either direction to meet gauge easily.
Pattern Notes:
This pattern was very easy to understand!
She explains everything thoroughly, with charts of how exactly it should fit and how to pick your size.
It's written efficiently with the different stitch counts included in parentheses after each step, so when I make another one I plan to print it out and highlight my relevant numbers. I didn't do this until it was too late because I'm stubborn but this would have helped!
Throughout the pattern, she includes notes of how to check your fit in progress, and how to modify it for extra length if you need. I did not do any of these changes, and my fit was perfect, but everyone has different bodies! I may add length next time just to see how this garment looks in a full-length sweater.
I did not find any problems or incorrect counts, and everything was phrased in a way that I could understand.
The assembly was a little complicated just because I was unsure of how to attach the sleeves. What you do is seam the front and back at the shoulders, then you seam up the sides only partway. You attach the sleeves, which were worked in the round, and then finish seaming the sides! This was a unique way to do it that I hadn't seen before, but it led to a smooth seam and no armpit holes or anything of the sort. I recommend her technique for sure!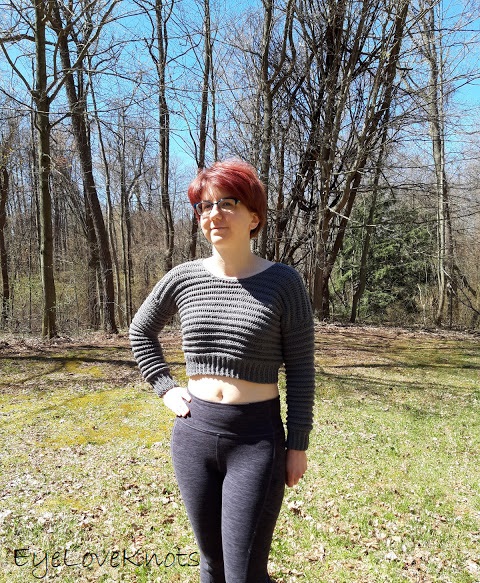 I am so glad I took the leap and made this gorgeous little sweater. What color should I do next? (I'm thinking forest green would be absolutely amazing.)
Don't forget to visit with me on Instagram @astitchshyofnormal for all kinds of awesome crochet makes and inspiration.
If you love to DIY: Join the EyeLoveKnots Crafting Community on Facebook to share your creations, and see what others are up to!
If you love Fashion: Join the Pretty Nails & Fun Fashion with EyeLoveKnots Facebook group to share, and see what others are up to!
Linked Up To…
Handmade Monday #176 – Sum of their Stories
The Really Crafty Link Party #218 – Keeping it Real
Ginx Woolly Linx Party May – Ginx Craft
Craftastic Monday – Sew Can Do
Little Cottage Link Party #52 – Love my Little Cottage
Weekday Wear Link Up – Away from the Blue
548th Inspire Me Tuesday – A Stroll Thru Life
Fabulous Party #320 – Lou Lou Girls
Linky Ladies #185 – The Purple Poncho
Craft Schooling Sunday – Creative Jewish Mom
Happiness is Homemade Link Party #323 – Design Morsels
All About Home #40 – Common Ground
Turning Heads Linkup – Elegantly Dressed and Stylish
Confident Twosday Linkup – I do deClaire
Your Whims Wednesday #460 – My Girlish Whims
{Wow Me} Wednesday #455 – Ginger Snap Crafts
To Grandma's House We Go Link Party 193 – Chas' Crazy Creations
Waste Not Wednesday 207 – Faeries and Fauna
Tuesday Turn About #49 – My Wee Abode
Hookin' on Hump Day #215 – Moogly Blog
Scrappy Stitchers Link Party #63 – Stitches n Scraps
Thursday Favorite Things #440 – An Artful Mom
Creatively Crafty Link Party #224 – Life Beyond the Kitchen
Creative Compulsions Linky Party #60 – My Bijou Life
Traffic Jam Linky Party #234 – My Bijou Life
May 2020 Best of the Month – Calypso in the Country
Pin Party #369 – The Pin Junkie
Create, Bake, Grow & Gather Party #420 – Shabby Art Boutique
Thursday Fashion Files Link Up #259 – Curly Crafty Mom
Trendy Thursday LinkUP – Thirty Minus One
Link Up – Lizzie in Lace
Snickerdoodle Create Bake Make Link Party #336 – EyeLoveKnots
Unlimited Monthly Link Party 13 – Grammy's Grid