This is a crochet pattern review of the You're Not Alone Cowl pattern from designer The Cozy Cottage Crochet. Review done by A Stitch Shy of Normal for EyeLoveKnots.
This post contains affiliate links for Lion Brand Yarn and WeCrochet. If you make a purchase by clicking on them, I make a small commission at no extra cost to you. Thanks for your support!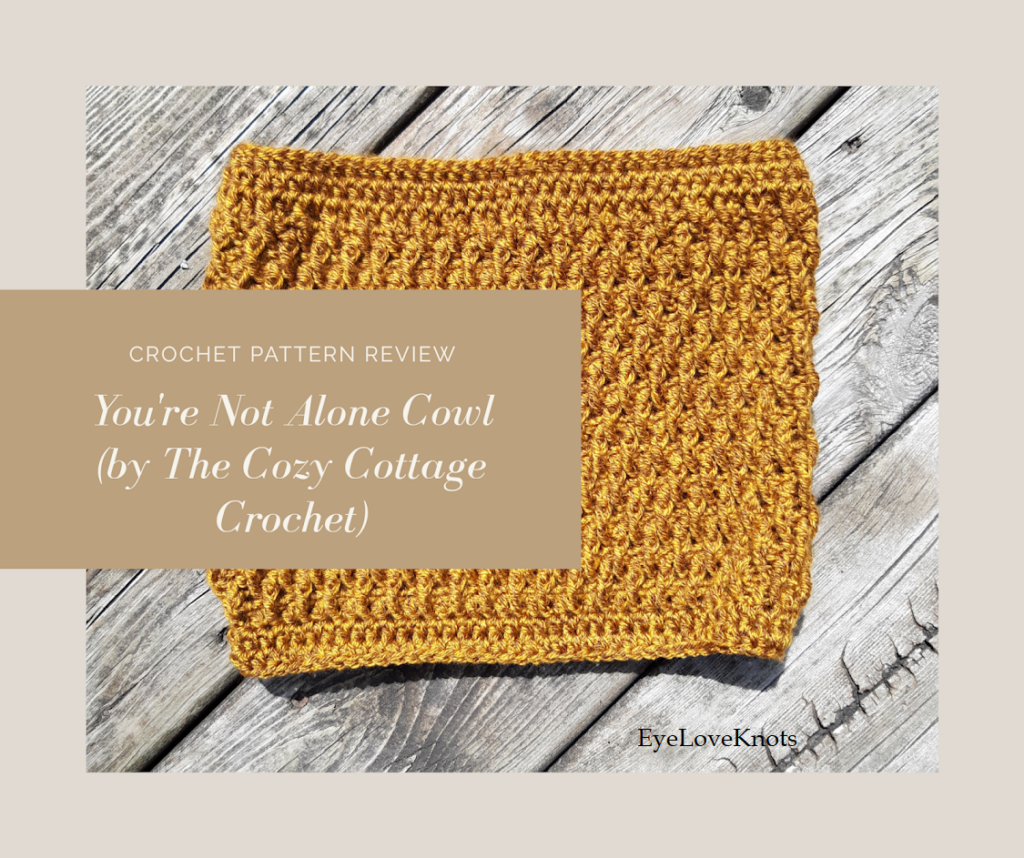 Visit with me on Instagram @astitchshyofnormal for all kinds of awesome crochet makes and inspiration.
I love the concept of this cowl. From the beginning, the designer emphasizes how it was created to remind us in times of stress that there are sources for support and love all around us. She intends this pattern to be used to make gifts for others to show them how much you love them. I find that adorable, and I've used this pattern to begin a sort of "craft trade" circle amongst my coworkers!
I won't bore you with the specifics, but so far I have traded away two of these cowls and a third mystery item is in progress, and I've received a range of items from a leather keychain to a resin trinket box! It's so much fun, and the idea of this cowl's design fits perfectly into that world of trading and sharing and creating a community of friends.
This pattern is so easy but looks very impressive, so it's a wonderful option for a gift because it says that you thought of the recipient and wanted them to have something gorgeous and special! I can totally see this one being a great option for holiday gifts, especially in some rich greens and burgundy shades as well as this exact gold I chose.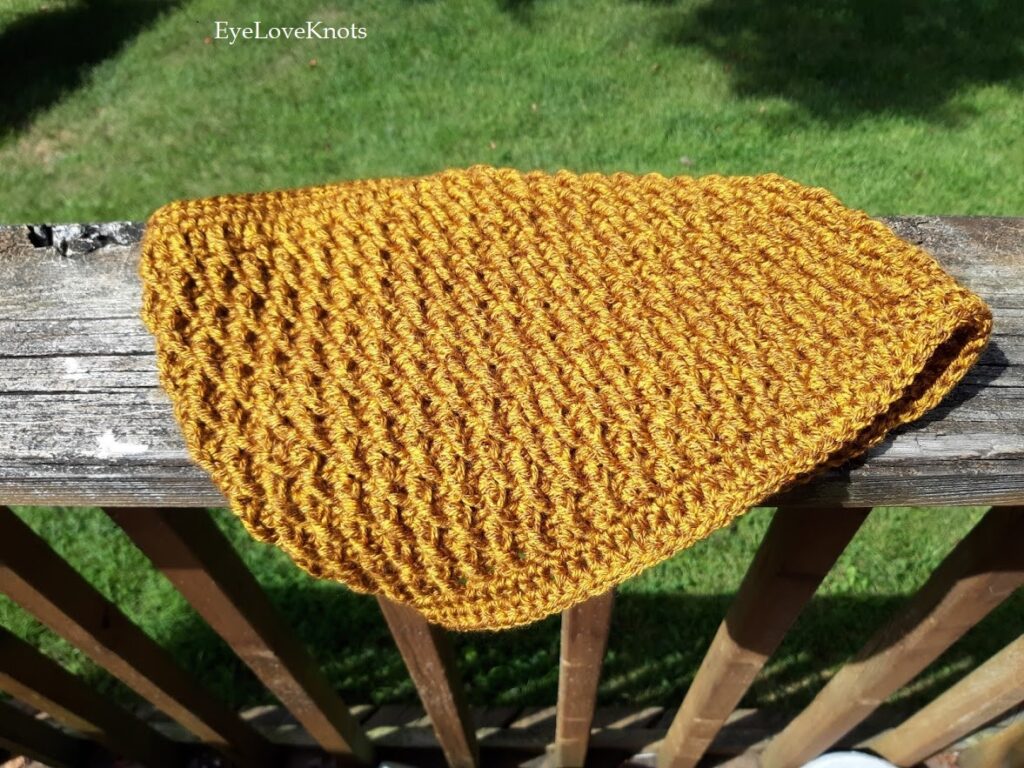 Materials I Used:
Material Notes:
This pattern is written for a medium worsted weight yarn but allows for a lot of customization to work with a range of different options. The yarn I used, the Basic Stitch Anti-Pilling, is on the thicker side so I did modify stitch count. The designer walks you through how to do this, so it's not difficult to alter it to your desired size or yarn. If you're using something similar, she starts with a stitch count of 90 but I scaled that down to 78.
I did not do a gauge swatch, but rather I did the beginning foundation row until it was the intended size (she gives dimensions), then used the same stitch count for the remainder of the pattern.
I found this yarn to be a perfect fit for this pattern! The color looks absolutely amazing with this stitch texture, and the tonal heather look gives it such an interesting touch. I had people ask me what other colors were available and I was slightly disappointed to find that the Basic Stitch Anti-Pilling only has the one colorway that looks like this! I wish there was a purple or blue with that gorgeous tonal look. They do offer a wide range of colorways, however, and I suppose I can go to my old favorite of Heartland to get the look I'm going for in other shades. It would just require figuring out my stitch count over again because Heartland is very close to this yarn (I quite often use them as substitutes for each other) but I want to say it's just a touch thinner.
The designer originally used Chic Sheep for her cowl, which is a wonderful choice and if I had been intentionally buying yarn after choosing this pattern, I likely would have followed this suggestion. However, I actually bought the yarn first and then picked a pattern (as many of us often do), so I was committed to using what I did.
The finished cowl is incredibly soft and squishy. Given that it's only the beginning of September, neither of the recipients have yet had a chance to wear it on a cold day, but on the first day we get a real chill here in Michigan, I'm sure I'll see them both wearing it when they get to work! It feels like it will really add some warmth. I mean, look at this gorgeous thick texture: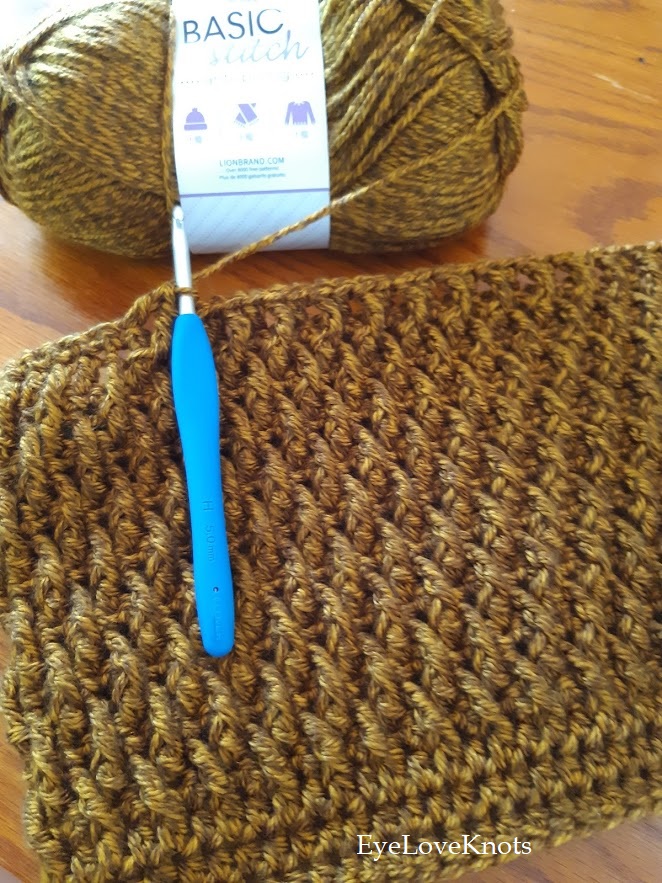 I do not have pictures of myself wearing this one because of the reason I was making them. Since these were for other people, I wanted to reduce the risk of spreading germs, so I worked on them as carefully and cleanly as possible and then washed them before passing them on. It seemed weird to also model it when it would be for someone else, in this situation.
Time Spent:
Roughly 3-3.5 hours with this yarn on the thicker side, it might take a bit longer if you use a yarn closer to her gauge.
Measurements:
As written in the pattern: flat width of 11 inches (or 22 inches around) height of 9.5 inches.
Mine ended up being just over that width at 11.5 (so 23 inches in circumference), and just a touch taller at 9.75-10 inches tall (depending on if I stretched it a little or not).
Gauge Info:
In this case as I did not do a gauge swatch, this isn't very important information. This pattern doesn't really require it, since it's just "do the foundation row until you like the size, then make it as tall as you want".
Just for a comparison, my gauge would have been noticeably larger (or fewer stitches would have "fit" in the listed measurements), so if I followed her exact counts I would have had a cowl that was quite large.
Pattern Notes:
I loved this pattern and experienced zero issues with it!
I only had a few false starts while I figured out the correct count. I was not considering this yarn being thicker when I first started out, so I originally did her written stitch count but quickly figured out that my width would have been more like 16-17 inches laying flat, and that would be pretty large for a warm cowl. I believe on my third try, I figured out the correct stitch count, and I maintained that through both cowls I made. I did the modifications the exact same way (or as close as I could remember for the second one) on both.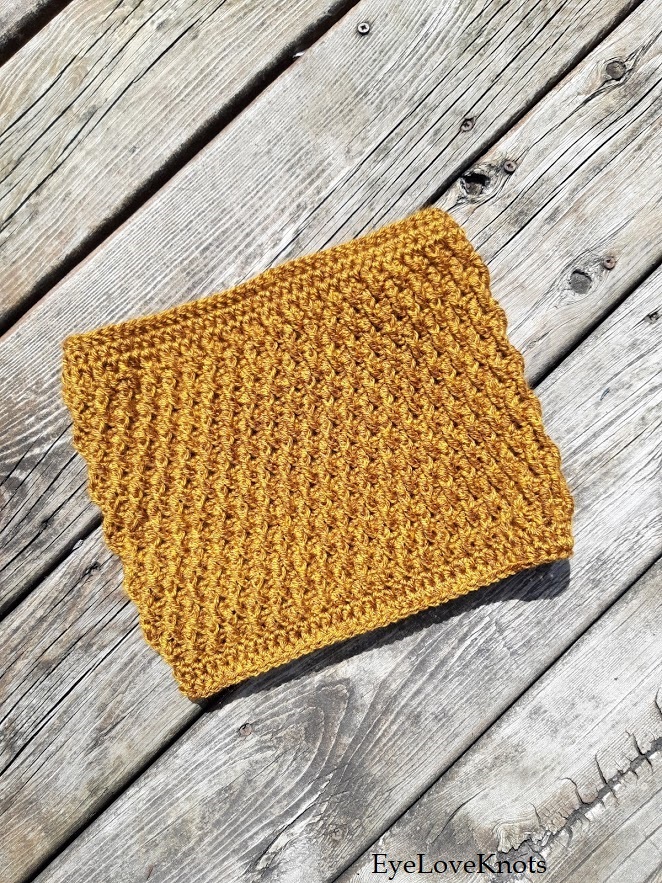 The designer includes a handy chart within the pattern that references which row to repeat each time, and that really helps if you print it out and are crossing them out as you work through it.
The designer, Hannah, is very helpful and kind both in the pattern and on social media. I now have a long list of designs from her that I want to try in the future! This pattern was a completely positive experience all around and I always want to support designers who obviously love the craft this much.
Don't forget to visit with me on Instagram @astitchshyofnormal for all kinds of awesome crochet makes and inspiration.
If you love to DIY: Join the EyeLoveKnots Crochet & DIY Community on Facebook to share your creations, and see what others are up to!
If you love Fashion: Join the Alexandra Lane Lifestyle Facebook group to share, and see what others are up to!
Linked Up To…
Scrappy Stitchers Link Party #67 – Stitches n Scraps
Thursday Favorite Things #457 – An Artful Mom
Creatively Crafty Link Party #241 – Life Beyond the Kitchen
Artsy-Fartsy Party #310 – Artsy Fartsy Mama
Encouraging Hearts & Home Blog Hop – Apron Strings and Other Things
Creative Compulsions Linky Party #77 – My Bijou Life
Pin Party #386 – The Pin Junkie
Traffic /Jam Weekend Linky Party #250 – My Bijou Life
The Hearth and Soul Link Party – April, the 21st Century Housewife
Handmade Monday #193 – Sum of their Stories
Ginx Woolly Linx Party September – Ginx Craft
Craftastic Monday Link Party – Sew Can Do
Unlimited Monthly Link Party 16 – Grammy's Grid
Craft Schooling Sunday – Creative Jewish Mom
The Really Crafty Link Party #232 – Keeping it Real
Fabulous Party #337 – Lou Lou Girls
Linky Ladies Party #193 – The Purple Poncho
Happiness is Homemade Link Party – Create with Cynthia
Party in Your PJs #326 – The Apple Street Cottage
{Wow Me} Wednesday #472 – Ginger Snap Crafts
Hookin' on Hump Day #223 – Moogly Blog
The Wednesday Link Party 365 – The Stitchin' Mommy
Waste Not Wednesday 223 – Pretty DIY Home
Friday Favorites – Busy Being Jennifer
Create, Bake, Grow & Gather Party #437 – Shabby Art Boutique
Link Your Stuff – Annemarie's Haakblog
Scraptastic Saturdays Party 306 – Scrapality
Embracing Home and Family Link Party #8 – The Everyday Farmhouse
A Morning Cup of Joe Linky Party – The Cottage Market
Snickerdoodle Create Bake Make Link Party 353 – EyeLoveKnots