This is a crochet pattern review of the Sunset Sweater pattern from ByKaterina. Review done by A Stitch Shy of Normal for EyeLoveKnots.
This post contains affiliate links for Lion Brand Yarn and WeCrochet. If you make a purchase by clicking on them, I make a small commission at no extra cost to you. Thanks for your support!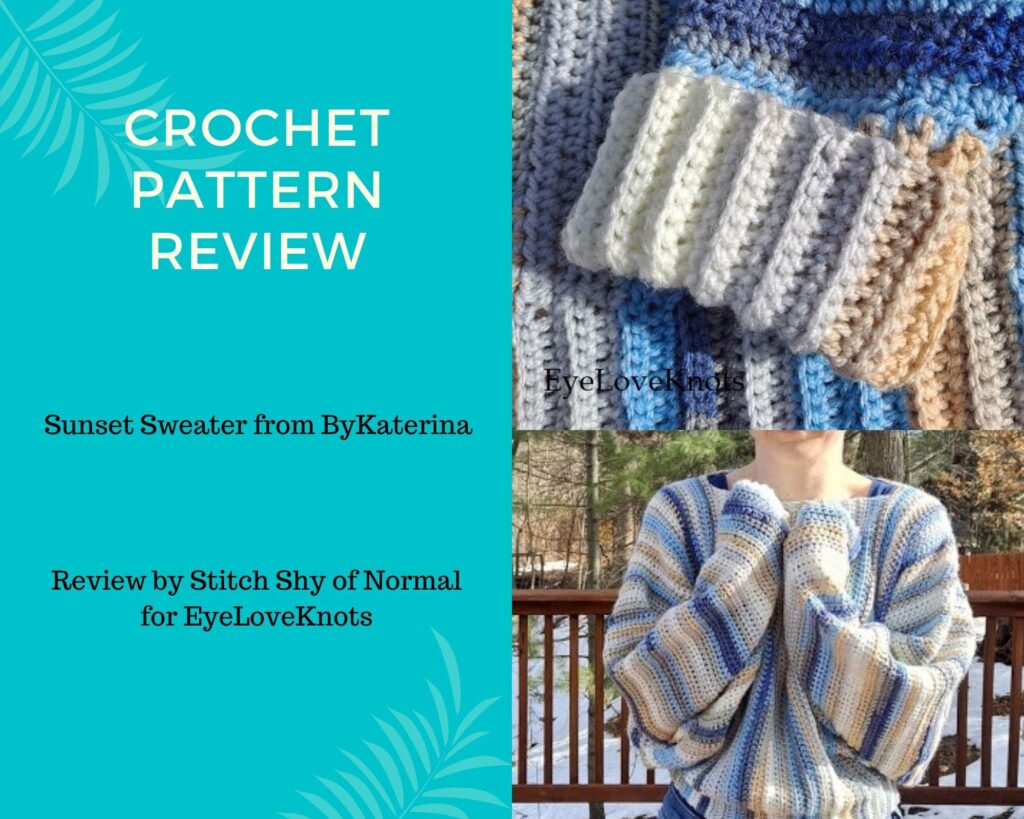 Visit with me on Instagram @astitchshyofnormal for all kinds of awesome crochet makes and inspiration.
I realize it's only the beginning of March, but for many people like me, we celebrate what I like to call "fake spring". It's when the temperature rises from an average of below-freezing to an average of slightly-above-freezing. Stubborn people like my husband switch to only a light jacket instead of a winter coat, and I personally celebrate by putting away my snow boots only to regret that and pull them out a few weeks later.
So I chose to embrace fake spring and make myself a lighter sweater that I could still wear under a coat for now, but hopefully soon use instead of a bulky winter coat! Hey…a girl can dream!
I immediately knew I wanted the Sunset Sweater. It's been on my Ravelry favorites list since I first spotted it, and it's just so gorgeous. It's an interesting silhouette, it was literally designed to look good with variegated yarn, and it looked so flattering and also comfy! It was a no-brainer.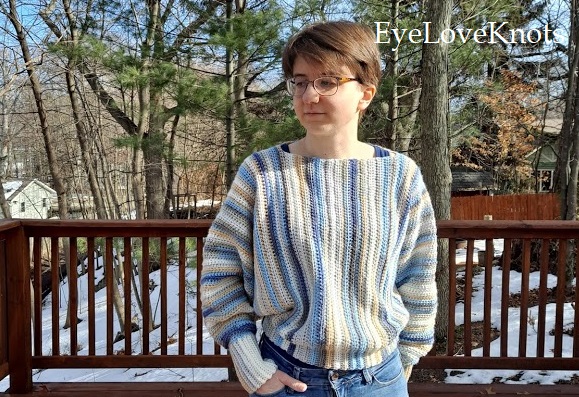 I had a lot of fun making this simple-but-gorgeous piece, and I hope you check it out as well! This sweater is definitely one that will get people asking "where did you buy that?" quickly followed by "there's no way you MADE that!"
Materials I Used:
Material Notes:
I intentionally chose a striping yarn that looked semi-similar to the designer's picture. The pattern being made "sideways" in this way (you're working from front to back with each row) seems to really highlight a variegated yarn.
Similar to my review last month (the beautiful poncho), the intended yarn (Katia Concept Yoga in this case) is an absolutely gorgeous choice that wasn't really available to me. I did put in the effort, but it seemed to be quite expensive and not really available in America. The one place I did find it, it looked like I'd be spending over a hundred dollars on this yarn, and that's just not an option for me right now!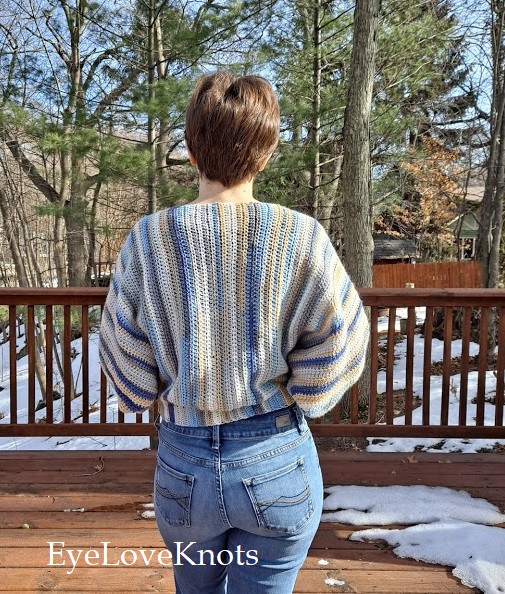 However, I knew Lion Brand had a few options for lighter variegated yarns! I had a backup in mind of Comfy Cotton Blend, although their colorways aren't ideal for this pattern. Then I came across their Ice Cream yarn, one I've used a couple of times. It never really stood out to me as good or bad, it just exists to me. But the striping looked perfect for this purpose, it was the right weight category, and it was much more affordable (closer to 20-30 bucks in total, which is normal for me in a handmade sweater).
Keep in mind that this yarn was not perfect in terms of gauge. However, with how this pattern is written, that was not a big deal. The designer walks you through your own "custom" sizing and has detailed dimensions for every piece. You just need to keep careful notes on how many rows/stitches you did for each part so you can keep it symmetrical! In addition to this being wonderful for getting a great fit, it also helps immensely with using a different yarn. All I had to do was some math comparing my gauge swatch to hers, then finding how many stitches or rows I needed to meet the same dimensions. It took some work, but if you do it all at once before getting started, it would add maybe half an hour of time and effort.
Would I use this again? Yes, I would. I would change a few things that I'll talk about later, but I would purchase this yarn again in order to make this pattern. I think it led to a great finished look, I think the colors worked well, and it was definitely affordable.
Time Spent:
This sweater did take a little while, but it was average for a sweater. I would guess around 10-12 hours. Assembly was pretty easy, the majority of that time was the sleeves, honestly! And like I mentioned, maybe 30 minutes of that time total was spent on figuring out my dimensions.
Measurements:
The pattern gives dimensions in centimeters, so I just measured using that rather than doing math back and forth and potentially messing it up! Any inconsistencies between her suggested sizing and my own is up to the gauge being different, and me trying to size it accurately to myself. I was able to follow pretty well and ended up being 95% happy with my fit!
I made the small, which is supposed to be about 46cm across (or just over 18″), and mine was just barely under that at 43cm. I was satisfied with this part.
Where I messed up a little is the sleeve length, and this is where I'm 5% off of perfection. You work the sleeve by increasing back and forth to reach the full size of the sweater, which means in the end you need a certain "width"…which is really double the length of your finished sweater. This means you have two dimensions to take into account here, and I tried my best to reach a row count that gave me the right width as well as an appropriate sleeve length. My sleeves ended up being about 60cm (23.6″) long, while it's supposed to be about 55 cm (about 2 inches shorter). However, if I had stopped earlier, I would have had a shorter sweater (and it was about as short as I'd want to go). I'm actually not sure how to fix this other than increasing even more in the sleeve. I probably will try this next time, increasing more as I get up to the main body in order to shave off a couple inches of sleeve length.
Don't get me wrong, I'm happy with my fit! It's a slouchy sweater just like it's intended to be, mine is just extra-slouchy! It does allow for me to pull my hands inside for warmth, which is a bonus.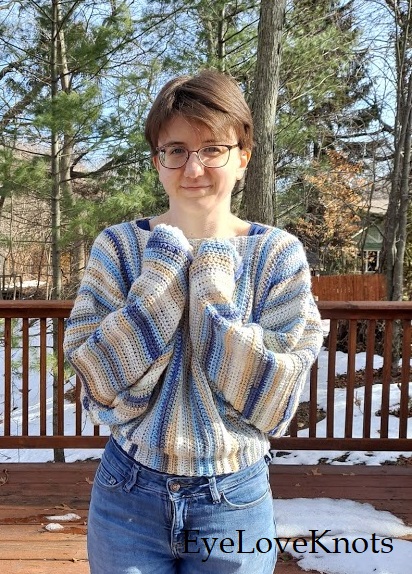 Gauge Info:
In the pattern, the designer lists 10cm as being 16 HDC or 15 rows. Mine ended up being larger than this, in 10cm I had 14 stitches and only 12 rows! As I mentioned, though, it's very simple to modify this pattern to your own sizing and/or gauge. Throughout my project, I often had fewer stitches or rows than the pattern listed. This is likely why I saved a few hundred yards on my yarn usage!
Pattern Notes:
I've raved about it many times here already, but just in case you skipped ahead to just this section–the customizability (that's a word, I swear) of this pattern is the best part by far! You can make this fit any body size or shape with just a little bit of math and a gauge swatch or two.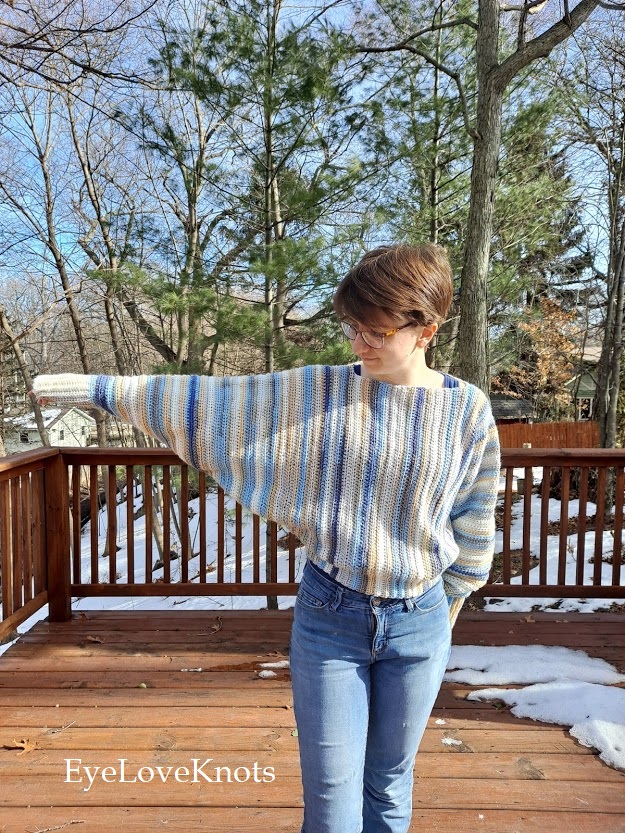 The actual stitching in this pattern is also very simple. It's almost entirely HDC, and this simple texture allows for variegated yarn to shine! It also gives a good drape and provides warmth without being thick or heavy. This sweater will be great for spring or fall weather, because it will block the wind in the harsh evenings!
There isn't any bit that particularly confused me in the stitching, since it's only half-double crochet and the ribbing of back-loop single crochet. My confusion came from splitting into the front and back panels, but I figured out my own solution. Her instructions say to divide the total number of stitches by 3, and place a stitch marker in the middle stitch. I think it's supposed to be by 2, and this is what I did. I actually ended up with an even number so one of my panels has one more stitch than the other, but that's not enough to have any actual effect.
The sleeves on this one are definitely a conversation starter. They're big and beautiful and warm. I also really appreciate the ribbing at the bottom for a good fit, and at the sleeves to keep warmth inside. Plus, you can cuff the sleeve if it's a little too long!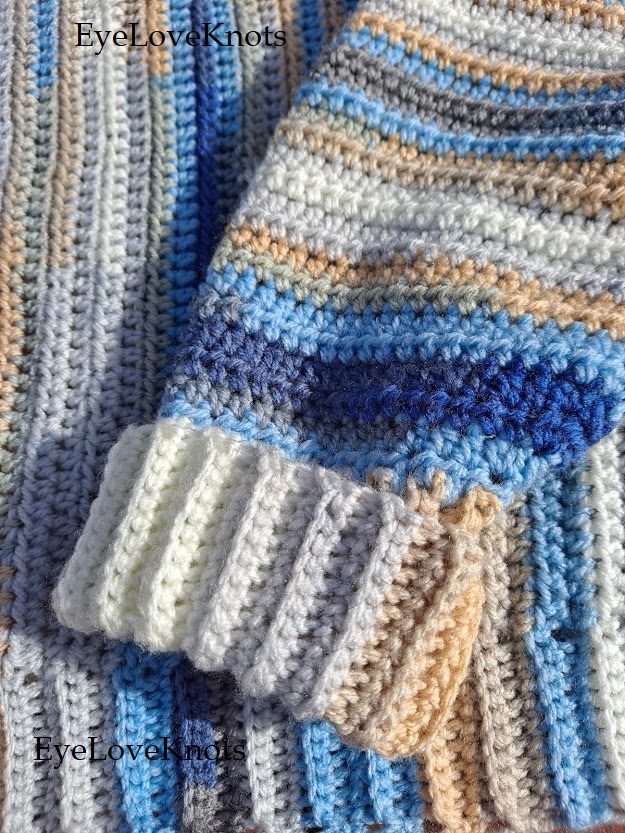 The only "assembly" needed in this project is folding the whole thing at the end and sewing from the bottom, up the sides, and along the inside of the arm. Throughout the pattern, the designer holds your hand through each step, explaining exactly when to cut and rejoin for each section. It's easy to follow along, I really enjoyed the process!
I had a very pleasant time with this pattern. It was easy to understand, fun to make, and gave a very beautiful result that fits great and looks adorable! I will make this again, I just need to find another fun and colorful DK weight (ish) yarn!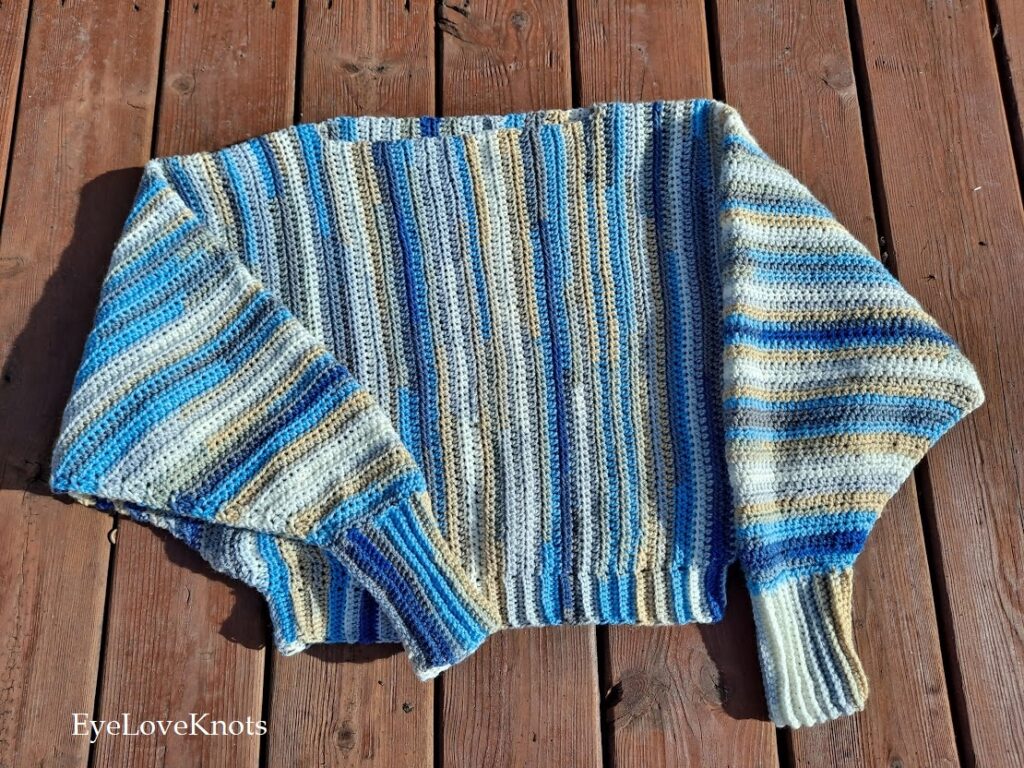 Don't forget to visit with me on Instagram @astitchshyofnormal for all kinds of awesome crochet makes and inspiration.
Join one of our awesome Facebook groups to share your creations, and see what others are up to!
– EyeLoveKnots Crochet & DIY Community
– DIY Home On Rockwood Lane
– Alexandra Lane Lifestyle
Linked Up To…
Turning Heads Linkup – Elegantly Dressed and Stylish
Confident Twosday Linkup – I do deClaire
Style with a Smile Link Up – Style Splash
Weekday Wear Link Up – Away from the Blue
Weekly Link-Up #215 – Beauty by Miss L
Thursday Fashion Files #297 – Curly Crafty Mom
Chic and Stylish Link Up – Mummabstylish
Style Six – The Queen in Between
Style on the Daily Link Up – Straight A Style
Style Link Up – Lizzie in Lace
Fancy Friday Linkup – Nancy's Fashion Style
Craft Schooling Sunday – Creative Jewish Mom
Happiness is Homemade 366 – Decor Craft Design
Unlimited Monthly Link Party 22 – Grammy's Grid
582nd Inspire Me Tuesday – A Stroll Thru Life
Fabulous Party #363 – Lou Lou Girls
Linky Ladies Party #206 – The Purple Poncho
Hearth and Soul Link Party – April, the 21st Century Housewife
Over the Moon 268 – Marilyn's Treats
Handmade Monday #219 – Sum of their Stories
The Really Crafty Link Party #258 – Keeping it Real
Ginx Woolly Linx Party March – Ginx Craft
Craftastic Monday Link Party – Sew Can Do
You're the Star Blog Hop – Decor Craft Design
Party in Your PJs #350 – The Apple Street Cottage
{Wow Me} Wednesday #496 – Ginger Snap Crafts
The Loop Scoop #10 – Moogly
Your Whims Wednesday #502 – My Girlish Whims
The Wednesday Link Party 390 – Oombawka Design
Waste Not Wednesday 246 – Pretty DIY Home
Creative Crafts Linky Party #33 – Creatively Beth
Thursday Favorite Things #481 – An Artful Mom
Creatively Crafty Link Party #267 – Life Beyond the Kitchen
Artsy-Fartsy Mama #336 – Artsy-Fartsy Mama
Encouraging Hearts & Home Blog Hop – Apron Strings and Other Things
Traffic Jam Weekend Linky Party #274 – My Bijou Life
Friday Favorites – Busy Being Jennifer
A Morning Cup of Joe – The Cottage Market
Link Your Stuff – Annemarie's Haakblog
Snickerdoodle Create, Bake, Make Link Party 377 – EyeLoveKnots